–
Cette nouvelle paire de Chloé dans ma – bien trop large – collection de chaussures prouve officiellement que je suis atteinte, atteinte d'une Chloénite aigüe plus précisément.
En recherche continuelle de pièces créateur abordables, vous pouvez imaginer ma joie lorsque j'ai découvert you shoes , un site regorgeant de trésors griffés.
Cela faisait un bon moment que j'étais à la recherche de ces « néo-docs » flashy à méga talon compensé, par ailleurs portées à Merveille par Rumi et Lulu.
Obsession résolue donc. Mais quelle sera la suivante ? Une autre paire aperçue sur ce merveilleux site peut être, et dont je ne peux me résoudre à détacher les yeux ?
–
Music: The hit crew – Ghostbuster
–
This new pair of Chloé in my – much too large – collection of shoes is giving the proof that I am officially addicted; Chloé addicted more precisely.
In a constant research of designer pieces at bargain price, You can imagine my happiness when I discovered you shoes , a site full of designers treasures.
I had been looking for these flashy « neo docs » wedges for a long time, the same ones worn so well by Rumi and Lulu by the way.
So, I guess my obsession is satisfied. At least for now … because curiously, I just can't stop staring at another pair on this same marvelous site !
–
–
Chaussures Chloé sur you shoes
Chloé shoes on you shoes
–
–
Here are a few of my favorite pink things !
–
Music: Think pink – Funny Face
–
Voici quelques unes de mes petites choses préférées teinté de rose !
–
A pink figurine. Une figurine rose.
–
The cover of Marie Antoinette DVD. La couverture du DVD de Marie Antoinette.
–
Pink on the cheeks. Du rose sur les joues.
–
Japanese candy. Des bonbons japonais.
–
A flower crown. Une couronne de fleurs.
Home made
–
Pink shoes. Des chaussures roses.
Repetto + vintage
–
And a pink bow! Et un noeud rose égalemment !
The french factory
–
On top, miu miu shoes, Ladurée for Sephora beauty case. En haut, Chaussures miu miu, beauty case Ladurée pour Sephora.
–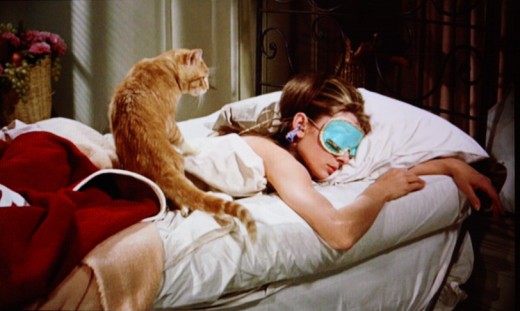 –
Audrey Hepburn's incarnation of Holly Golightly in Breakfast at Tiffany's has got to be one of her most memorable roles.
Most of you are probably already familiar with the various outfits she dons throughout the movie, especially the classic scene where Audrey is wearing a black dress with an imposing white pearl necklace and Wayfarer sunglasses in front of the famous Tiffany & Co jewellery store.
If I chose to revamp Holly Golightly's wardrobe, it was not necessarily out of love for her crazy up-dos, evening dresses, or uber-dressy coats. No, I think what I appreciate most about Holly is her extroverted personality, her bathtub couch and the way she can pull off wearing an oversized shirt, tasselled earplugs, or a sleep mask like no one else!
–
Music: Moon river – Henri Mancini
–
Le personnage de Holly Golightly dans Breakfast at tiffany's est sans doute le rôle le plus mémorable d'Audrey Hepburn.
Les differentes tenues présentes dans le film sont donc pour la plupart connues de tous, en particulier lors de cette scène devenue mythique, dans laquelle Audrey porte une robe noire, un imposant collier de perles et des wayfarer devant les vitrines du célébre bijoutier.
Ce n'est pas tant pour les chignons bananes, robes du soir et manteaux ultra habillés que j'ai voulu recréer la penderie de Holly, mais plutôt pour mon attachement à sa personalité extravertie, pour son sofa-baignoire, et à sa façon de porter une chemise ample, des boules quiès et un masque de nuit comme nul autre !
Holly at Tiffany's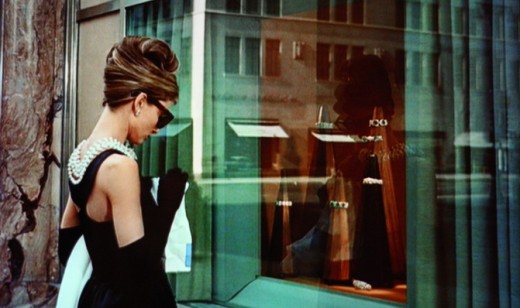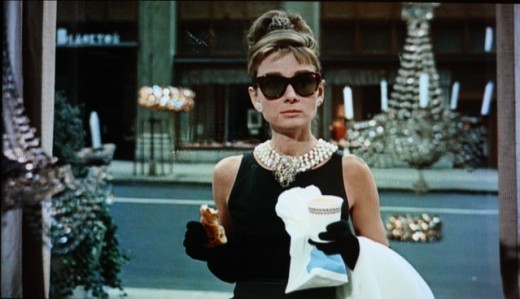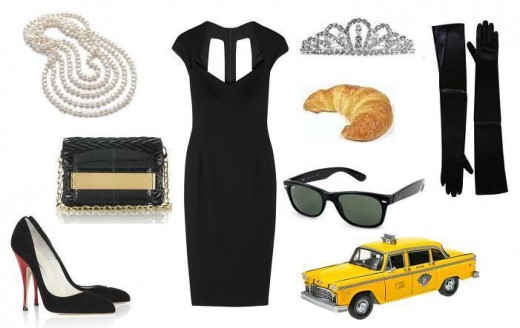 Robe Narciso Rodriguez, sac Jimmy Choo, chaussures Brian Artwood, collier gants et tiare Claire's, lunettes Wayfarer. Narciso Rodriguez dress, Jimmy Choo bag, Brian Artwood shoes,  Claire's necklace, gloves and tiara, Wayfarer sunglasses.
–
Holly at home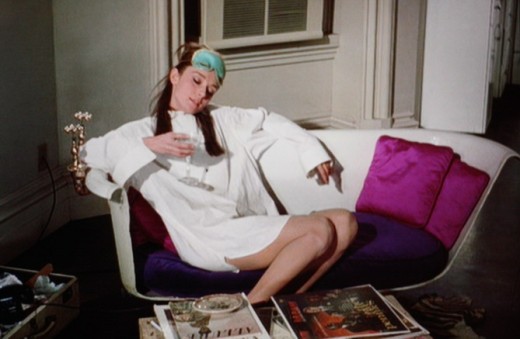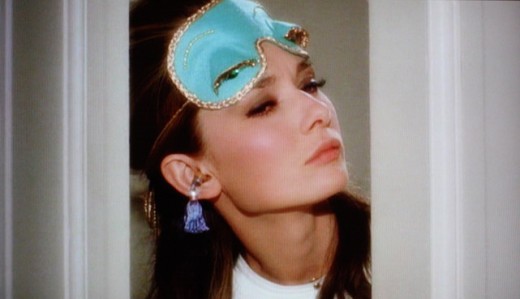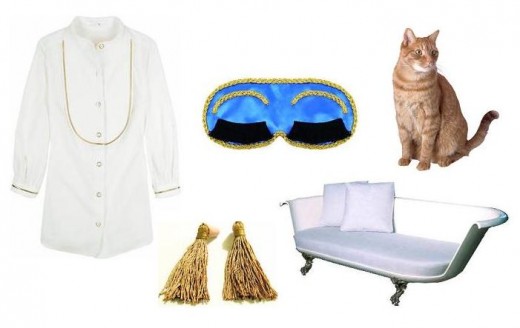 Chemise 123 phillip lim, masque fredflare, boules quiès Jen Jen. 123 phillip lim shirt, fredflare night mask, Jen Jen tasselled earplugs.
–
Holly in the street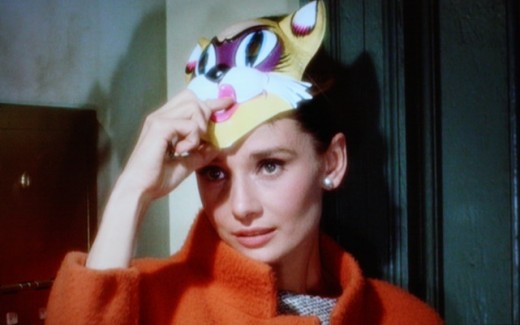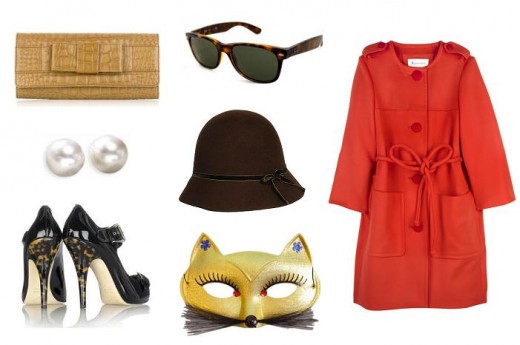 Manteau Aquascutum, chapeau Forever 21, lunettes wayfarer, pochette Michael kors, chaussures Giuseppe zanotti.  Aquascutum coat, forever 21hat , wayfarer sunglasses, Michael kors clutch, Giuseppe zanotti shoes.
–
Holly at a party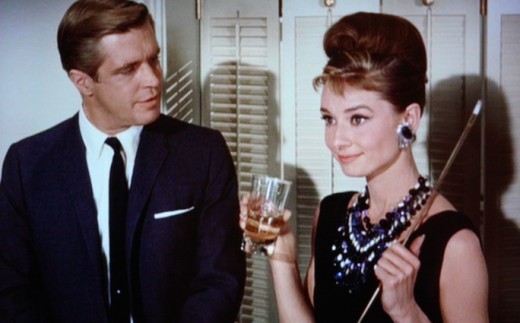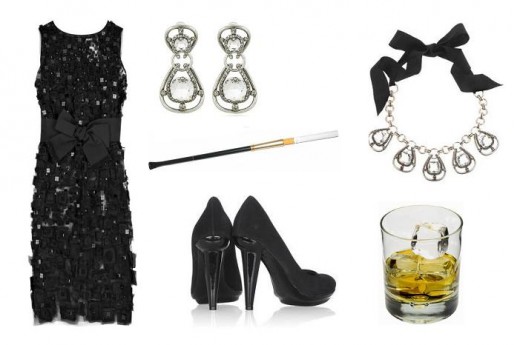 Robe Oscar De La Renta, chaussures Bottega Veneta, collier et boucles d'oreilles Lanvin.  Oscar De La Renta dress, Bottega Veneta shoes, Lanvin earings and necklace.
–
Dans la série relooking des héroïnes de notre enfance : Margot Tenenbaum, Amélie Poulain, Le petit chaperon rouge, Blanche Neige, Iris dans taxi driver, Mercredi dans la famille Addams, Mathilda dans léon, Peau d'âne, Alice au pays des merveilles, maria dans la mélodie du bonheur,mary poppins, Dorothy dans la magicien d'Oz.