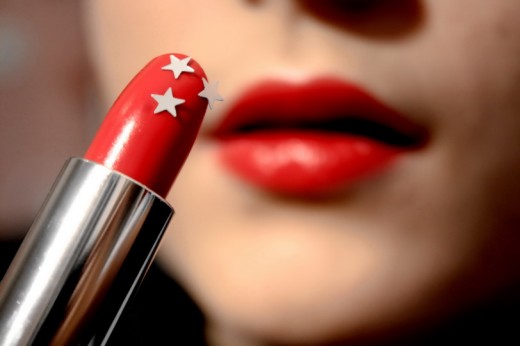 Red on my lips.
Du rouge sur mes lèvres.
–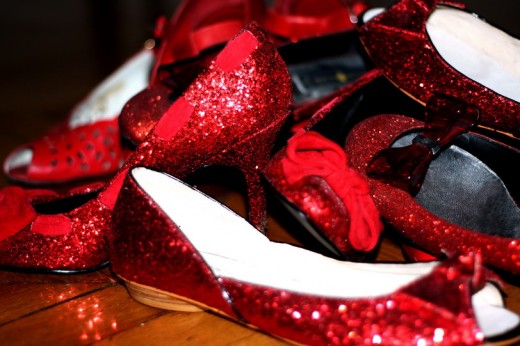 Red glittery shoes.
Des chaussures rouges à paillettes.
( Office, Manoush, Patrick Cox )
–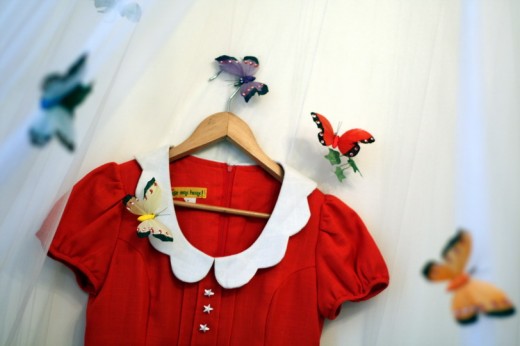 Red dress.
Une robe rouge.
( Liebemarlene vintage )
–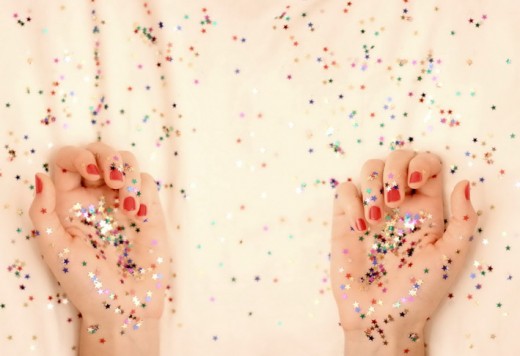 Red on my nails.
Du rouge sur mes ongles.
–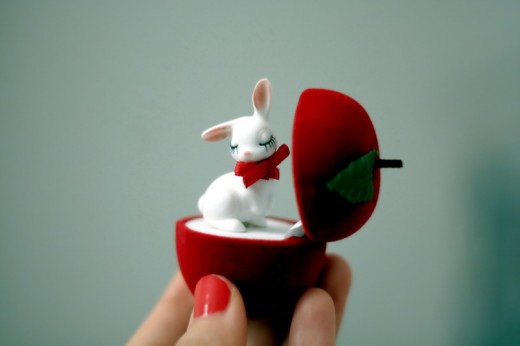 Red bow bunny, in a red apple.
Un lapin au noeud rouge, dans une pomme rouge.
( Rabbit necklace The french Factory )
–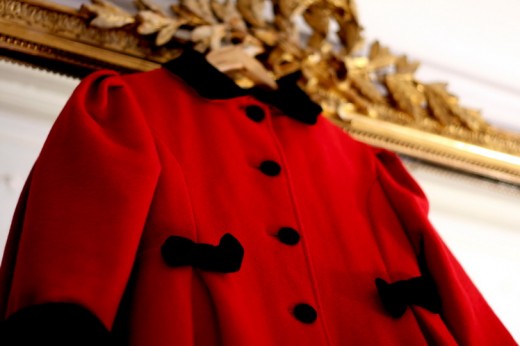 Red coat.
Un manteau rouge.
( vintage )
–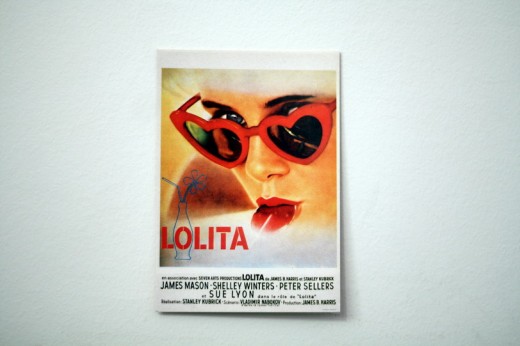 Lolita's red sunglasses and lolipop.
Les lunettes et sucette rouge de Lolita.
–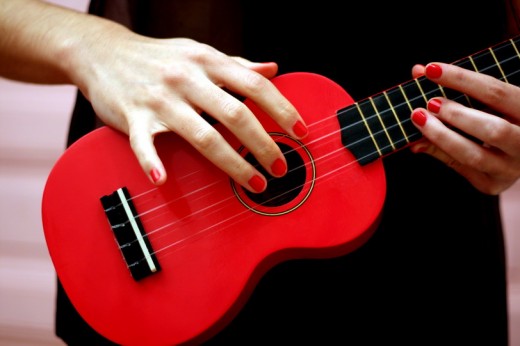 Red Ukulélé, for playing all day.
Un ukulélé rouge, pour en jouer toute la journée.
–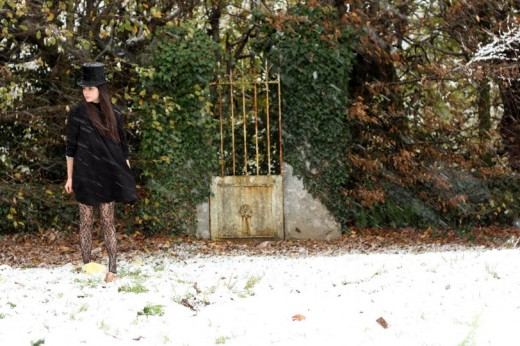 –
One fine day, I, a British dandy, was calmly walking through the woods.
All of a sudden, white flakes starting falling on my head…
It was snowing!
But despite the wind and bitter cold,
I danced around on an immaculate blanket of white powder,
For the snow appears but rarely, only a few times a year!
–
Music: Soko – Dandy cowboys
–
Je suis un Dandy Anglais, qui tranquillement dans les bois se baladait.
Quand soudain, de la neige s'est mise à tomber.
Des flocons blancs, sur mon chapeau, ce sont multipliés.
Mais qu'importe le froid et le vent obstiné.
J'ai dansé sur ce tapis blanc immaculé.
Dansé dans la neige, qui apparait si rarement dans l'année.
–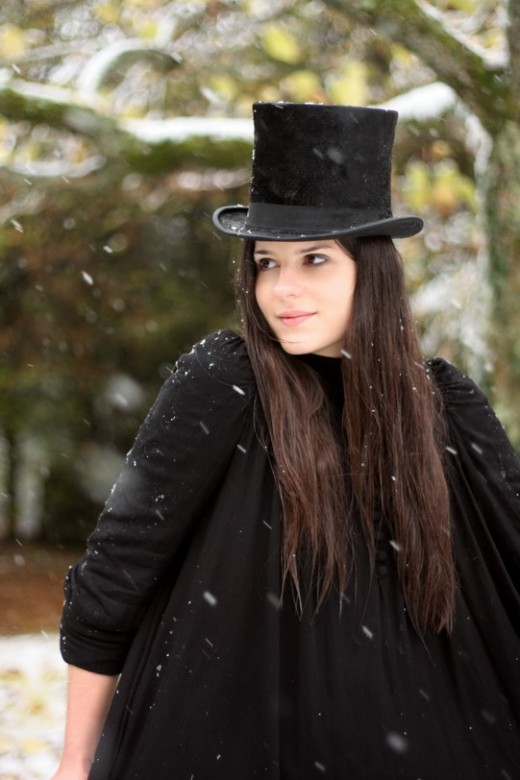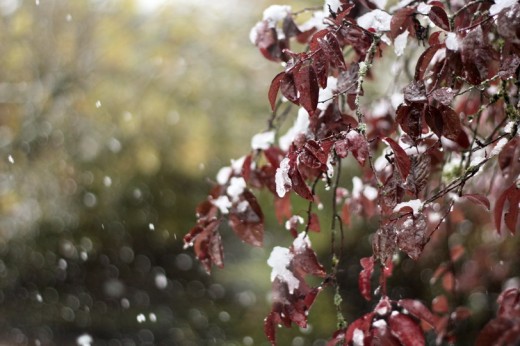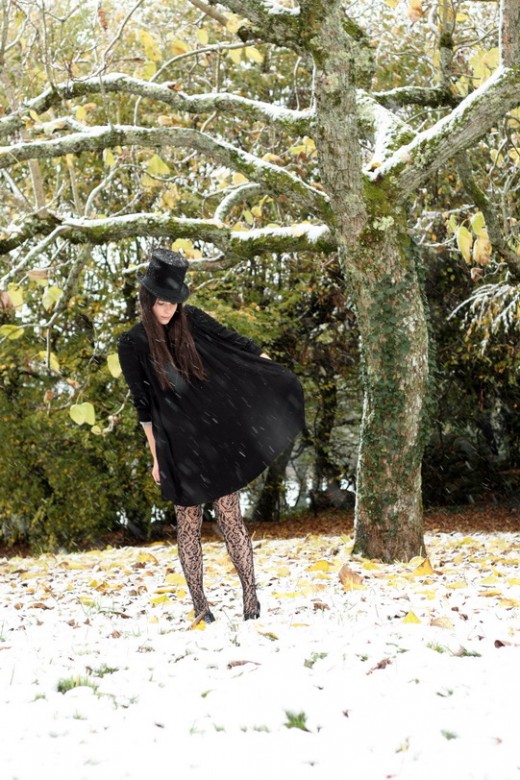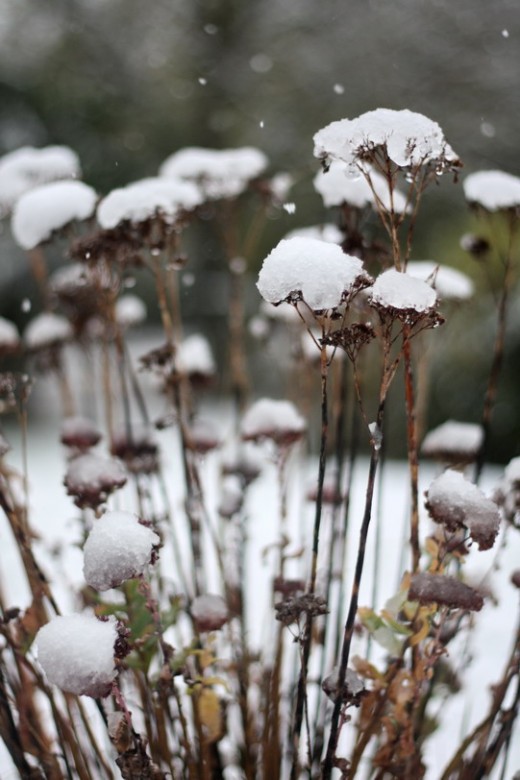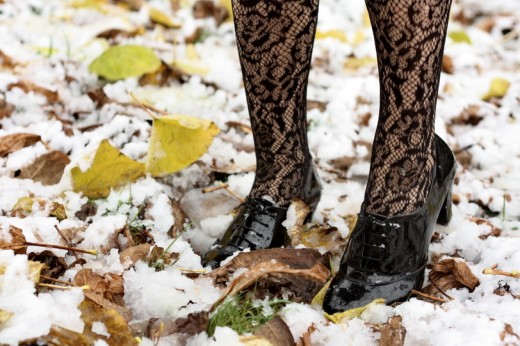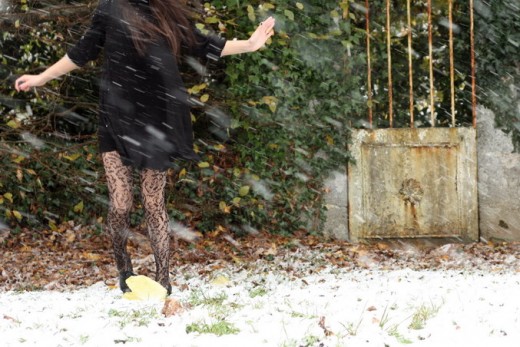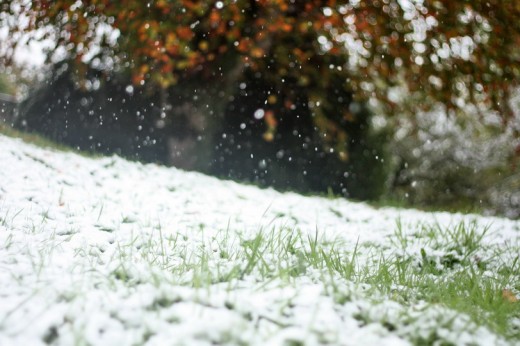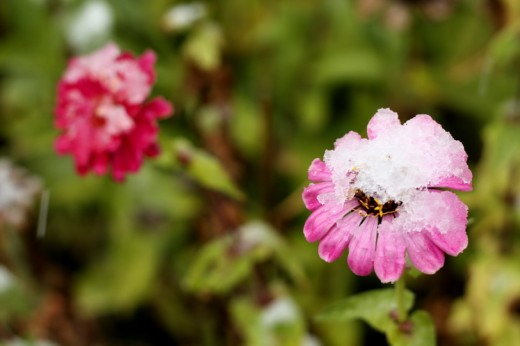 –
Robe H&M / H&M dress
Chapeau vintage / vintage hat
Collants H&M / H&M tights
Chaussures Zara / Zara shoes
–
–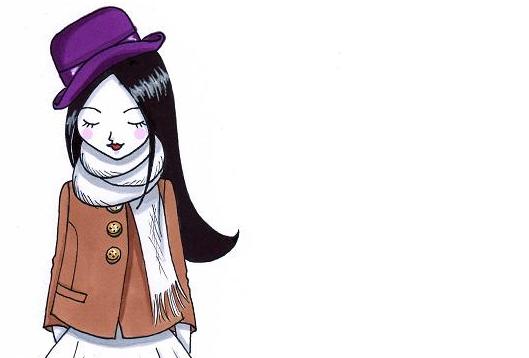 Chapeau Sonia Rykiel, veste et écharpe h&M. Sonia Rykiel bowler hat, H&M jacket and skarf.
–
Because taking photos is not the only way to present outfits on the web, I decided to post a few drawings today.
I often find myself sketching silhouettes because it helps me to formulate ideas, colour schemes, and volumes.
The idea is that drawing enables me to mix my own clothes to pieces that I can't necessarily get my hands on, as well as to pieces that I've made up in my mind. Paper and pen is very freeing that way!
The three mannequins that I've penned for today are wearing pieces from my very own wardrobe, mixed with a few pieces that I dream of acquiring one day.
–
Music: Kings of convenience – I'd rather dance with you
–
Parce que faire des photos n'est pas le seul moyen pour présenter des tenues, j'ai aujourd'hui choisi de réaliser des illustrations.
Cela m'arrive assez souvent de crayonner des silhouettes, ça me donne des idées, et m'aide à créer des palettes de couleurs, à construire des volumes.
L'avantage est que l'on peut mêler à ses propres vêtements à des pièces de créateurs inaccessibles, ou encore des vêtements imaginaires. On assouvi ses envies sur papier en quelques sorte !
Mes trois mannequins crayonnées portent aujourd'hui des vêtements de ma propre garde robe, mêlés à quelques pièces et accessoires que je rêve d'acquérir un jour.
–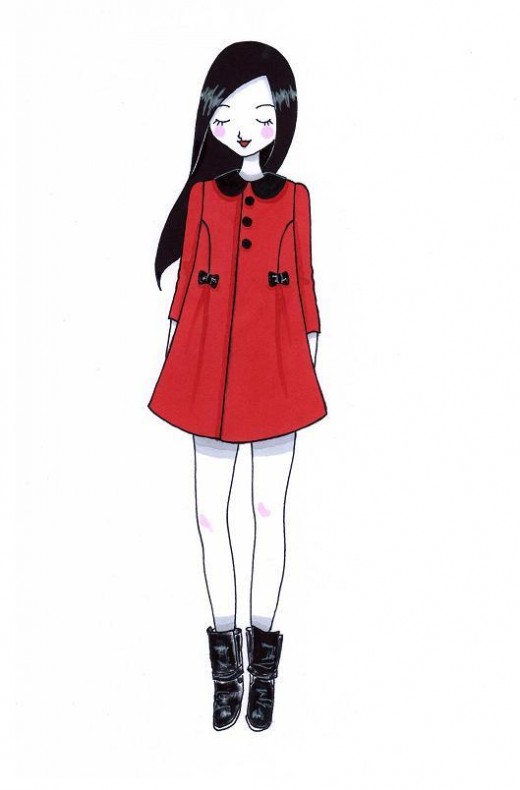 Manteau vintage // vintage coat
Bottes Chloé // Chloé boots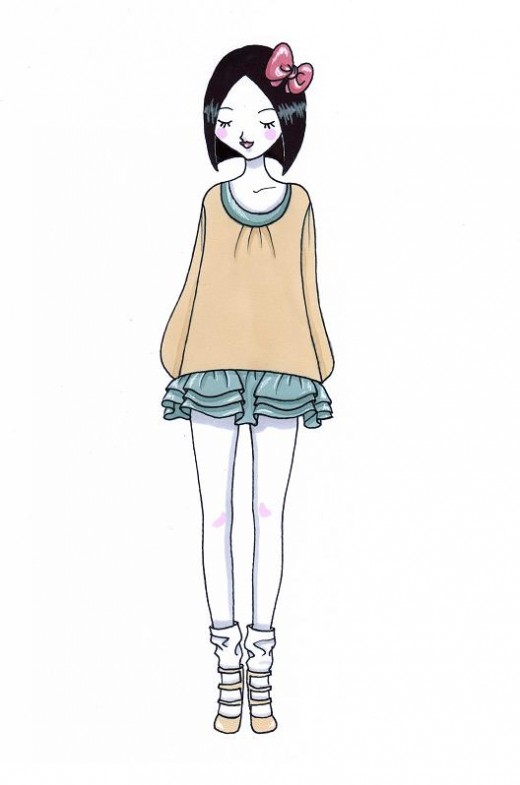 Pull vanessa Bruno // Vanessa bruno jumper
Robe Zara // Zara dress
Chaussures Chloé // Chloé shoes
–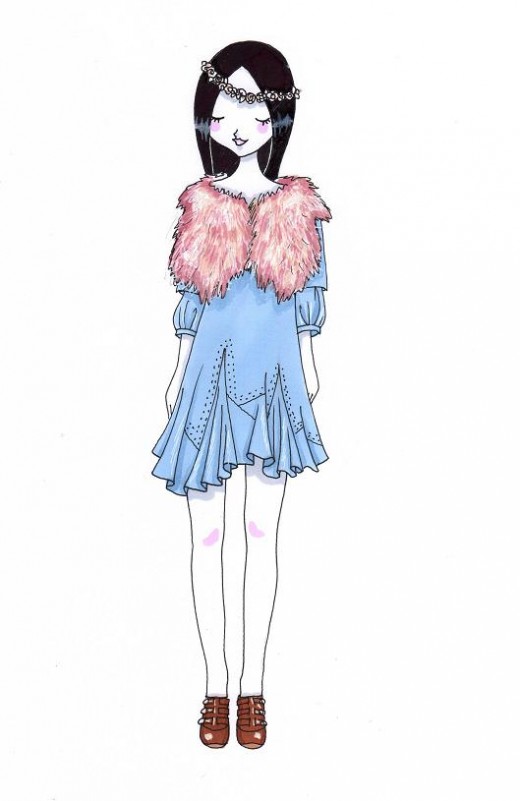 Boléro Topshop // Topshop Bolero
Robe Chloé // Chloé dress

Chaussures Chloé // Chloé shoes

Couronne de fleurs By Alix // By Alix flower tiara

–