–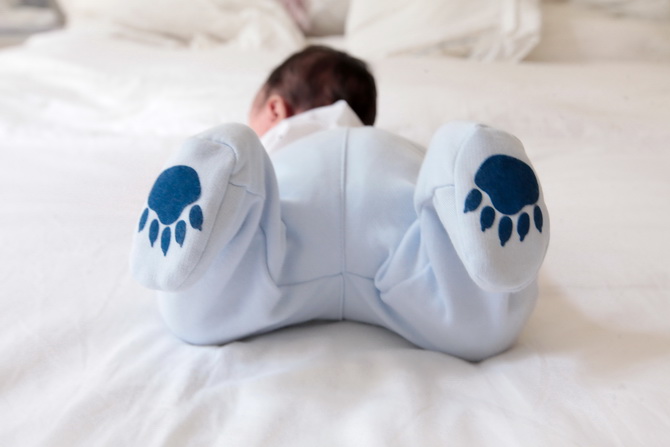 –
–
Un premier baby look pour Iris, qui dans ce pantalon emprunté à son cousin, pourrait bien passer pour un mignon petit garçon !
–
A very first baby look for Iris, who totally looks like a cute little boy in these pants borrowed from her cousin !
–
–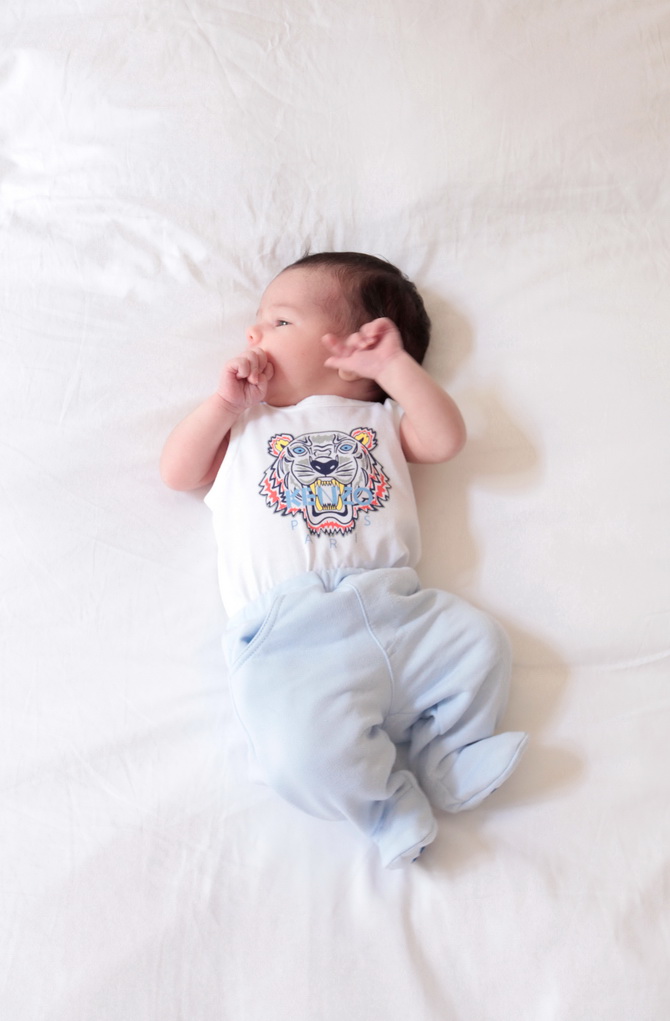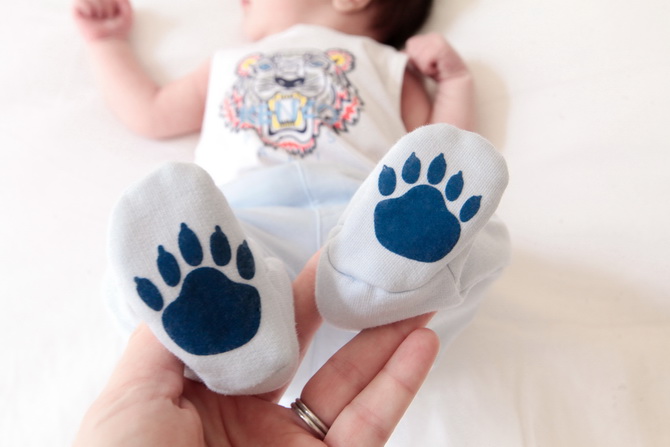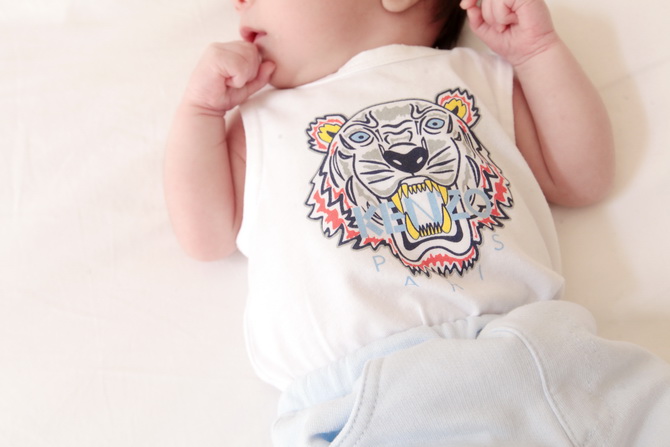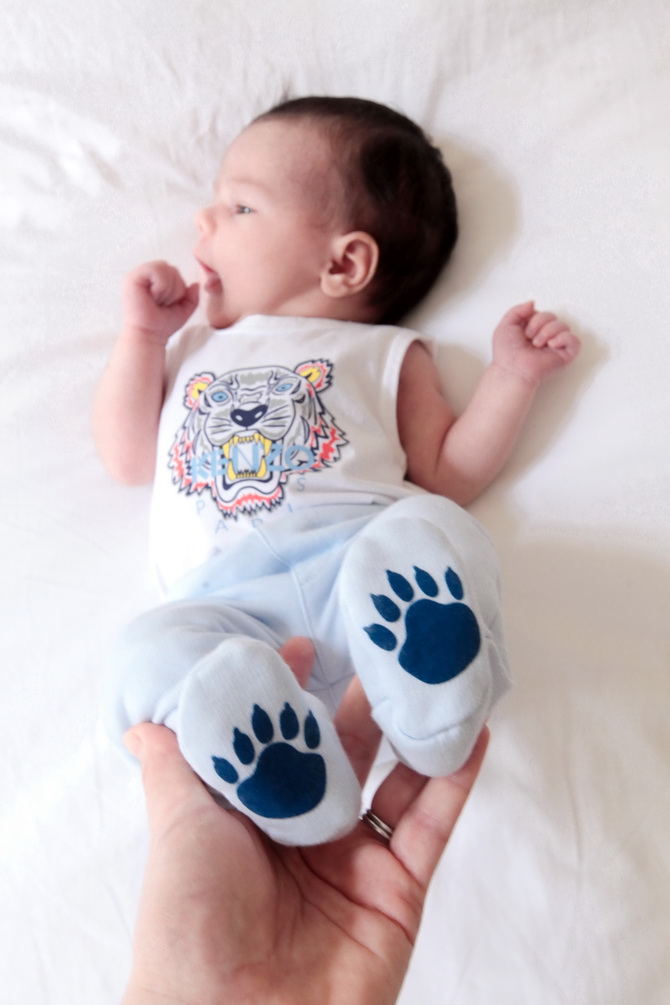 –
Body : Kenzo
Pants / Pantalon : Catimini
–
–
–
–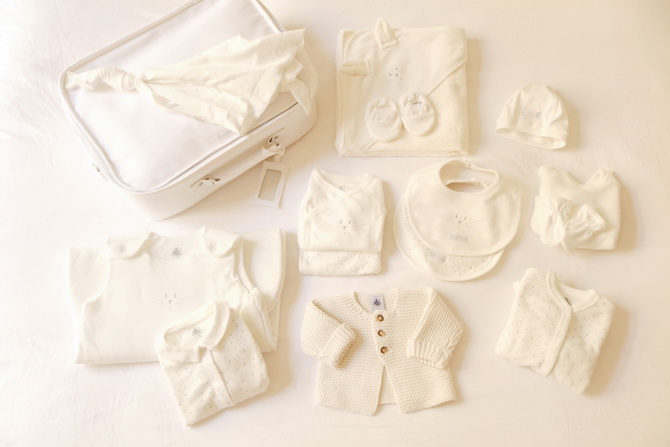 –
–
Comme toute nouvelle maman, je suis à fond dans l'univers bébé en ce moment.
Cela implique poussette bien sûr, mais aussi toutes ces jolies petites choses qui contribuent à rendre ces premières semaines avec un nouveau né encore plus douces et spéciales.
As every new mom, I'm completely into baby stuff right now.
This implies strollers of course, but also all these pretty little things that help to make these first weeks with a newborn even more sweet and special.
–
–
–
La nouvelle Priam de Cybex. Un joyaux dans la catégorie poussette, dont la ligne moderne et épurée rend hommage au célèbre couple de designers Eames.
The new Priam by Cybex: the Rolls of stollers, modern and refined.
A tribute to the famous designers couple Eames.
–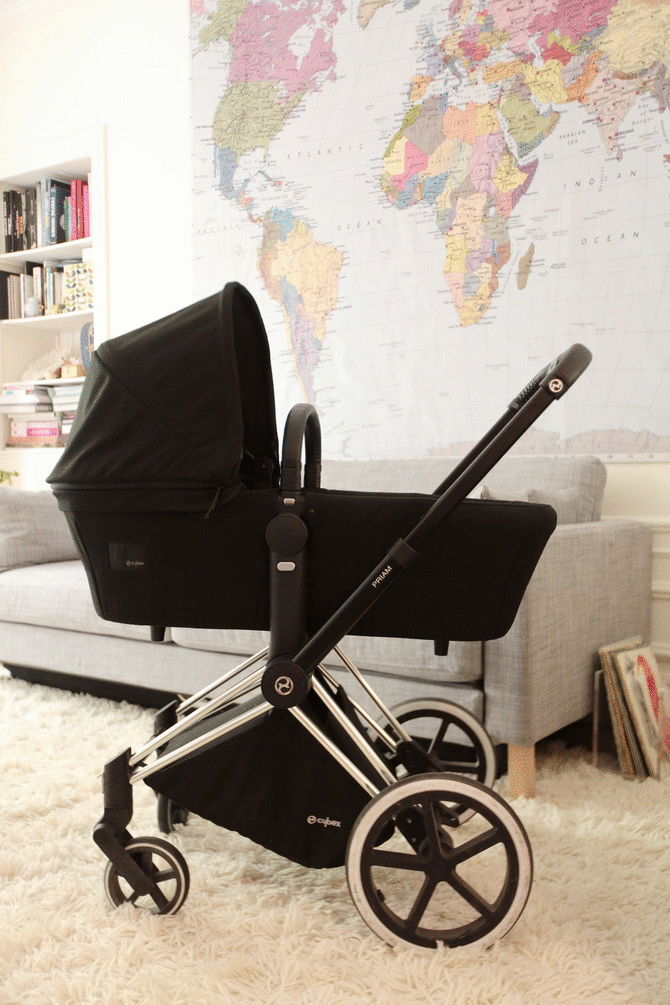 –
–
Le design était très important pour moi, mais aussi le système 3 en 1 que j'ai toujours trouvé extrêmement pratique: un seul châssis, 3 sièges qui suivent l'évolution de l'enfant selon les circonstances.
Ma première utilisation de la Priam s'est donc faite à la sortie de la maternité , avec la coque Aton Q qui fait à la fois office de cosy, siège auto et siège poussette.
The design was very important for me, but the practicality as well, especially the 3 in 1 system, which I always found extremely convenient: one single frame, three different seats depending on the age and the situation.
The very first time I used the Priam was when leaving the clinic. The Aton Q seat can be both used as a car seat, a stroller seat and a seat at home.
–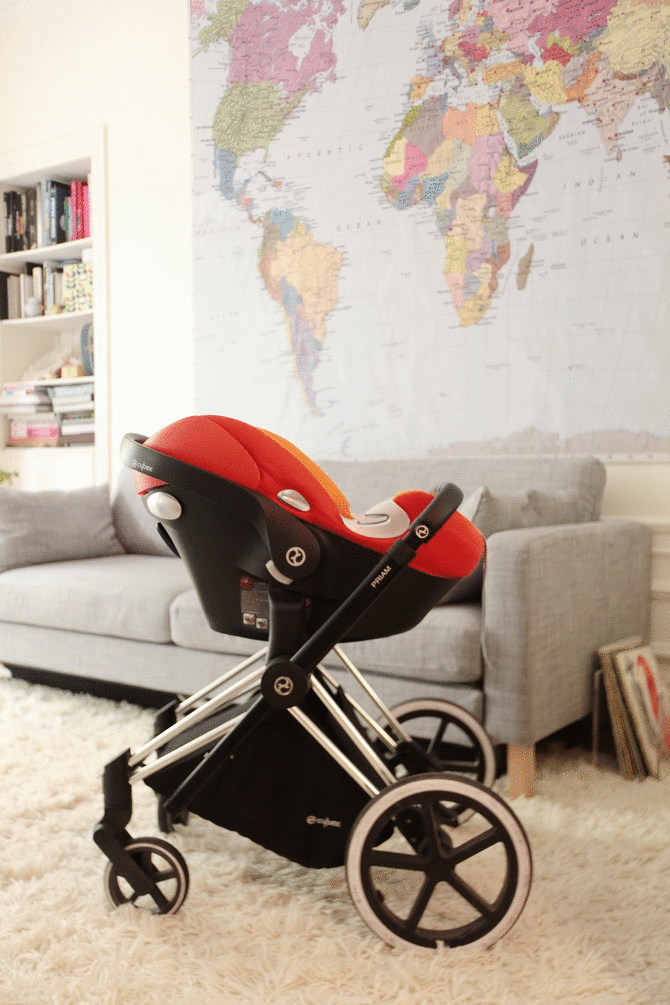 –
–
Quelques semaines plus tard, lors des premières sorties urbaines d'Iris, j'ai installé la nacelle, parfaite à son âge pour garder le dos bien à plat lors de balades prolongées.
A few weeks after, for Iris first strolls, I used the carrycot, perfect for her age so she is perfectly comfortable.
–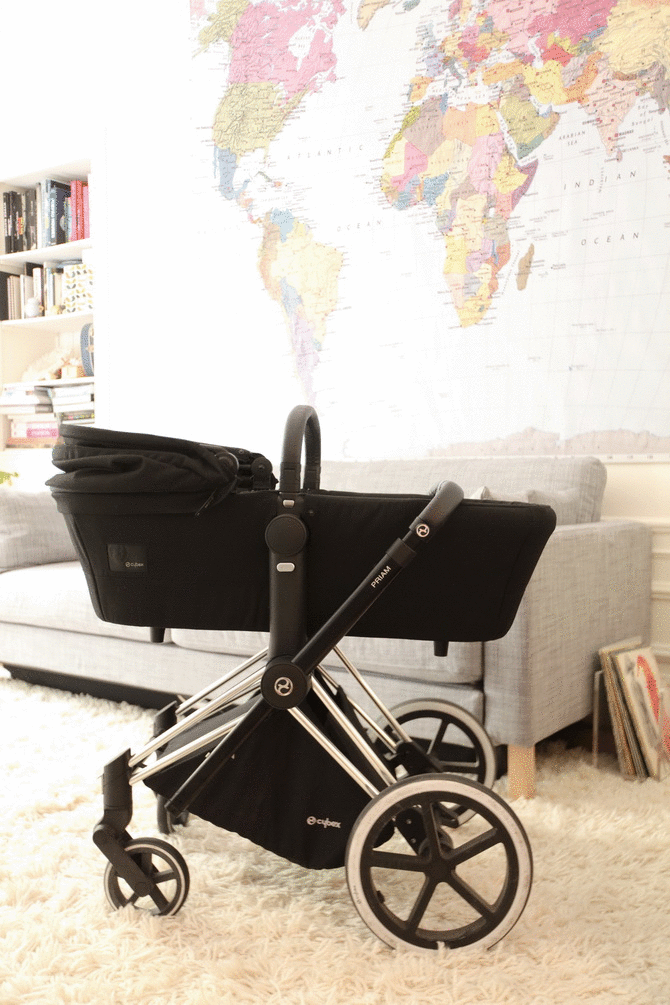 –
–
Je ne l'utiliserais pas  avant quelques mois, mais souhaitais quand même le partager ici tant il est beau ! Le siège 2 en 1 se place vers l'intérieur ou vers l'extérieur, très modulable et pratique avec sa position assise ou couché.
I will not be using it before a few months, but it's so beautiful I wanted to share anyway! The 2 in 1 seat can be placed facing you or the outside world, very practical with a seated or laid back position.
–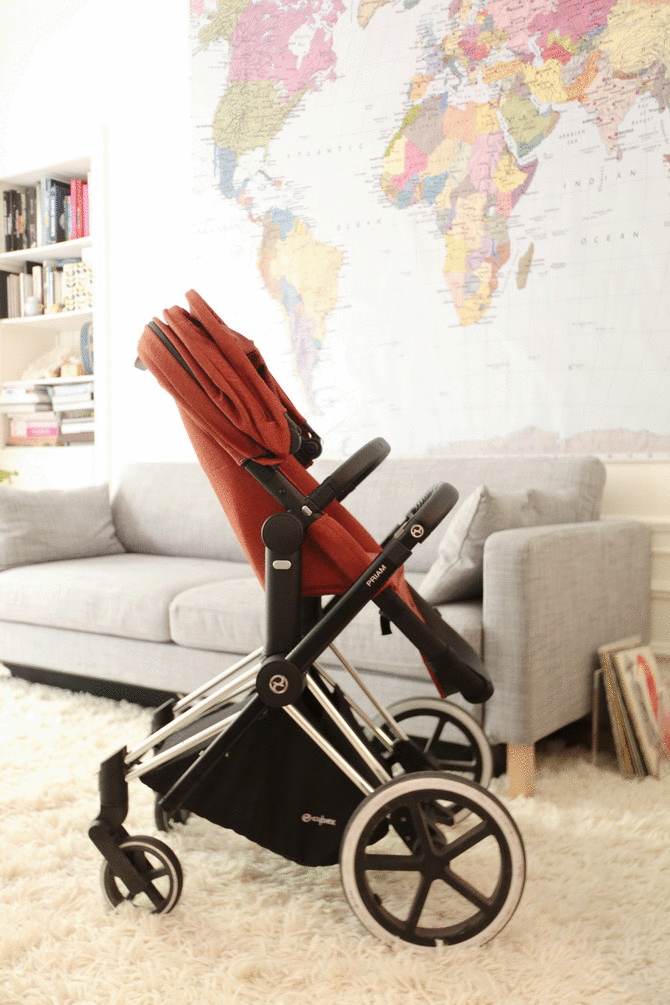 –
–
Ça non plus ce ne sera pas avant un moment, mais difficile de résister au set Panpan Disneyland Paris !
This one either won't be used anytime soon, but I just couldn't resist this Thumper set from Disneyland Paris !
–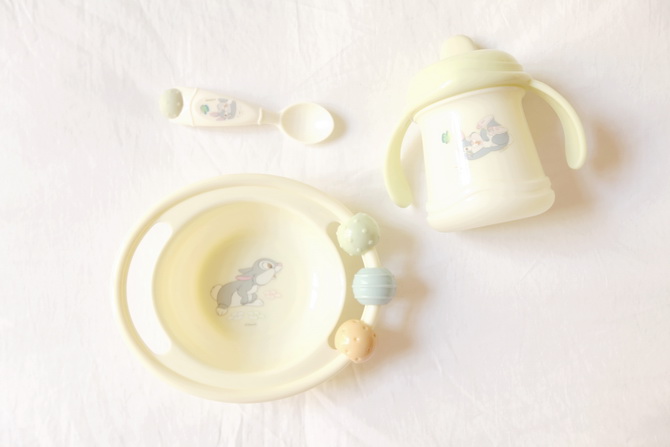 –
–
Le joli sac à langer Petit Bateau, accompagné de son sac isotherme.
Cute changing bag from Petit Bateau with its matching thermos bag.
–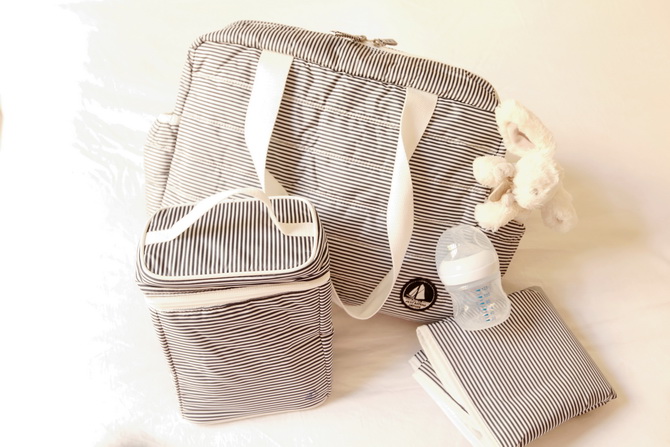 –
–
Ma marque préférée de doudous, Doudou et Compagnie, qui fait aussi les petits chaussons les plus craquants du monde !
My favorite brand for doudou, Doudou et Compagnie, which also makes the cutest little shoes !
–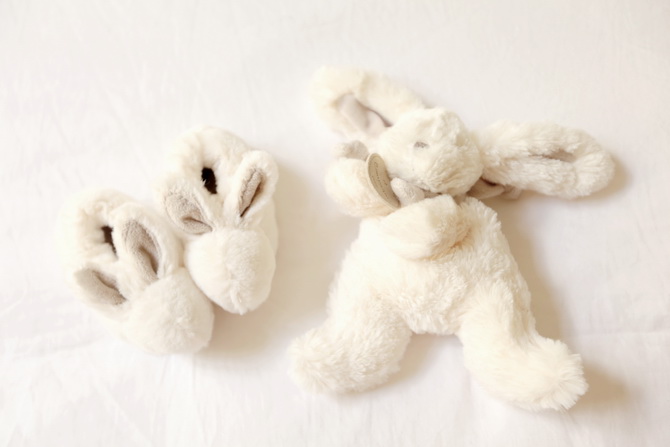 –
–
De jolies attentions de la part de Louise et Pauline.
Some very sweet presents from Louise and Pauline.
–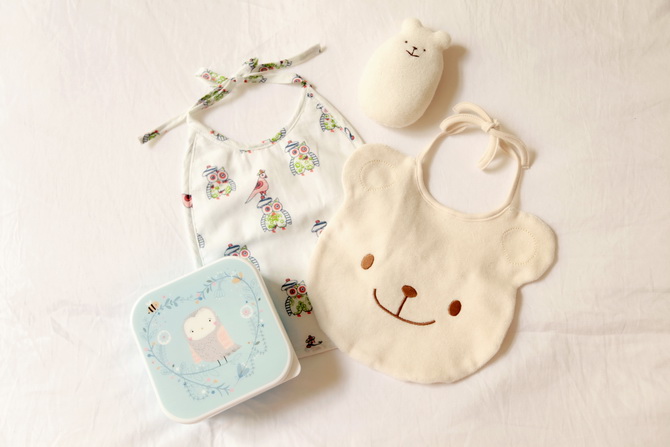 –
–
Et enfin, la valise maternité signée Petit Bateau. Tout le nécessaire indispensable pour les premiers jours de bébé. Bodies, pyjamas, pull, bonnet… J'ai tout utilisé, et comme Iris porte encore du 1 mois, elle m'a vraiment été utile !
And finally the Petit Bateau maternity suitcase. everything useful for the very first days of your baby. Bodies, pyjamas, jumpers, hat … I used every single thing, and as Iris is still wearing the size one month, it's definitely very useful.
–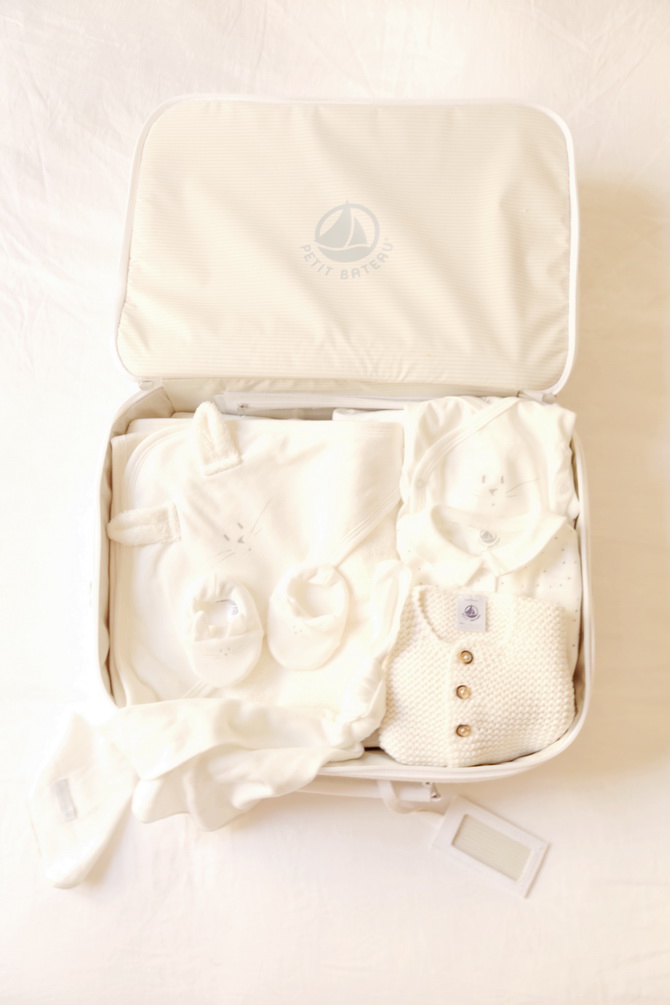 –
–
Pyjama, bonnet et gants Petit Bateau.
Pyjama, hat and gloves from Petit Bateau.
–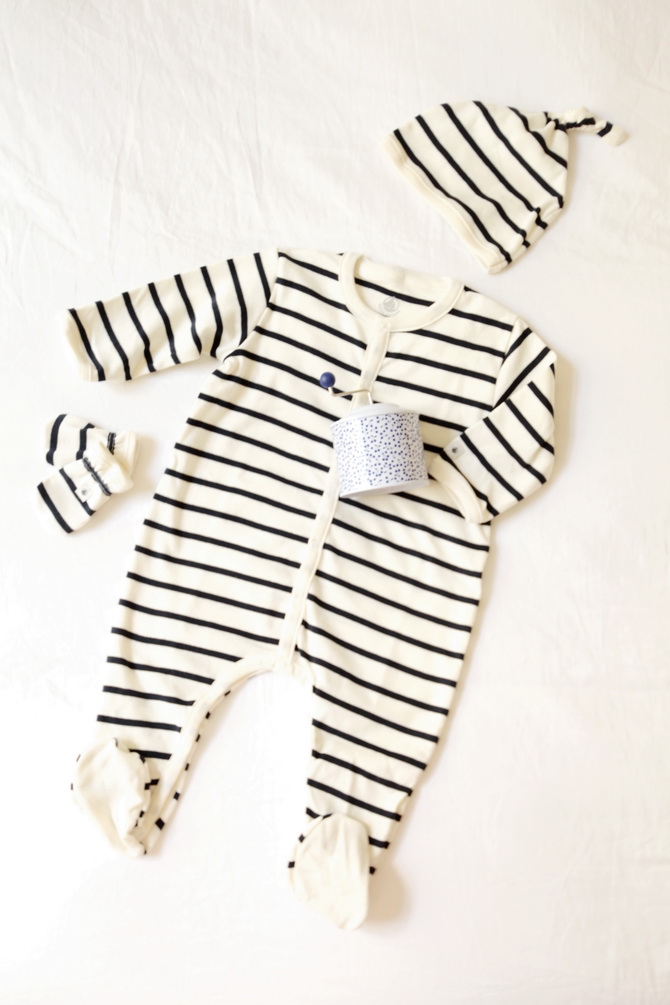 –
–
–
–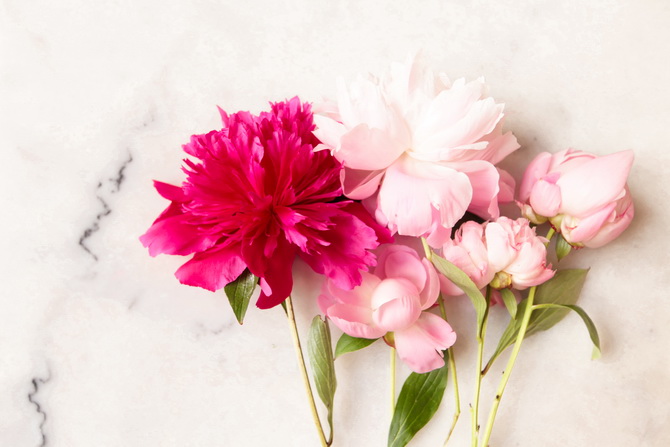 –
–
Cela faisait un moment que je voulais réaliser un article regroupant ma routine beauté, mêlé à quelques petits « conseils » personnel.
Dans ce post, je partage dans un premier temps mes 4 règles d'or, puis ma routine soin ( qui a quelque peu évoluée ces dernier temps, et s'est enrichie de nouveaux produits ), mes produits de makeup favoris, et pour finir: les produits actuellement à l'essai.
–
–
Mes 4 règles d'or:
1 ♥ Pas de maquillage tous les jours.
Les jours « relax à la maison » sont la meilleure occasion pour m'aérer la peau. Pas de maquillage, mais j'en profite pour appliquer crèmes, gommages et masques capillaire.
2 ♥ Les mains loin du visage.
Ça parait bête à dire, mais vos main ne sont pas forcément très propres. Poser sa tête dans ses mains est souvent l'origine de petites imperfections. Perdre l'habitude de s'avachir sur ses mains lorsque l'on travaille à son bureau améliore également sa posture ;p
3 ♥ Eviter l'eau du robinet.
Uniquement lorsqu'on habite dans une grande ville avec beaucoup de calcaire dans l'eau ( comme Paris ! ). Je me nettoie le visage exclusivement à l'aide d'un brumisateur à présent, et je profite de mes séjours à la campagne où l'eau est d'une pureté déconcertante pour me rincer à grandes eaux !
4 ♥ Démaquiller et hydrater.
Le conseil le plus commun: bien démaquiller, nettoyer et hydrater sa peau avant d'aller se coucher !
–
–
♫ ♪ Blondie – The tide is high
–
–
It's been a long time since I wanted to share both my everyday beauty routine and a few tips.
So here are my 4 golden rules, followed by my favorite skincare and make up products, and in the end  some products I am testing right now.
–
–
My 4 golden rules:
1 ♥ No makeup every day.
Chill out days at home are the perfect occasion to let my skin breathe. No make up, but I use the opportunity to apply lots of moisturizing creams, gommage and hair masks.
2 ♥ Keep your hands off your face.
It sounds stupid, but your hands are not always that clean. Keeping them away from your face ( while you work at your desk for example ) will prevent your skin from many imperfections. And you'll get a better posture as well of course ! ;p
3 ♥ No tap water.
When you live in a city with calcareous tap water only.
I wash my face exclusively with a thermal spring water sprayer now, and I take advantage of my weekend at the countryside where the water is incredibly clear to rinse my face abundantly.
4 ♥ Moisturizing and makeup removal.
Probably the most common advice: always take off your make up, properly wash and moisturize your skin before going to bed !
–
–
♥ Favoris soin / Skincare favorites ♥
–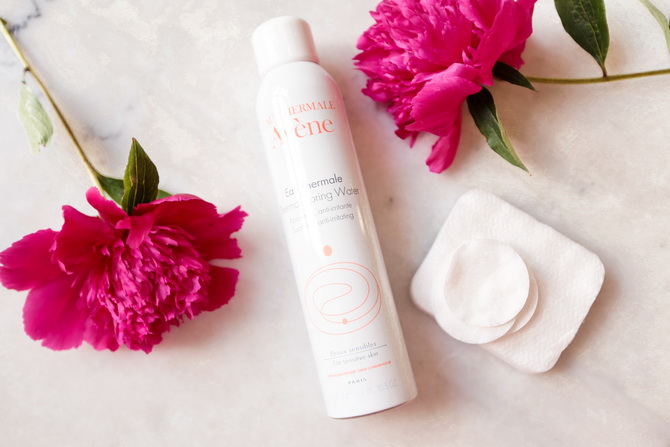 Pour éviter l'eau calcaire du robinet quand je me nettoie le visage: Un brumisateur d'eau thermale. Je l'utilise avec de grands cotons pour bébé.
To avoid tap water when I wash my face: thermal spring water sprayer. I use it with large baby cottons.
–
–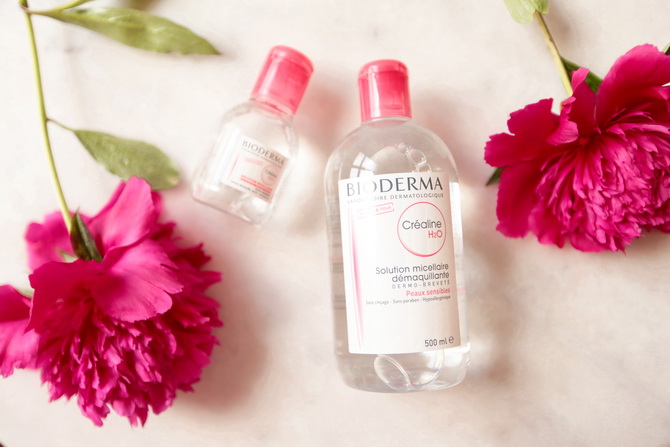 Mon produit préféré pour le démaquillage : Créaline H2O de Bioderma.
My favorite product for makeup removal: Créaline H2O by Bioderma.
–
–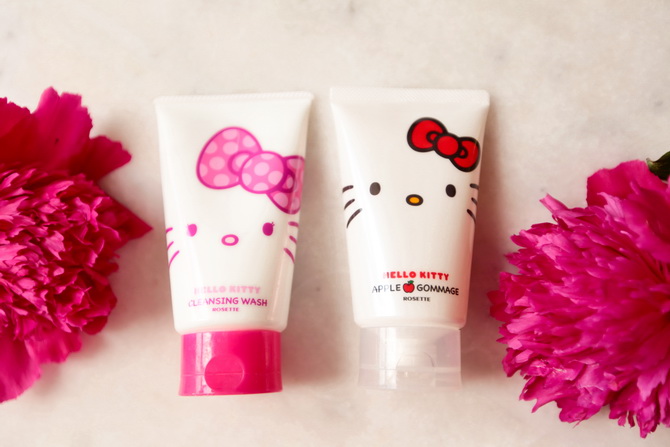 Ramenés du Japon: un gel nettoyant et un gommage « gel » hello Kitty.
Des produits étonnamment efficaces cachés dans des packagings innocemment kawaii!
Brought from Japan: Hello Kitty cleansing wash and apple gommage.
They might habe the cutest packaging ever, these products work incredibly well !
–
–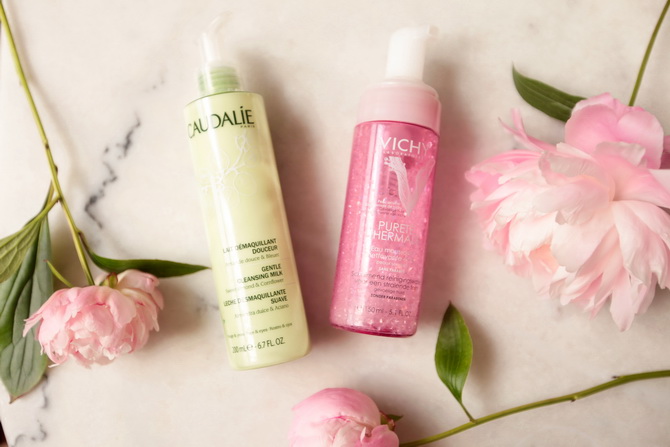 En complément de la créaline de Bioderma, deux produits adoptés il y a quelques mois: démaquillant Caudalie et eau moussante nettoyante Vichy.
Paired with the Bioderma Créaline, two products added to my beauty routine: Cleansing milk by Caudalie and cleansing foam water by Vichy.
–
–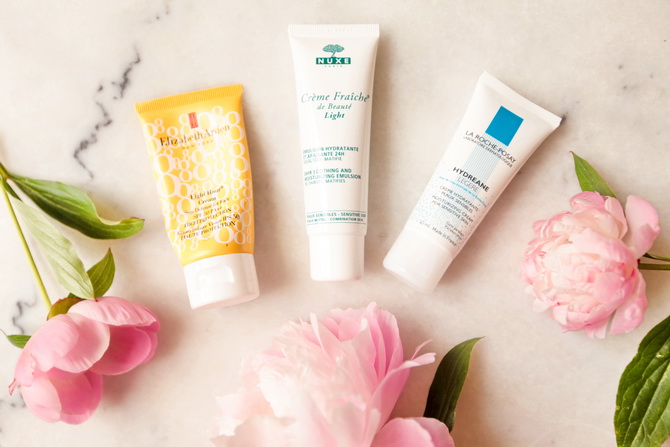 Hydratation et protection: Ma classique Hydreane ( légère ) de La Roche Posay ou crème fraîche de beauté light Nuxe. Lorsque j'étais en fin de grossesse, j'appliquais également La crème solaire Height Hours Cream d'Elizabeth Arden pour éviter les tâches sur le visage. Je sais que je devrais néanmoins en mettre tous les jours…
Moisturizing and protection: my usual Hydreane ( light ) by La Roche Posay or beauty fresh cream by Nuxe. When I was in my last month of pregnancy, I applied the Eight Hours sunscreen by Elizabeth Arden to prevent my face from getting some stains. I know I should do it everyday though…
–
–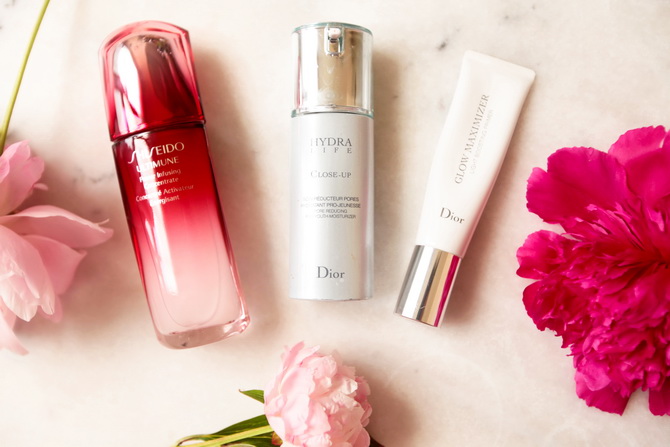 Avant le maquillage. J'applique sérum et base de teint: Ultimune de ShiSeido, Hydralife et Glow Maximizer de Dior.
Before makeup. I apply a serum and a base: Ultimune by ShiSeido, Hydralife and Glow maximizer by Dior.
–
–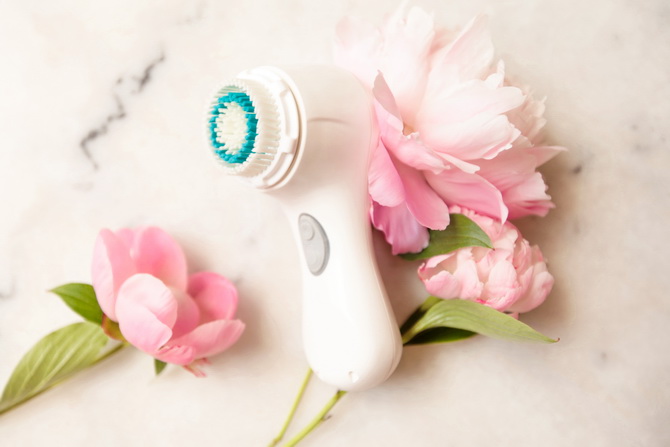 Clarisonic. Une fois par jour avec un gel nettoyant.
Clarisonic, once a day with a cleansing gel.
–
–
–
♥ Favoris maquillage / Makeup favorites ♥
–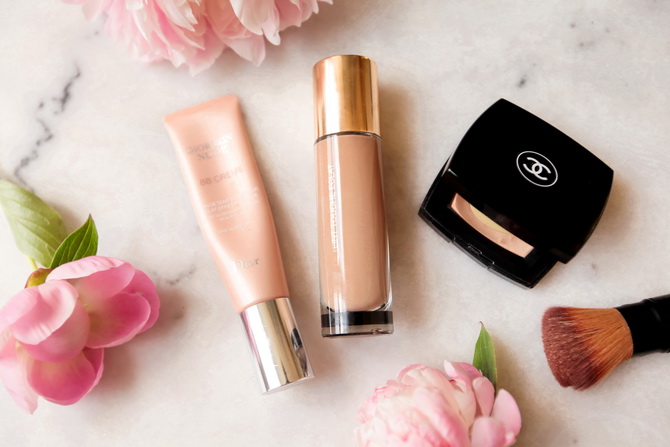 Le teint: BB crème Dior ou fond de teint Touche Eclat YSL. La poudre Chanel pour Matifier.
Fondation: Dior BB cream or Touche Eclat by YSL. Chanel powder to mattify.
–
–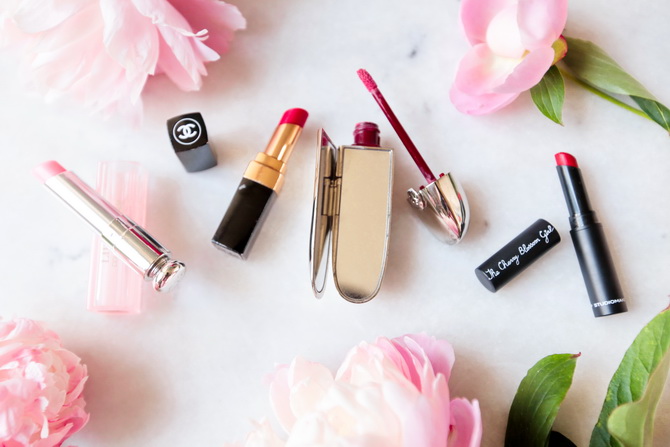 Les lèvres. Mes 4 produits et teintes préférées: Dior Lip Glow, Coco Shine de Chanel, Guerlain rouge G L'Extrait, The Cherry Blossom Girl x Galeries Lafayette.
Lips. My 4 favorite lipsticks and shades: Dior Lip Glow, Chanel Coco Shine, Guerlain rouge G l'Extrait, The Cherry Blossom Girl x Galeries Lafayette.
–
–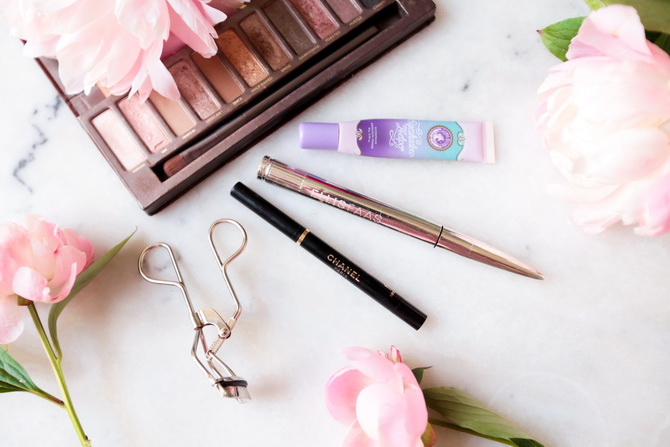 Les Yeux. Base Lime Crime pour assurer une bonne tenue, Mascara Ellis Faas mascara, Eyeliner Chanel, Recourbe cils Sephora, Palette Naked.
Eyes. Lime Crime primer, Ellis Faas mascara, Chanel Eyeliner, Sephora eyelashes curler, Naked eyeshadows palette.
–
–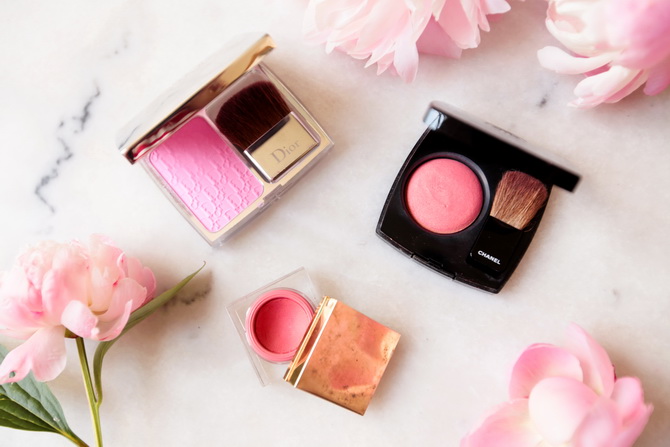 Les joues. Blush Dior, Chanel et YSL.
Cheeks. Blushes by Dior, Chanel and YSL.
–
–
–
♥ A l'essai / Testing ♥
–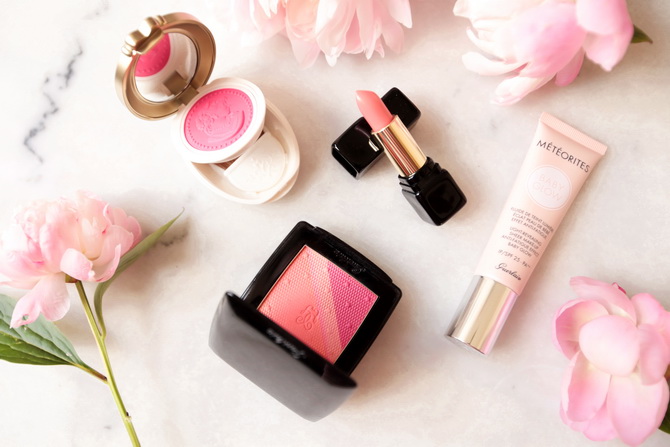 Le blush Les Merveilleuses de Ladurée, et la collection » Les Tendres » de Guerlain ( Enlumineur et rouge à lèvres ).
The blush from les merveilleuses by Ladurée, and the « Les Tendres » collection by Guerlain ( Light revealing BB cream and lipstick ).
–
–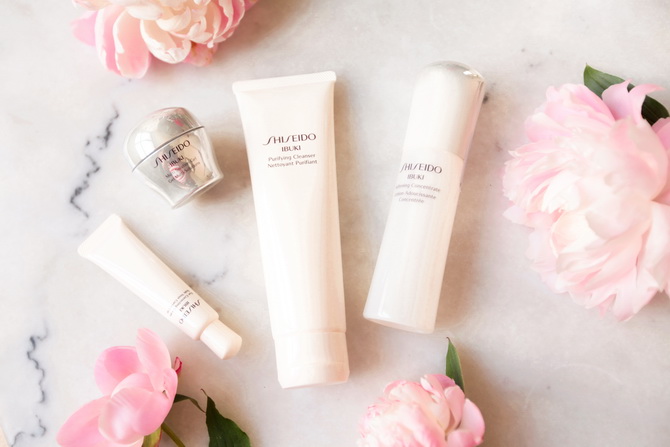 J'aime beaucoup le Nettoyant purifiant Ibuki de Shiseido, que j'utilise depuis deux ans déjà. Viennent donc s'ajouter aujourd'hui la lotion adoucissante concentrée Ibuki, Le gel multi solutions Ibuki et le soin yeux correcteur Ibuki.
I really like the Ibuki Purifying cleanser from ShiSeido, that I've been using for two years now. I just started using as well the Ibuki softening concentrate, Ibuki multi solution gel and Ibuki eye correcting cream.
–
–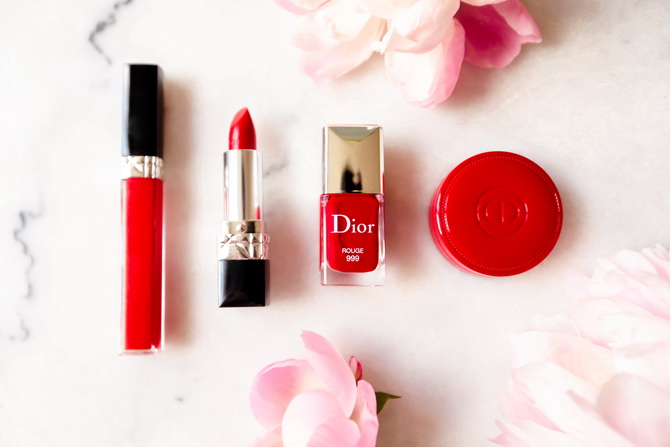 Les rouges Dior.
The Reds by Dior.
–
–
–