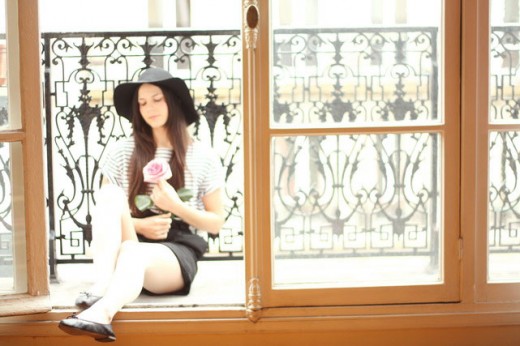 –
One thing that I particularly love about warmer weather in Paris is eating a Sunday breakfast outside, on the balcony.
Unfortunately, it is way too cold these days to eat anything outside, especially not while wearing pyjamas!
Spending an entire winter having breakfast in the kitchen, looking out the window at a grey sky, reminds me of how wonderful it is to be able to get some fresh air in the morning, just a few metres away from the coffee maker!
Whatever happens, you can be sure that baguettes, cereal, and jam will be had the very first morning that the springtime sun is warm enough for a balcony breakfast!
–
Music: Axelle Red – Ce matin
–
Quelque chose que j'affection tout particulièrement lorsque les beaux jours sont au rendez vous à Paris, c'est prendre le petit déjeuner sur le balcon le dimanche matin.
A mon grand regret, il fait bien trop froid en ce moment pour avaler quoi que ce soit dehors et qui plus est … en peignoir !
Et passer tout un hivers à manger dans la cuisine, avec un ciel des plus maussades par la fenêtre rappelle à quel point il est agréable de pouvoir mettre le nez dehors  à quelques mètres seulement de la cafetetière !
Quoi qu'il en soit, baguette,  céréales et pots de confiture attendent impatiemment le premier rayon de soleil printanier pour aller faire un petit tour sur le balcon !
–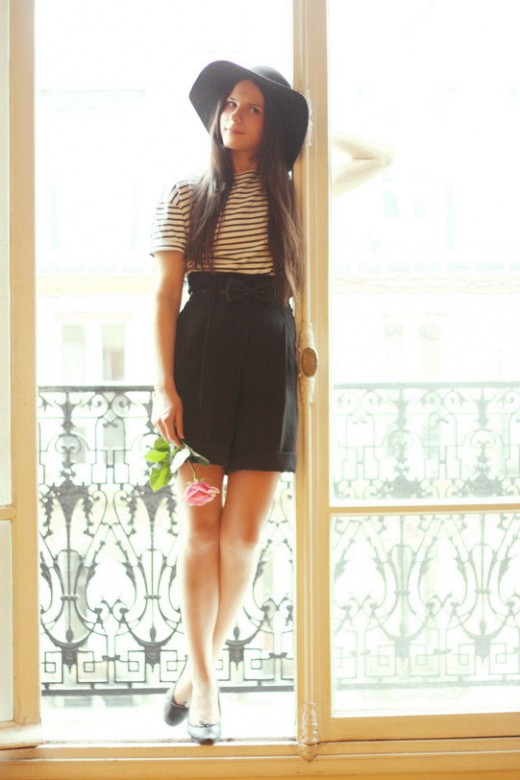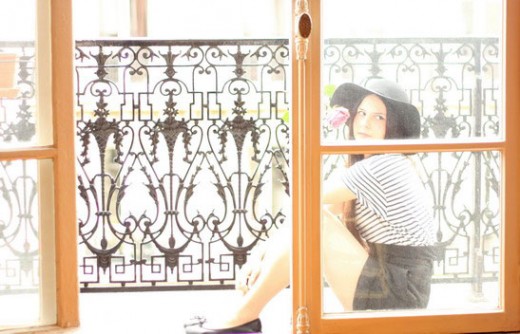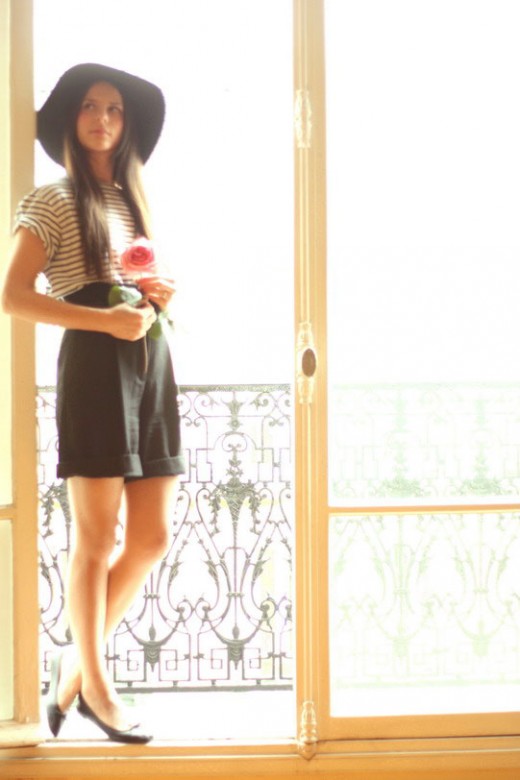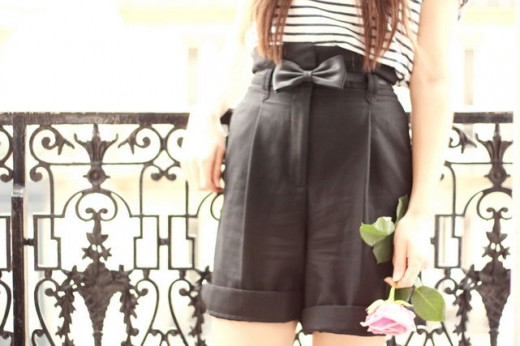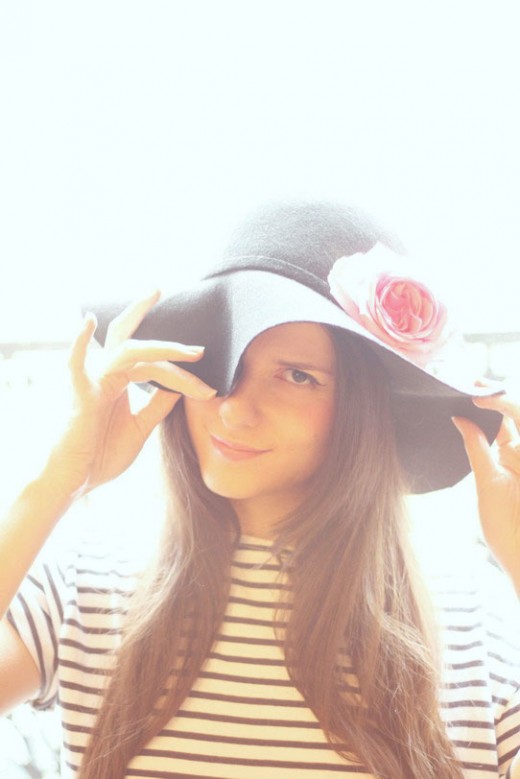 –
Short H&M / H&M shorts
Marinière vintage / vintage stripped Tshirt
Capeline kookaï ( ancienne collection ) / Kookaï floppy hat ( previous collection )
Ceinture noeud vintage / vintage bow belt
Ballerines Repetto / Repetto flats
Collants Dim ( Parce que n'allez pas croire que je suis jambes nues ! )
–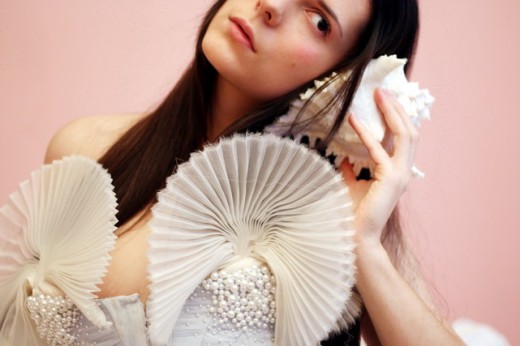 –
When it comes to originality, owning a piece of vintage clothing is pretty much as good as it gets. When you're wearing vintage, there is almost no chance of running into someone who is wearing the same thing you are, and those odds get even better when you are wearing a piece of self-made clothing!
As a former fashion student, I've had to create more than a few pieces myself. Needless to say, I am no stranger to working with my hands and operating sewing machines!
I have spent hours upon hours sewing, especially when it comes to this corset, which took at least one week to complete.
Having spent the final year of my education specializing in Haute Couture, I am very well acquainted with the practices of custom tailoring, handling delicate fabrics, and embroidery.
Thinking back on all the sleepless nights I spent while I was in fashion school makes me nostalgic for that time, and this corset is so precious to me that it is probably the one piece of clothing that I would try to rescue if my house ever caught fire… knock on wood!
–
Music: Yardbirds – For your love
–
Niveau originalité, la possession d'une pièce vintage est en général assez satisfaisante. Il y a en effet assez peu de chance de croiser une personne portant le même vêtement dans la rue … alors je ne vous parle même pas d'un vêtement fabriqué sois même !
Ex étudiante en stylisme, j »en ai moi même réalisé quelques-uns, et je peux vous dire que la  machine à coudre et le travail à la main, à présent ça me connaît  !
Il faut dire que j'en ai passé des heures à coudre, en particulier pour ce corset qui m'a demandé pas loin d'une bonne semaine de travail.
En spécialisation Haute Couture pour ma dernière année d'étude, le sur-mesure, le travail minutieux du plissé ainsi que de la broderie étaient néanmoins pratiques des plus courantes.
Avec le souvenir de plusieurs nuits blanches, et aussi la nostalgie de mes années d'étude, je peux à présent dire que ce corset, j'y tiens comme à un trésors … et c'est sans doute l'unique vêtement que je sauverais s'il y avait le feu chez moi, en espérant bien sûr que ça ne soit jamais le cas !
–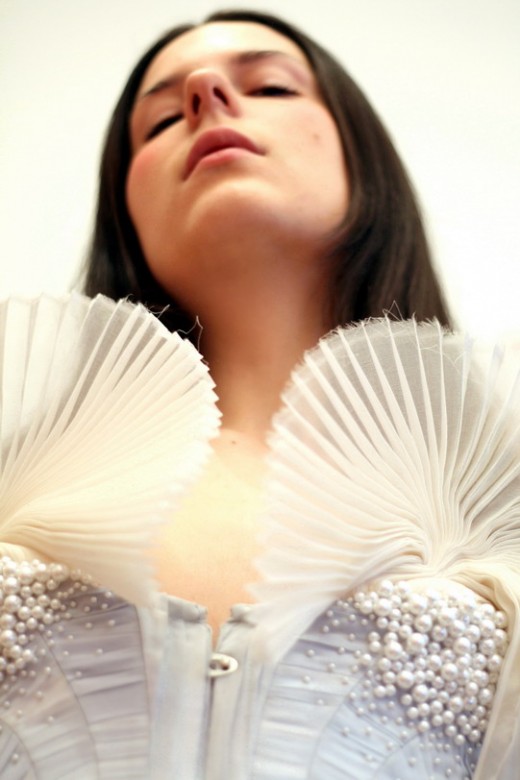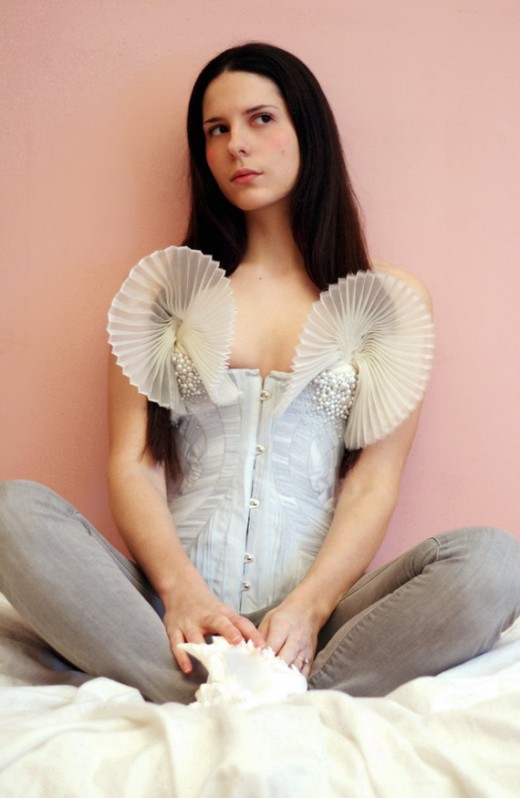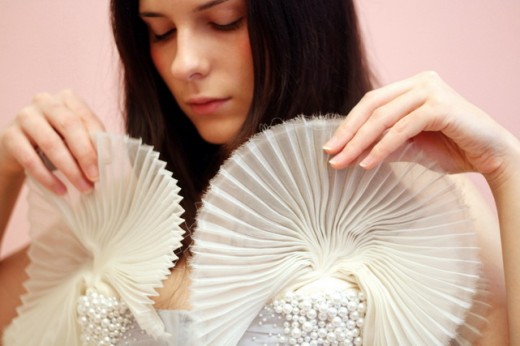 –
Corset, pièce de ma collection Haute couture de fin d'année / Corset from my Haute Couture graduation collection.
Jean H&M / H&M jeans
–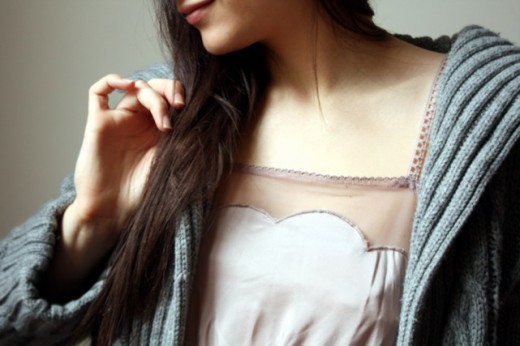 –
Oh, how I hate winter!
The bitter cold, my red frostbitten nose… It is impossible to step out of the house without piling on the layers.
No, I am much more of a springtime girl. But ever since winter set in many months ago, it seems like my summer dresses have only been gathering dust, which is so sad.
In reality, this isn't quite the case. I know I can't escape winter, but I am so eager for spring that I've decided to pair some of my lighter clothes with warmer pieces.
As long as I don't catch a cold, this little trick may be just what I need to cure my winter blues!
–
*******
–
Dieu que je déteste l'hiver !
Le froid glacial, un nez rouge en plein milieu de la figure … et impossible de sortir dehors sans accumuler les couches.
Moi qui suis plutôt une fille du printemps, vous pouvez immaginer mon déséspoir à voir toutes mes robes d'été prendre la poussière pendant six interminables mois !
Mais la réalité est toute autre, car je suis tout bonnement incappable d'attendre ! Même en plein hiver, je n'hésite pas à porter des vêtements légers avec d'autres pièces plus chaudes.
Tant que je n'attrappe pas de rhume, un tel décalage peut être considéré comme un bon remène face au blues hivernal …
–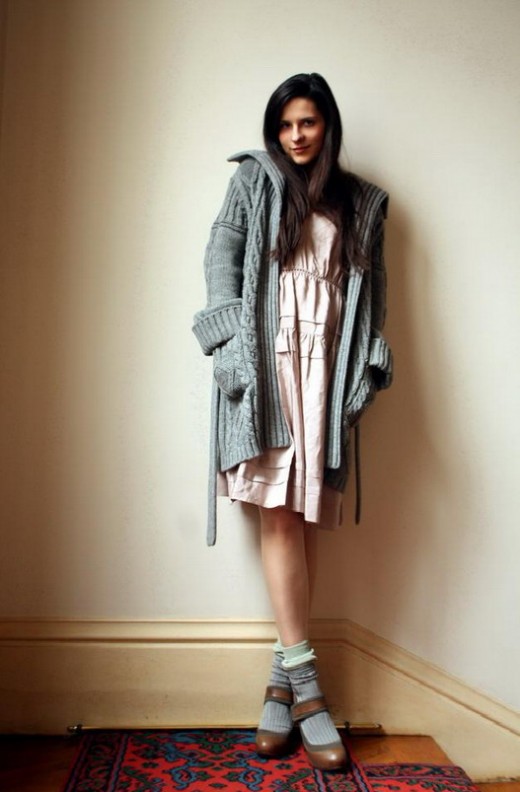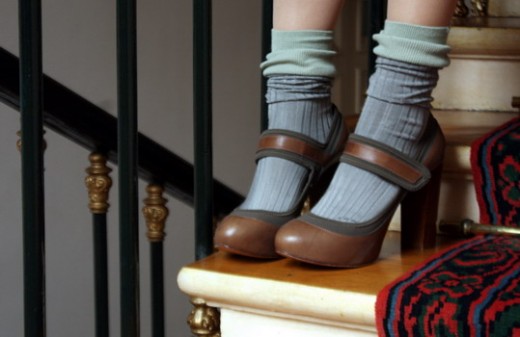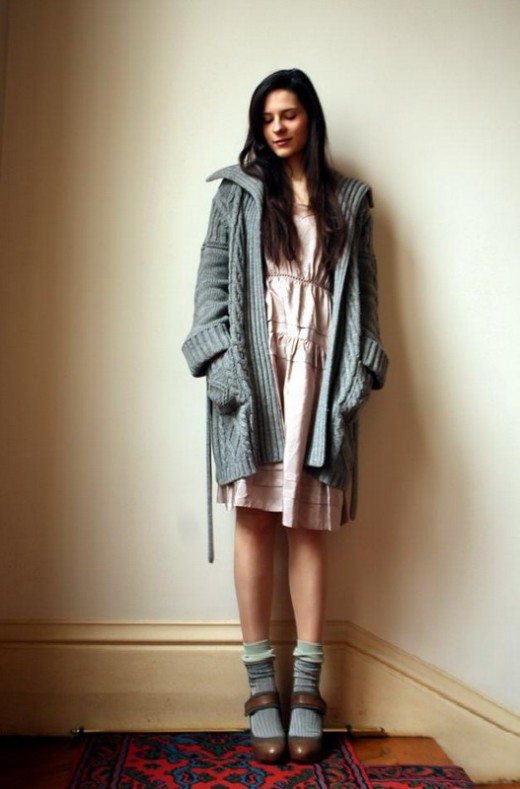 –
Robe See by Chloé / See by Chloé dress
Gilet vintage / Vintage sweater
Chausettes H&M / H&M socks
Chaussures Chloé / Chloé shoes
–