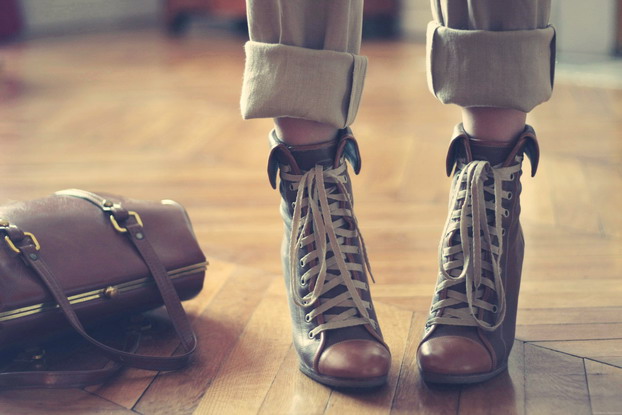 –
Les voilà de nouveau !
Quand je vous disais qu'elles étaient greffées à mes pieds.
Ces bottines à lacets Chloé sont un tel coup de cœur qu'elles m'inspirent milles tenues.
Sur les milles, Je vous en présente aujourd'hui quatre.
Le tout dans des couleurs automnales, beige, gris, kaki et bleu délavé, parfait pour débuter l'automne … du bon pied.
–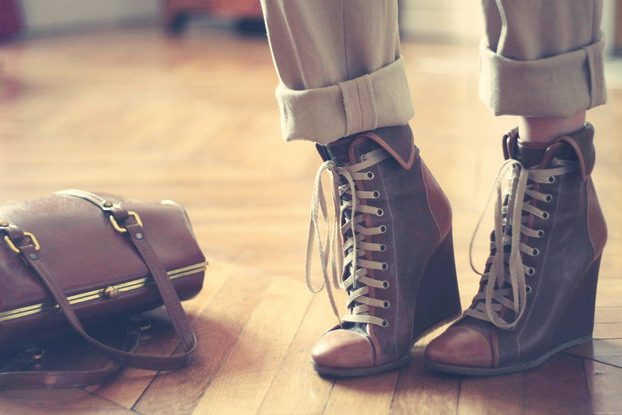 –
Here they are again!
Remember when I told you they were glued to my feet?
I'm so in love with these Chloé lace up boots that they keep inspiring me to come up with hundreds of outfits. Thousands, even. I've decided to showcase four of them for you today.
They all revolve around a fall colour palette: beige, grey, khaki, washed out blue… Perfect for starting the fall off… on the right foot.
–
–
Look 1
Un grand pull tricoté, pantalon et blouse fluide, les chaussures ont ici comme un air de bottes d'alpiniste.
An oversized cardigan, trousers, and a flowing blouse give these boots a mountain climber edge.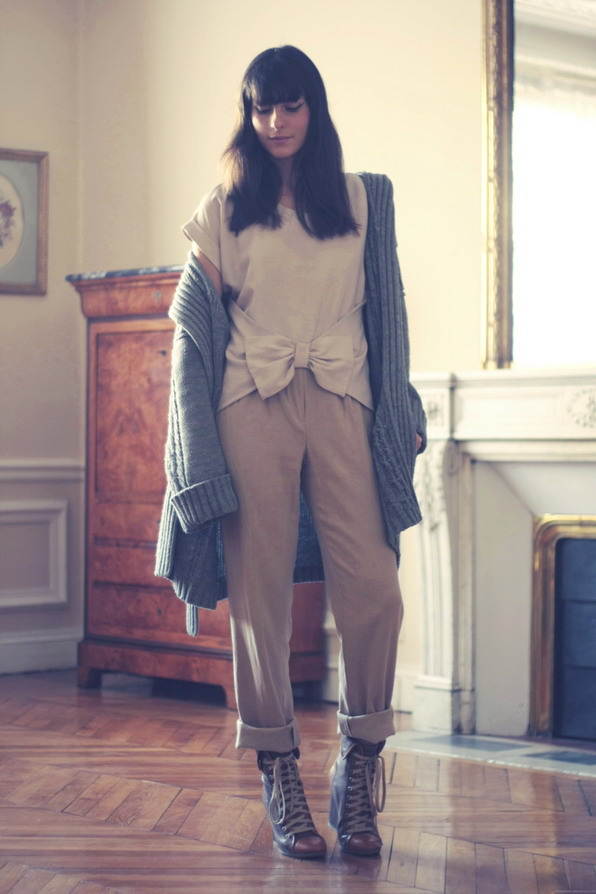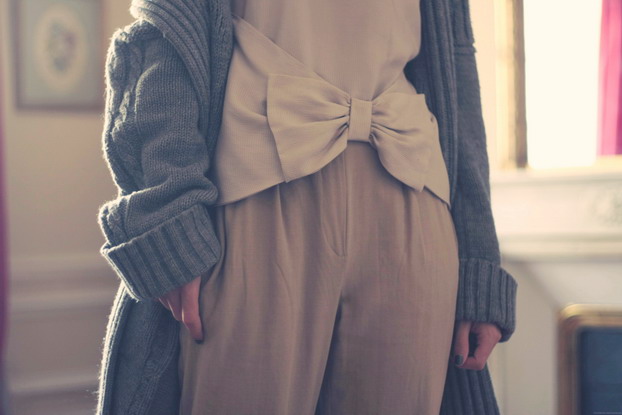 Vintage pants and knitted jumper, H&M top
–
Look 2
Ce look est le résultat d'un grand hasard. J'ai pioché veste, T-shirt et pantalon à l'aveuglette dans mon placard. Je me rend compte que ces bottines ont ainsi un grand pouvoir magique: elles ont la capacité de donner du peps et de l'allure à n'importe quelle tenue !
This outfit resulted from me randomly grabbing a vest, t-shirt, and trousers from my closet. I'm beginning to realize that these boots have magical powers: they really can add pizzazz to any outfit!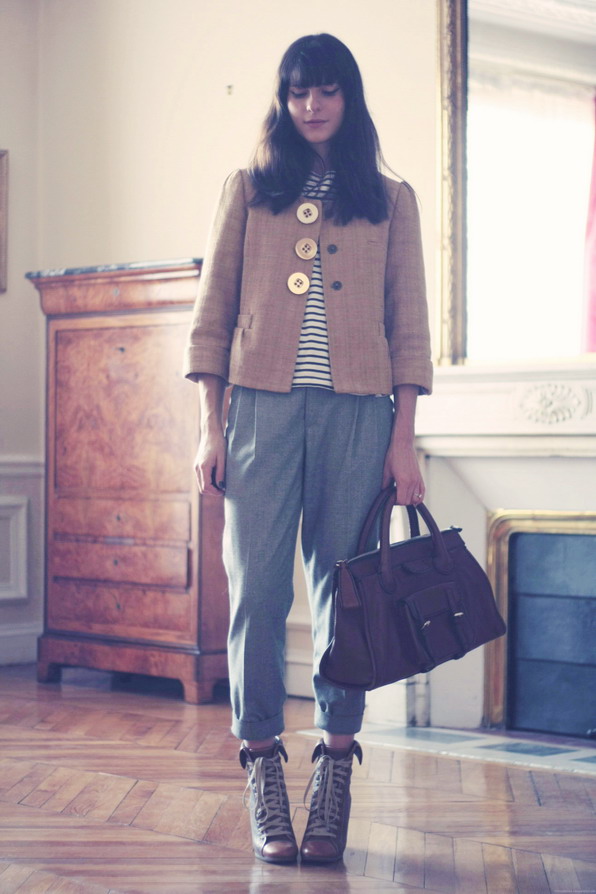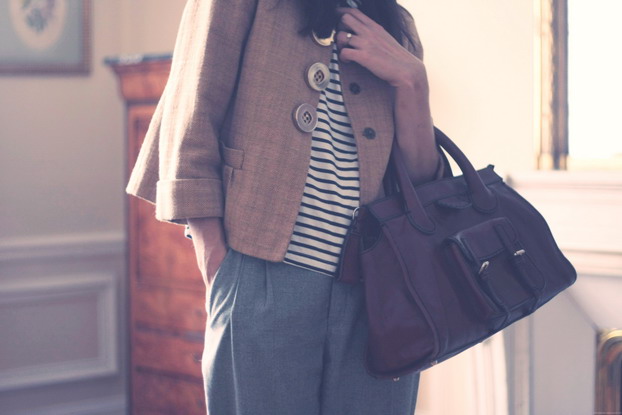 Zara pants, H&M jacket, Vintage Tshirt, Chloé bag
–
Look 3
Pas de crise cardiaque je vous en prie, la jupe se cache tout simplement en dessous de la liquette en denim. Et les chaussures … elles me font penser à des patin à glace cette fois ci !
Dès que les degrés seront en dangereuse chute libre, je remplacerais collants couleur chair par un collant en laine gris.
Don't worry, I'm wearing a skirt, it's just hiding underneath the denim! And the shoes… They remind me of ice skates here!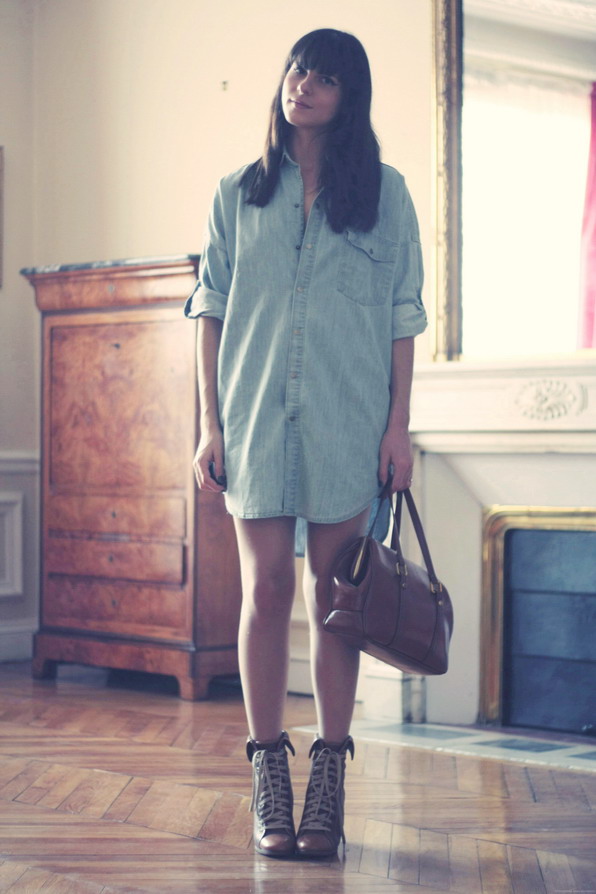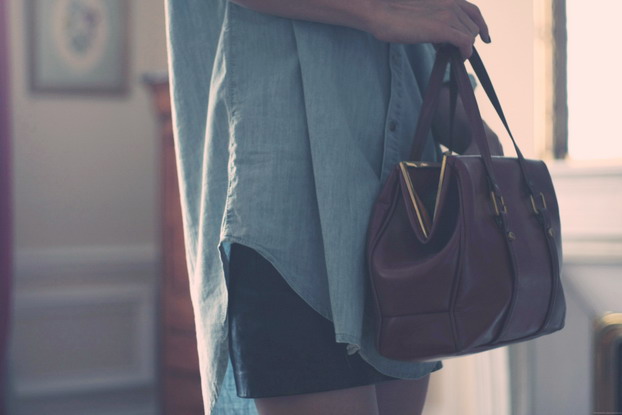 Mango denim dress, Zara skirt, vintage bag
–
Look 4
Avant de faire l'acquisition récente de ce pantalon, je pensais que l'imprimé léopard pouvait difficilement se porter autrement qu'avec du noir. Je sens que ce manteau doudou va plutôt côtoyer beige et kaki cet hiver !
I used to think that leopard print didn't really work with anything other than black… until I acquired this pair of trousers! Somehow, I think I might have to marry this cozy jacket with a lot more beige and khaki this winter!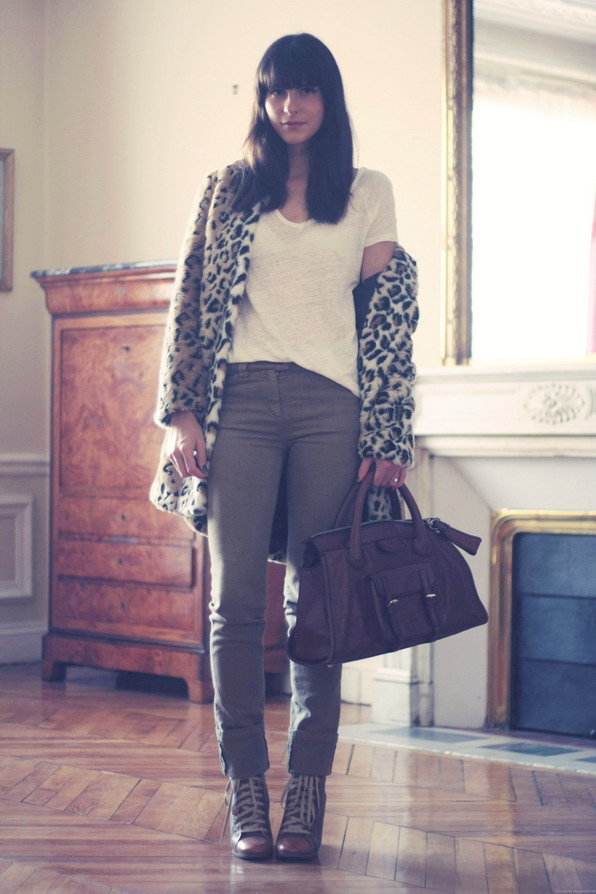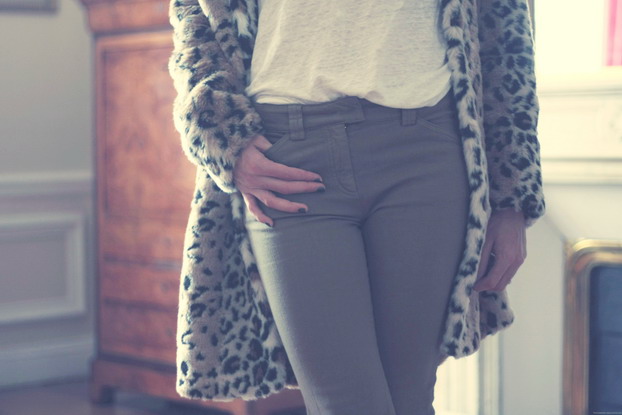 Zara coat, Balenciaga pants, zara Tshirt, Chloé bag

–

Translation by Victoria Morrison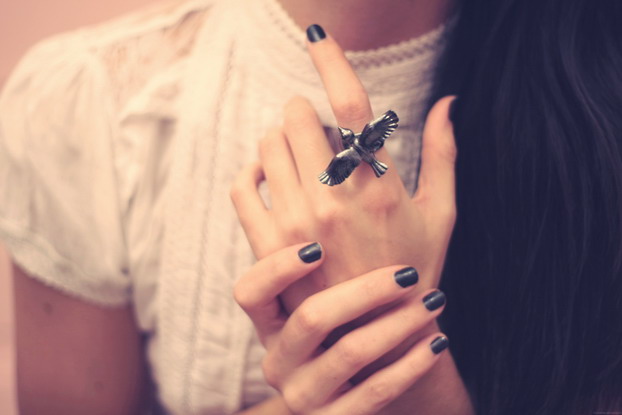 –
Quoi de nouveau dans ma garde robe ?
What's new in my closet ?
–
Des Bottines  à lacets Chloé, littéralement greffées à mes pieds depuis ce matin.
Chloé lace up wedges, glued on my feet since this morning.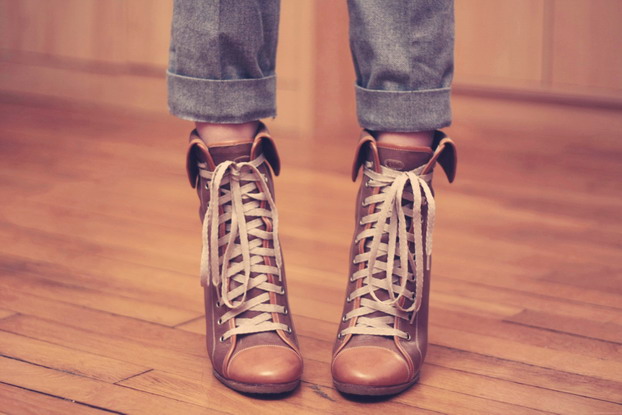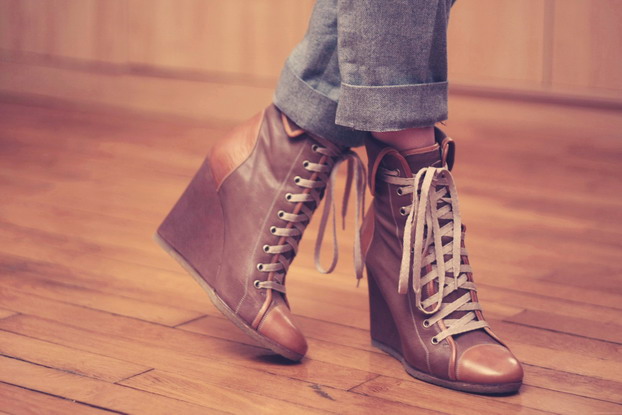 –
Une robe Topshop. A Topshop dress.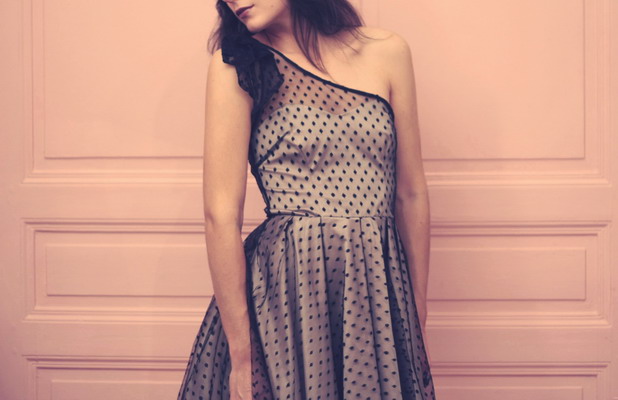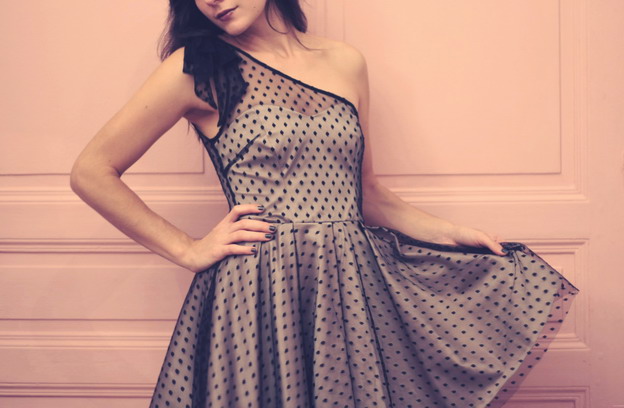 –
Une bague colombe Mango. A Mango dove ring.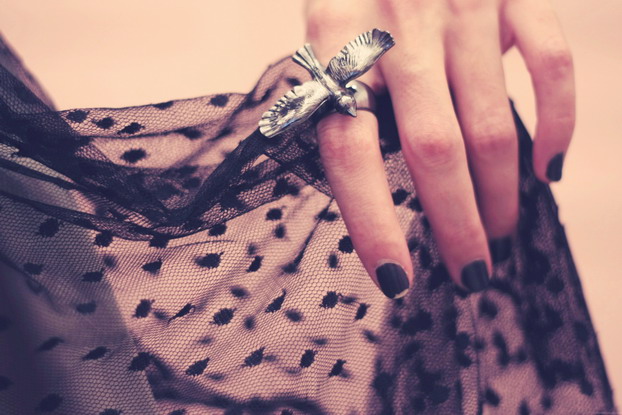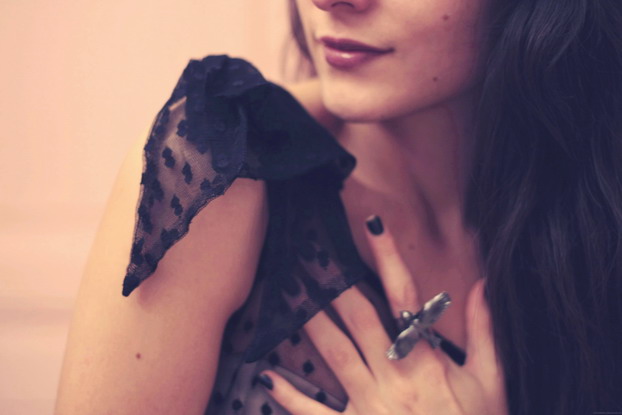 –
Un collier chaînes Mango. A Mango necklace.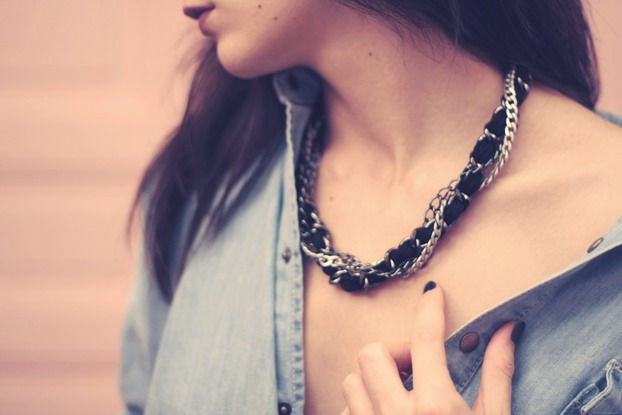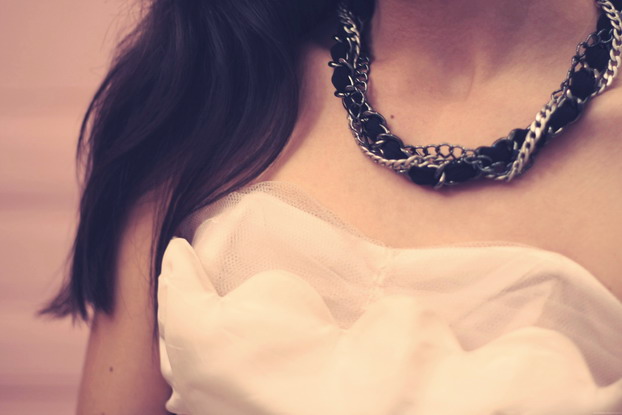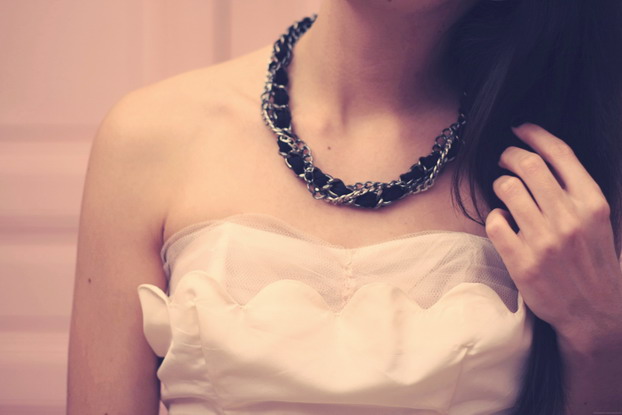 ( Vintage pink scalopped prom dress )
–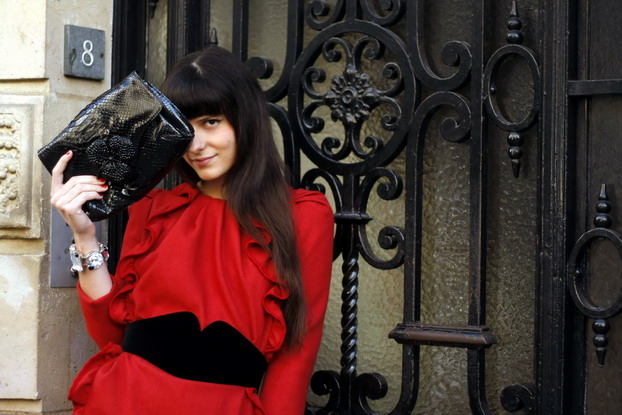 –
C'était en Juillet dernier.
Je me rappelle encore de cette grande joie que j'ai ressenti, lorsque Sonia Rykiel m'a proposé de venir lui rendre visite dans son Showroom de Saint Germain des Près.
Rencontrer toute l'équipe, être accueillie si chaleureusement, et plonger dans cet univers de rayures, strass et sourires tellement charmant.
Sur les portants, des vêtements tous aussi somptueux les uns que les autres, des robes à volants, des grands pulls en maille, des broches somptueuses, des lunettes et des chaussures par milliers.
Et parmi toute cette profusion de couleur,  c'est là que m'est venu une idée.
Pourquoi ne pas incarner une femme Sonia  juste le temps d'une journée ?
Être un peu une cendrillon Rykiel dans les rues de Paris, vivre un beau rêve, jusqu'à ce que sonne les douze coups de minuit ?
Bien évidement en profiter pour faire quelques clichés !
Merci à Sonia Rykiel pour cette merveilleuse journée !
–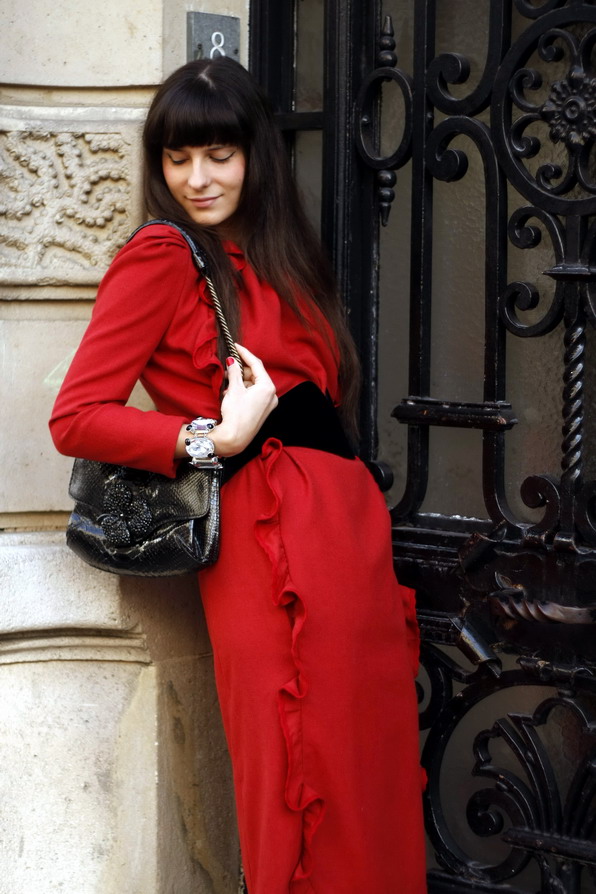 –
It happened last July.
I could never forget the intense joy that I felt when Sonia Rykiel asked me to visit her in her Saint Germain des Près showroom.
I got to meet her entire team, who gave me a very warm welcome, as I became immersed in a universe filled with stripes, strass, and smiles.
Each outfit was more lavish than the last; tiered dresses, oversized cable-knit sweaters, incredible broaches, specs and shoes by the thousands…
And it is within this profusion of colour that I came up with an idea.
Why not incarnate a Sonia Woman, just for one day?
Maybe I could be a Rykiel version of Cinderella, wandering the streets of Paris, living a beautiful dream, at least until the stroke of midnight!
And perhaps take advantage of the opportunity to create a few clichés…
Thank you so much, Sonia Rykiel, for such a wonderful day!
–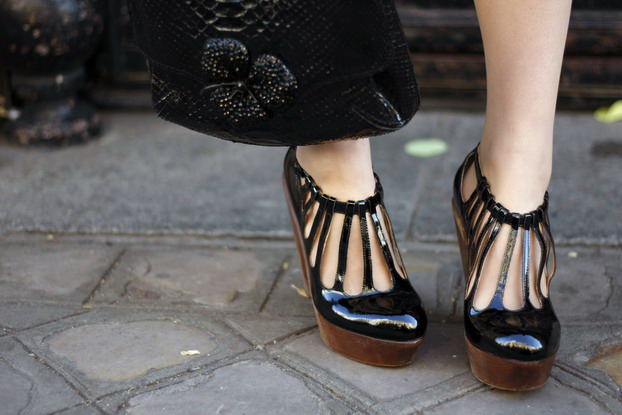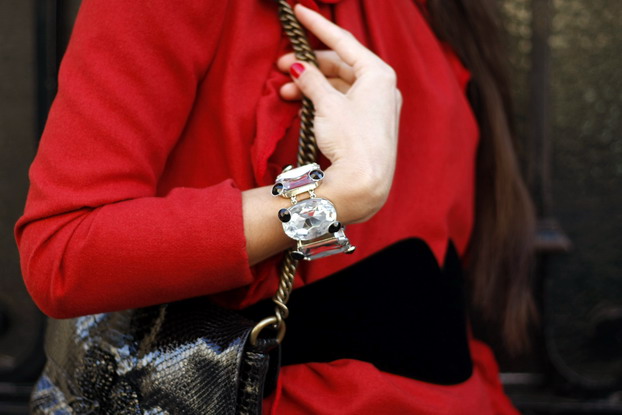 Dress, belt, bracelet and bag sonia Rykiel, Cosmo shoes
–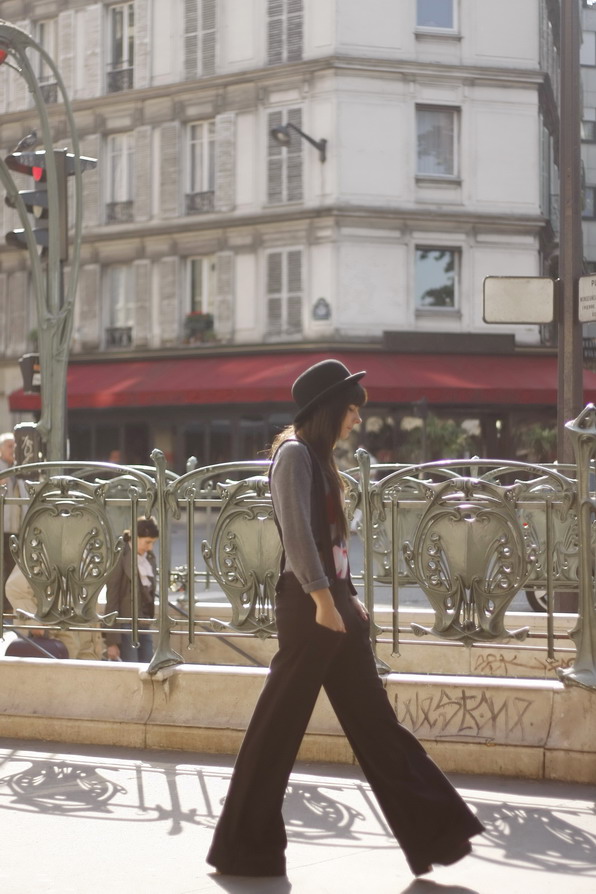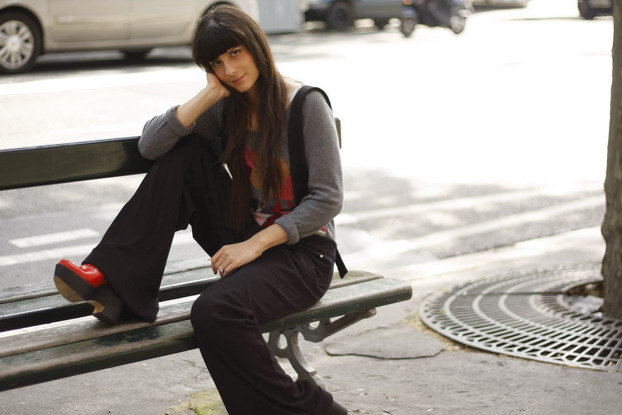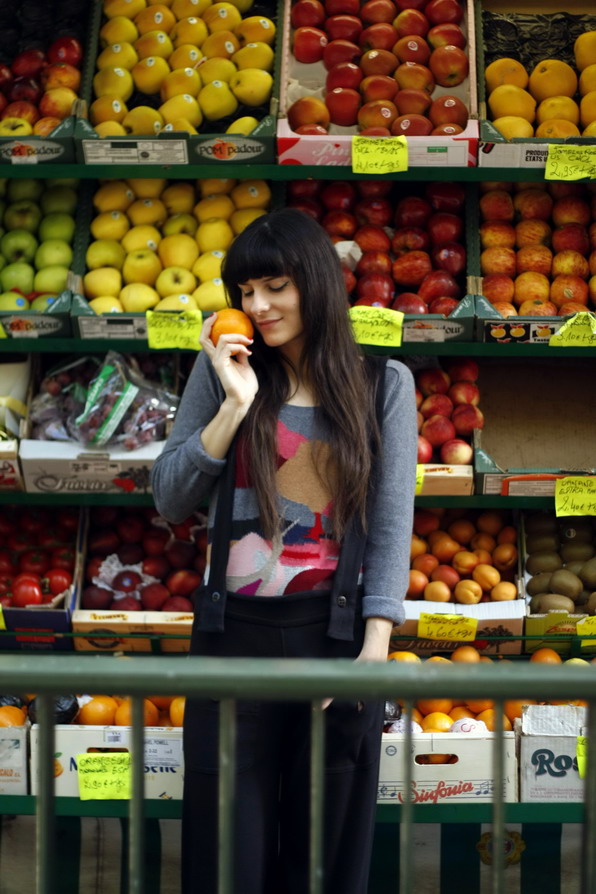 dungarees and jumper Sonia Rykiel, Chloé shoes
–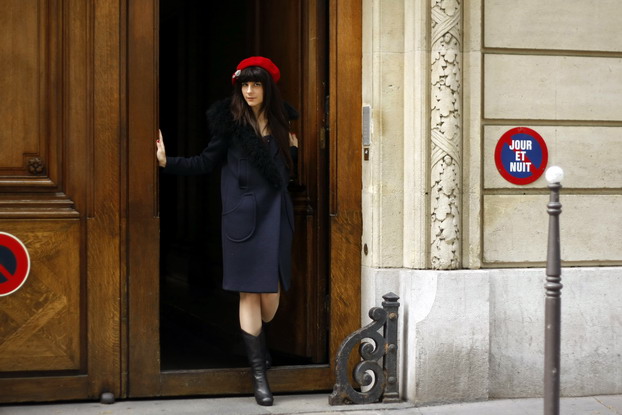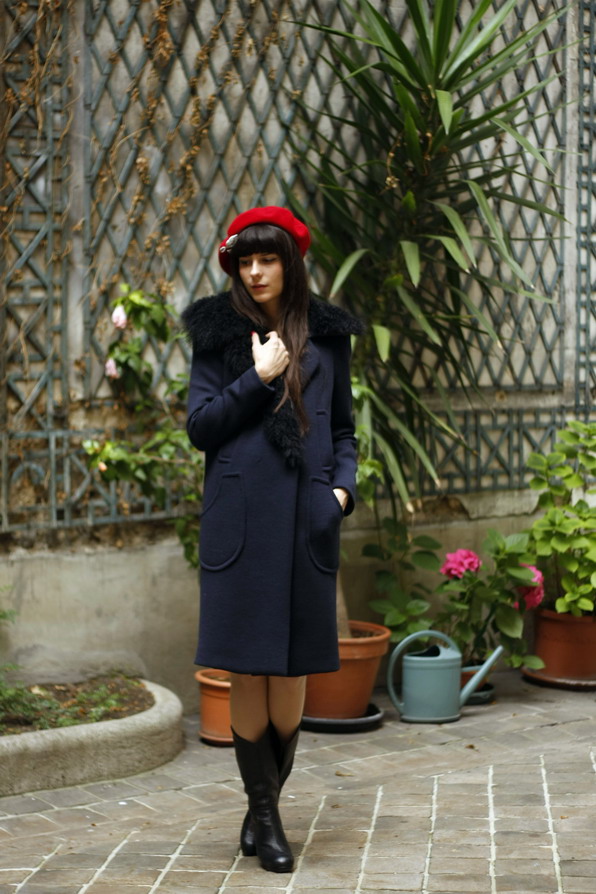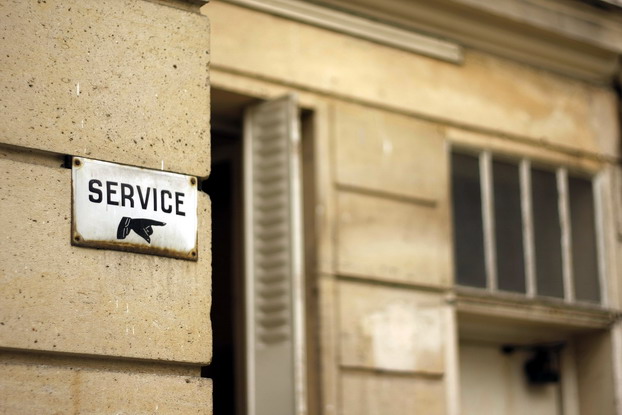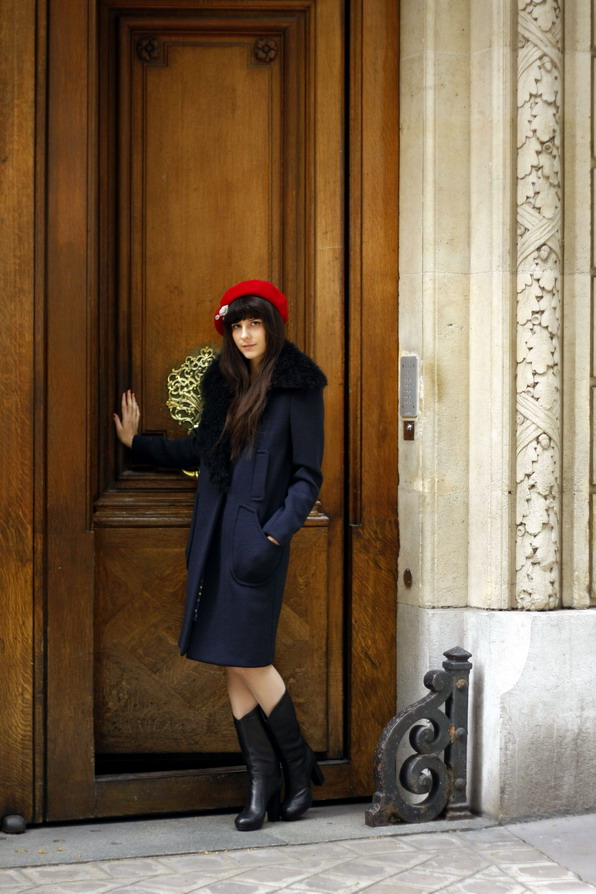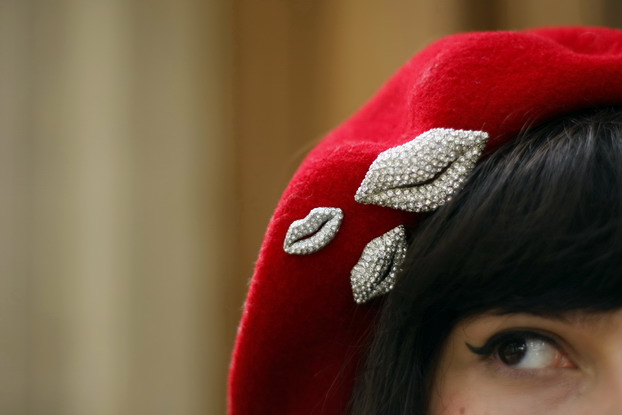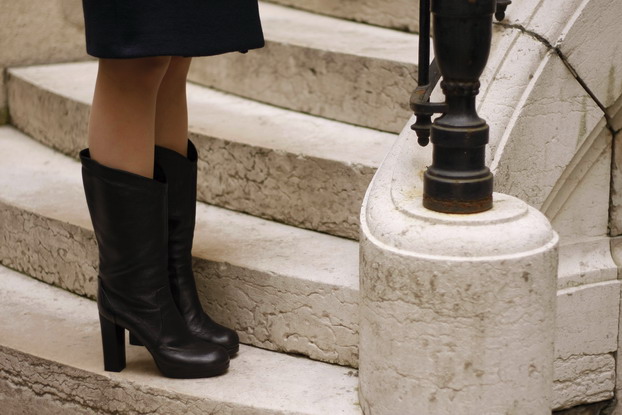 Coat, brooches and boots Sonia Rykiel, Printemps hat.
–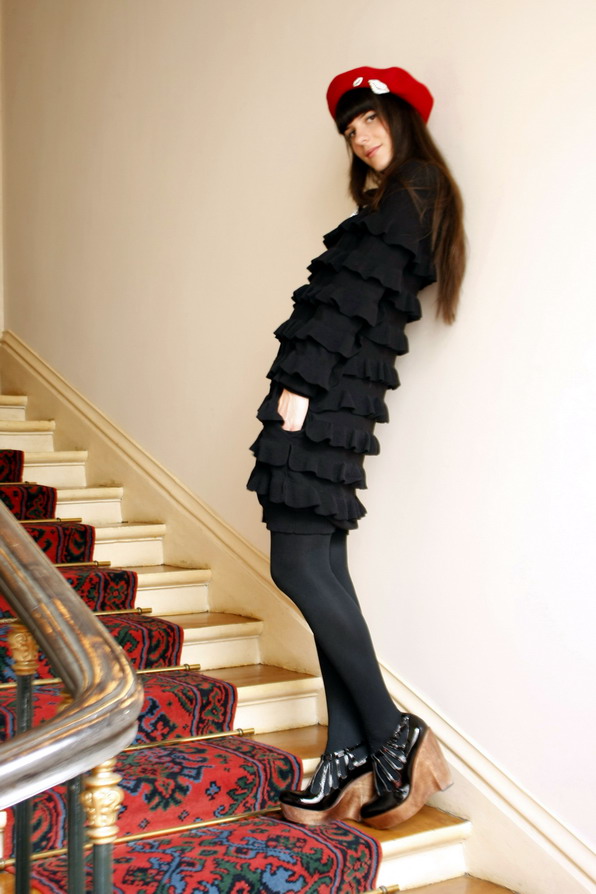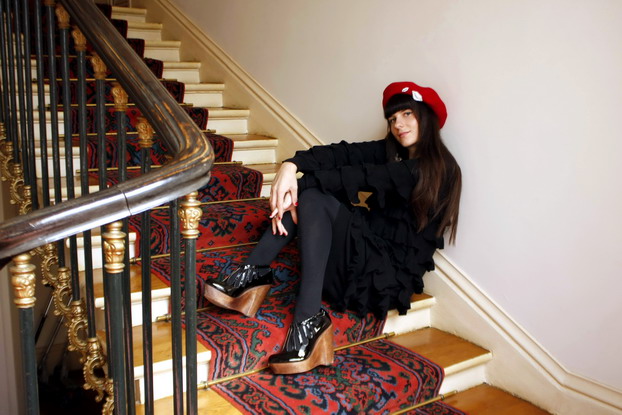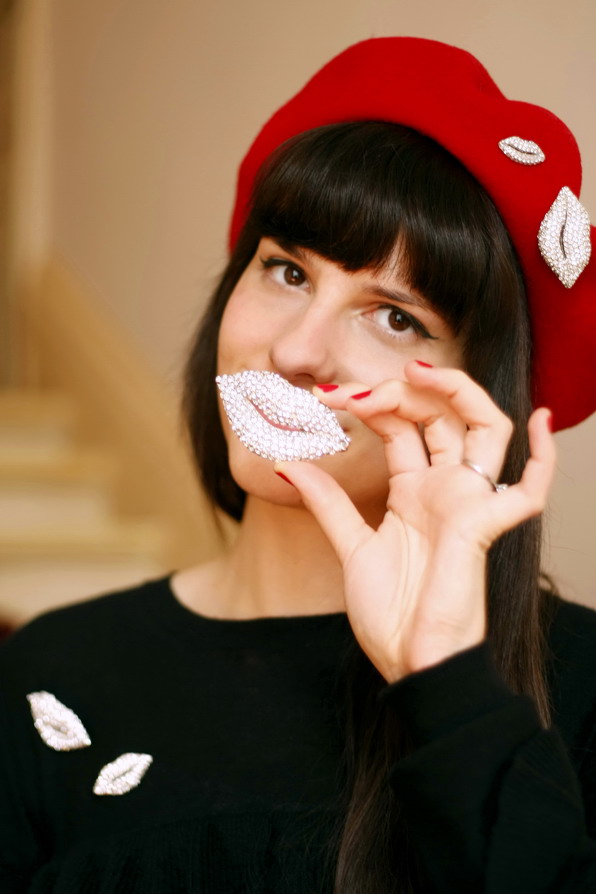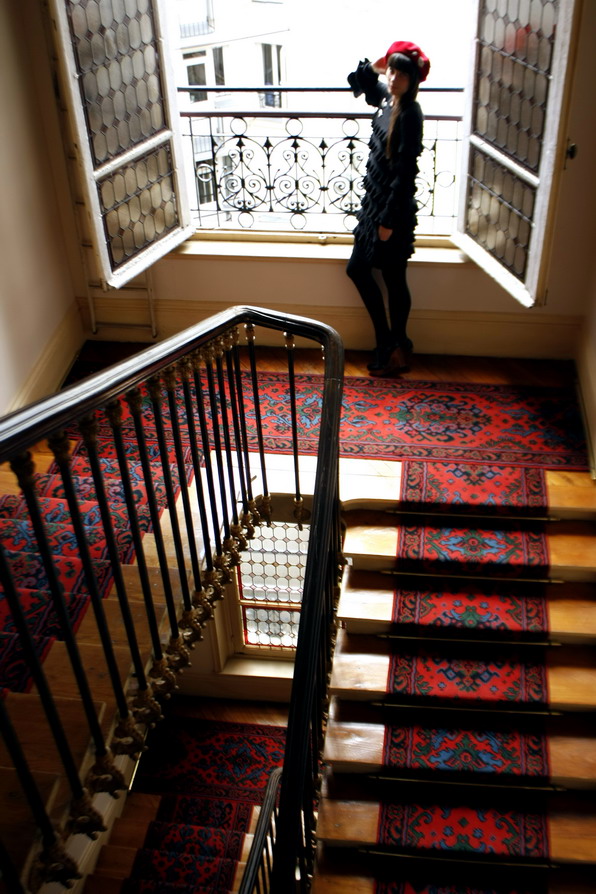 Dress ans brooches Sonia Rykiel, Cosmo shoes, Printemps hat
–
Je vous invite à allez sur le blog Rykielles, toutes les photos, et pleins d'autres choses à découvrir !
You can have a look atphotos, and even more thingd to discover on the Rykielles blog.