–
–
–
Suite de mon petit périple à Londres, et plus précisément Regent Street, où j'étais invitée pour découvrir quelques jolies adresses.
–
Après un agréable trajet en Eurostar, où j'ai pu découvrir le tout nouveau Lounge à Paris Nord, nous avons posé nos valises à l'hôtel Langham. Un superbe établissement décoré avec goût, et idéalement placé.
–
Je ne connaissais que très peu Regent Street, et ça a été une très belle occasion de découvrir. Les bâtiments et la forme courbe de la rue sont splendides, et les autres petites rues alentour regorgent de très bonnes adresses. C'est un point d'intérêt idéal pour une sortie shopping, tea time et restau !
–
Parmi ces nouvelles découvertes, Thomas' at Burberry pour un tea time définitivement British, Heddon Street Kitchen pour les meilleurs cocktails, Aqua Kyoto pour une cuisine japonaise revisitée, le joli salon de beauté DryBy,  la divine cuisine Toscane au restaurant Frescobaldi, et enfin mon moment préféré: Lumiere London.
Un événement exceptionnel avec des installations lumineuses qui animent Regent Street, vidée de tout véhicule et peuplé d'une foule très joyeuse!
–
–
♫ ♪ Gerry & The Pacemakers – How Do You Do It 
–
–
As I told you earlier, I was invited to London for the visit of Regent Street.
–
After a pleasant ride on board of the Eurostar ( with a recently renewed lounge at Paris Nord ), we checked in at the Langham London. A very beautiful hotel, with the most exquisite decoration, and perfectly located.
–
I didn't know Regent Street very well, so it was the perfect opportunity to discover a bit more. The buildings, and the curved shape of that street are magnificent, and other small streets in the area are filled with interesting addresses. It's the perfect spot for hanging out, shopping, having tea time and going to the restaurant.
–
These great discoveries included a very British tea time at Thomas' at Burberry, the best cocktails at Heddon Street Kitchen, fusion japanese food at Aqua Kyoto, hair and nails at DryBy salon, the divine Tuscan food at Ristorante Frescobaldi, and finally my favorite: Lumiere London.
A beautiful event with spectacular light installations, taking place in Regent Street, emptied from every vehicles, and replaced by a very happy crowd !
–
–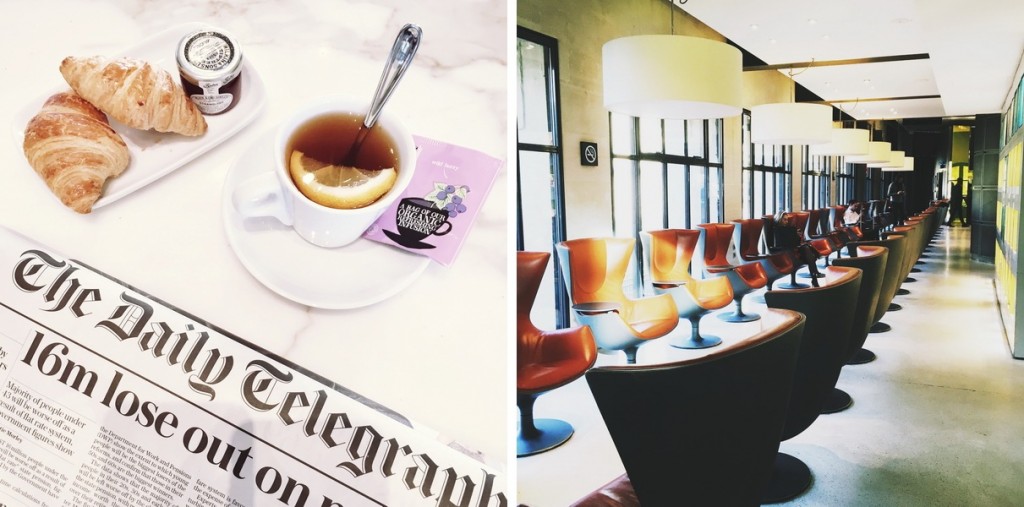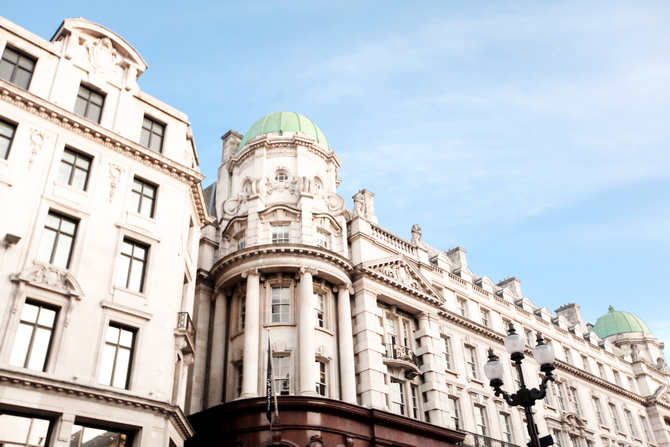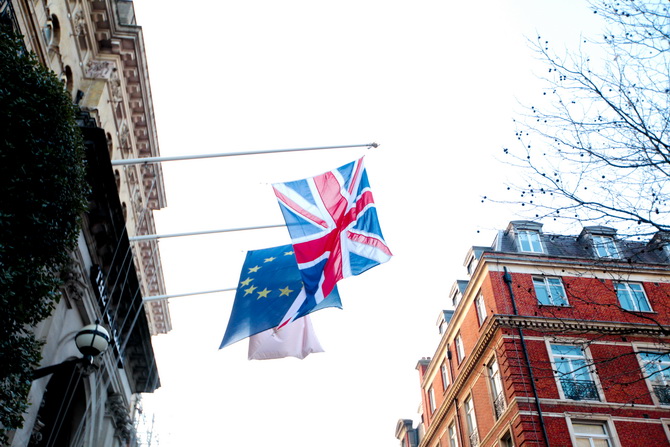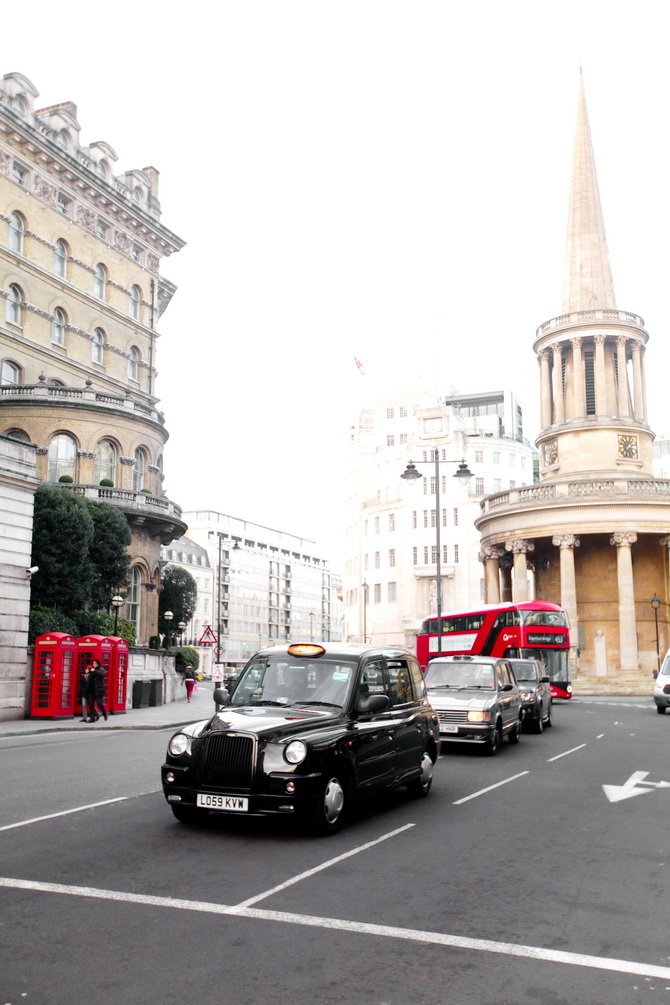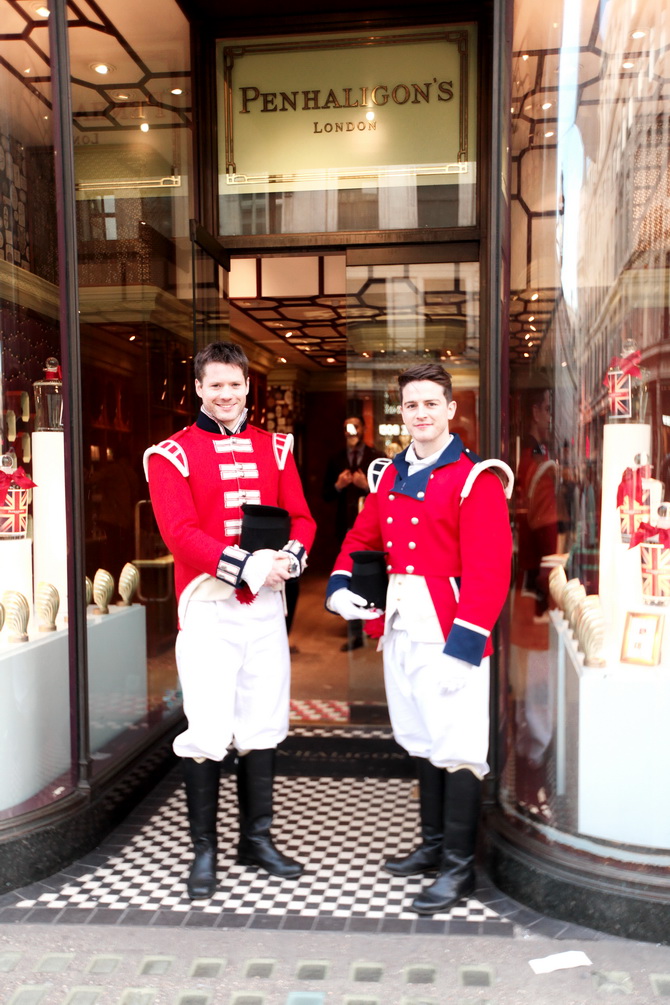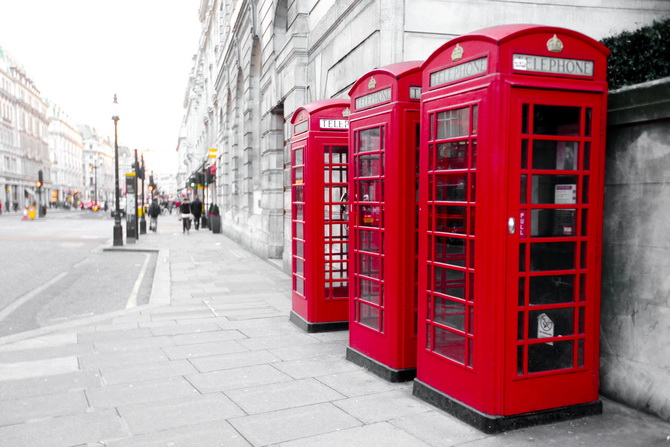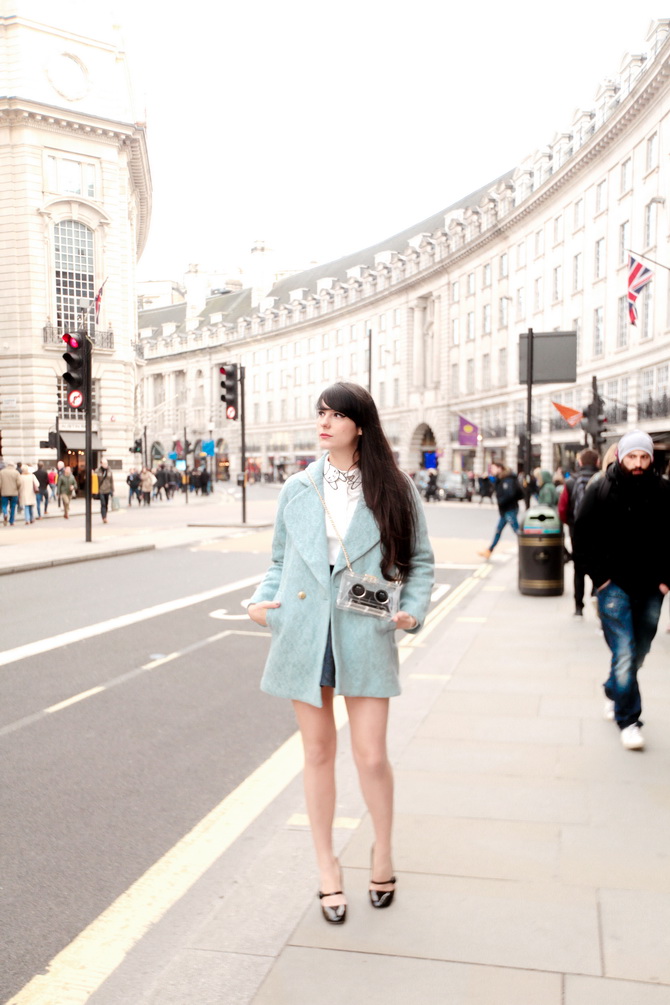 –
Manteau / Coat : Miss Patina —- Chemise / Shirt : Miss Patina
Sac / Bag: Dahlia —- Chaussures / Shoes : miu miu
–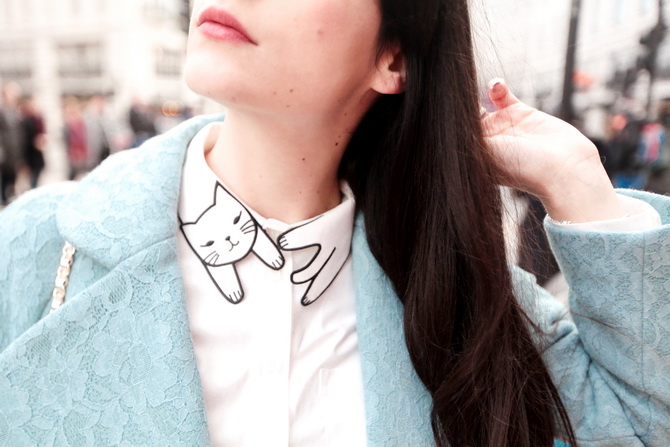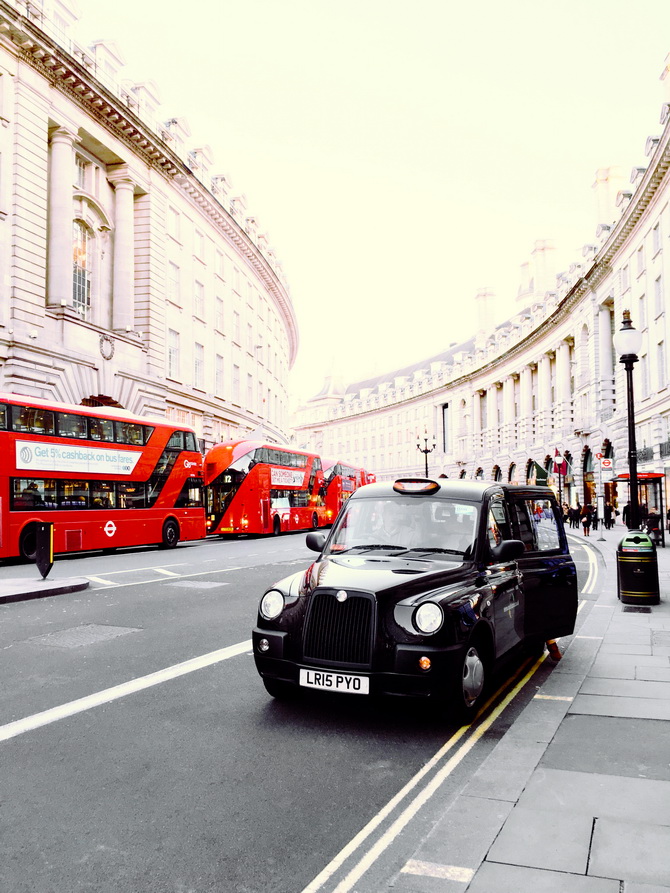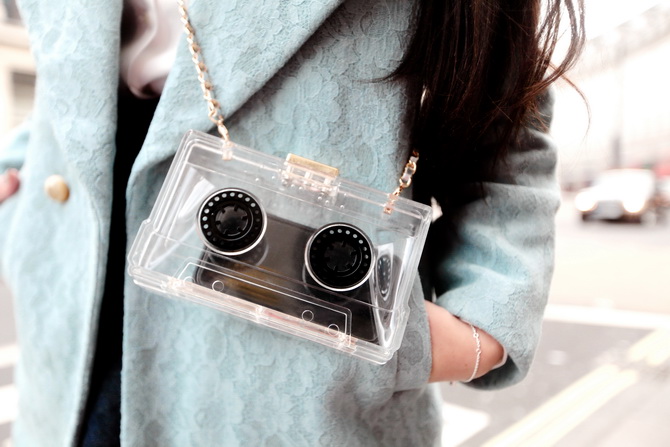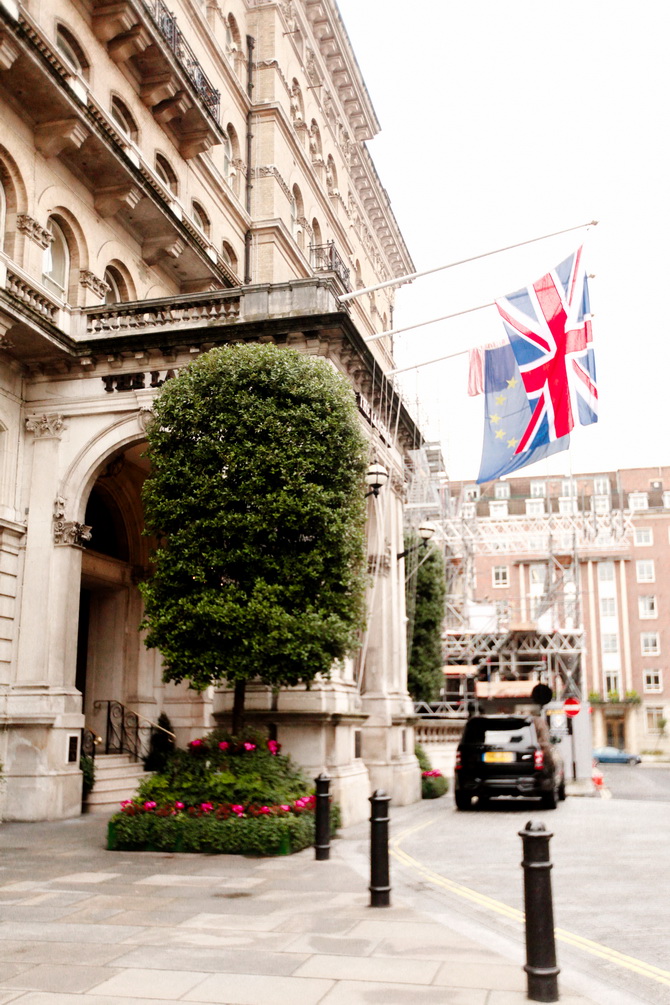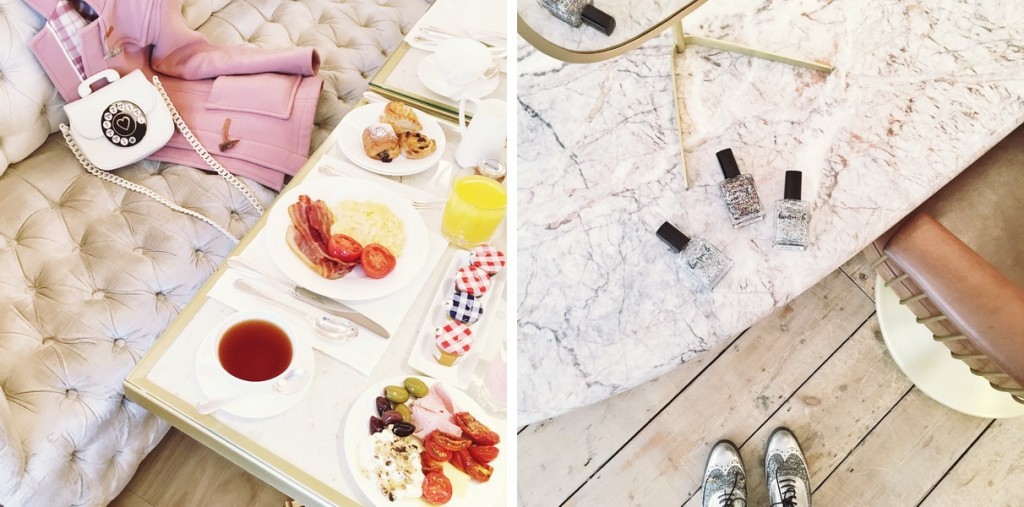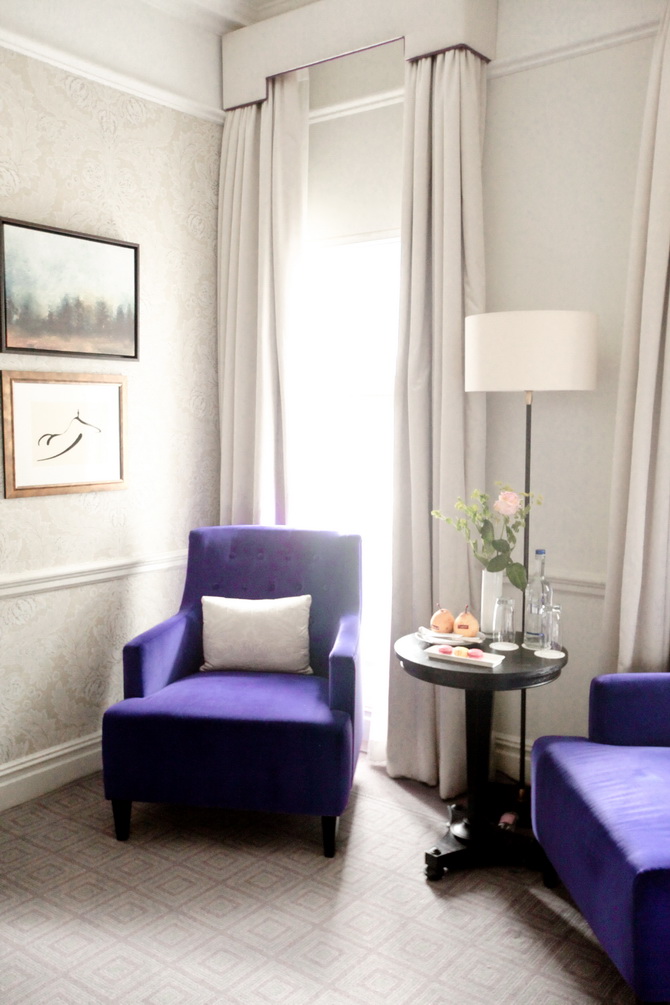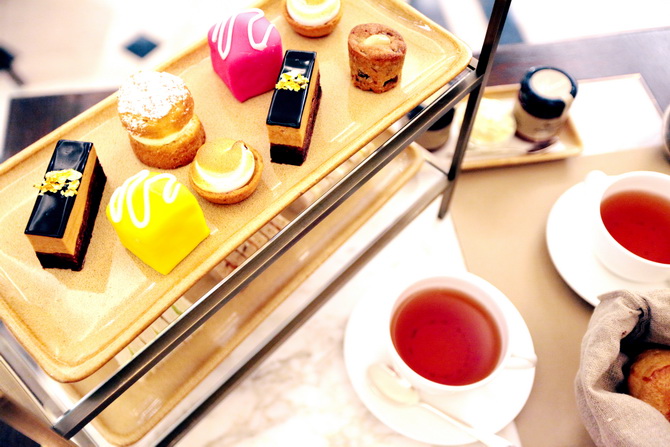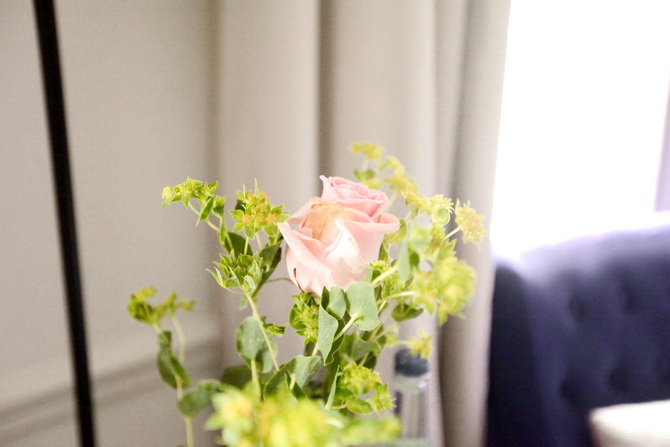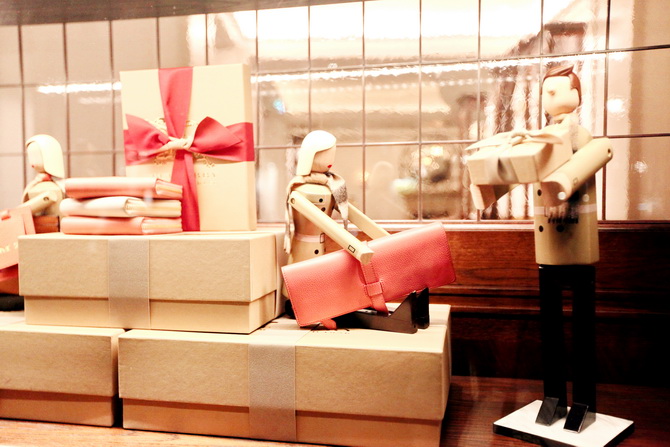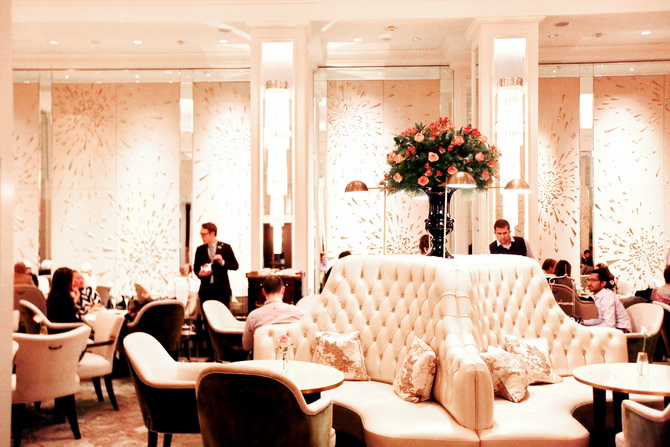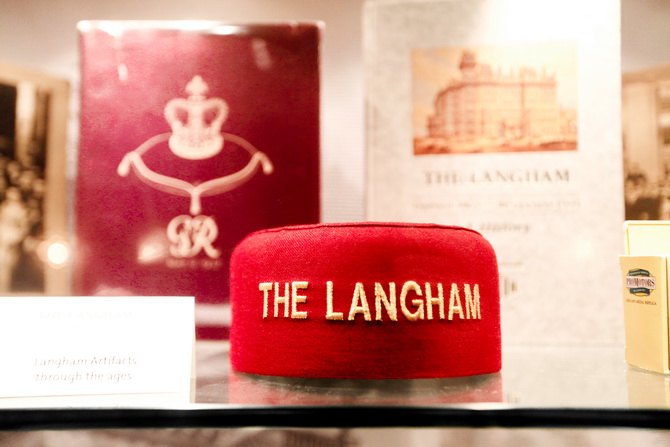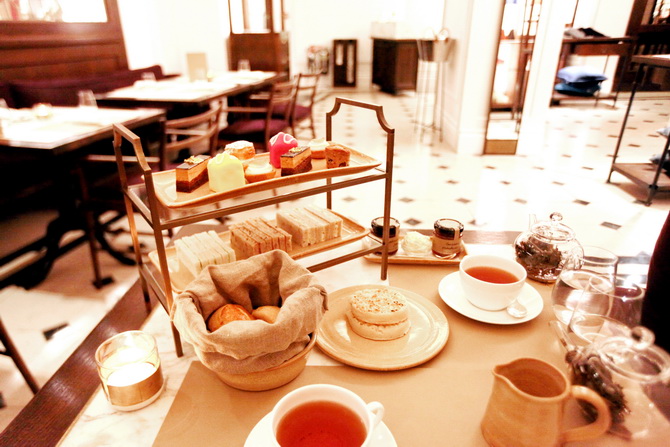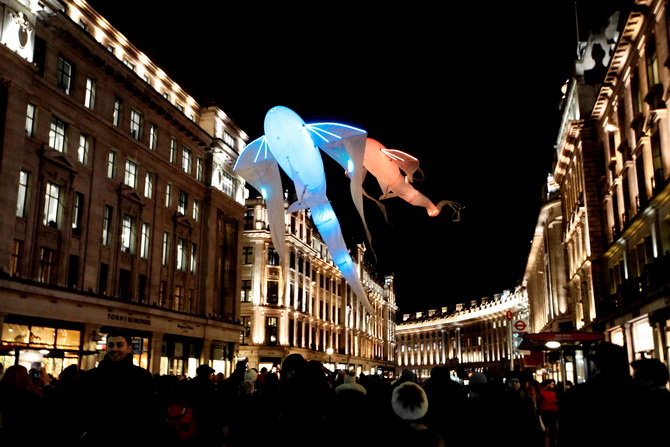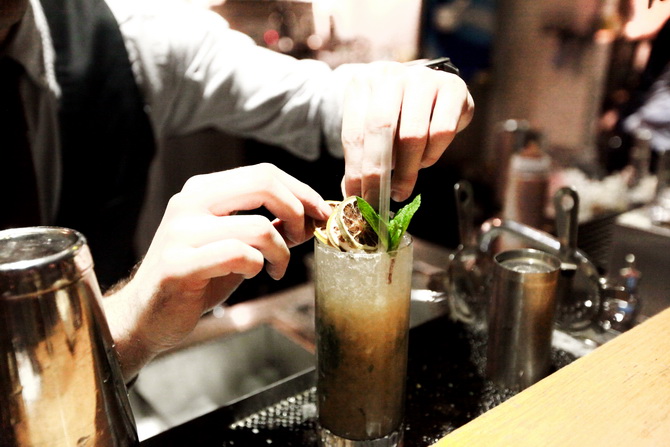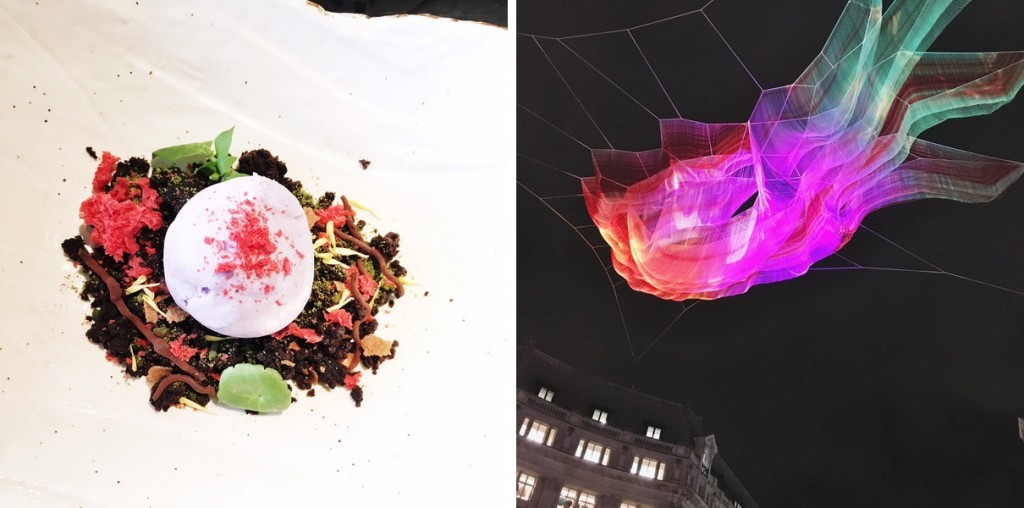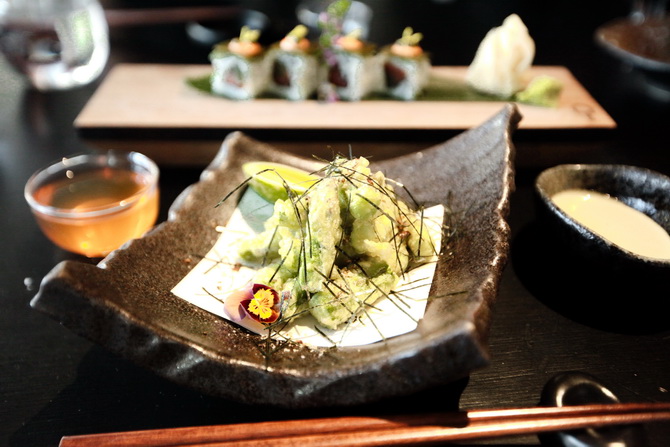 –
–
The Langham London: 1C Regent St, London W1B 1JA
Thomas' at Burberry: Burberry, 5 Vigo St, London W1B 4TB
Heddon street Kitchen: 3–9 Heddon St, London W1B 4BE
Aqua Kyoto: 5th Floor, 240 Regent St, London W1B 3BR
DryBy Salon: 74 Mortimer St, London W1W 7RZ
Ristorante Frescobaldi: 15 New Burlington Pl, London W1S 2HX
–
–
–
–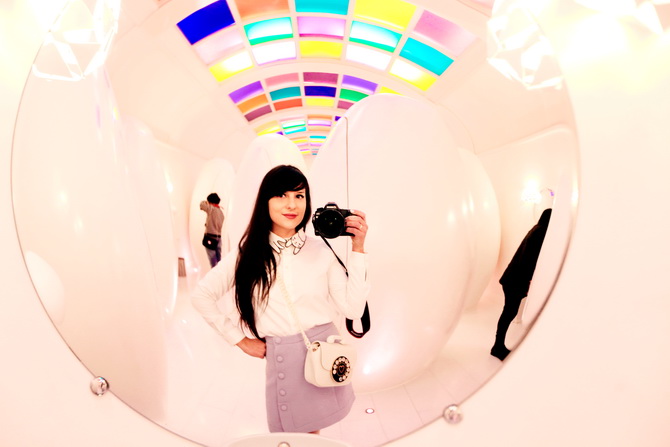 –
–
Je vous avais parlé de Sketch l'année dernière. Un restaurant de Londres bien connu pour ses toilettes futuristes et ses salles à thème.
J'ai eu l'occasion ( et la très grande chance ) d'y retourner la semaine dernière, lors d'un weekend presse organisé pour faire la découverte de Regent Street.
Je vous raconterai donc ce séjour un peu plus en détail dans mon prochain article, et je vous fait patienter en attendant avec quelques photos d'un English Tea dans The Gallery.
Si cette salle rose vous plaît, je ne peux que vous conseiller d'aller y faire un tour rapidement. Les salles sont en général transformées tous les deux ans, et pour celle ci, un nouveau thème est ( hélas ) en discussion !
–
–
♫ ♪ Bunny Berigan – I Can't Get Started
–
–
I talked about Sketch last year, a restaurant pretty famous for its toilets and themed rooms.
I got the opportunity ( and big luck ) to go back to this amazing place last week, while on a press trip for discovering Regent Street.
I'll tell you more about this in my next article, but in the meantime here are a few pictures of an amazing tea time in the Gallery.
If you like this place and want to visit, I can only recommend to hurry. Rooms decoration usually change every two years, and a new theme is ( unfortunately ) beeing discussed for that one at the moment !
–
–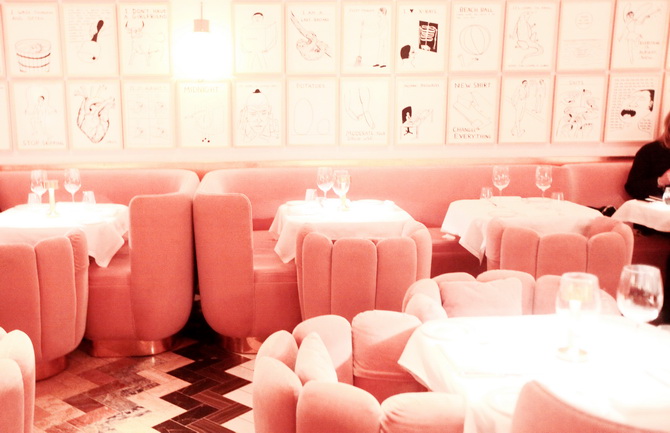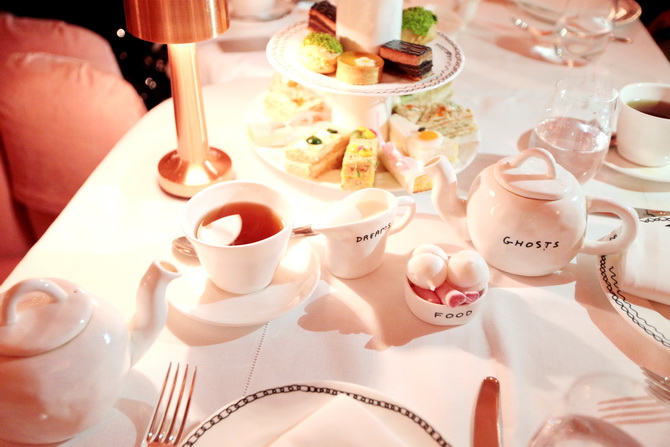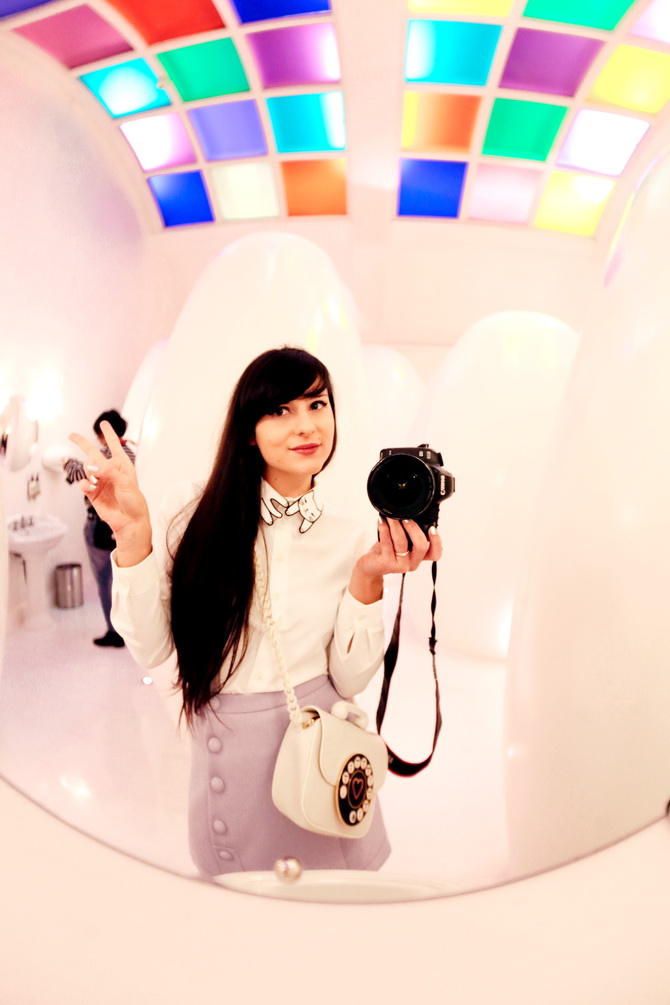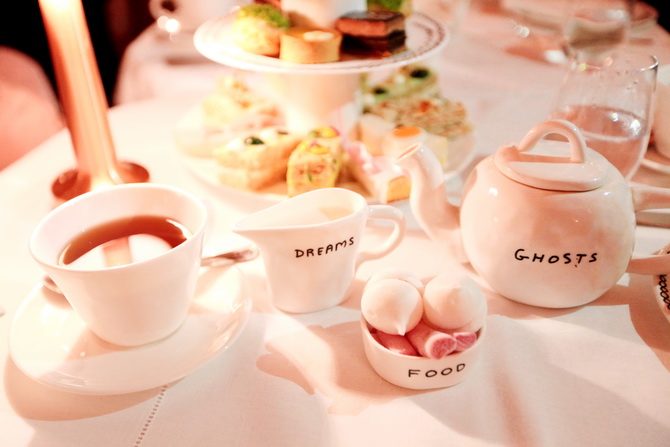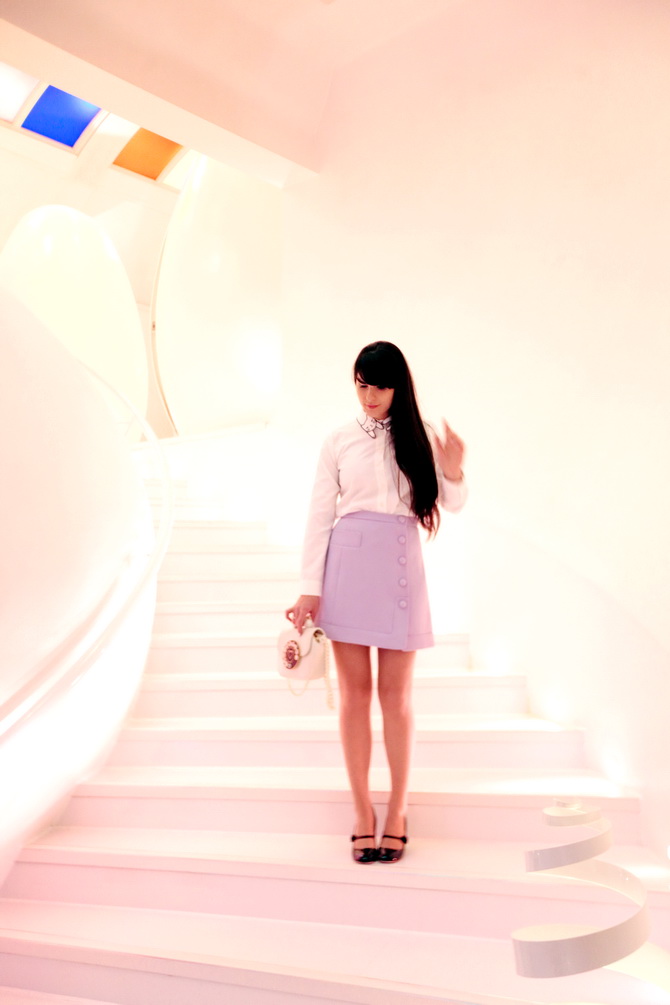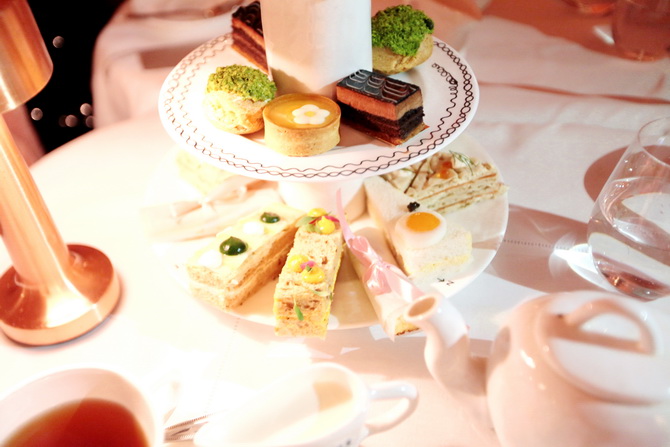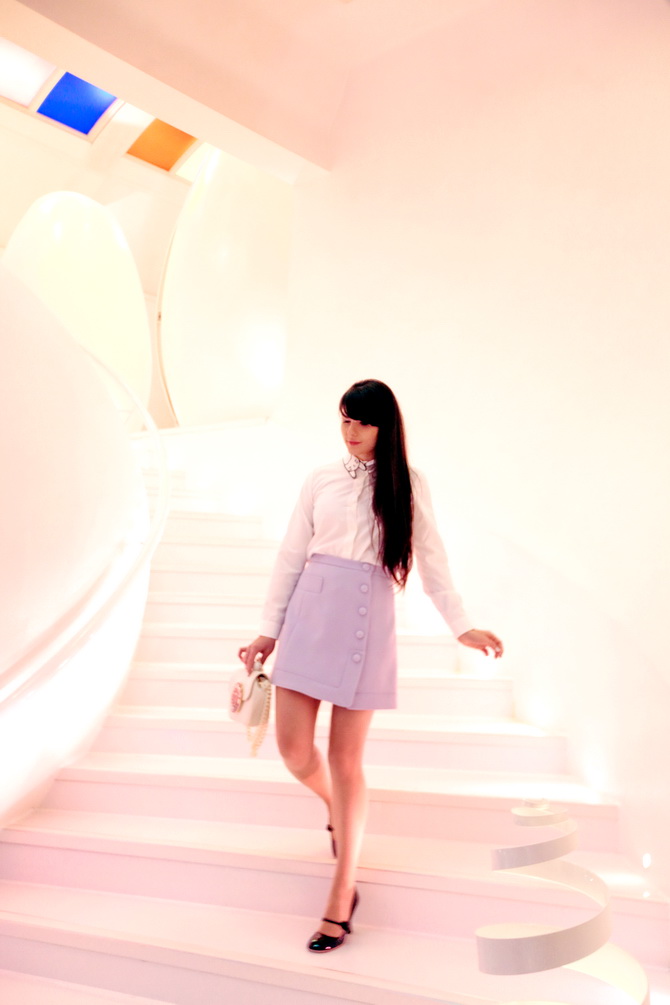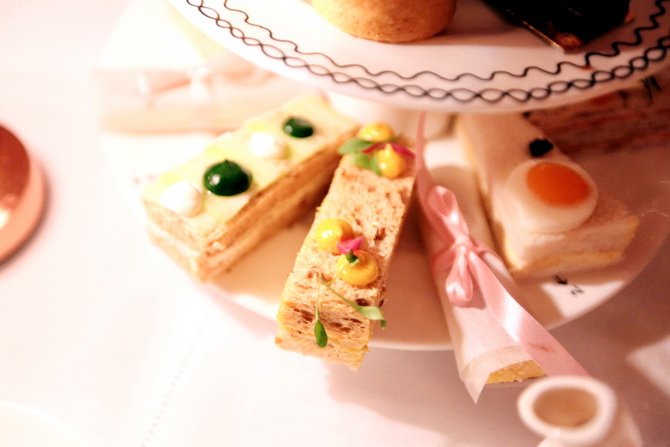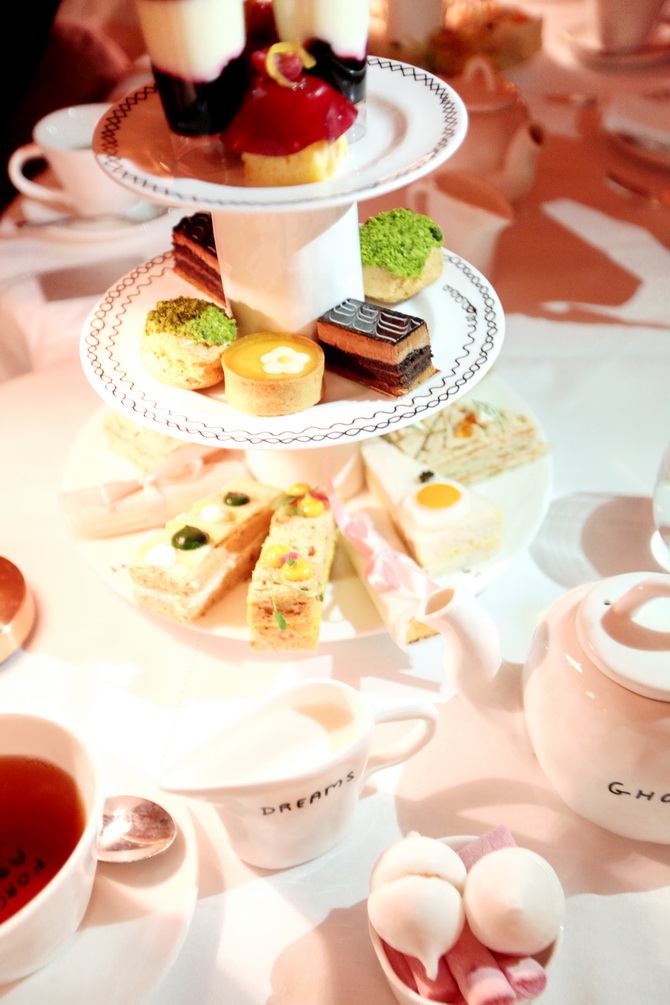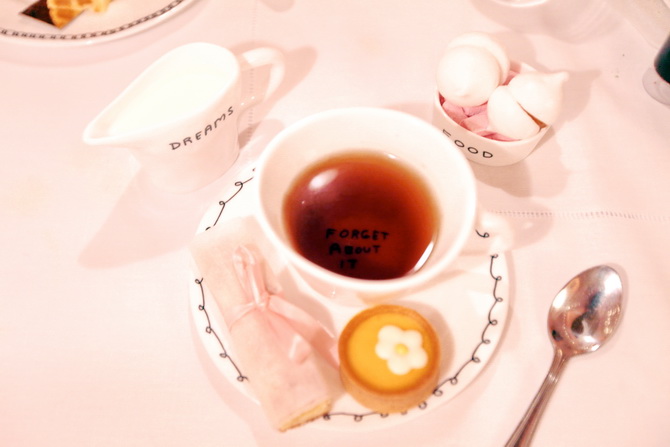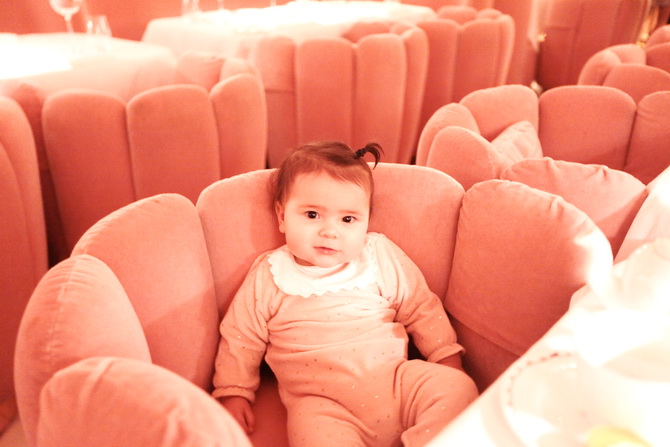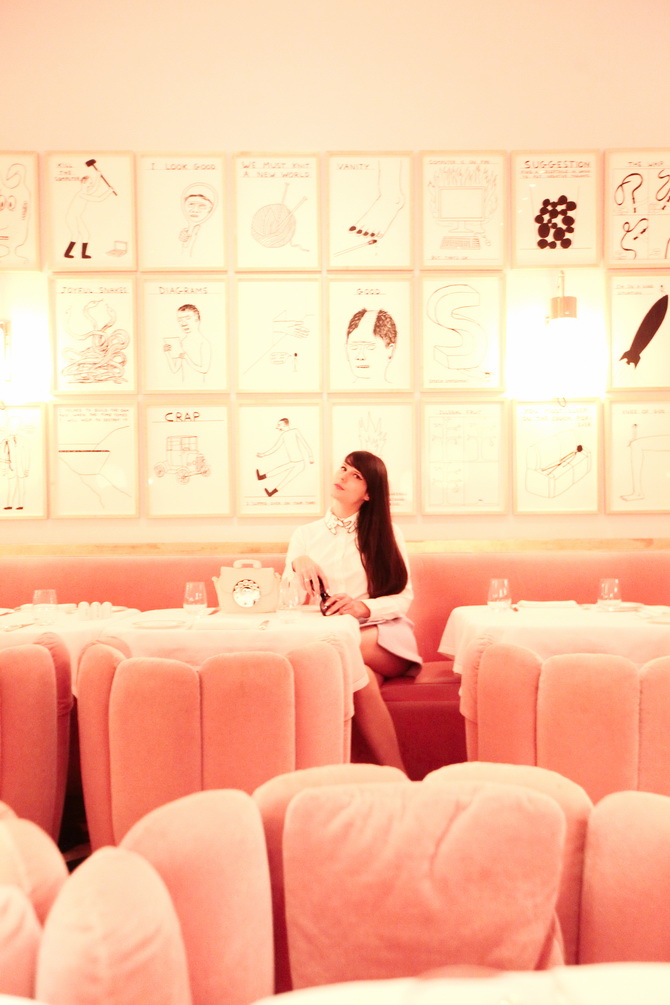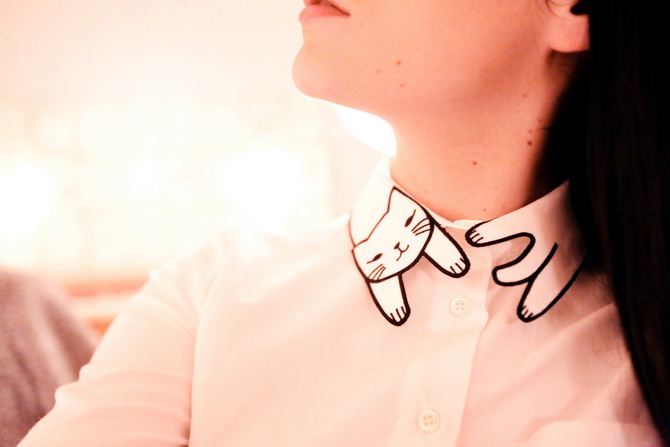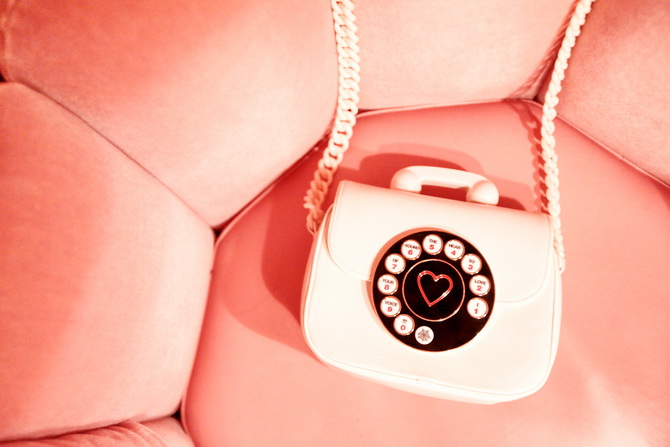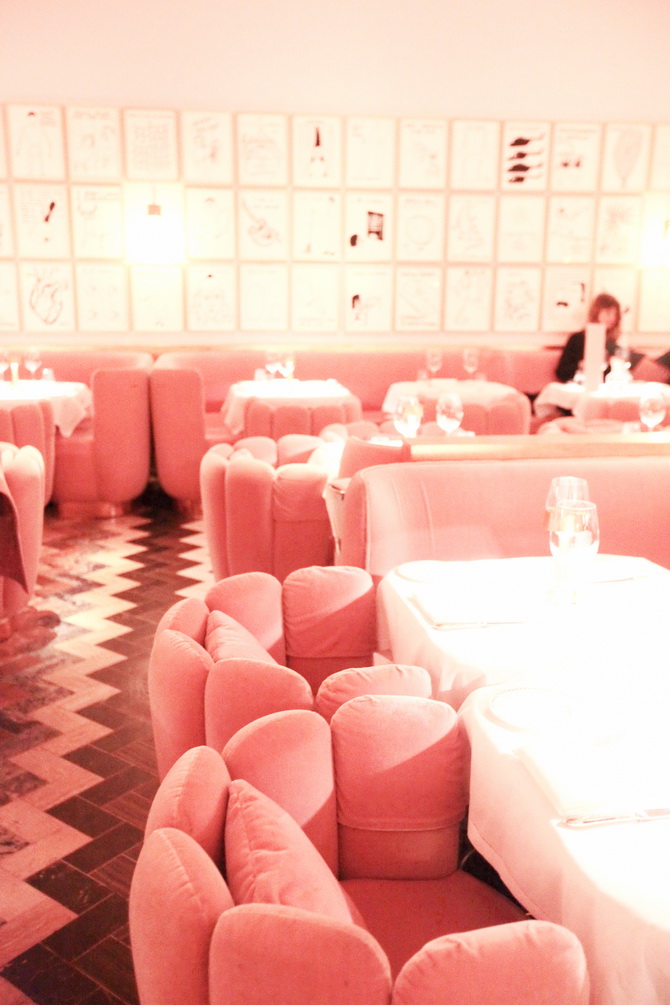 –
–
Sketch London 9 Conduit St, London W1S 2XG
–
–
Chemise / Shirt : Miss Patina
Jupe / Skirt : Carven
Sac / Bag : Charlotte Olympia
Chaussures / Shoes : miu miu
–
Iris porte un pyjama Cyrillus
–
–
Photos de tenues prises par Tokyobanhbao ( et photobomb dans les toilettes wink wink )
–
–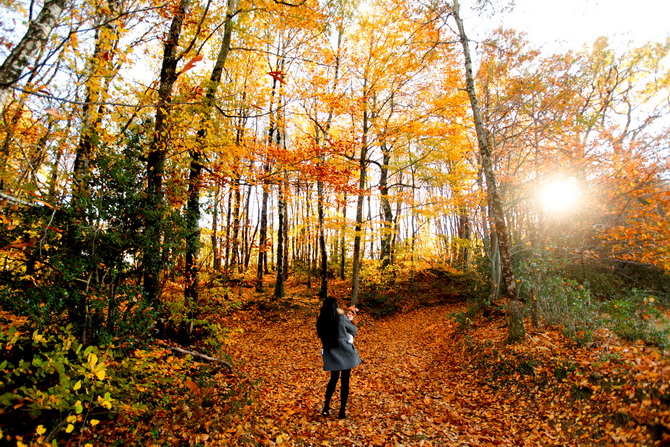 –
–
Quand je disais dans mon précédent article que nous avions eu un superbe automne… je ne le pensais pas qu'à moitié !
Je complète les photos des Tuileries par celles d'un weekend end passé à la campagne, où la nature nous a offert un spectacle de toute beauté, haut en couleurs !
Et si vous me le permettez, pas mal de photos d'Iris… Je n'ai pas pu m'empêcher de la prendre sous toutes les coutures. Elle était tellement craquante dans son petit pull faon Oeuf NYC trouvé chez Luisaviaroma !
Bien confortablement installée dans mon sling, elle ne devait pas bien comprendre ce qui se présentait autour d'elle, en tout cas ça lui a attiré l'attention et eu l'air de lui plaire.
–
–
♫ ♪  Tété – A la faveur de l'automne
–
–
When I said in my previous article that we had a gorgeous autumn in France, I really meant it !
I'm completing the photos taken in the Tuileries by some from another weekend spent at the countryside, where nature offered us a beautiful and colorful sight.
And if you allow me, a few pictures of Iris… with her little Bambi jumper from Oeuf NYC found at Luisaviaroma, I just couldn't resist taking loads of pictures of her !
Comfortably sitted in my sling, she probably had no idea what was going on, but it seems like she enjoyed herself and was dizzy just by looking around.
–
–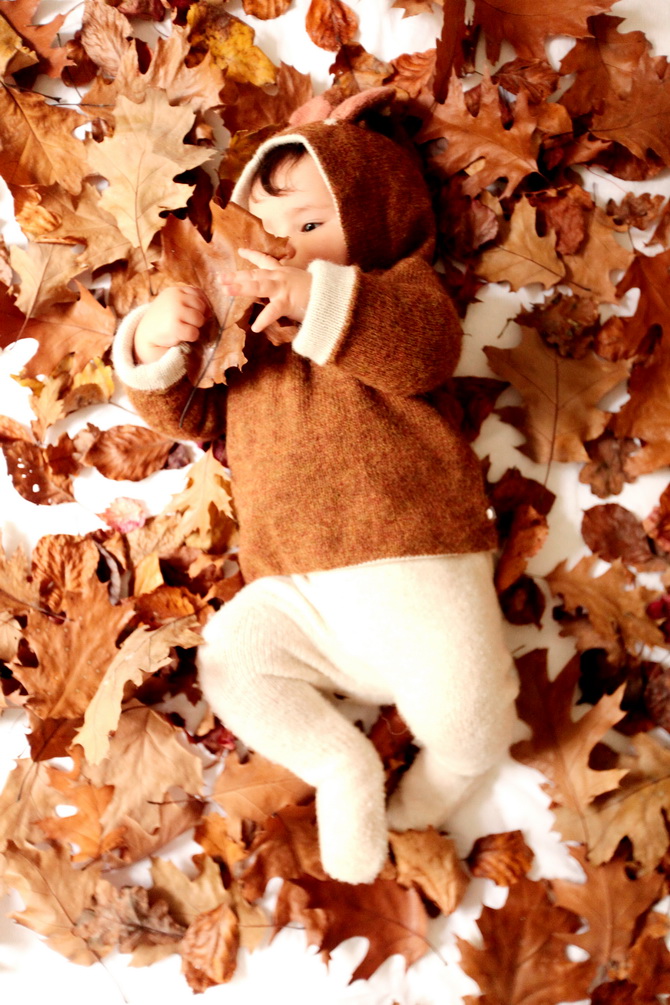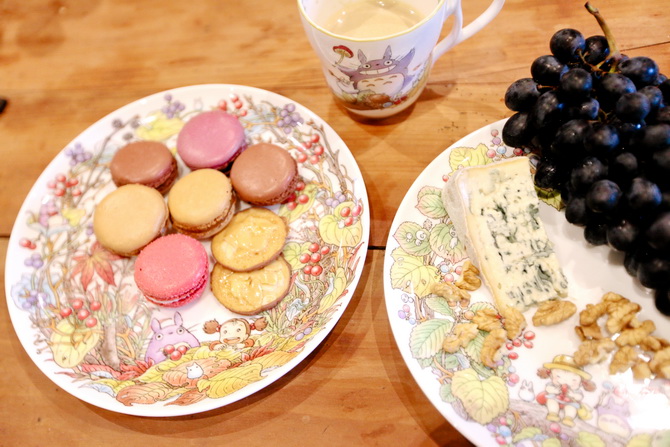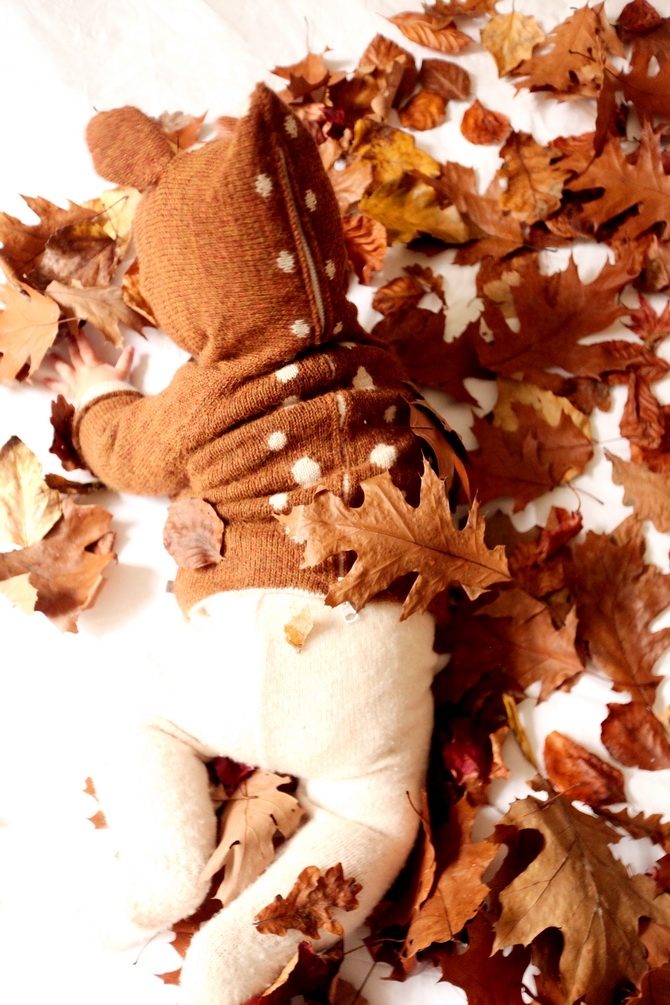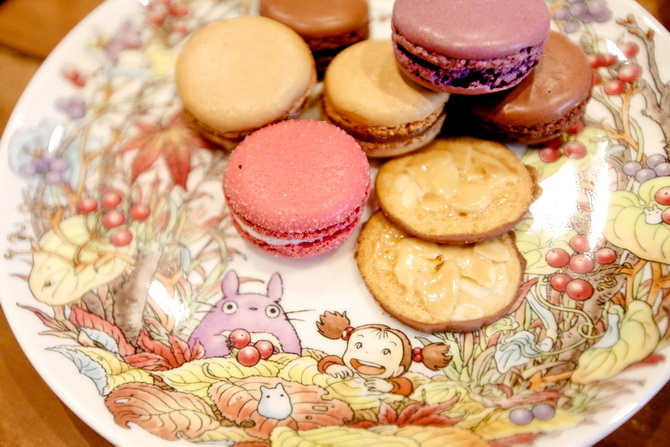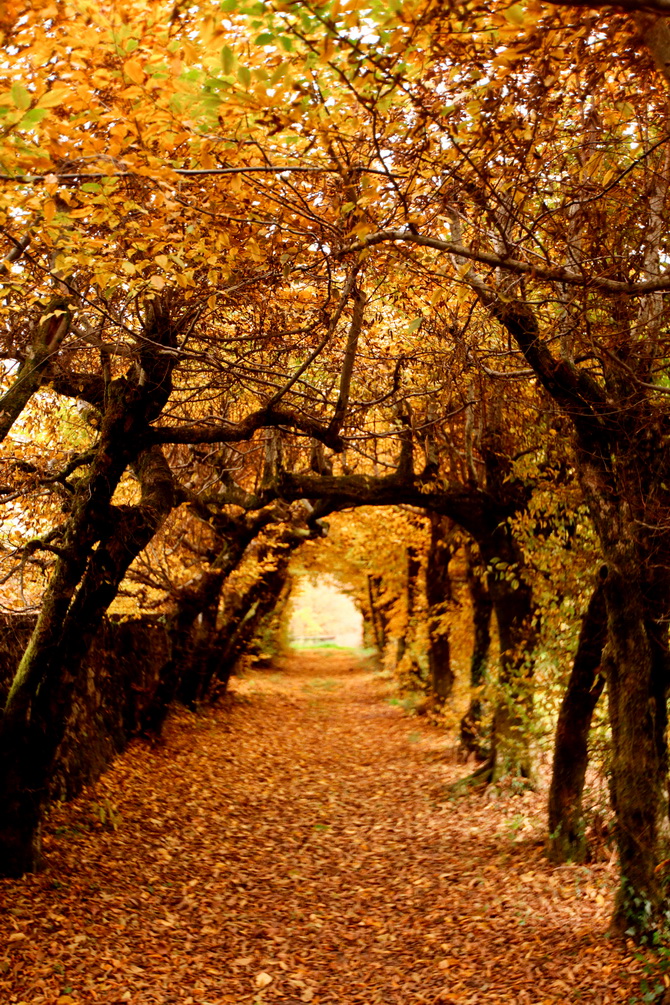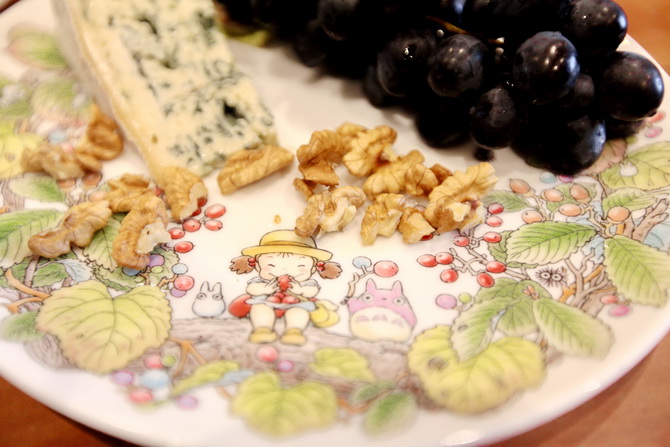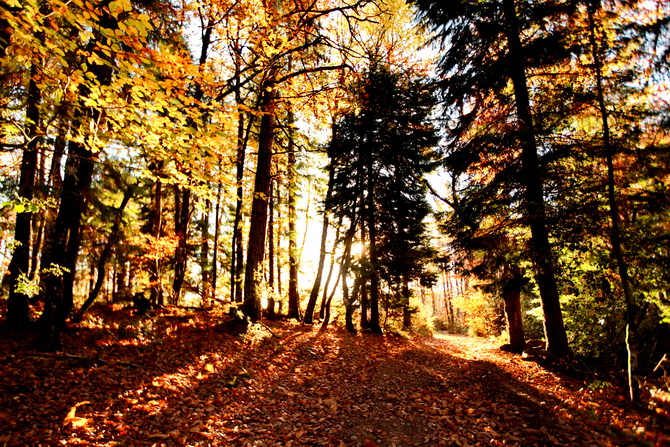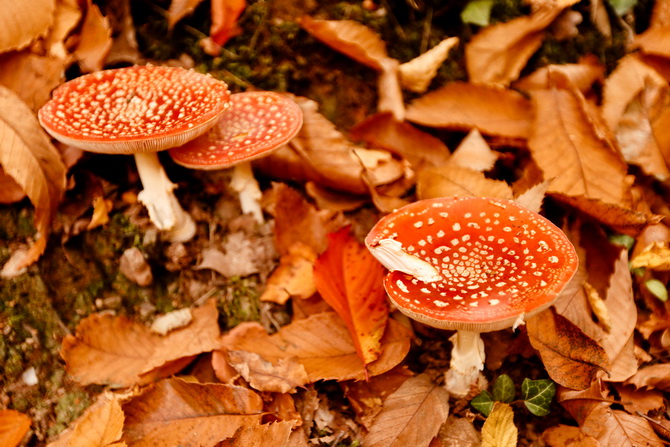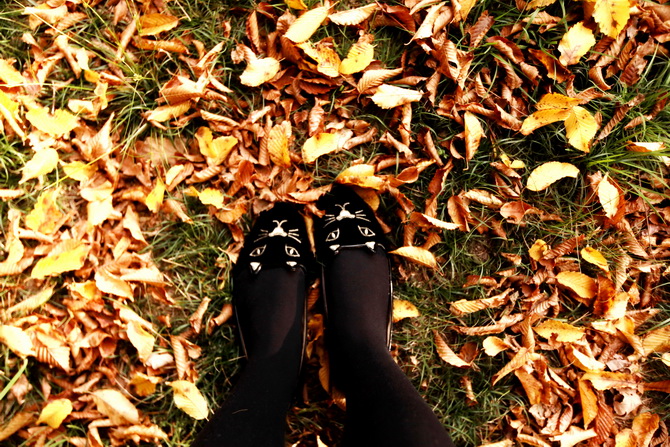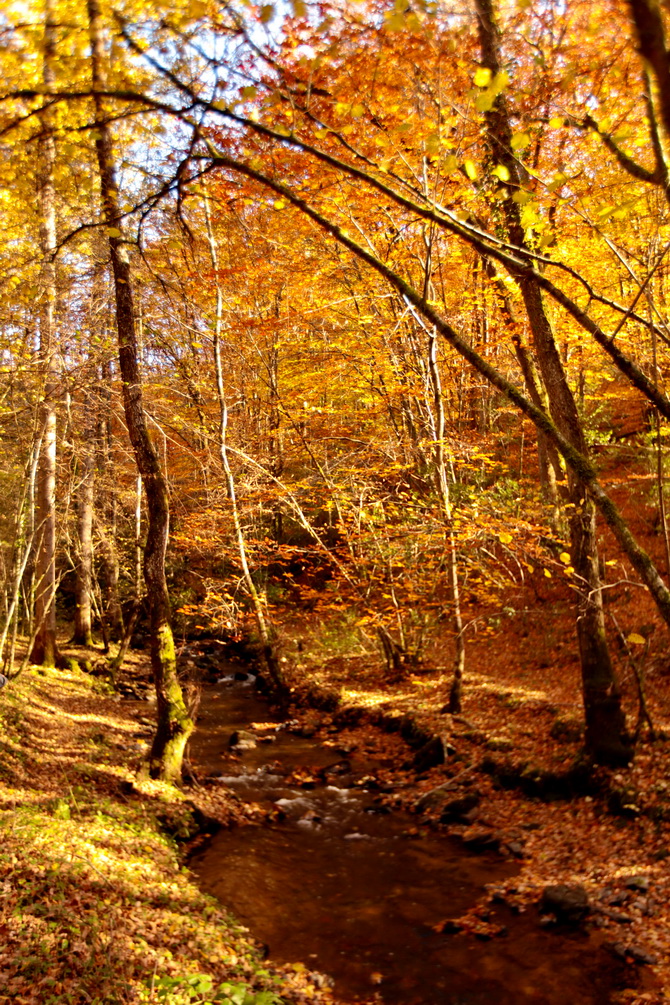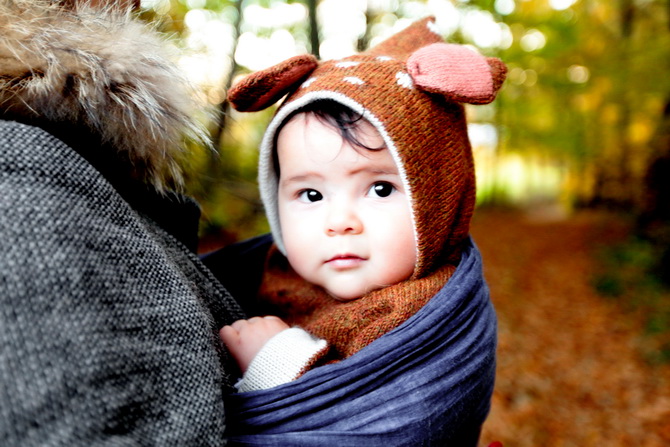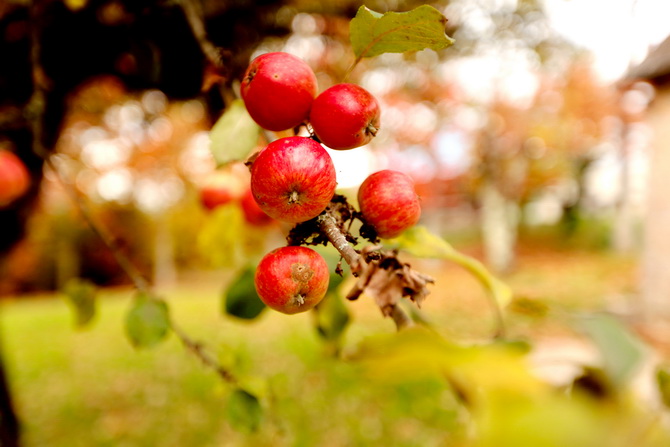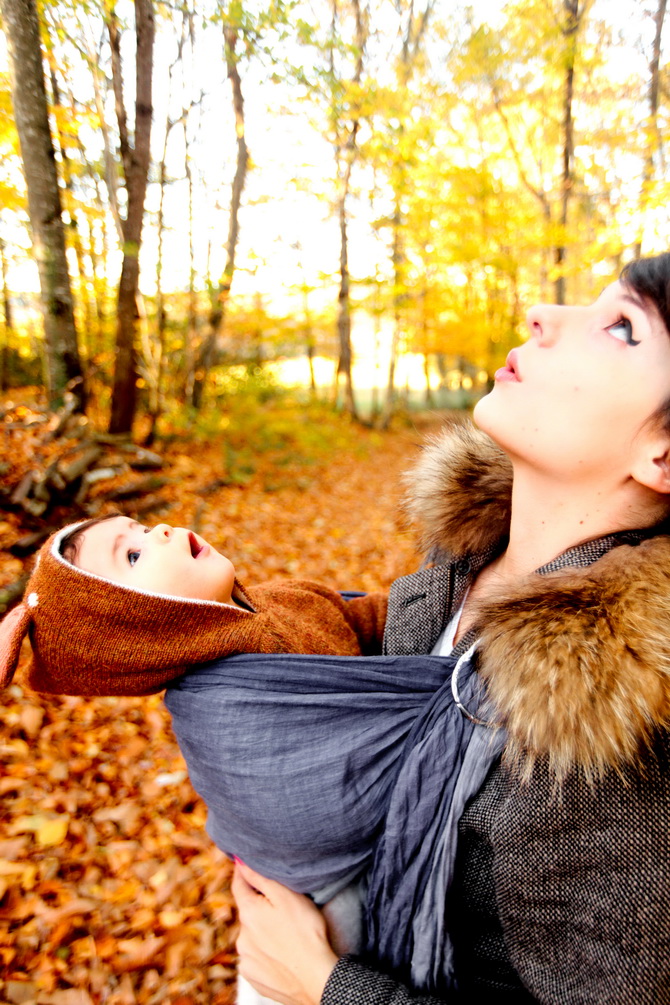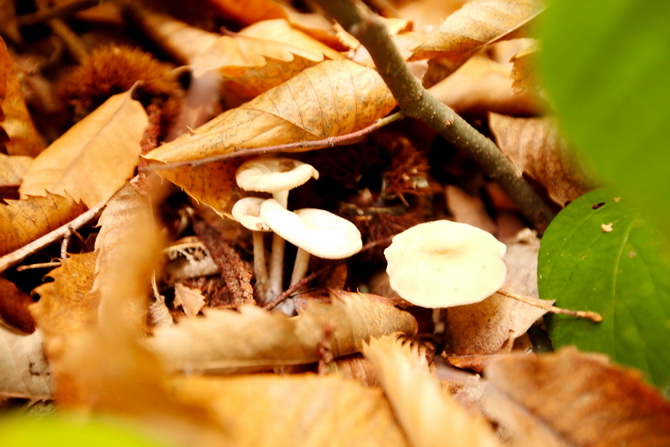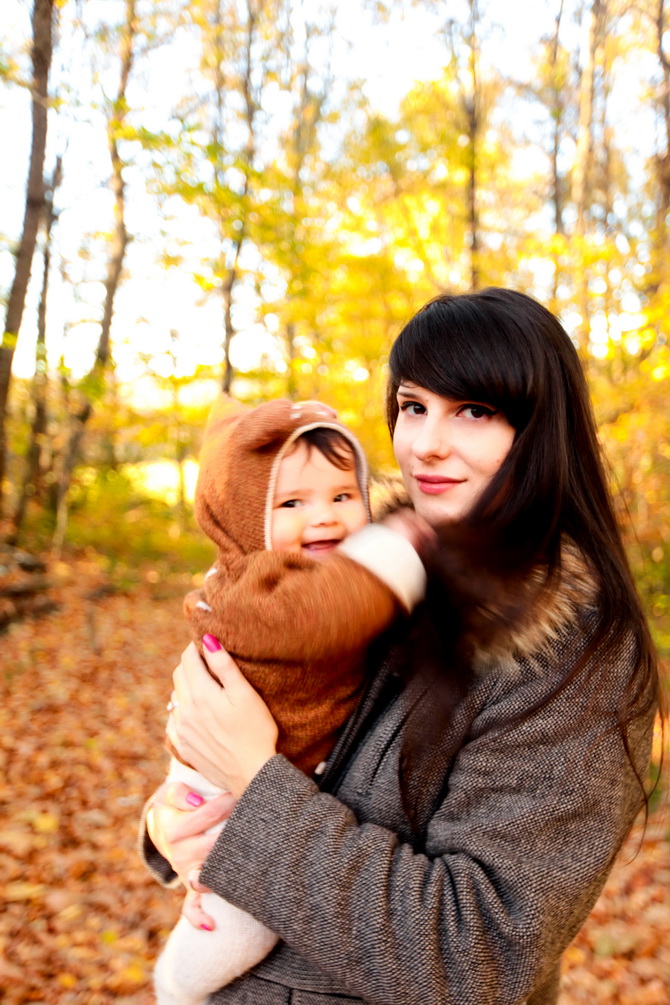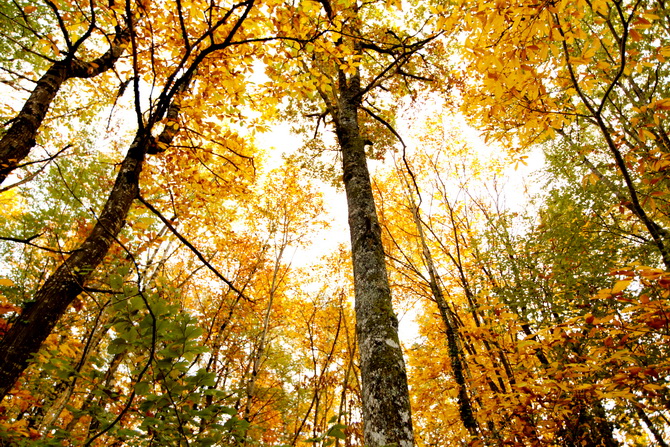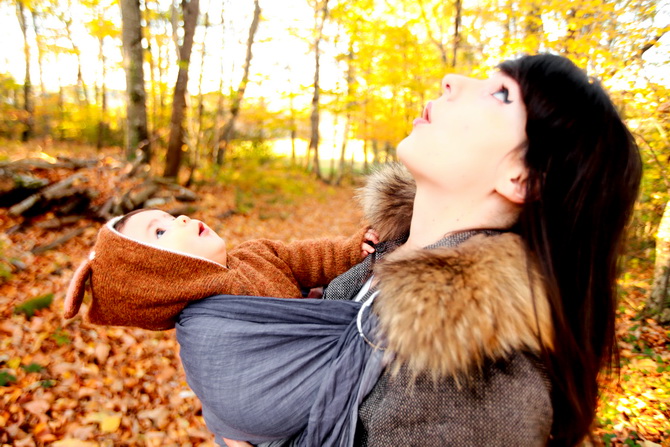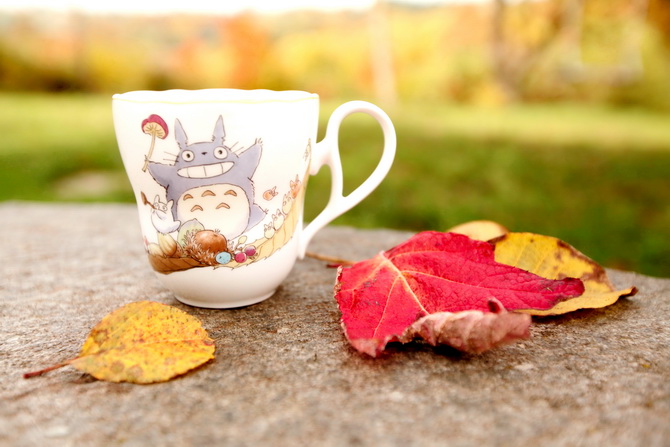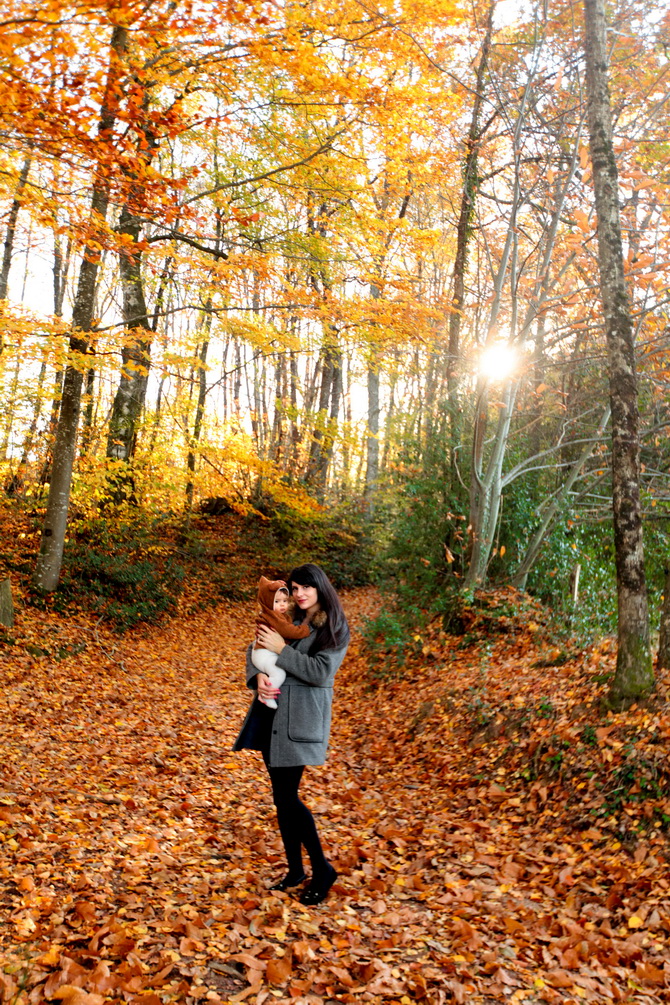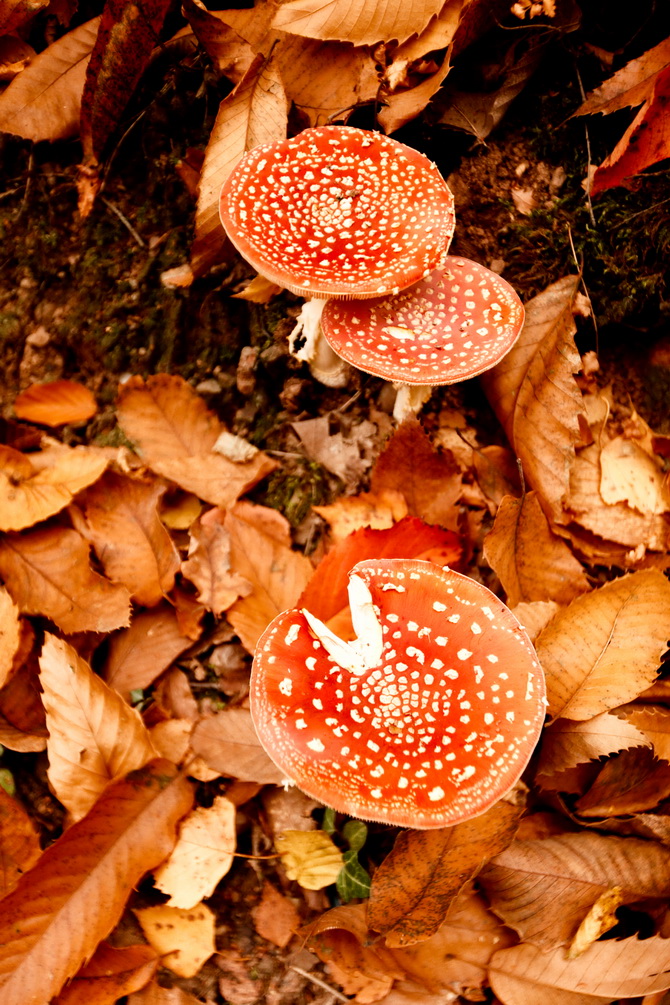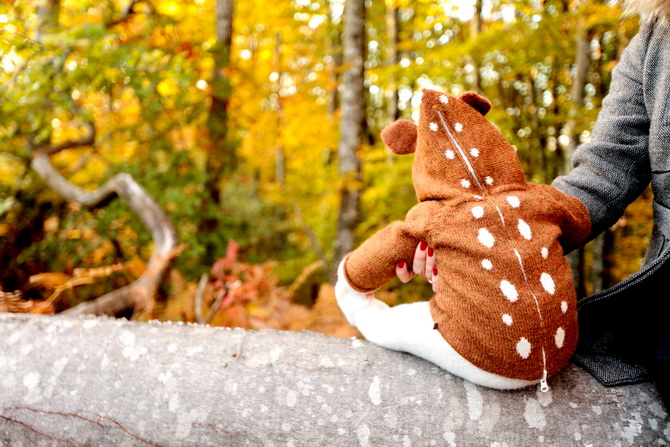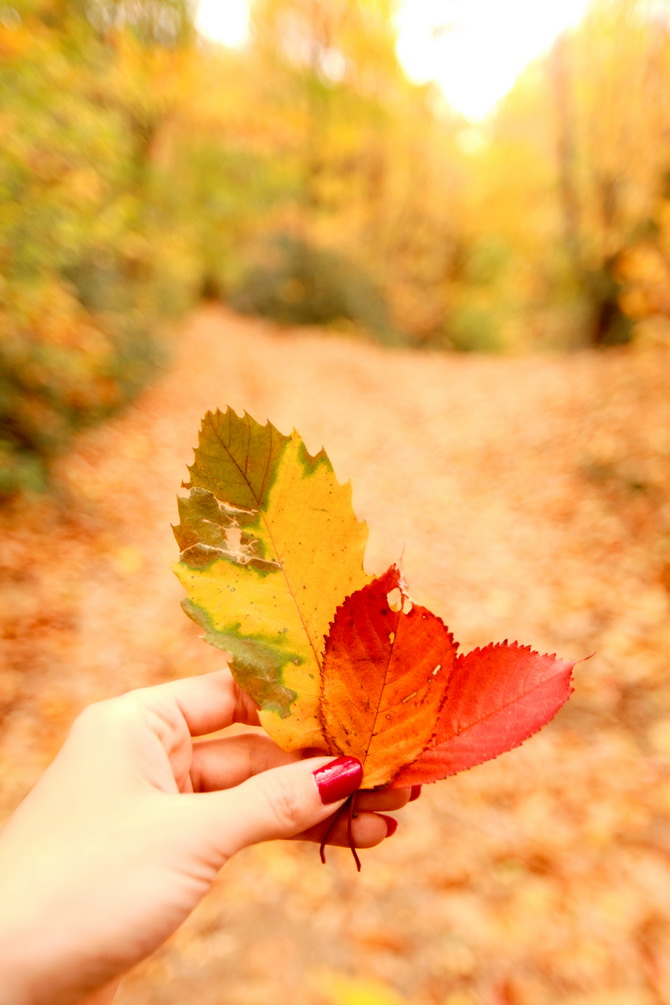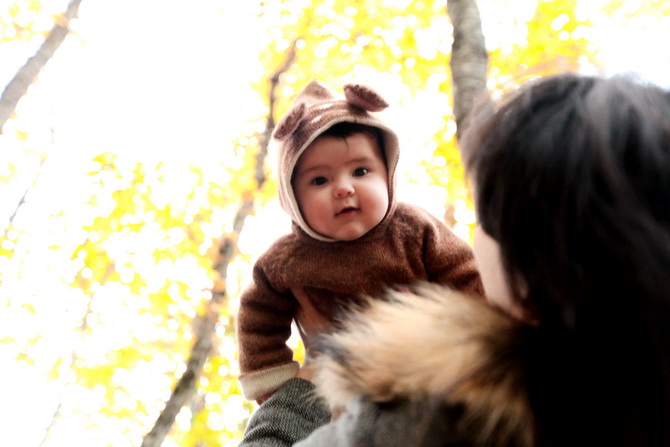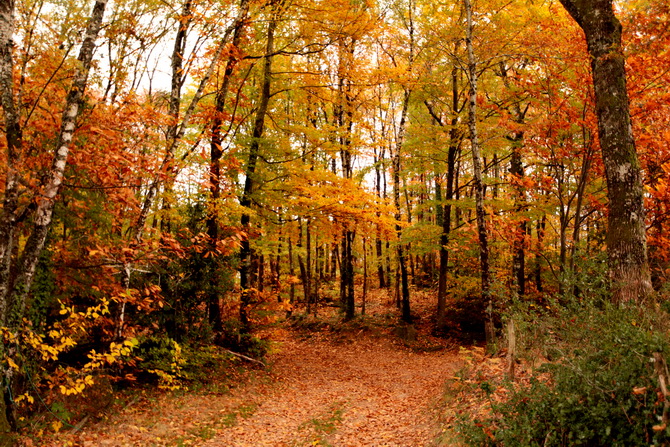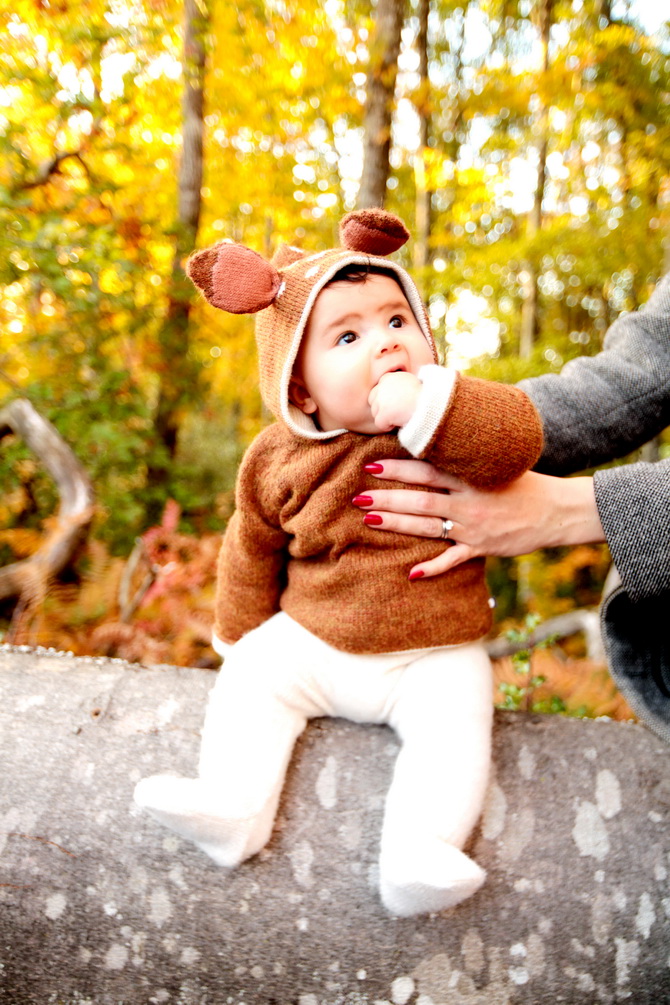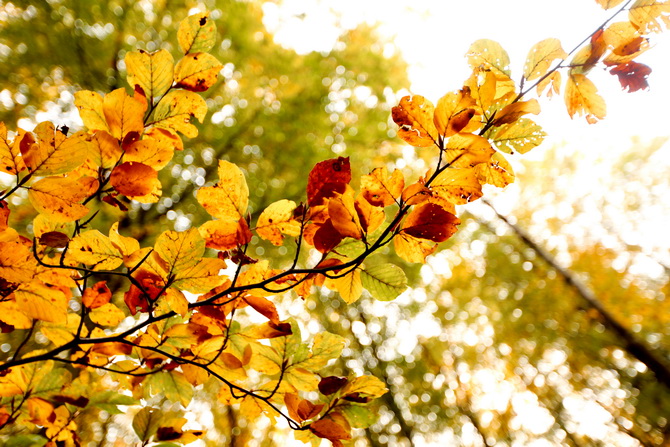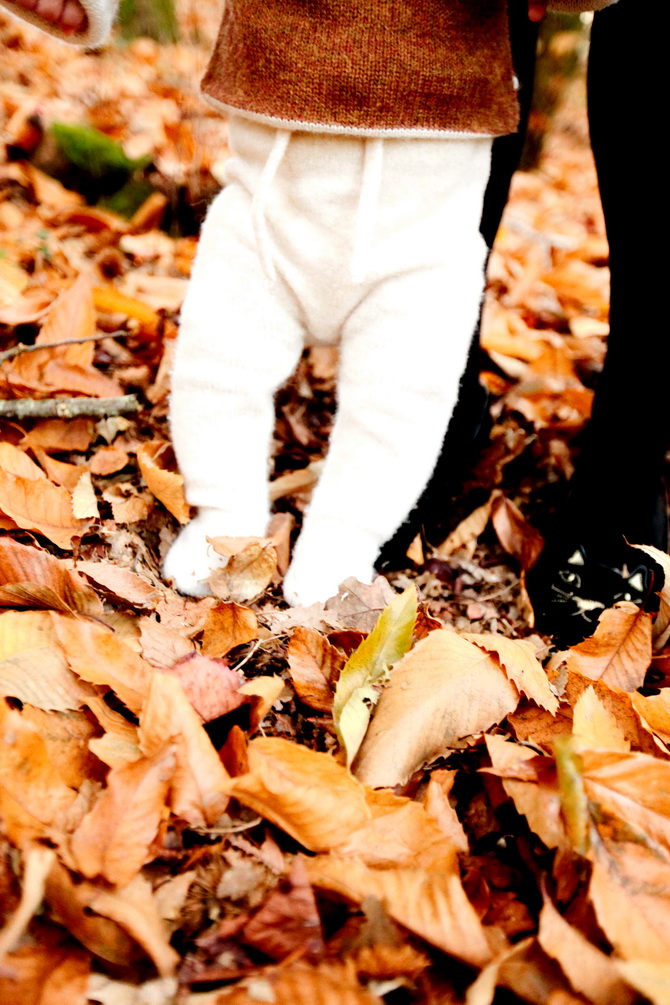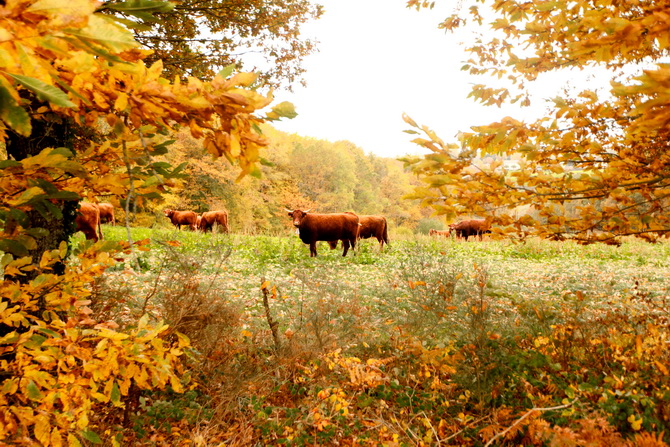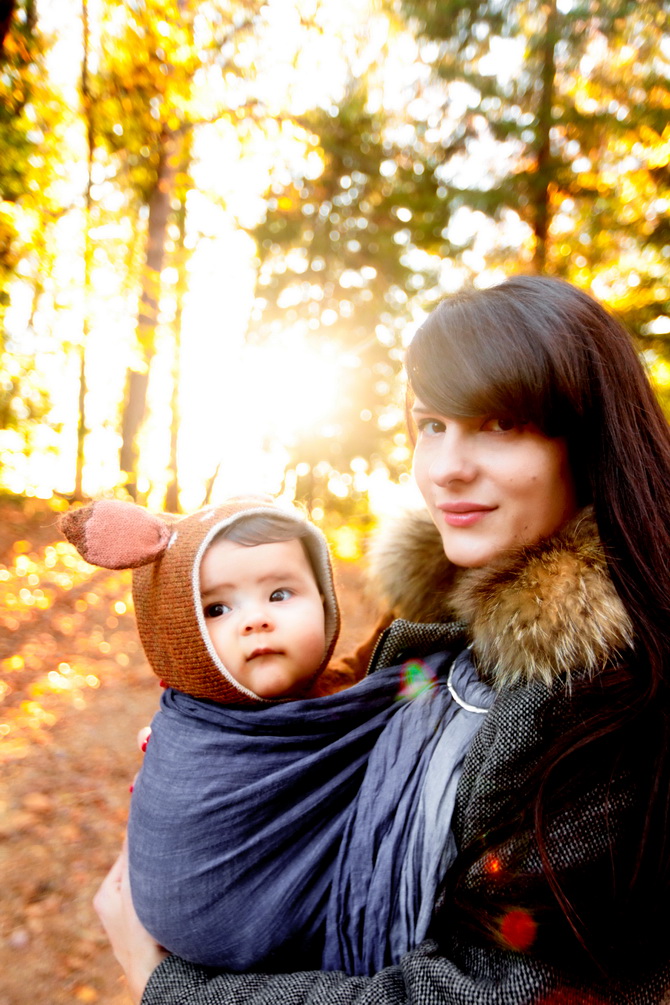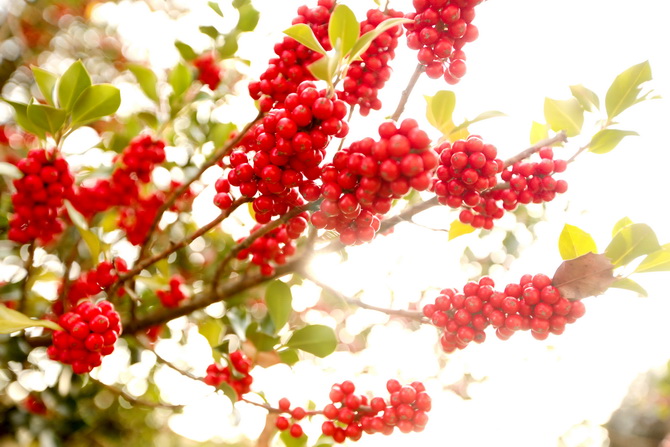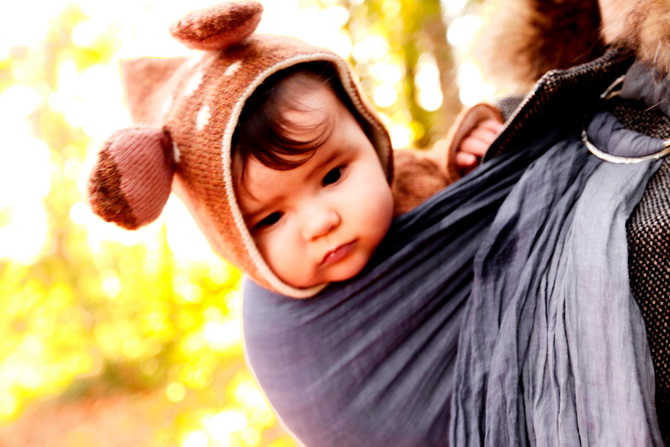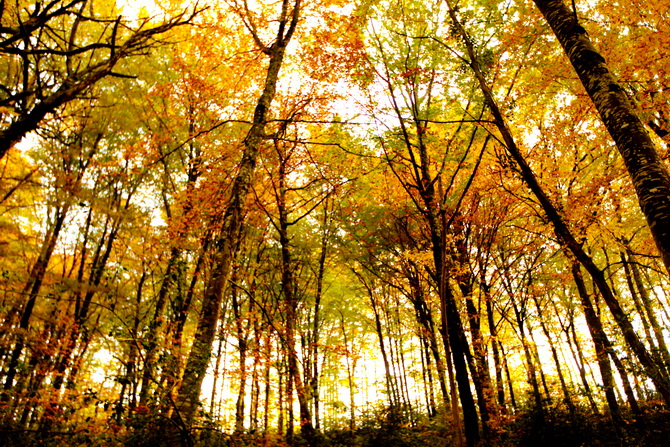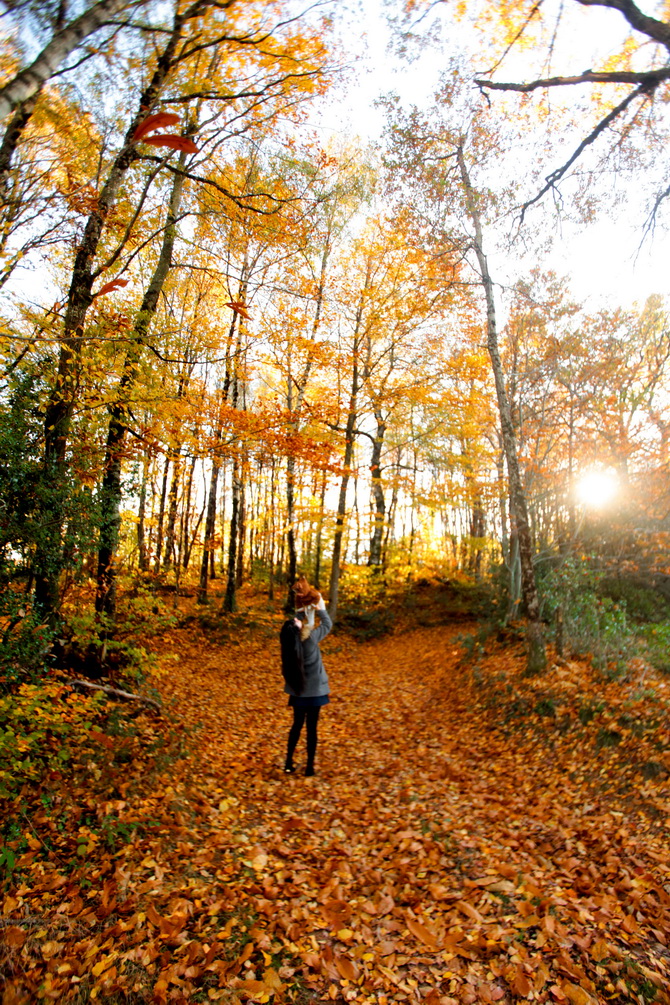 –
–
Iris:
Pull / Jumper : Oeuf NYC at Luisaviaroma
Pantalon / Pants : Bonnet à Ponpon chez Smallable
–
Alix:
Manteau / Coat : Vanessa Bruno
Chaussures / Shoes : Charlotte Olympia
Sling : Psling
–
Vaisselle / Dishes: Noritake × Studio Ghibli – Totoro Seasons
–
–
–