–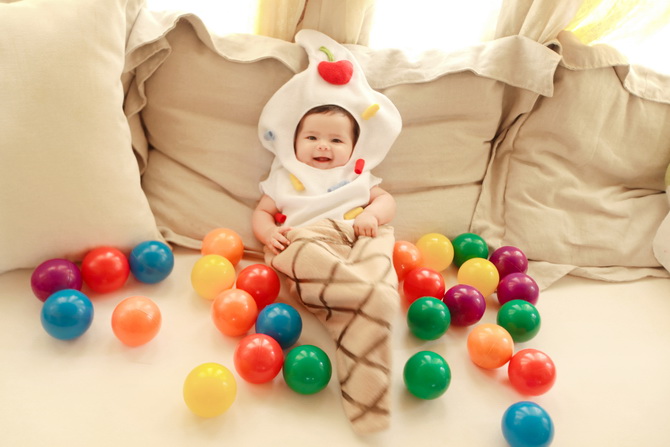 –
–
Halloween, c'était il y a déjà presque une semaine. Et comme je me doute que vous n'êtes pas tous abonnés à mon Instagram, je me suis dit que ce serait sympa de poster des photos du costume d'Iris ici.
Comme vous pouvez le deviner, je l'ai transformée en glace ( ou ice cream… Iris cream ! ).
Le costume a été emprunté au neveu de bonnes amies, et il me semble me souvenir qu'il vient d'Etsy.
C'est tellement drôle de pouvoir déguiser son bébé ! tellement que j'ai déjà hâte qu'on soit à l'année prochaine, même si je me connais… je pourrai difficilement attendre jusque là !
–
–
Halloween was already a week ago. And because all of you probably don't follow me on Instagram, I thought that i should share a few pictures of Iris' costume here.
As you can see, she was transformed into an ice cream… Iris cream !
The costume was borrowed from good friends of mine, and if I remember well, I think it came from Etsy.
It's so much fun to put some costumes on your little one. So much that I really look forward for next Halloween! Even though I know myself… I won't be able to wait for so long.
–
–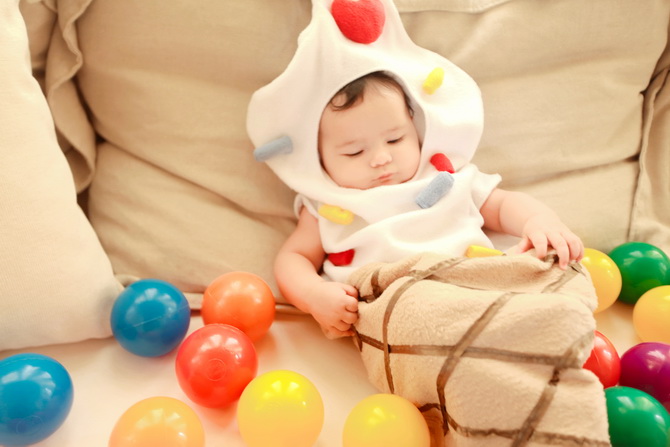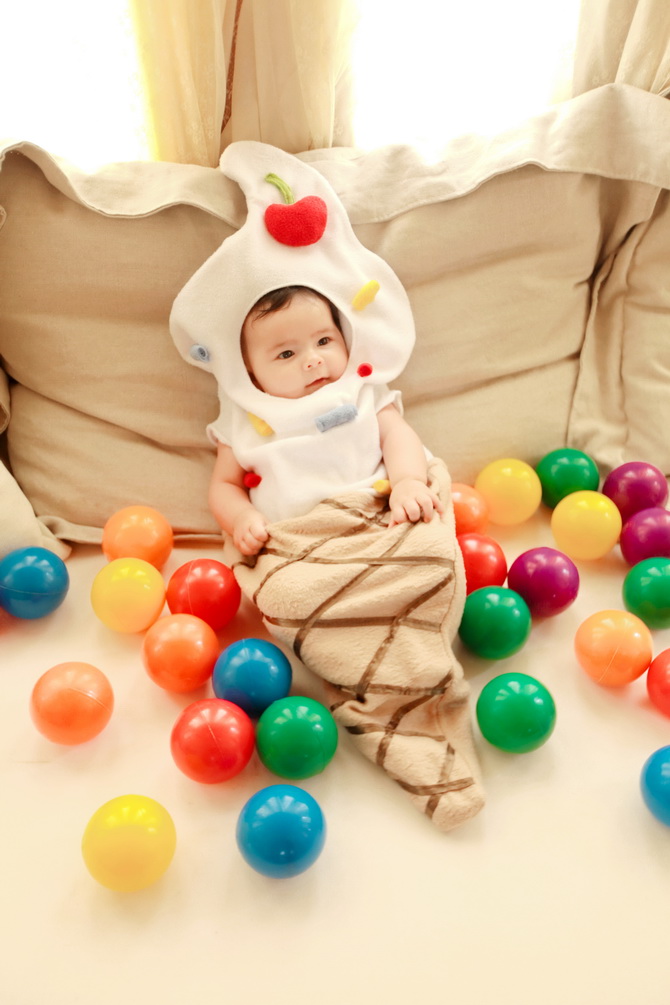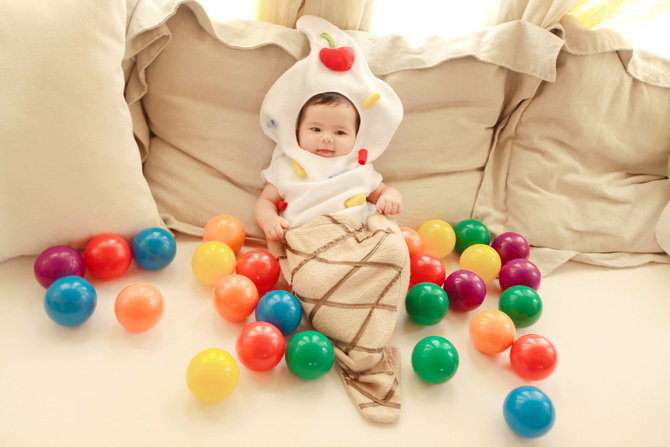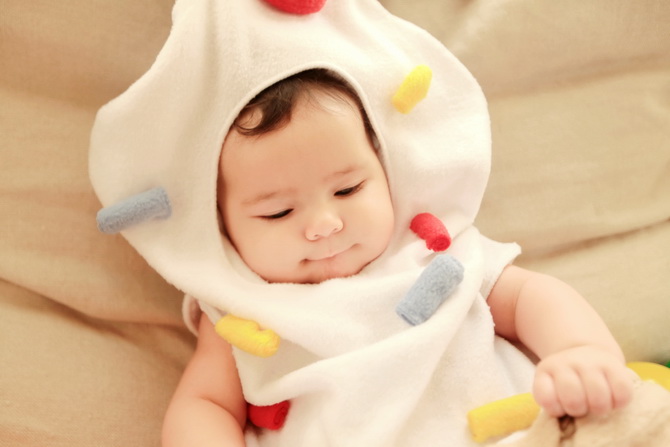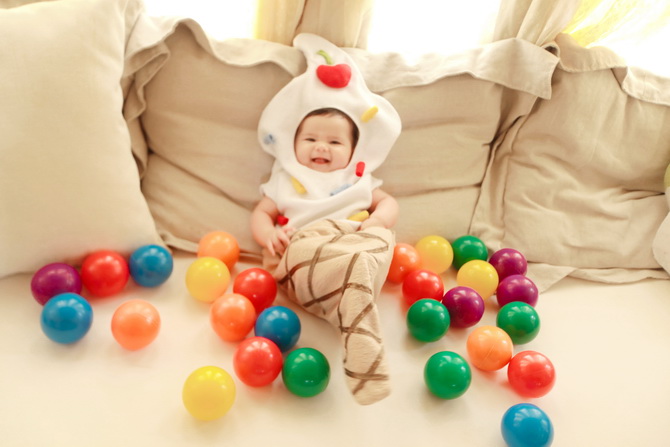 –
–
–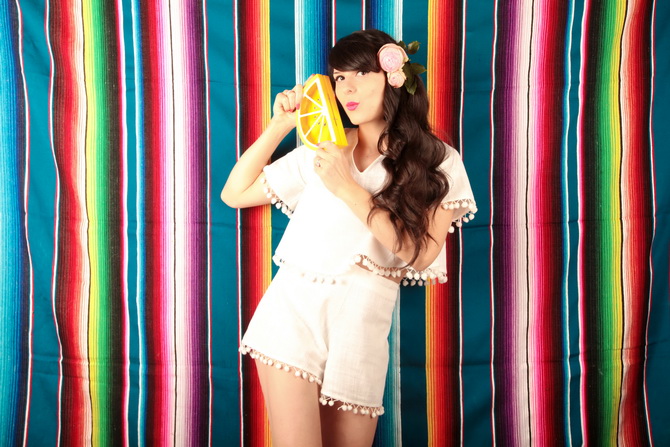 –
–
Avant de véritablement rentrer dans l'hiver et de laisser de côté les couleurs vives pendant un moment ( ainsi que ce haut et ce short à pompons de chez Asos ! ), je voulais partager avec vous ces dernières photos. 
J'avais également acheté cette petite pochette citron de la collection Charlotte Olympia » Down Mexico Way »  ( vous connaissez désormais mon intérêt pour les citrons ! ).
Elle aussi se fond tellement bien dans le thème du Dia de Los Muertos !
–
–
♫ ♪ Los Wawanco – Villa Carino
–
–
Before getting into winter season for good, and put aside the bright colors for a moment ( as well as these pompom top and shorts from Asos ) and wanted to share with you these last summery photos.
I purchased this lemon clutch from Charlotte Olympia's Down Mexico Way » collection as well ( which confirms my love for lemons ! ).
It also fits perfectly into the Dia de los Muertos theme, so here we go !
–
–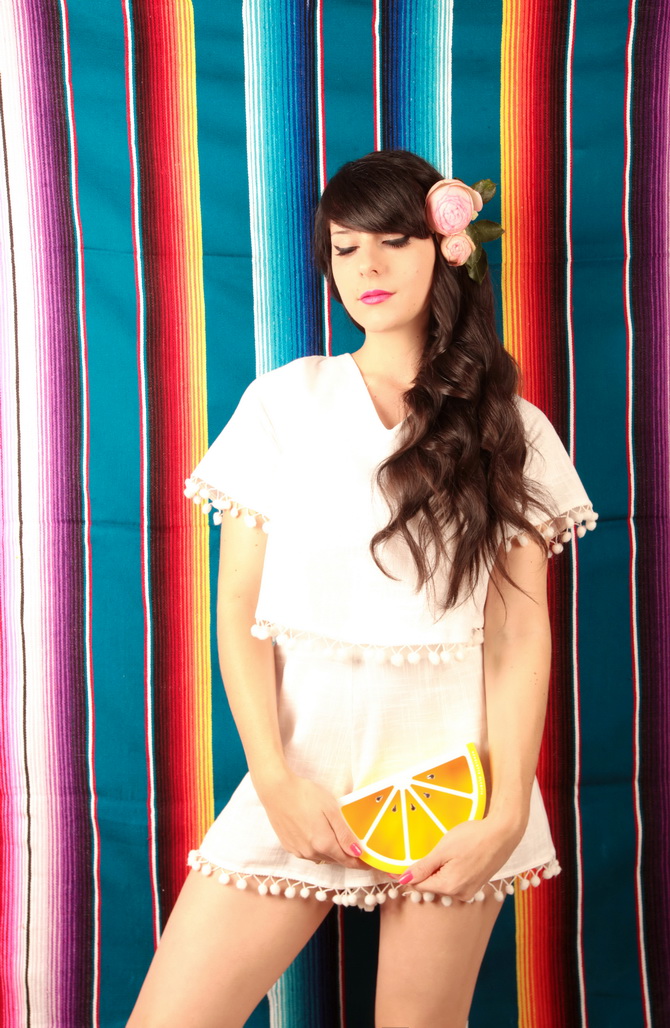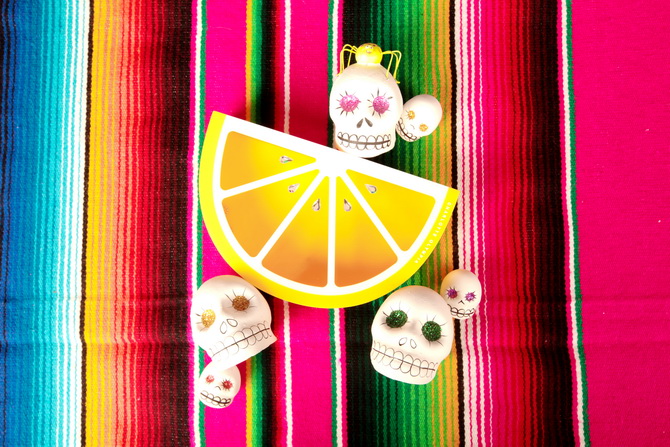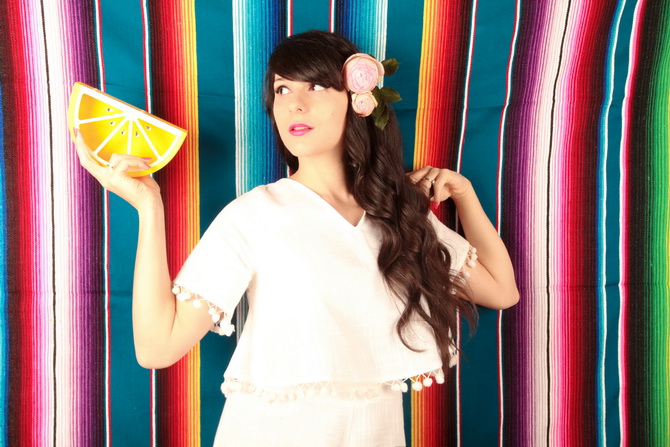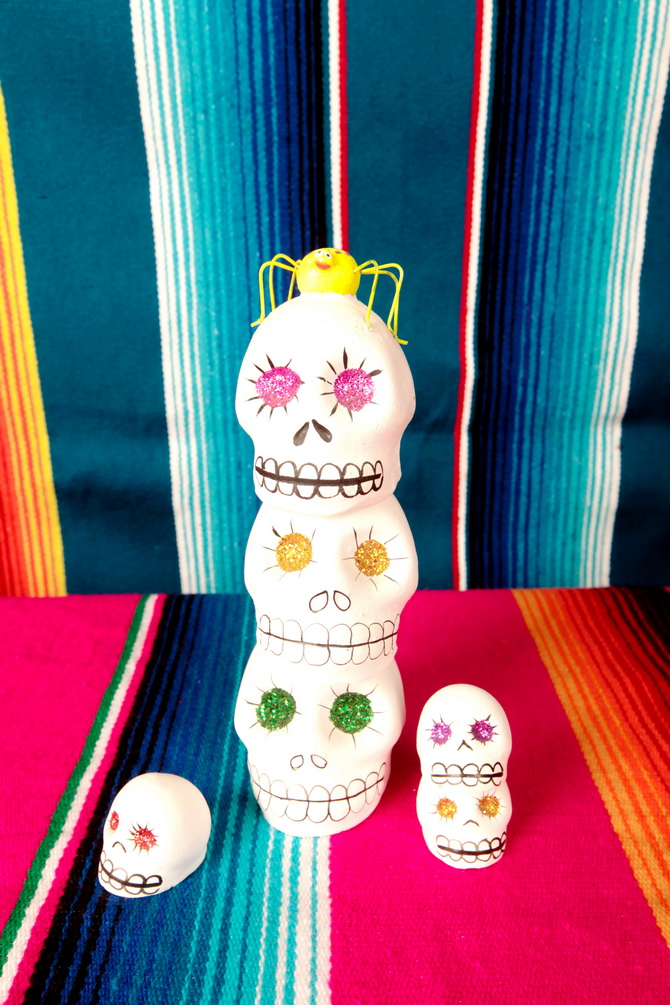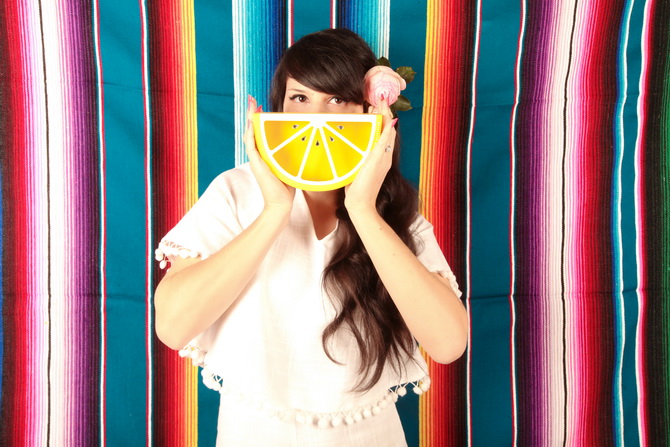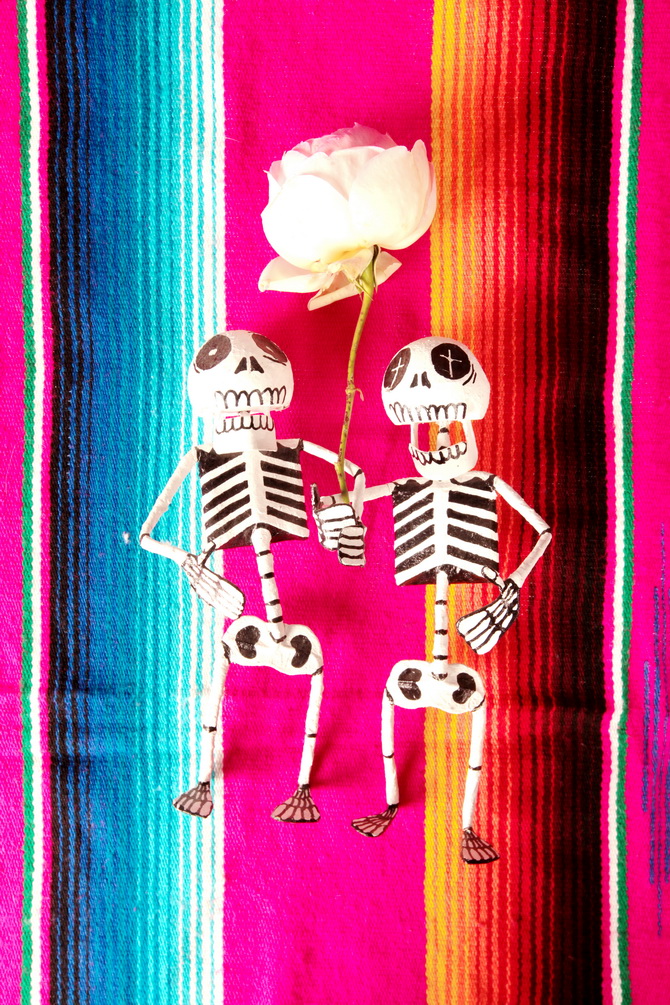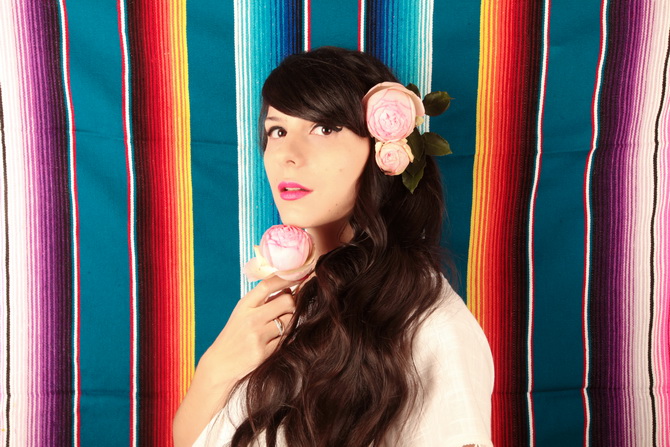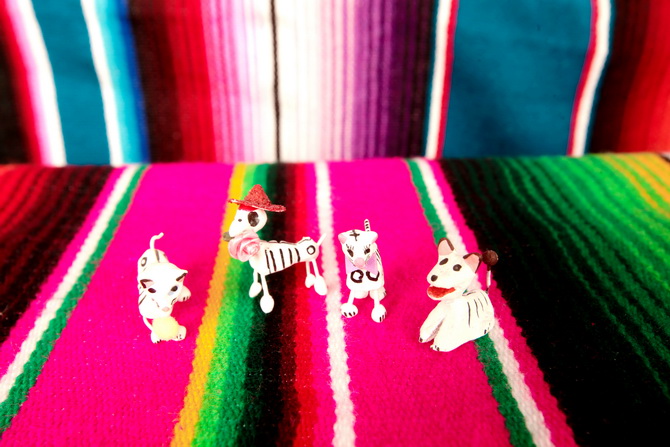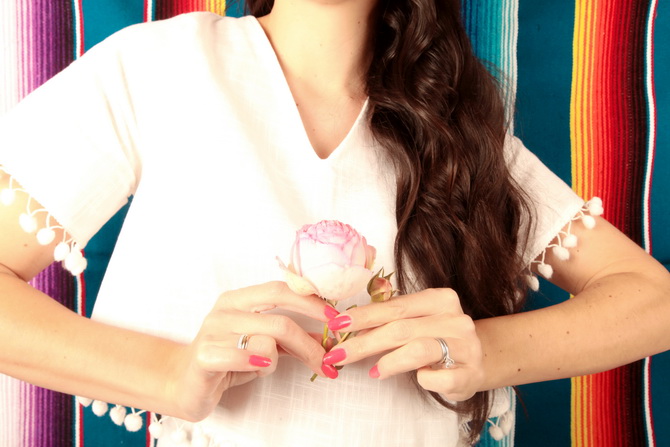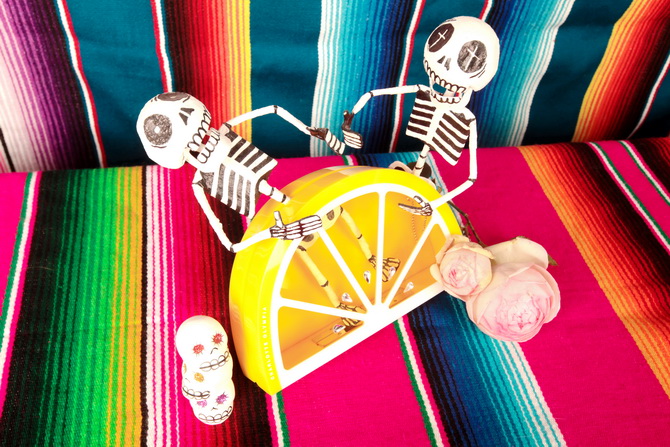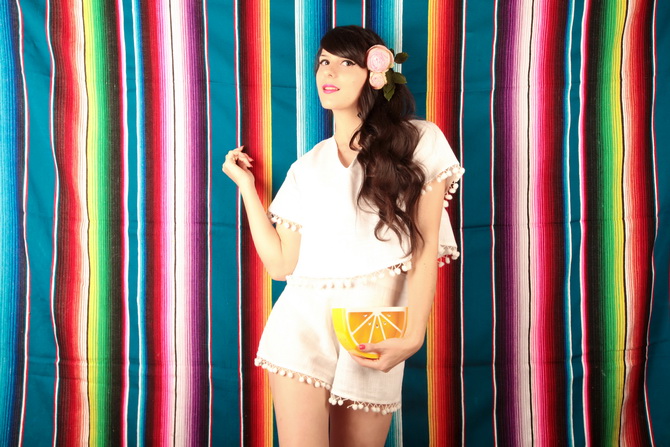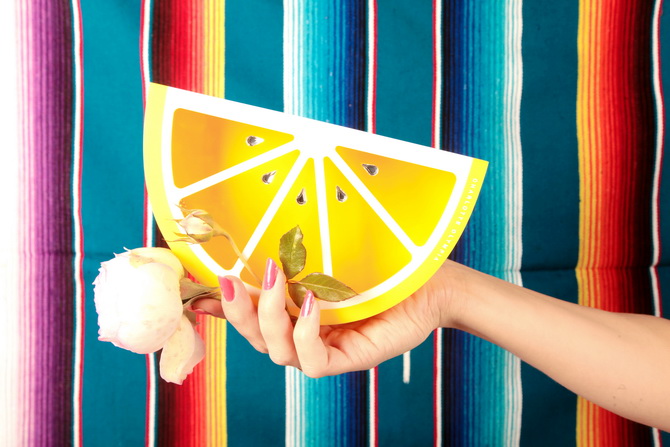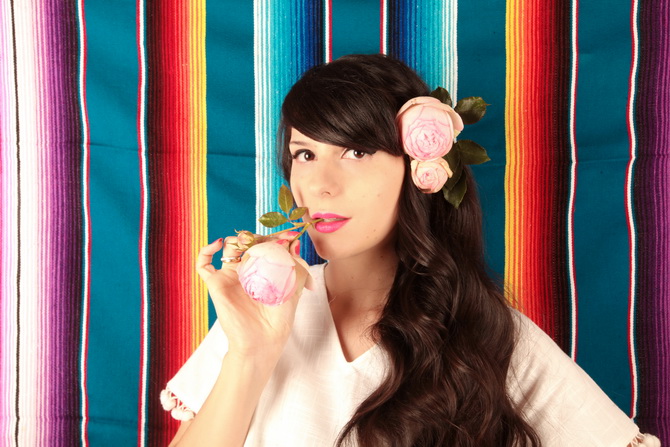 –
–
Top: ASOS
Shorts: ASOS
Pochette / Clutch : Charlotte Olympia
–
–
–
–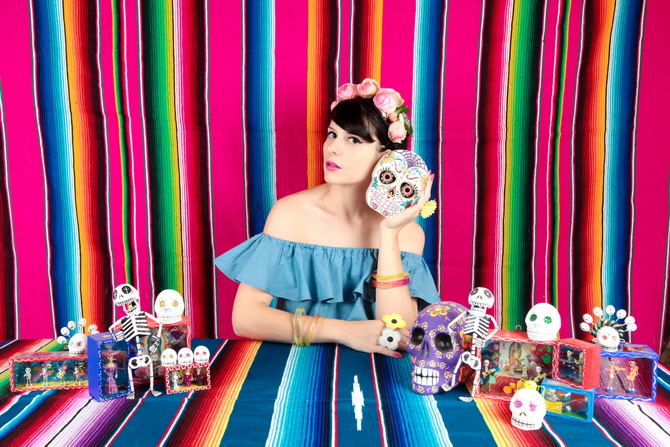 –
–
Le fameux « Día de los Muertos » m'a toujours intensément fasciné, au point de me rendre il y a trois ans au Mexique pour voir cette fête de mes propres yeux.
De ce séjour, j'avais ramené une valise pleine à craquer de tissus et petits objets traditionnels mexicains ( si vous allez à Mexico City, je vous recommande chaudement le Mercado de la Ciudadela ), et des souvenirs plein la tête.
Et lorsque ma créatrice d'accessoires favorite, Charlotte Olympia, a créé une collection inspirée du Mexique il y a un an, j'étais évidemment au septième ciel ! ( La même collection que mon panier Watermelon )
J'ai commandé en solde la petite pochette plexi Calaveras, qui à elle seule me rappelle les festivités joyeuses et hautes en couleur du 1 et 2 Novembre.
Et comme nous sommes justement pile à cette période là, que je trépigne d'impatience depuis trop longtemps de réunir ensemble cette pochette et mes petits souvenirs mexicain… une petite séance photo s'imposait !
–
–
♫ ♪ Lola Beltran – Paloma Negra
–
–
As long as I can remember, I've always been intensely fascinated by the famous » Día de Muertos « . So much actually that I went to Mexico three years ago especially to see the festivities with my own eyes.
From my stay, I brought back a suitcase full of fabrics and little traditional mexican objects ( if you go to Mexico City, I strongly recommend the Mercado de la Ciudadela ), and lots of memories.
So when my favorite accessories designer, Charlotte Olympia, created a collection inspired by the Mexican culture, I was in heaven ! ( The same collection as my Watermelon basket ).
I purchased on sale the little Calevera plexi clutch, which brings back to me so many lovely souvenirs from these two days ( November 1rst and 2nd ).
And because it's Day of the Dead celebration right now, and that I was just too impatient to bring together both my clutch and Mexican souvenirs … a little photoshoot was needed indeed !
–
–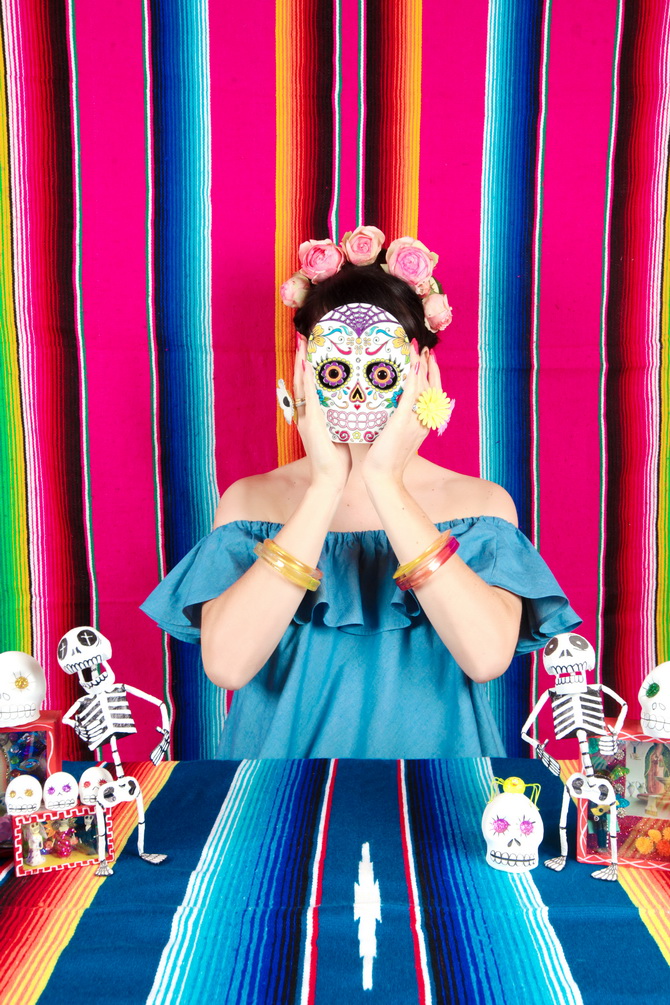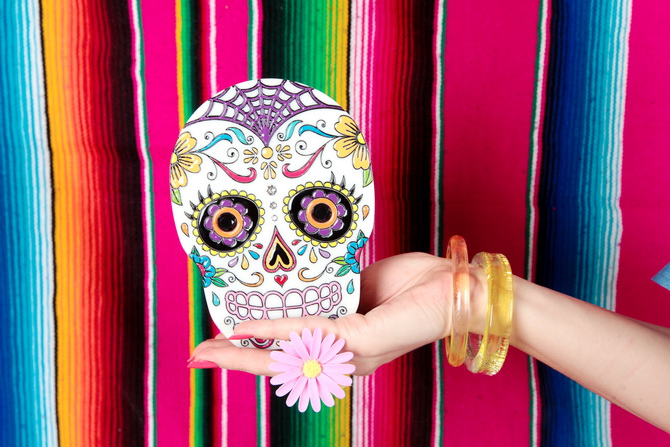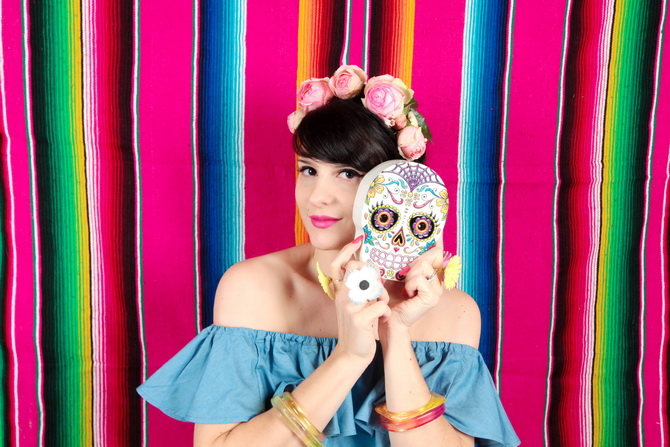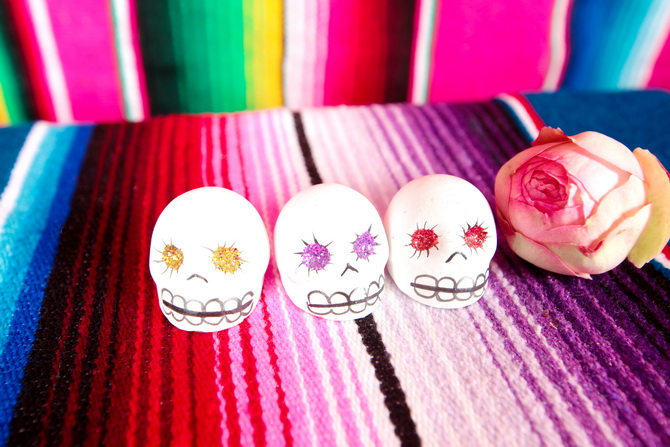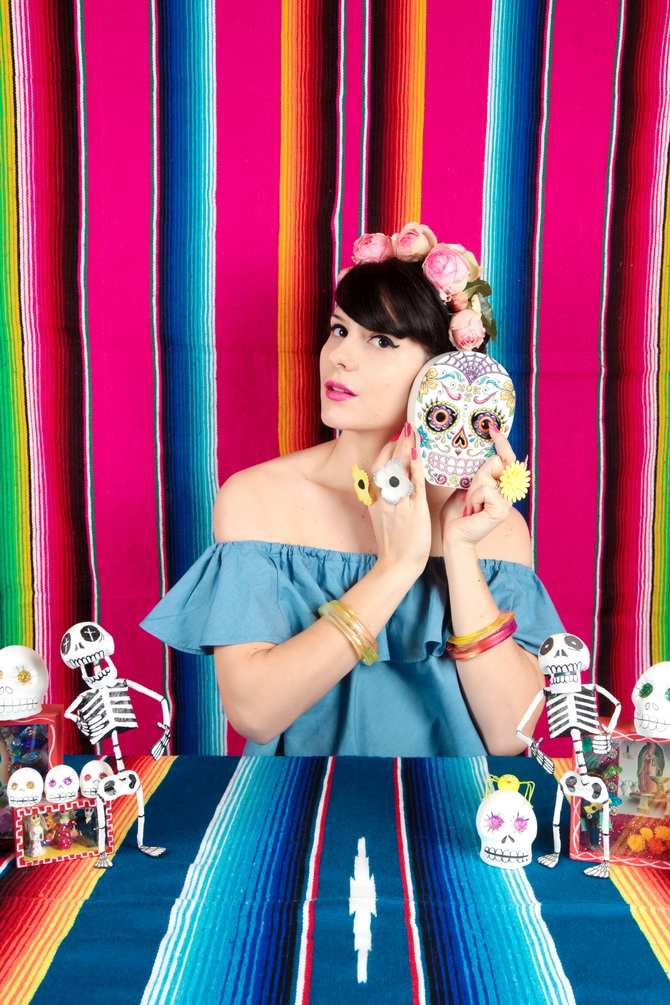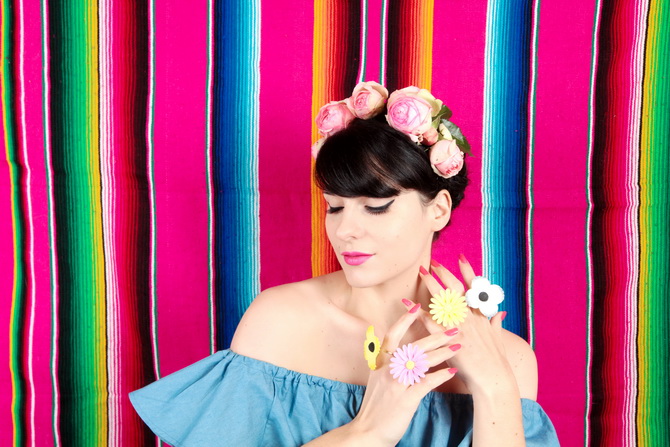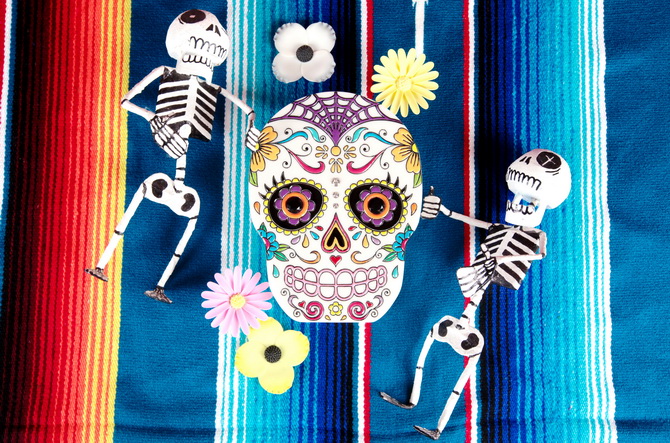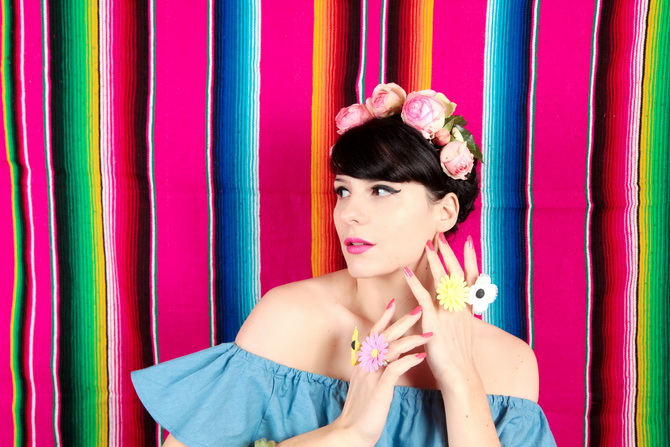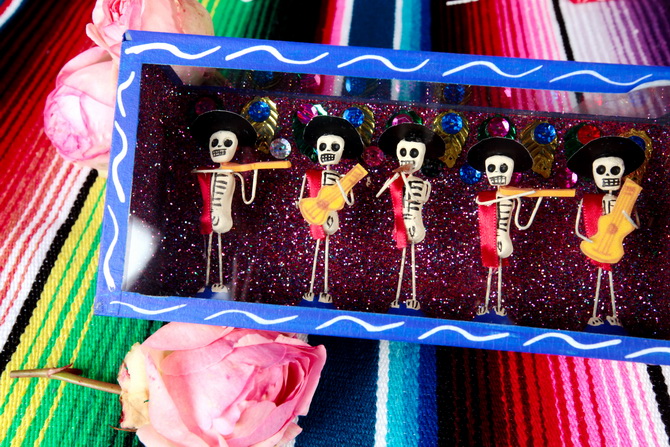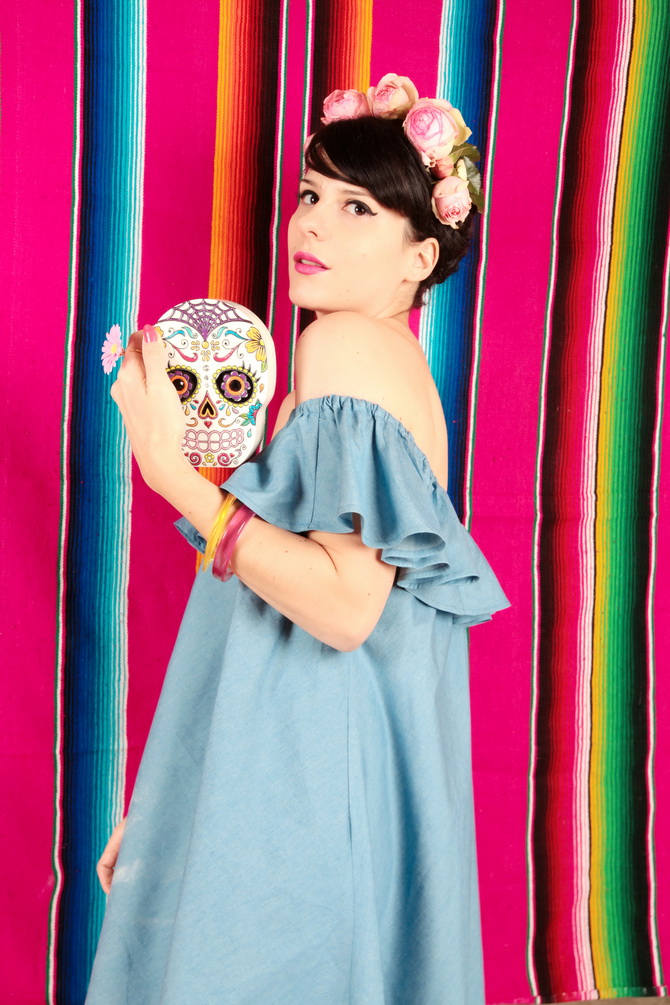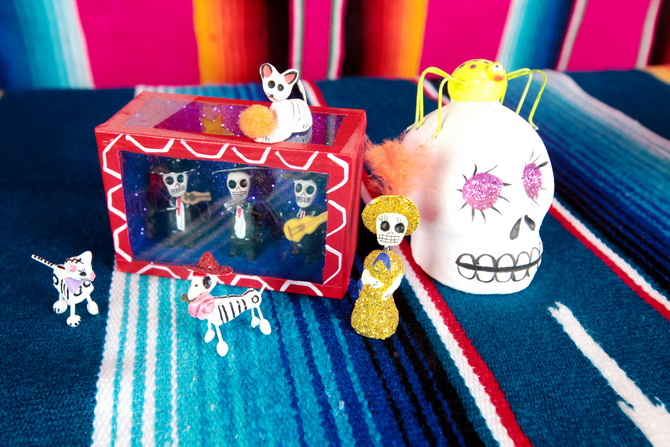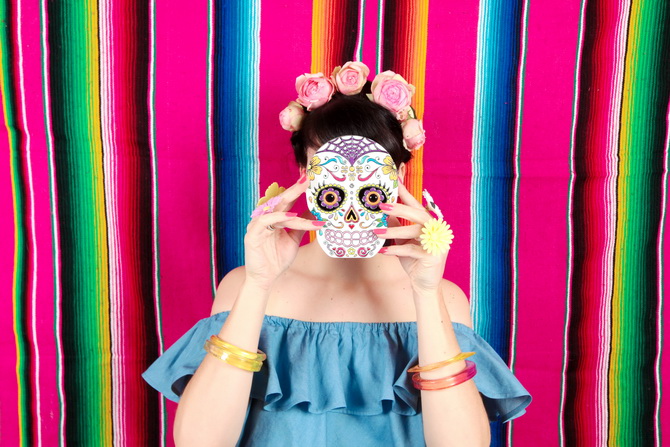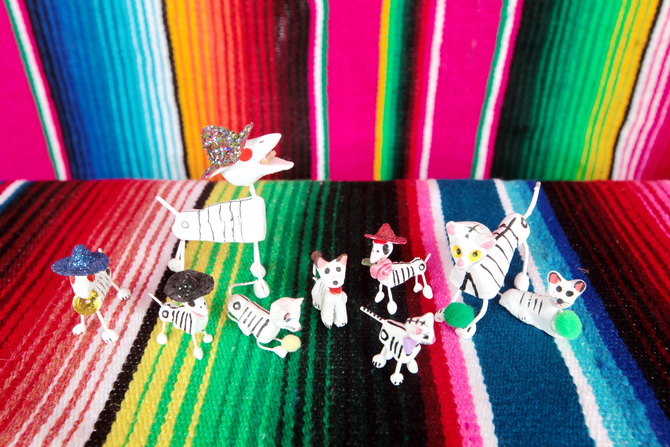 –
–
Robe / Dress : Chicwish
Pochette plexi / Plexi Clutch : Charlotte Olympia
Bagues / Rings : Sretsis
Bracelets : Topshop
–
–
–