–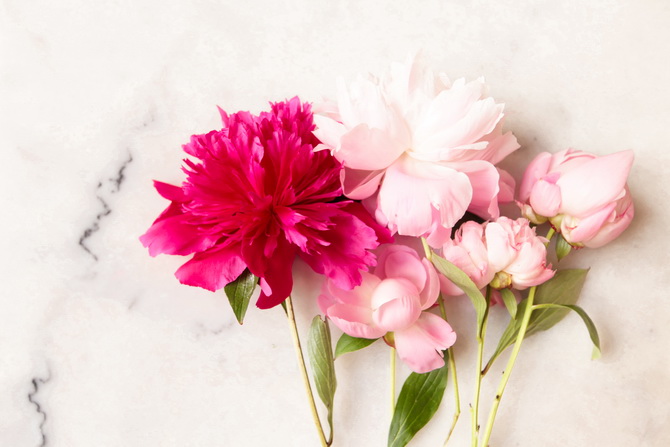 –
–
Cela faisait un moment que je voulais réaliser un article regroupant ma routine beauté, mêlé à quelques petits « conseils » personnel.
Dans ce post, je partage dans un premier temps mes 4 règles d'or, puis ma routine soin ( qui a quelque peu évoluée ces dernier temps, et s'est enrichie de nouveaux produits ), mes produits de makeup favoris, et pour finir: les produits actuellement à l'essai.
–
–
Mes 4 règles d'or:
1 ♥ Pas de maquillage tous les jours.
Les jours « relax à la maison » sont la meilleure occasion pour m'aérer la peau. Pas de maquillage, mais j'en profite pour appliquer crèmes, gommages et masques capillaire.
2 ♥ Les mains loin du visage.
Ça parait bête à dire, mais vos main ne sont pas forcément très propres. Poser sa tête dans ses mains est souvent l'origine de petites imperfections. Perdre l'habitude de s'avachir sur ses mains lorsque l'on travaille à son bureau améliore également sa posture ;p
3 ♥ Eviter l'eau du robinet.
Uniquement lorsqu'on habite dans une grande ville avec beaucoup de calcaire dans l'eau ( comme Paris ! ). Je me nettoie le visage exclusivement à l'aide d'un brumisateur à présent, et je profite de mes séjours à la campagne où l'eau est d'une pureté déconcertante pour me rincer à grandes eaux !
4 ♥ Démaquiller et hydrater.
Le conseil le plus commun: bien démaquiller, nettoyer et hydrater sa peau avant d'aller se coucher !
–
–
♫ ♪ Blondie – The tide is high
–
–
It's been a long time since I wanted to share both my everyday beauty routine and a few tips.
So here are my 4 golden rules, followed by my favorite skincare and make up products, and in the end  some products I am testing right now.
–
–
My 4 golden rules:
1 ♥ No makeup every day.
Chill out days at home are the perfect occasion to let my skin breathe. No make up, but I use the opportunity to apply lots of moisturizing creams, gommage and hair masks.
2 ♥ Keep your hands off your face.
It sounds stupid, but your hands are not always that clean. Keeping them away from your face ( while you work at your desk for example ) will prevent your skin from many imperfections. And you'll get a better posture as well of course ! ;p
3 ♥ No tap water.
When you live in a city with calcareous tap water only.
I wash my face exclusively with a thermal spring water sprayer now, and I take advantage of my weekend at the countryside where the water is incredibly clear to rinse my face abundantly.
4 ♥ Moisturizing and makeup removal.
Probably the most common advice: always take off your make up, properly wash and moisturize your skin before going to bed !
–
–
♥ Favoris soin / Skincare favorites ♥
–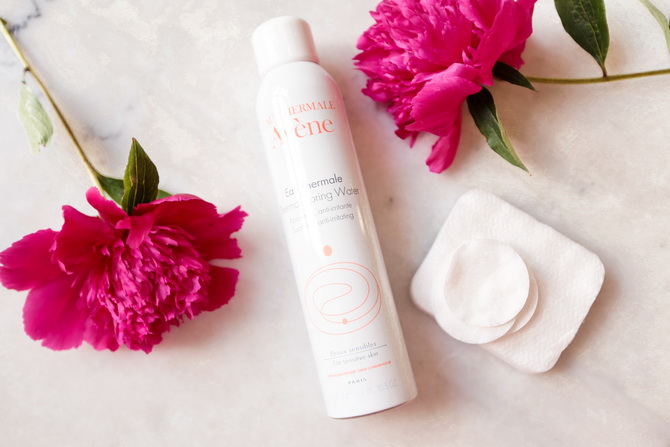 Pour éviter l'eau calcaire du robinet quand je me nettoie le visage: Un brumisateur d'eau thermale. Je l'utilise avec de grands cotons pour bébé.
To avoid tap water when I wash my face: thermal spring water sprayer. I use it with large baby cottons.
–
–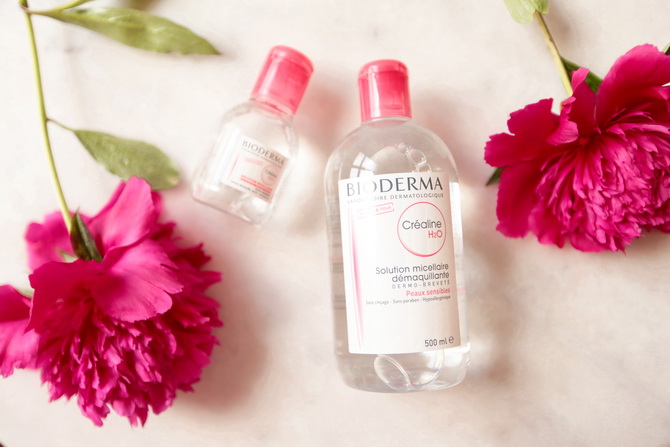 Mon produit préféré pour le démaquillage : Créaline H2O de Bioderma.
My favorite product for makeup removal: Créaline H2O by Bioderma.
–
–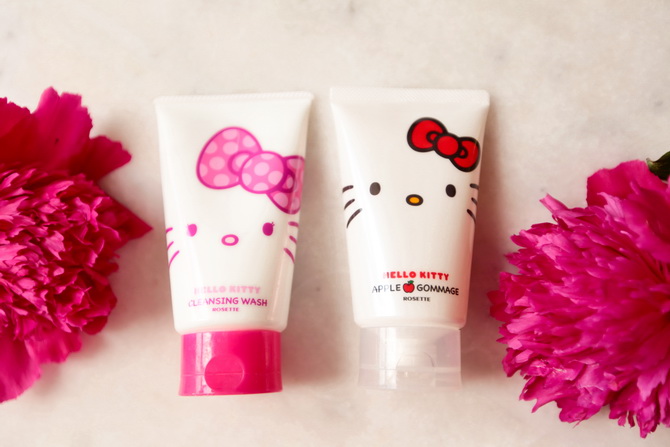 Ramenés du Japon: un gel nettoyant et un gommage « gel » hello Kitty.
Des produits étonnamment efficaces cachés dans des packagings innocemment kawaii!
Brought from Japan: Hello Kitty cleansing wash and apple gommage.
They might habe the cutest packaging ever, these products work incredibly well !
–
–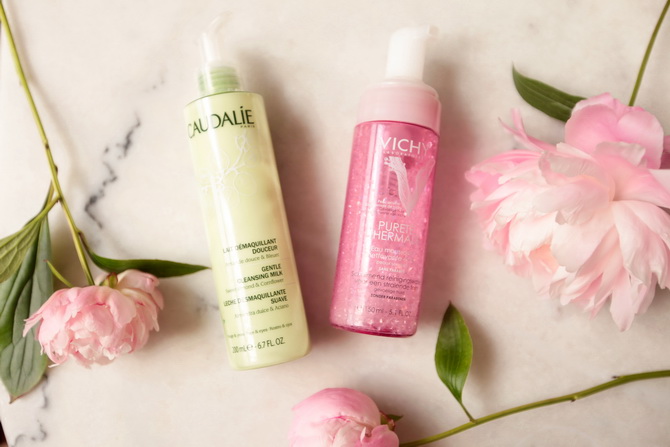 En complément de la créaline de Bioderma, deux produits adoptés il y a quelques mois: démaquillant Caudalie et eau moussante nettoyante Vichy.
Paired with the Bioderma Créaline, two products added to my beauty routine: Cleansing milk by Caudalie and cleansing foam water by Vichy.
–
–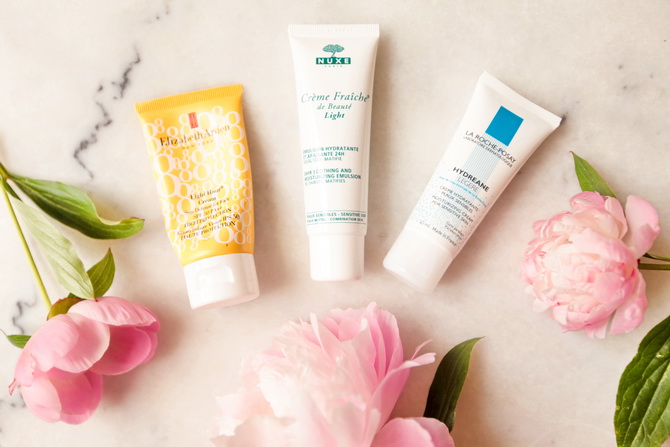 Hydratation et protection: Ma classique Hydreane ( légère ) de La Roche Posay ou crème fraîche de beauté light Nuxe. Lorsque j'étais en fin de grossesse, j'appliquais également La crème solaire Height Hours Cream d'Elizabeth Arden pour éviter les tâches sur le visage. Je sais que je devrais néanmoins en mettre tous les jours…
Moisturizing and protection: my usual Hydreane ( light ) by La Roche Posay or beauty fresh cream by Nuxe. When I was in my last month of pregnancy, I applied the Eight Hours sunscreen by Elizabeth Arden to prevent my face from getting some stains. I know I should do it everyday though…
–
–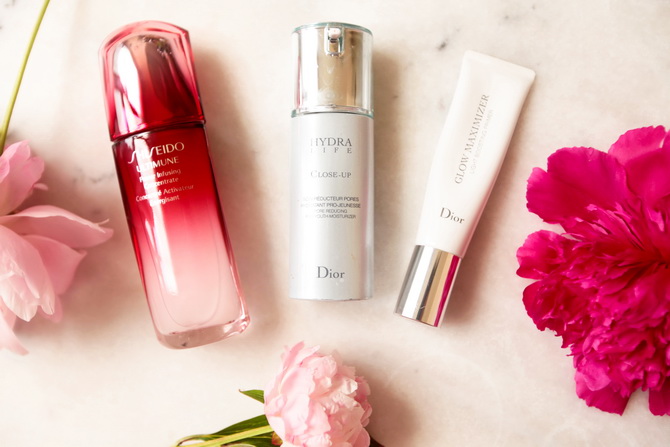 Avant le maquillage. J'applique sérum et base de teint: Ultimune de ShiSeido, Hydralife et Glow Maximizer de Dior.
Before makeup. I apply a serum and a base: Ultimune by ShiSeido, Hydralife and Glow maximizer by Dior.
–
–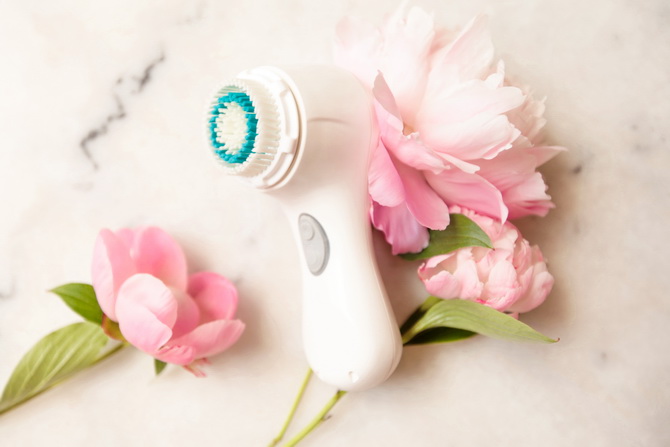 Clarisonic. Une fois par jour avec un gel nettoyant.
Clarisonic, once a day with a cleansing gel.
–
–
–
♥ Favoris maquillage / Makeup favorites ♥
–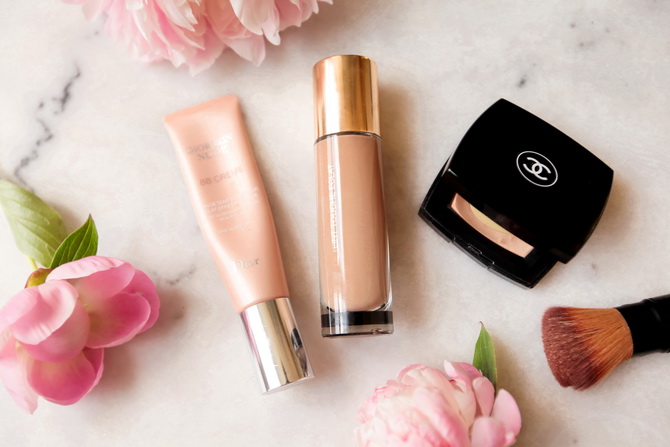 Le teint: BB crème Dior ou fond de teint Touche Eclat YSL. La poudre Chanel pour Matifier.
Fondation: Dior BB cream or Touche Eclat by YSL. Chanel powder to mattify.
–
–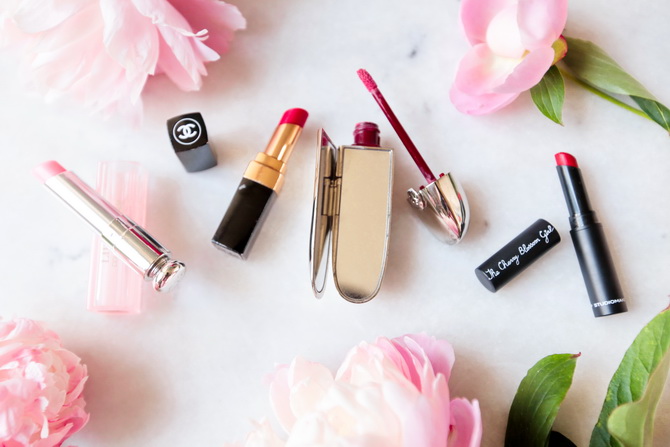 Les lèvres. Mes 4 produits et teintes préférées: Dior Lip Glow, Coco Shine de Chanel, Guerlain rouge G L'Extrait, The Cherry Blossom Girl x Galeries Lafayette.
Lips. My 4 favorite lipsticks and shades: Dior Lip Glow, Chanel Coco Shine, Guerlain rouge G l'Extrait, The Cherry Blossom Girl x Galeries Lafayette.
–
–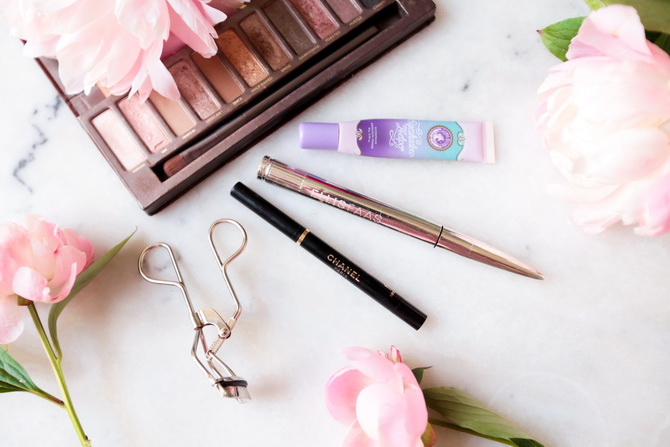 Les Yeux. Base Lime Crime pour assurer une bonne tenue, Mascara Ellis Faas mascara, Eyeliner Chanel, Recourbe cils Sephora, Palette Naked.
Eyes. Lime Crime primer, Ellis Faas mascara, Chanel Eyeliner, Sephora eyelashes curler, Naked eyeshadows palette.
–
–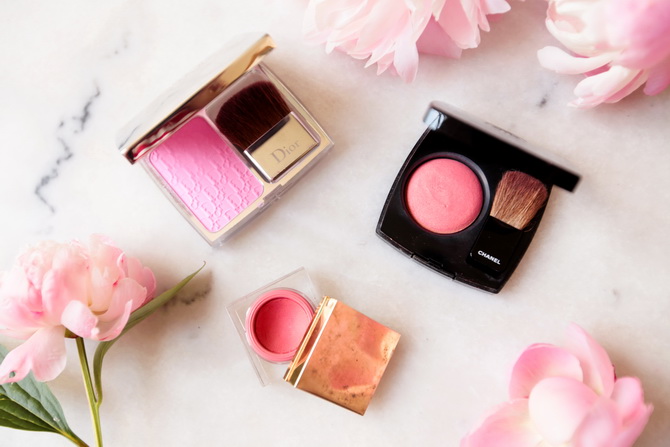 Les joues. Blush Dior, Chanel et YSL.
Cheeks. Blushes by Dior, Chanel and YSL.
–
–
–
♥ A l'essai / Testing ♥
–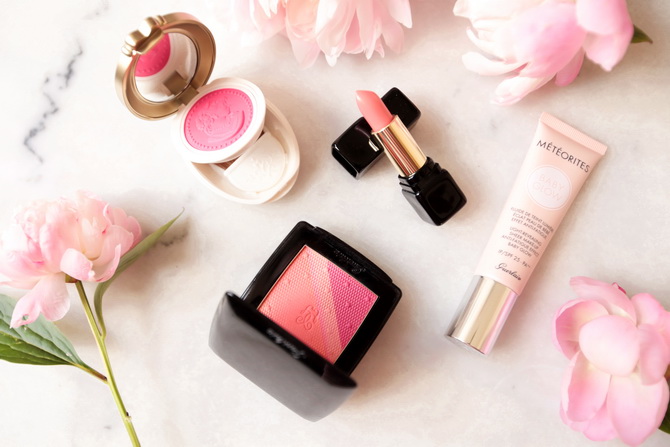 Le blush Les Merveilleuses de Ladurée, et la collection » Les Tendres » de Guerlain ( Enlumineur et rouge à lèvres ).
The blush from les merveilleuses by Ladurée, and the « Les Tendres » collection by Guerlain ( Light revealing BB cream and lipstick ).
–
–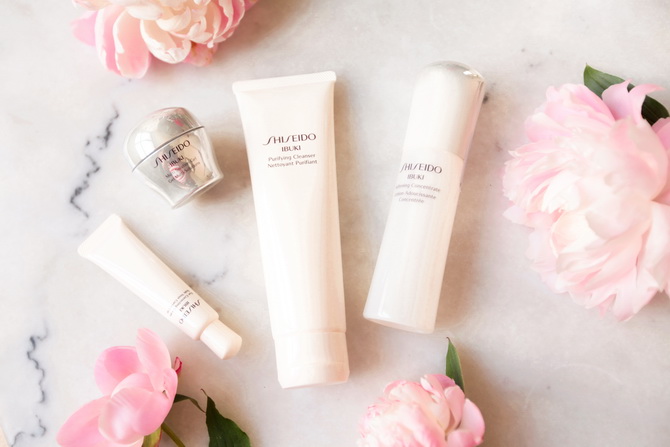 J'aime beaucoup le Nettoyant purifiant Ibuki de Shiseido, que j'utilise depuis deux ans déjà. Viennent donc s'ajouter aujourd'hui la lotion adoucissante concentrée Ibuki, Le gel multi solutions Ibuki et le soin yeux correcteur Ibuki.
I really like the Ibuki Purifying cleanser from ShiSeido, that I've been using for two years now. I just started using as well the Ibuki softening concentrate, Ibuki multi solution gel and Ibuki eye correcting cream.
–
–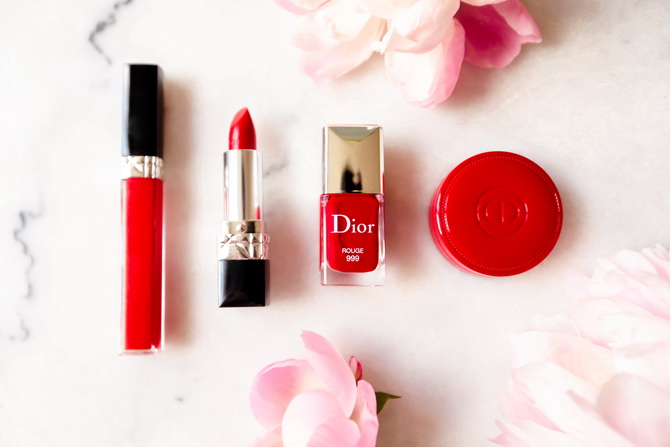 Les rouges Dior.
The Reds by Dior.
–
–
–
–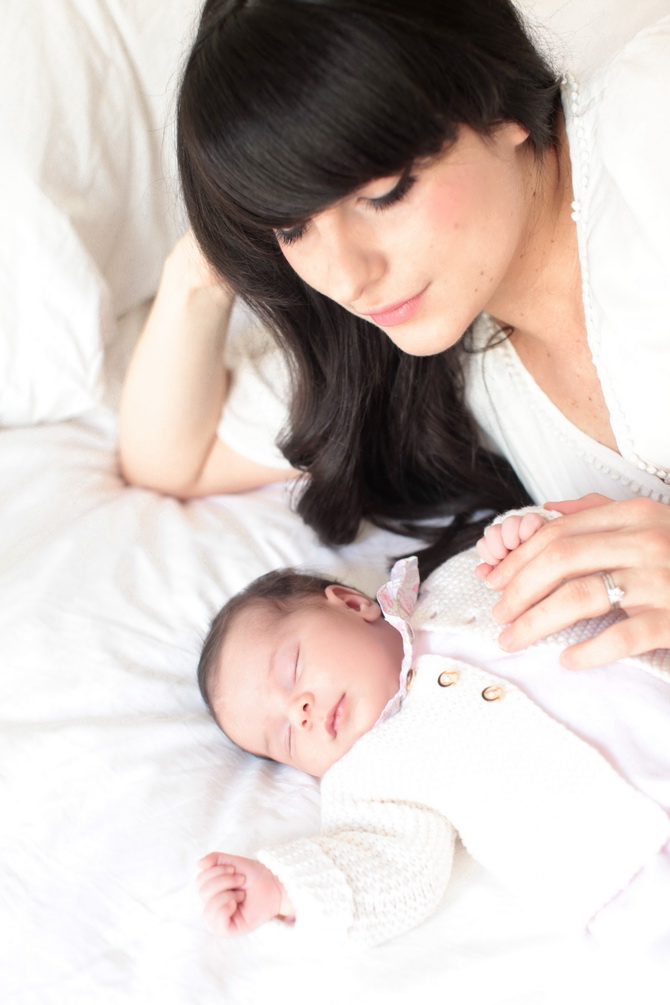 –
–
Il y a quelques jours, ma vie à changé.
J'ai fêté mes trentes ans en tant que nouvelle maman, et je n'aurais pu imaginer plus belle chose !
Iris est née le 30 Mai, et depuis son arrivée, je vis chaque seconde avec amour, tendresse et émerveillement. Les premiers moments avec un nouveau né sont magiques et si précieux!
Je n'en ai pas l'habitude, mais j'ai choisi de publier quelques photos de famille mêlées à des photos Instagram pour vous la présenter.
Vos vœux ont été nombreux, de l'annonce de ma grossesse à la naissance d'Iris, et je tiens à vous en remercier !
Merci infiniment du fond du cœur pour tous vos mots doux, qui m'ont énormément touchés. Cette entrée dans une nouvelle vie n'en a été que plus belle !
–
–
♫ ♪ Louis Armstrong – What a wonderful world
–
–
A few days ago, my life changed.
I celebrated my 30 years birthday as a new mom, and it's the most beautiful thing I could ever imagine !
Iris was born the 30th of May, and since she arrived, every second is filled with love, wonder and tenderness. The first moments with a newborn are magical and so precious !
It's not in my habit, but I thought I would introduce her by sharing a few family photos, along with some shots from Instagram.
I received so many wishes from all of you since the announcement of my pregnancy and Iris birth, and I wanted to say how thankful I am !
Thank you so much from the bottom of my heart for all your sweet words, I can't say how much they touched me, and they made the beginning of this new life even more beautiful !
–
–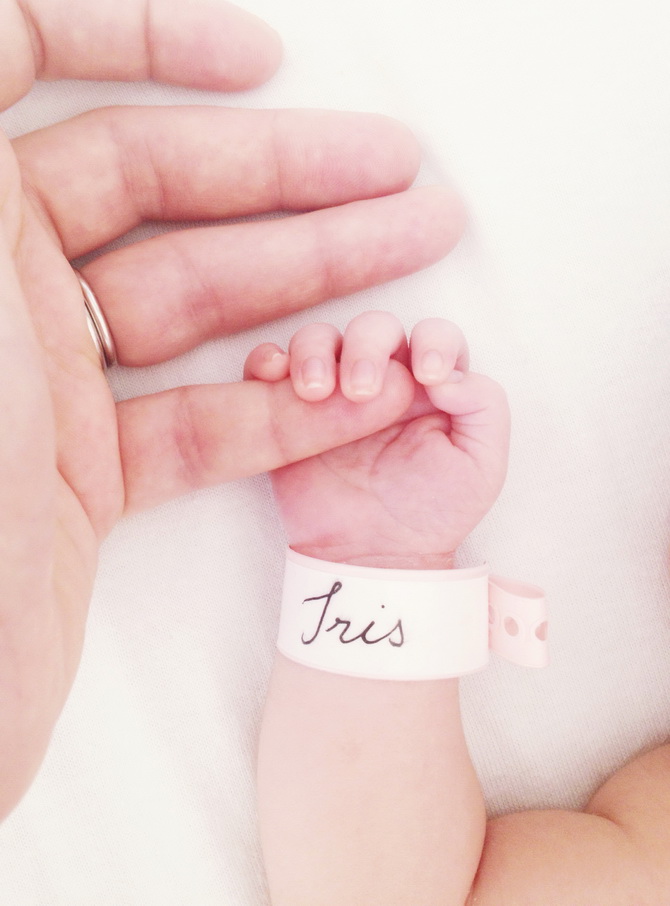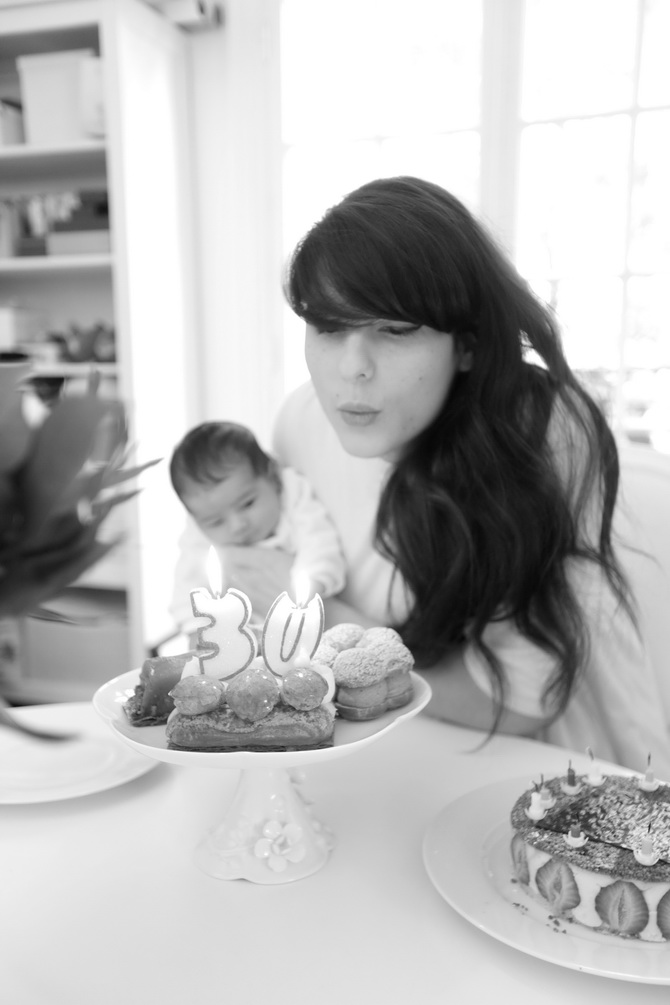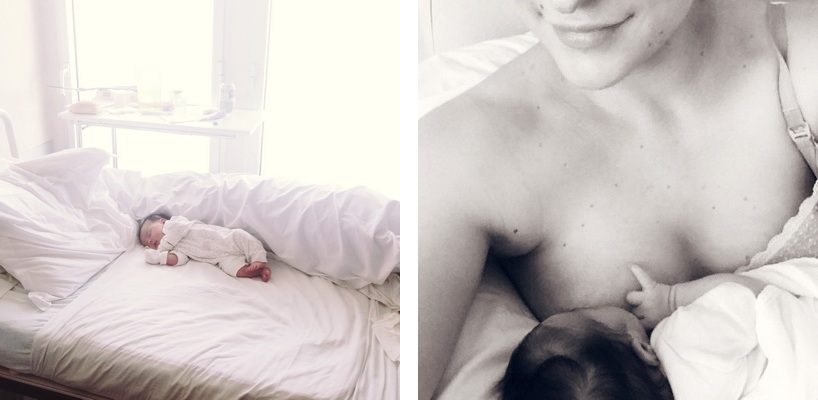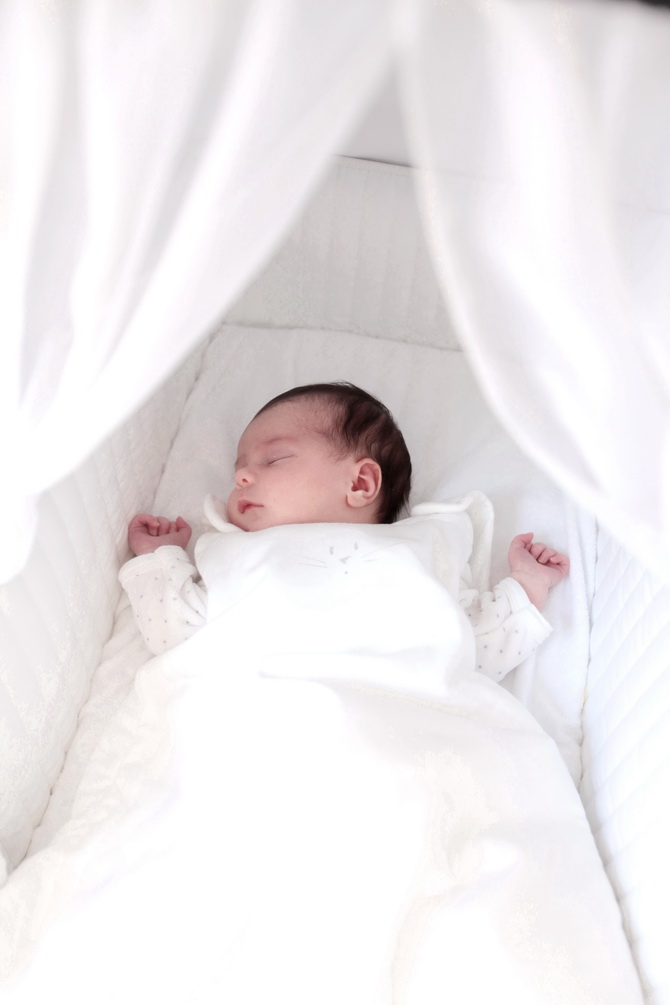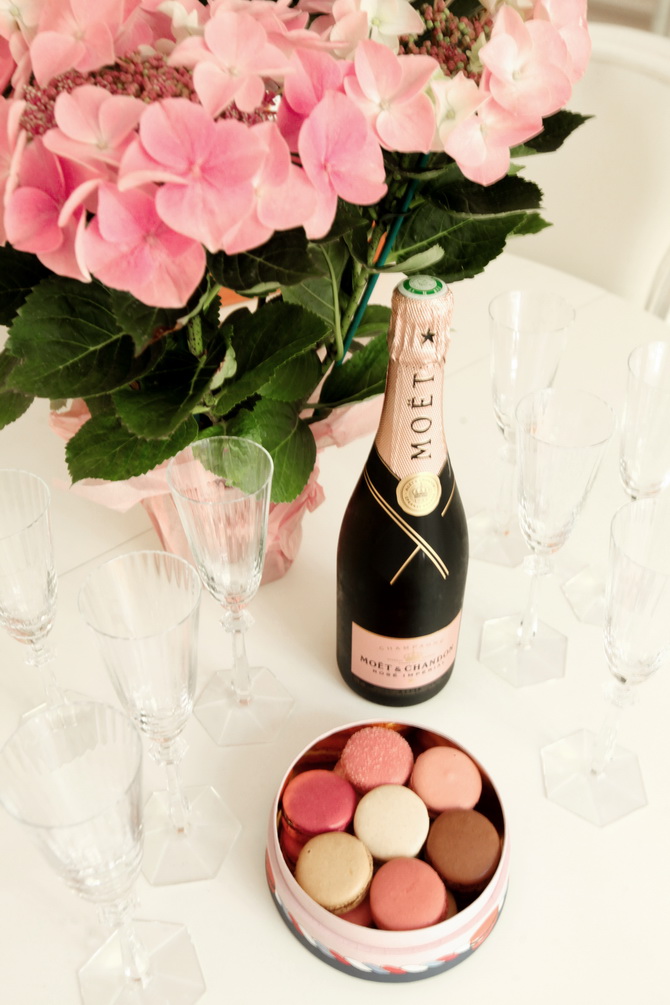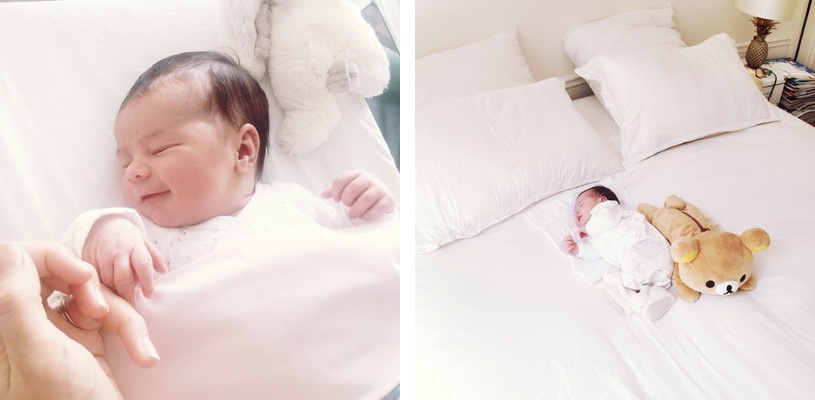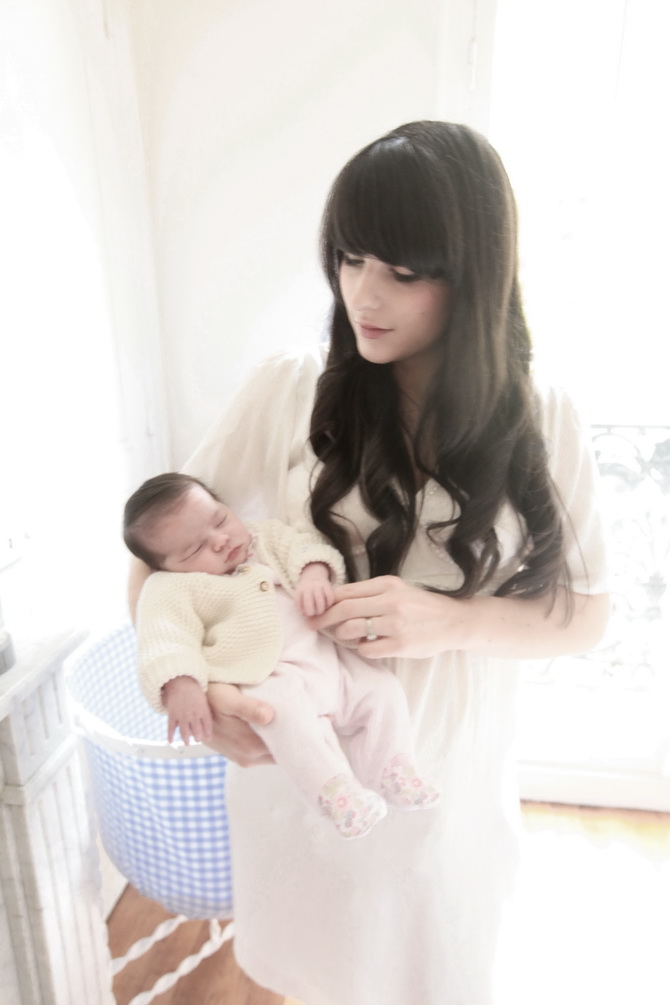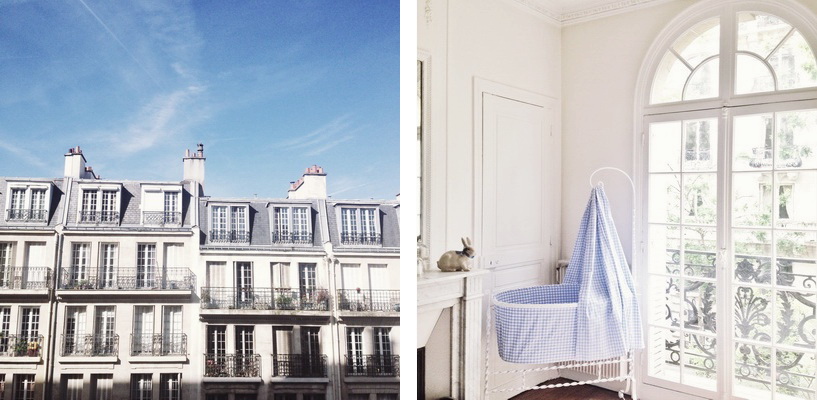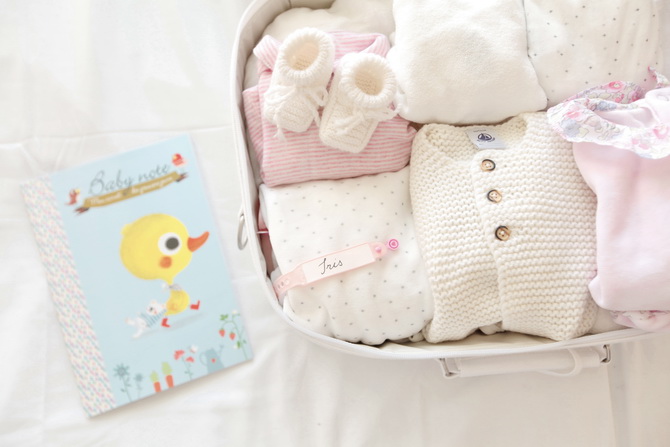 –
–
–
–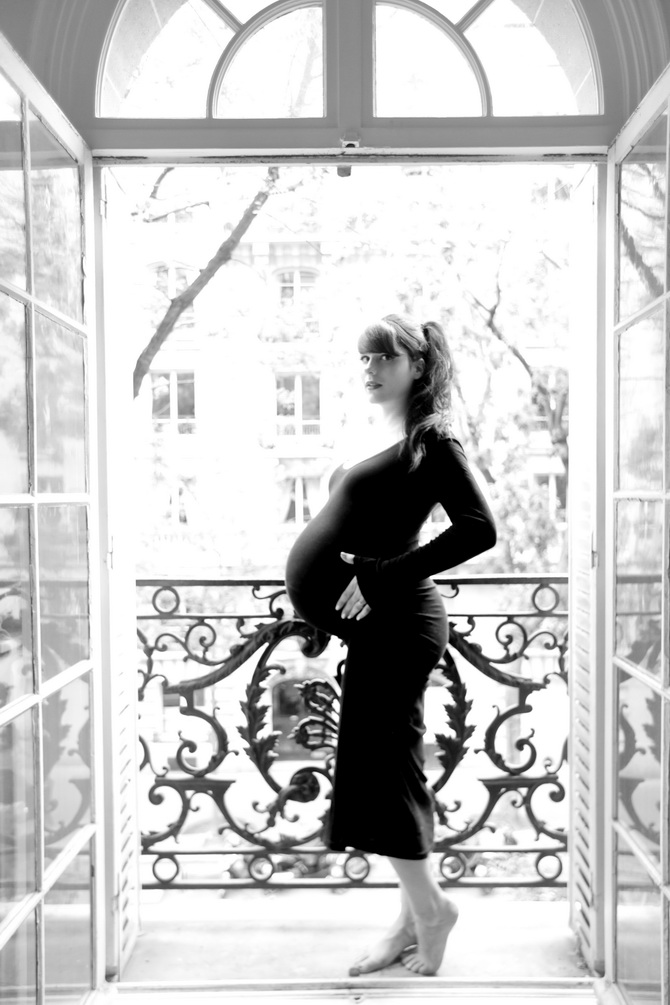 Robe / Dress : American Apparel
–
–
Je ne pensais pas que ça puisse devenir encore plus gros, la preuve que si !
Mon mari à pris cette photo dimanche dernier, sur notre balcon Parisien. Le soleil brillait dehors, et tout était fin prêt pour l'arrivée de notre bébé.
Je compte les jours à présent …
D'ici quelques années, cette image me rappellera beaucoup de jolis souvenirs, j'en suis sûre !
–
–
I didn't think it could get any bigger, but it did !
My husband took this photo last sunday on our balcony in Paris. The weather was perfect, and everything settled for the arrival of our little one.
I'm counting the days now…
In a few years, I'm sure this picture will bring back lots of sweet memories !
–
–
–