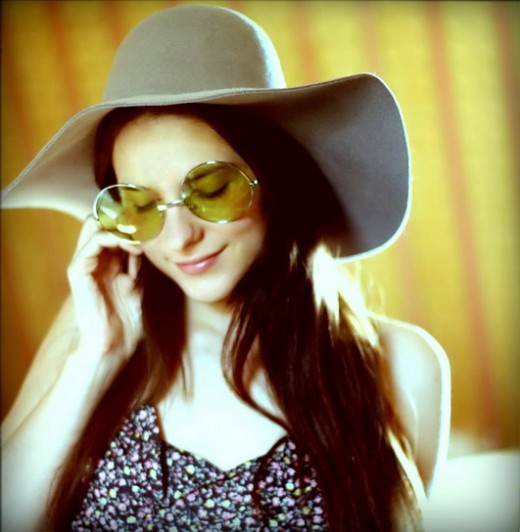 Vintage sunglasses, American apparel floppy hat.
–
Oh, the 70s!
A lot of people consider it one of the worst decades for fashion.
I, on the other hand, love them! I love the 70s for the music, and I love them for the clothes. It is also an era that was graced with quite a vibe!
I decided to try to recreate that vibe by grouping together some of the clothes and objects I own that I associate with those years.
Hey, just because I was born in 1985 doesn't mean I can't take a little trip back in time! Are you ready to be blasted back to the past? I'm turning on the time machine… let's go!

–
Music: America – A horse with no name
–
Ah, les années 70 !
Une période que beaucoup comptent comme l'une des pires au niveau stylistique.
Pourtant, c'est une époque que j'adore, autant pour la mode que pour la musique … et puis les années 70, c'était aussi toute une ambiance !
Une ambiance que j'ai essayé de recréer en regroupant quelques vêtements et objets que je pense coller avec ces années là.
Et oui, Ce n'est pas parce qu'on est née en 1985 que l'on ne peut pas faire un petit tour dans le passé ! Alors, prêt à remonter le temps ? Je met la machine en route, et c'est parti !
–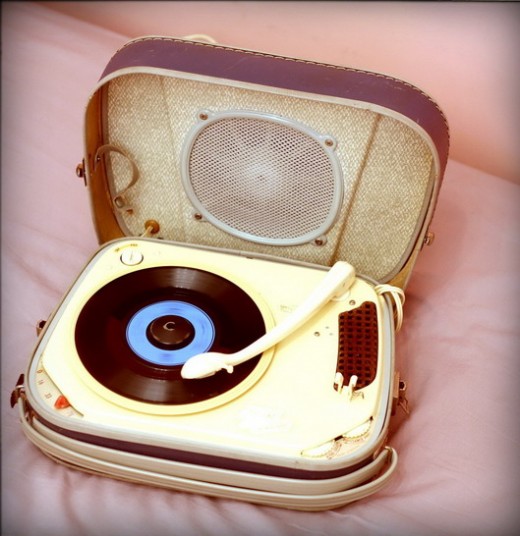 Un tourne disque, indispensable pour s'immerger comme il se doit dans la musique 70's.
( Teppaz )
A record player: essential for immersing oneself into the sounds of the 70s.

–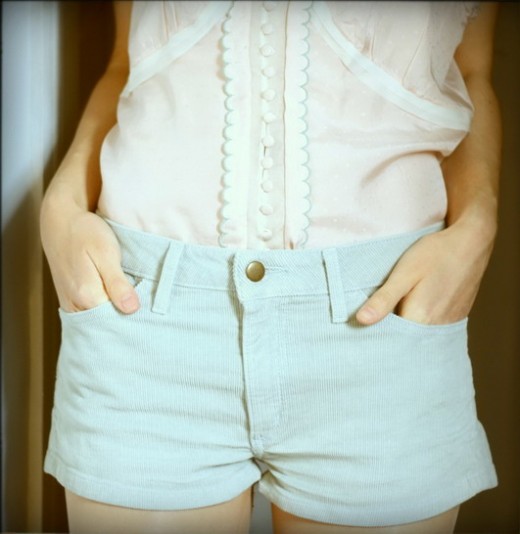 Un mini short, porté avec un blouse.
( American Apparel shorts, Chloé blouse )
Short shorts, worn with a blouse.

–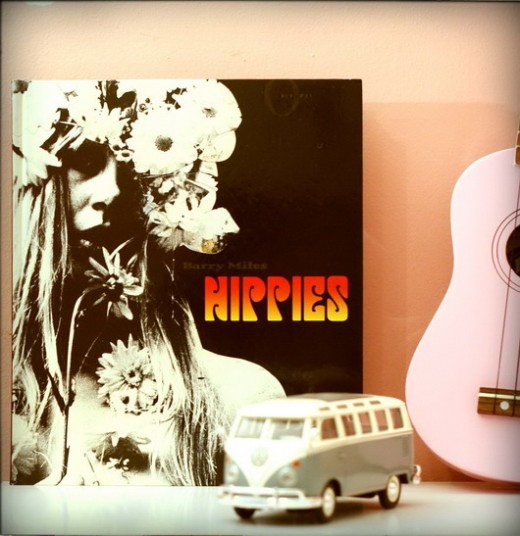 Le hippie book, idéal pour l'inspiration !
( Hippies by Barry Miles )
The hippie book; ideal for inspiration!

–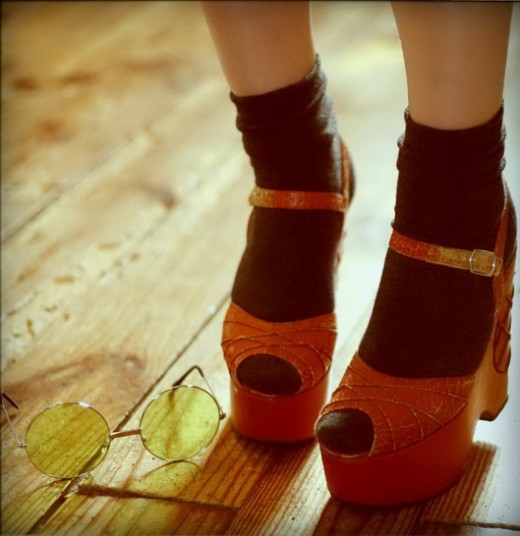 Des compensées.
( Vintage )
Wedges.

–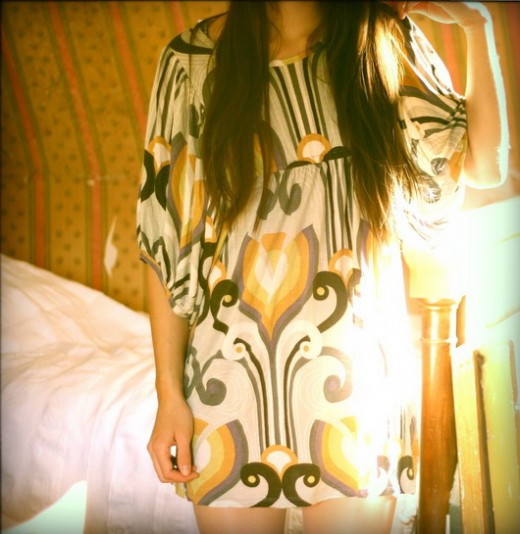 Une robe à l'imprimé psychédélique.
( zara )
A psychedelic print dress.

–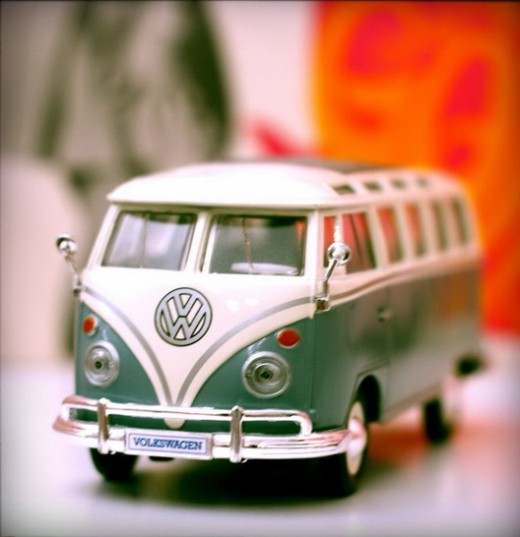 Une miniature du van de mes rêves.
( Ebay )
A miniature version of the van of my dreams.

–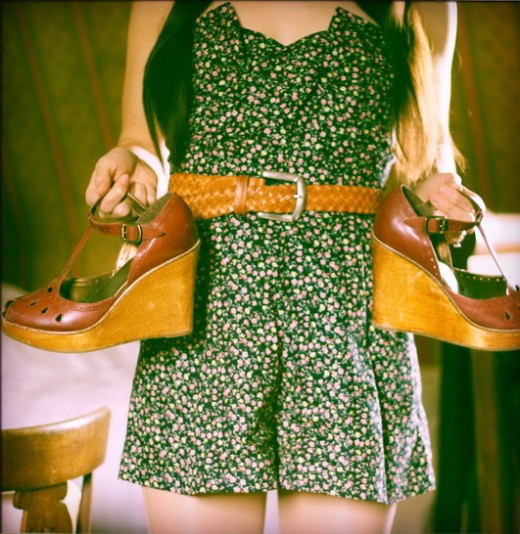 Un combi-short, avec une ceinture tressée et des compensées.
( topshop jumsuit and wedges, vintage belt )
A romper, worn with a woven belt and wedges.

–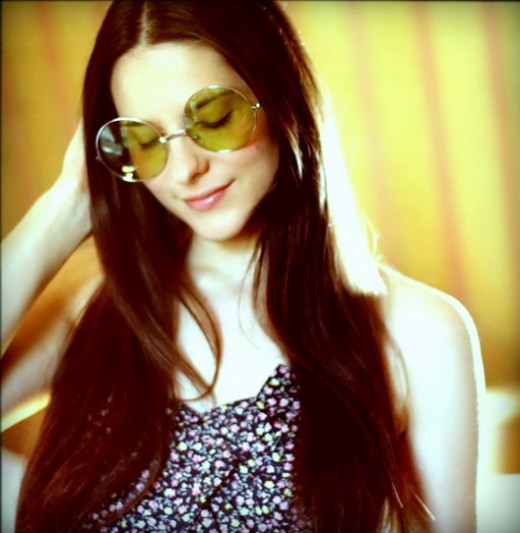 De graaaandes grandes grandes lunettes, avec ou sans capeline.
( Vintage sunglasses )
Huge bug-eyed glasses; can be worn with or without the wide-brimmed hat.

–
Related posts :
---