–
–
–
Pour les amoureux de la nature et des grands espaces, l'Islande est l'endroit rêvé.
Lors de mon séjour là-bas, j'ai eu des sensations comme jamais auparavant.
Celle de découvrir une terre à cœur ouvert.
C'est en effet en Islande que l'on peut voir de manière apparente la rencontre entre deux plaques ( Américaine et Eurasienne ), habituellement bien enfouies au fond de l'océan.
C'est en me rendant à Þingvillir que j'ai pu voir cette fracture au grand jour. Impressionnant de passer au travers de deux falaises, tout petit que l'on est, et de prendre conscience des forces de la nature!
L'Islande, c'est aussi le pays de la lave et de la glace.  Un des rare endroit du monde où l'on peut admirer un glacier à basse altitude, où l'eau bout sous un sol qui fume.
Lorsque j'étais sur place, je me suis sentie totalement déconnecté du monde extérieur, presque sur une autre planète ( un peu comme quand j'étais à Teide, à Tenerife ). J'irais jusqu'à dire que si j'avais aperçu un elfe, cela m'aurait peu étonné!
La chose la plus incroyable était également de vivre une nuit qui n'en est pas une: le soleil de minuit.
Pour expérimenter cela, j'ai choisi de me rendre sur trois différents sites dans une même nuit: Þingvillir, Geysir et Gullfoss.
Ces trois sites étant chacun à couper le souffle, cette sensation de jour qui n'en finit pas a rendu l'expérience encore plus mémorable.
–
–
♫ ♪ Bjork – Joga
–
–
For adventurers and nature lovers, Iceland is the place.
During my stay there, I had sensations like never before.
A sensation to discover earth with its heart wide open.
It is indeed in Iceland that you can see from the outside the crack between the Eurasian and the American plates, which usually can only be seen at the bottom of the ocean.
While I was in Þingvillir, I remember how Impressive it was to pass through the cliffs, tiny as you are, and to realize the force of nature !
Iceland is also the land of lava and ice. One of the few places in the world where you can see a low altitude glacier, where water boils under a floor covered with steam.
I felt completely disconnected from the outside world when I was there, almost on another planet (a bit like when I was in Teide, in Tenerife).
I almost can say I wouldn't have been surprised if I had seen an elf !
The most amazing thing was also to live a night that is not a night: the midnight sun.
For this « little experiment », I chose to go on three different places in the same night: Þingvillir, Geysir and Gullfoss.
Each of these three sights are purely amazing, but the feeling of a day that never comes to an end made ​​the experience even more memorable.
–
–
–
21h00 : A Þingvillir: un très beau chemin en bois, seul témoin d'une présence humaine,  mène vers la cascade Öxarárfoss:
–
9 PM: In Þingvillir: a beautiful wooden path, the only witness of human presence, leads to the Öxarárfoss waterfall:
–
Très peu d'arbres et de végétation haute en Islande. Un dicton dit d'ailleurs: « Si tu es perdu dans une forêt Islandaise … lève toi ! «
–
Very few trees and tall vegetation in Iceland.
A proverb even says: « If you are lost in an Icelandic forest … stand up! »
–
J'aurais pu suivre ce chemin pendant des heures. Luisant sous les gouttes de pluie, son tracé était presque hypnotique.
–
I could have walked down that path for hours. Gleaming under the raindrops, its shape was almost hypnotic.
–
22h00: Þingvillir est également connu pour son premier parlement, entouré de plaines verdoyantes.
–
10 PM: Þingvillir is also known for its first parliament, surrounded by green plains.
–
22h45: Sur le chemin pour aller à Geysir, je me suis arrêté pour observer la fumée de chaque côté de la route. C'était tout simplement de l'eau émanant de sources chaudes, et mon premier ( curieux ) contact avec ce phénomène peu habituel.
–
10:45 PM: On my way to Geysir, I stopped to watch the steam on the side of the road. It was simply water from hot springs, and my first (curious) contact with this unusual phenomenon.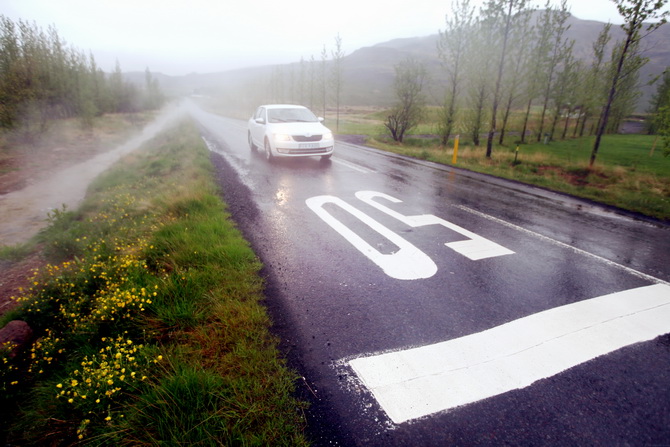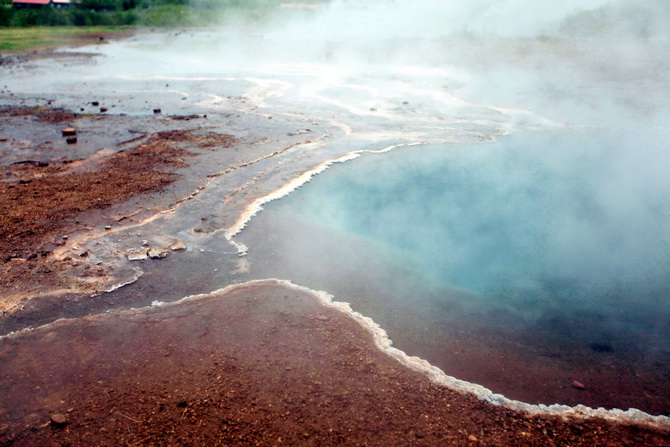 –
23h00: Ce que j'ai apprécié le plus de tout mon séjour en Islande: l'éruption de Strokkur, qui jaillit environ toutes les 6 minutes à 20 mètres de hauteur. Je me souviens avoir ressenti un mélange de peur et d'excitation à l'approche de ma première explosion!
La surface forme comme une sorte de bulle d'un bleu magnifique, qui frémit par petites impulsions comme le ferait un cœur humain, puis implose subitement.
Son voisin, le fameux Geysir ( qui a donné leur nom à tous les autres geysers ) se trouve à seulement quelques mètres: il jaillit seulement 3 à 4 fois par jour, mais culmine jusqu'à 70 mètres de hauteur.
–
11 PM: What I enjoyed the most during my stay in Iceland: Strokkur, which erupt every 6 minutes at 20 meters high. I remember feeling both fear and excitement just before I saw my first explosion!
The surface forms a sort of bubble of a very beautiful blue, quivering in small pulses like a human heart would do, and then suddenly implodes.
His neighbor, the famous Geysir (who gave their name to all other geysers) is just a few meters away from Strokkur : it erupts only 3 to 4 times a day, but rises to 70 meters.
–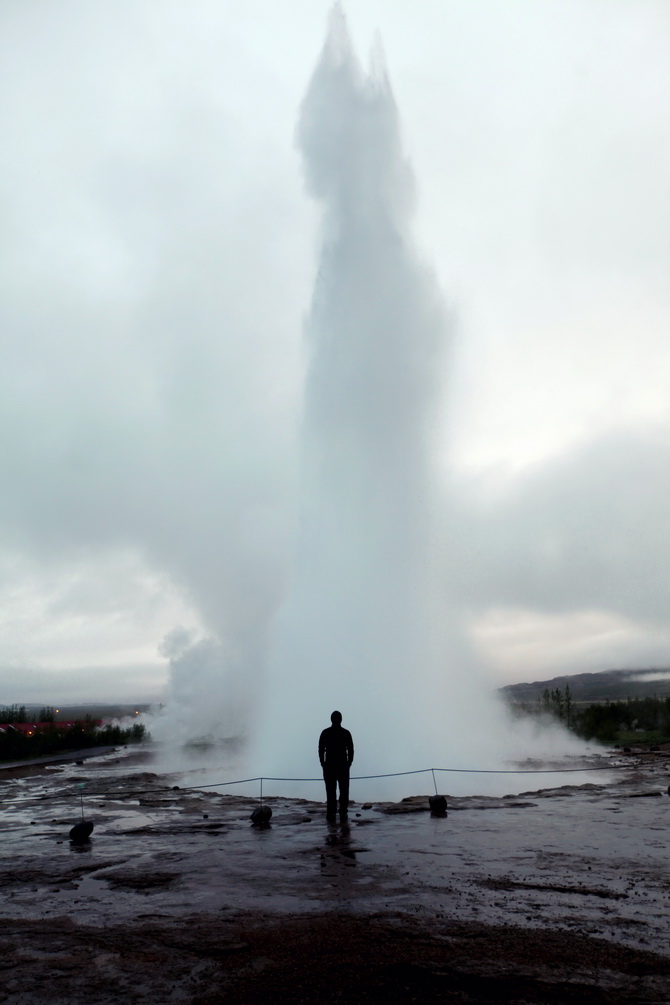 –
00:00 : Il est minuit, et j'arrive sur mon dernier lieu de visite: Gullfoss.
Une légère pénombre se fait sentir, mais le soleil couvert d'un ciel nuageux baigne toujours le paysage d'une lumière uniforme. Il n'y a personne aux alentours, l'endroit est désert.
Une impression très étrange, et c'est le seul bruits sourd de la cascade qui me garde en contact avec la réalité.
–
00 AM: It's midnight and I finally arrive at the last place on my list: Gullfoss.
A slight darkness, but the sun covered with a cloudy sky still bathes the landscape in a uniform light. There is no one around, the place is completely deserted.
A very strange feeling, and it's only the noise of the waterfall that keeps me in touch with the reality.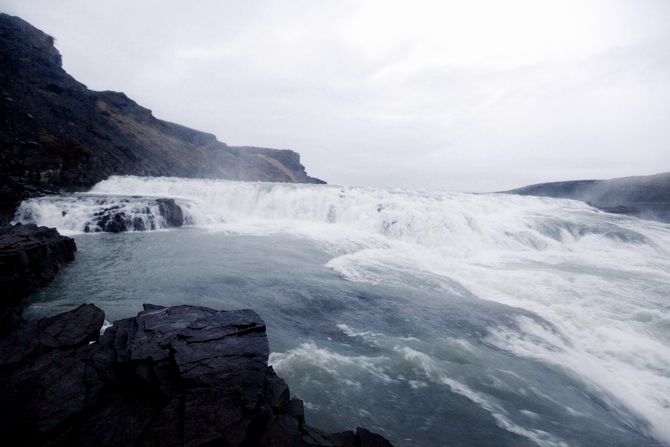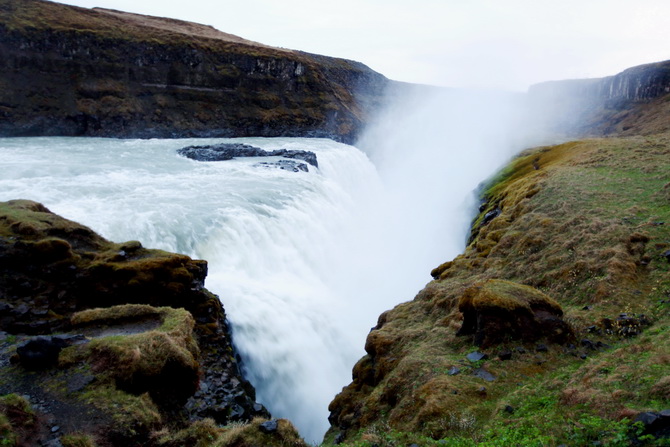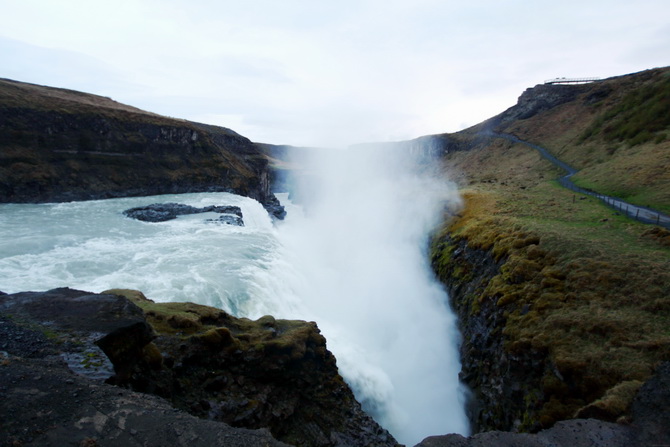 –
01:00: Une heure du matin, l'heure de rentrer. Le temps que j'arrive à Reykjavik, il est environ 3h du matin. Je vois alors une nuit de 9 juin à son niveau le plus sombre: une obscurité bleutée d'où l'on peut toujours distinguer les couleurs.
Comme l'aube d'une nuit d'automne.
–
1 AM: One in the morning, time to leave. By the time I arrived in Reykjavik, it was about 3 AM. That's the moment when I could see a night of June 9th at its darkest level: a dark blue light from where you can still distinguish colors. Just like the dawn in autumn.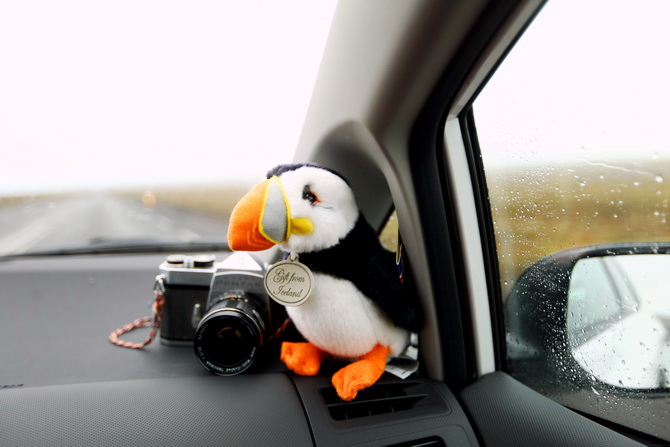 –
 Je vous parlerais dans mon prochain billet du très célèbre Blue Lagoon.
L'Islande m'a beaucoup plu par son côté très dépaysant et inhabituel. Mon seul regret est de ne pas avoir eu assez de temps pour aller voir les glaciers sur la côte Est du pays.
Mais je pense revenir pour un voyage plus long cette fois ci, pour pouvoir faire le tour de l'île et voir encore plus de sites exceptionnels.
–
In my next post about Iceland, I will talk about my experience at the famous Blue Lagoon.
I really loved Iceland for its very different, beautiful and unusual side. My only regret is not having enough time to see the glaciers on the east coast of the island.
But I really think about coming back, for a longer trip this time, in order to get around the Island and see even more exceptional places.
–
–
–
Related posts :
---