–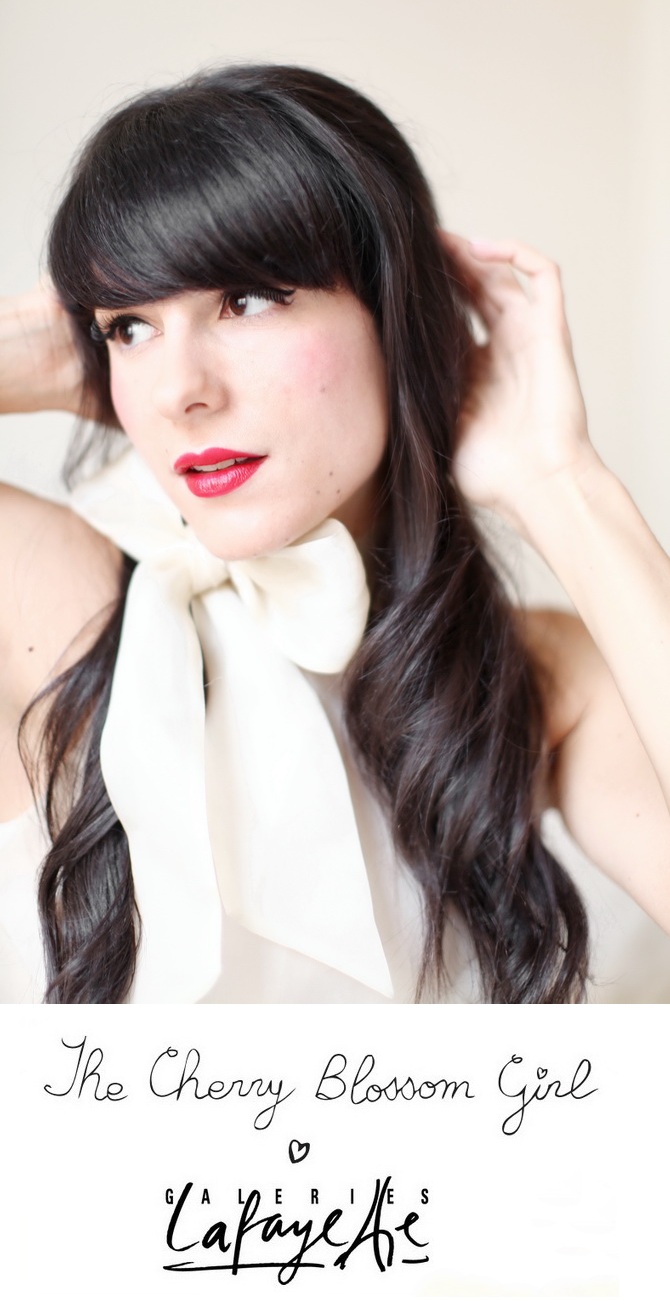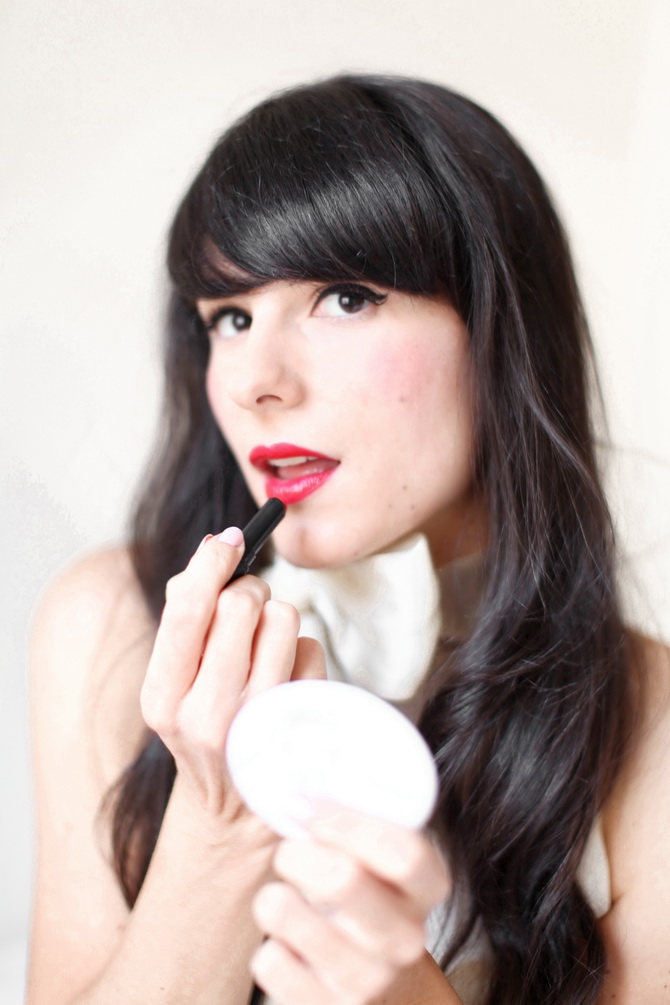 –
–
Les tutos pour les ongles vous ont plu, ça m'a fait plaisir !
Je passe maintenant au maquillage, et vous présente aujourd'hui un look que je réalise souvent:
Le make up Pin Up !
Je le porte en général le soir, mais j'en connais beaucoup qui assument eyeliner et lèvres rouges avec brio au quotidien.
C'est aussi un look que j'ai récemment photographié dans ma séance vichy.
Comme beaucoup d'entre vous m'ont souvent demandé comment je réalise mon trait d'eyeliner … vous aurez ici un petit mode d'emploi.
Je suis naturellement très fière de cette collection, j'ai travaillé dessus pendant plusieurs mois avec l'équipe beauté des Galeries Lafayette.
Mais au-delà de ça, et ce que l'on ne sait pas forcément, c'est que ces produits sont de très bonne qualité. Le fabricant, leader dans le domaine de la cosmétique, travaille également pour de nombreuses marques prestigieuses.
Dans la trousse transparente ( que j'ai créé pour qu'elle soit aussi pratique en voyage que dans la salle de bain ), tous les produits nécessaires pour créer le look Pin Up:
Des faux cils, un eyeliner, un blush et le rouge à lèvre « Red Cabaret ».
Si vous me le demandez, je vous dirais que ce rouge à lèvre est mon produit préféré de toute la collection. C'est un très beau rouge sexy qui ajoute du pep's à n'importe quelle tenue, il est confortable et sa tenue est exemplaire.
Je le mettais très souvent avant même que la collection ne sorte.
Testé et approuvé !
Si vous ne deviez choisir qu'un seul produit, je vous conseillerais celui là.
–
–
It seems like you liked the nails tutorials from my previous post, and I'm really happy about that !
Now let's talk about makeup, with a look that I make quite often.
The Pin Up make up !
This is something I usually wear in the evening when I go out, but I know many girls who literally rock the eyeliner and red lips combo in the everyday life.
It's also a make up look I was wearing recently in my Gringham themed photoshoot.
You were quite many asking me how I do my eyeliner … so you'll get an easy step by step tutorial showing how to !
It comes like a natural thing to say that I'm proud of this collection, I've been working on it for several months with the Galeries Lafayette's beauty team.
But beyond that, and what you may not know, is that the products are of really good quality. The manufacturer, one of the leaders in the cosmetic industry, also works for many prestigious brands.
In the transparent pouch ( that I created to be as convenient in the bathroom or when you are traveling ), all the products needed to make the Pin Up look:
False eyelashes, an eyeliner, a blush, and a « Red Cabaret » lipstick.
If you ask me, I would say this lipstick is my favorite from the entire collection.
It's a very sexy and bright red, which add a twist to any outfit. It is comfortable to wear, and last surprising well on the lips.
I wore it a lot before the collection was even released. Tested and approved !
If you had to choose only one single product, this is the one I would recommend to you.
–
–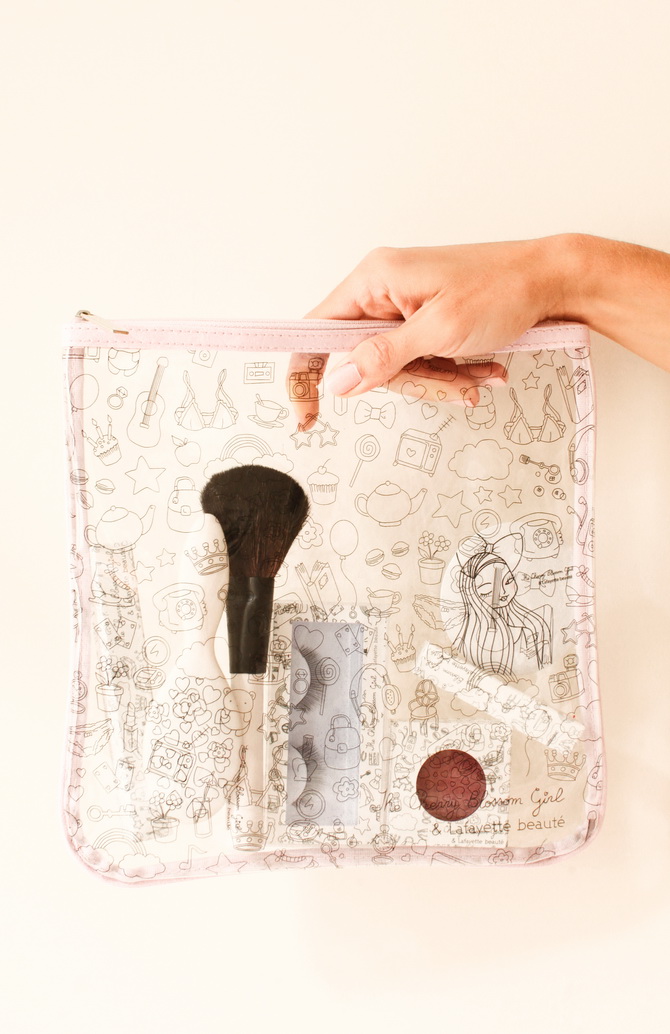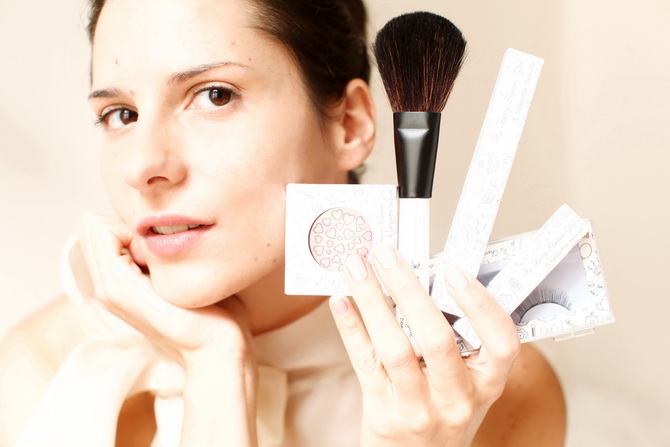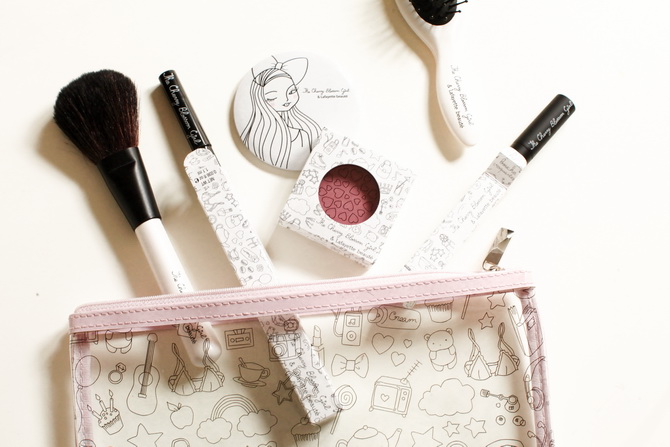 –
–
1: Leyeliner, de l'intérieur vers l'extérieur de l'œil, créez la forme que vous désirez, puis remplissez !
The eyeliner, to the inside to the outside of the eye, create the shame you like, then fill up !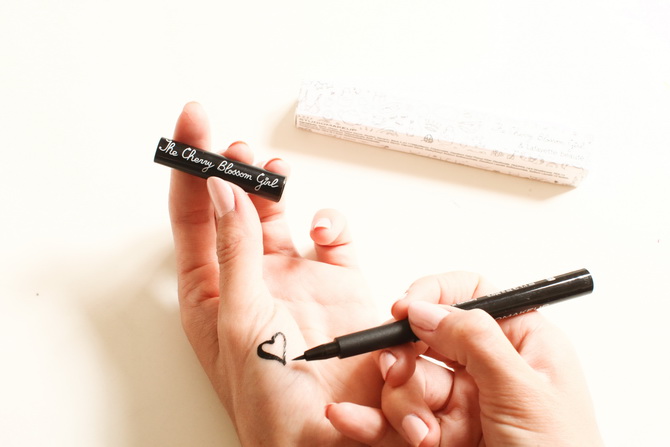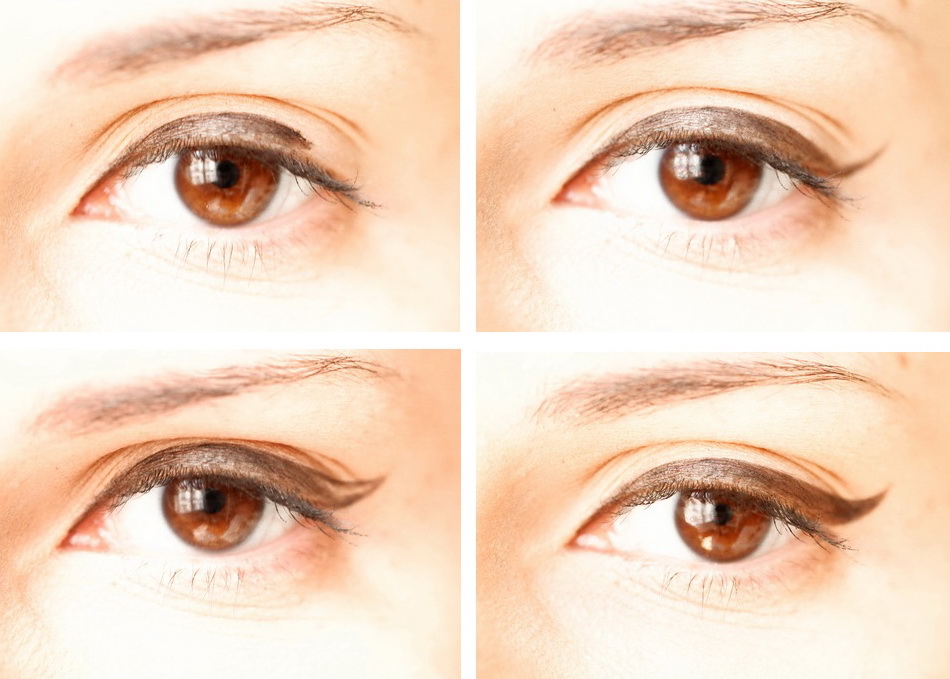 –
–
2: Les faux cils. Découpez les d'abord à votre taille. Vous pouvez même modifier la forme à votre goût avec des ciseaux. Déposer de la colle à faux cil sur toute la longueur du faux cil, et posez à ras des cils, en commençant par l'extérieur. Je vous conseille de poser votre mascara habituel juste avant, pour plus de texture.
The flase eyelashes. Do not hesitate to cut them in the lengh that suits you. You can even cut the eyelashes to get exactly the shape you want. Add some eyelashes glue, and apply close to your lashes, starting from the outside. I recommend that you apply your usual mascara just before, to add more texture.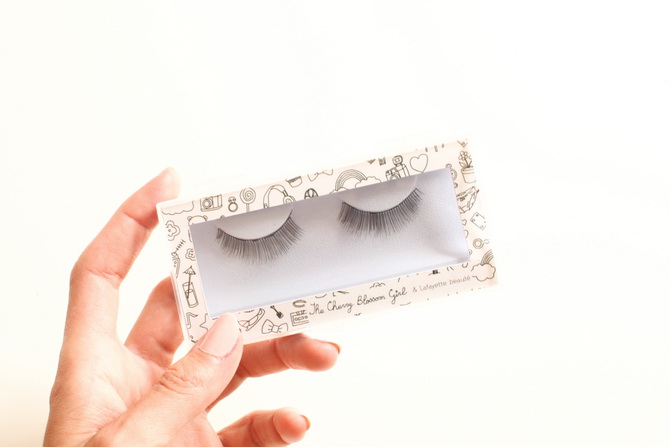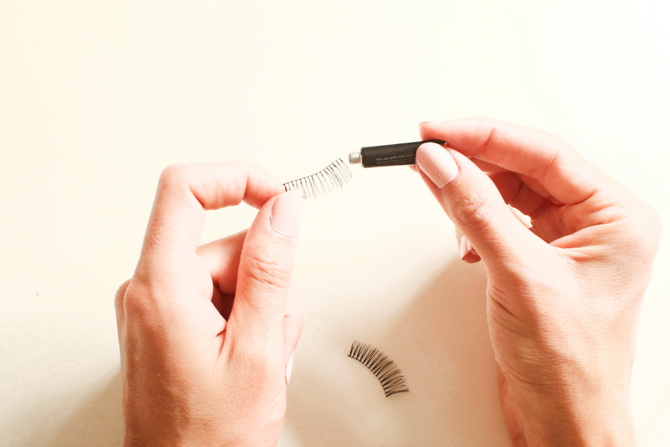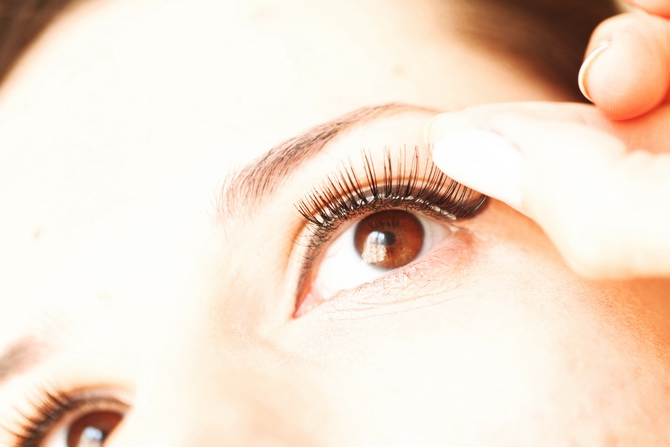 –
–
3: Le blush. Juste un peu, en appliquant le pinceau de manière circulaire sur le haut des pommettes.
The Blush. Apply just a few with the brush on the top of your cheeks, doing circular movements.
–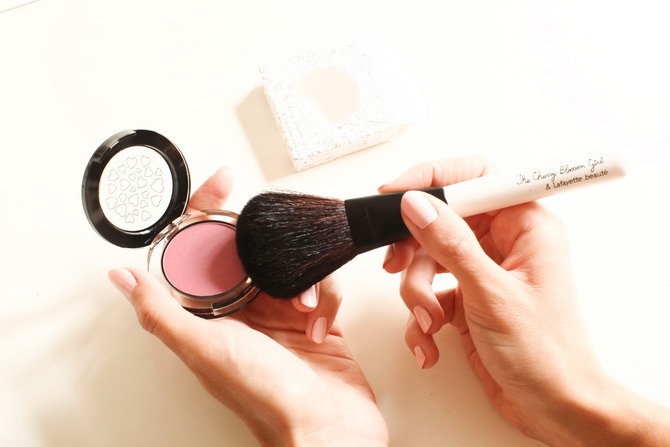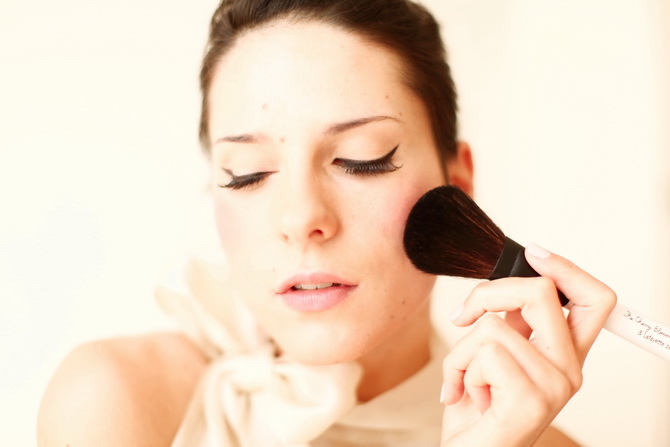 –
–
4: Le rouge à lèvre ( « Cabaret Red » ). Pour des lèvres joliment dessinées, délimitez le contour des lèvres avec le rouge à lèvre en utilisant un petit pinceau, puis remplissez en utilisant le tube.
The lipstick ( « Cabaret Red » ). For nice shaped lips, draw the outlines of the lips with the lipstick, using a tiny brush, then fill in using the lipstick tube.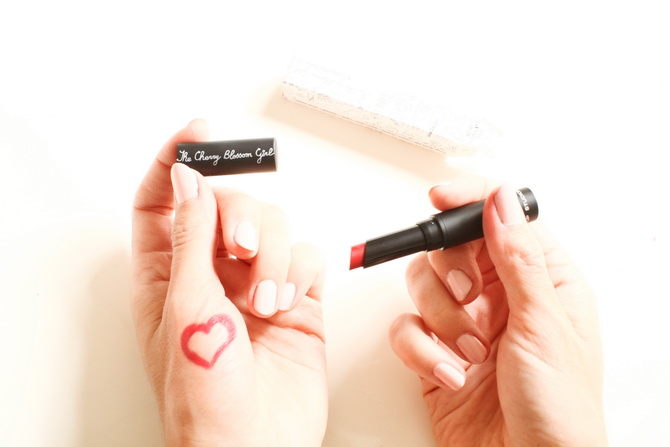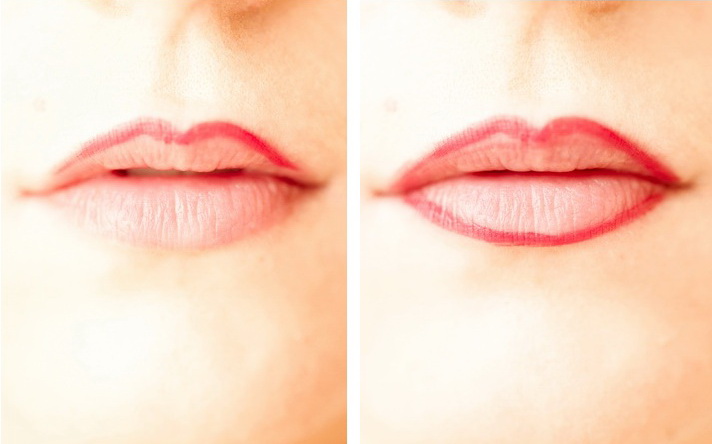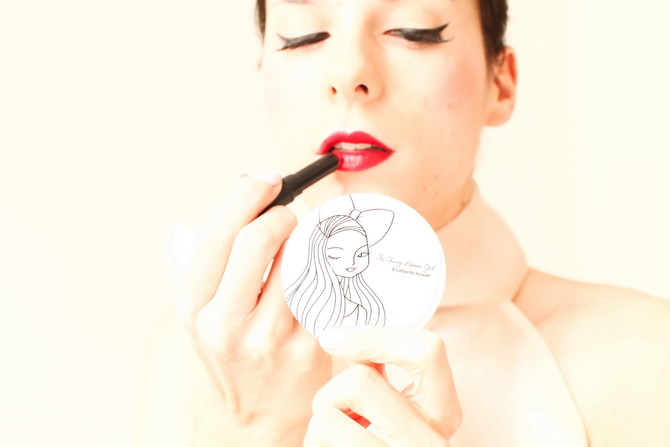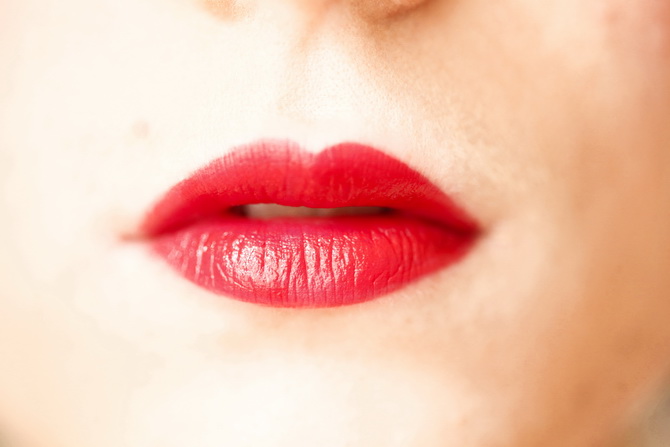 –
–
Un coup de brosse …
Brushing …
–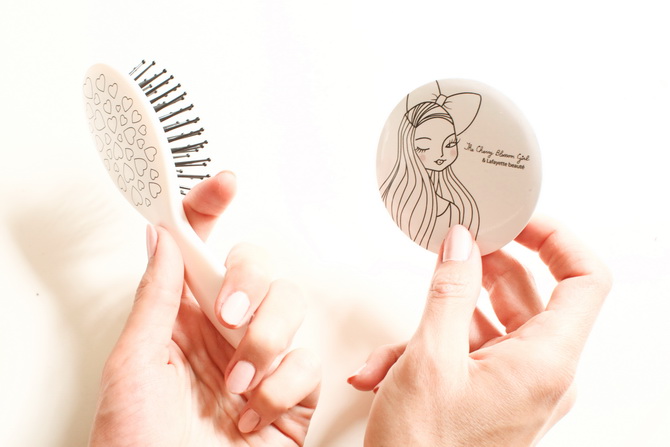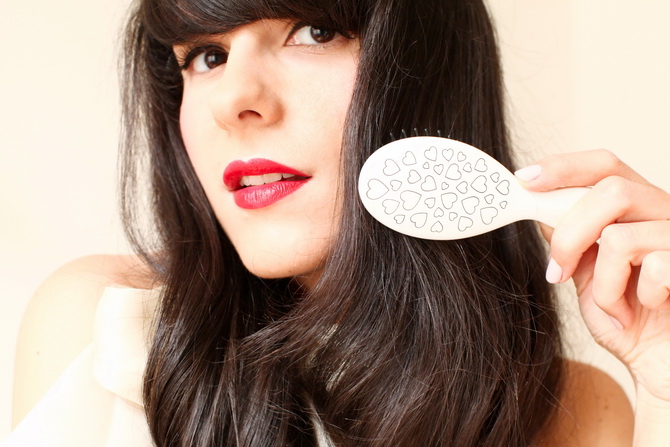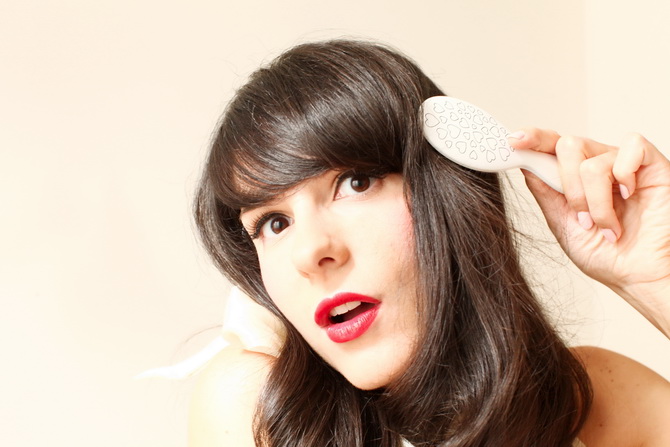 –
–
Et voilà vous êtes prête !
And there you are !
–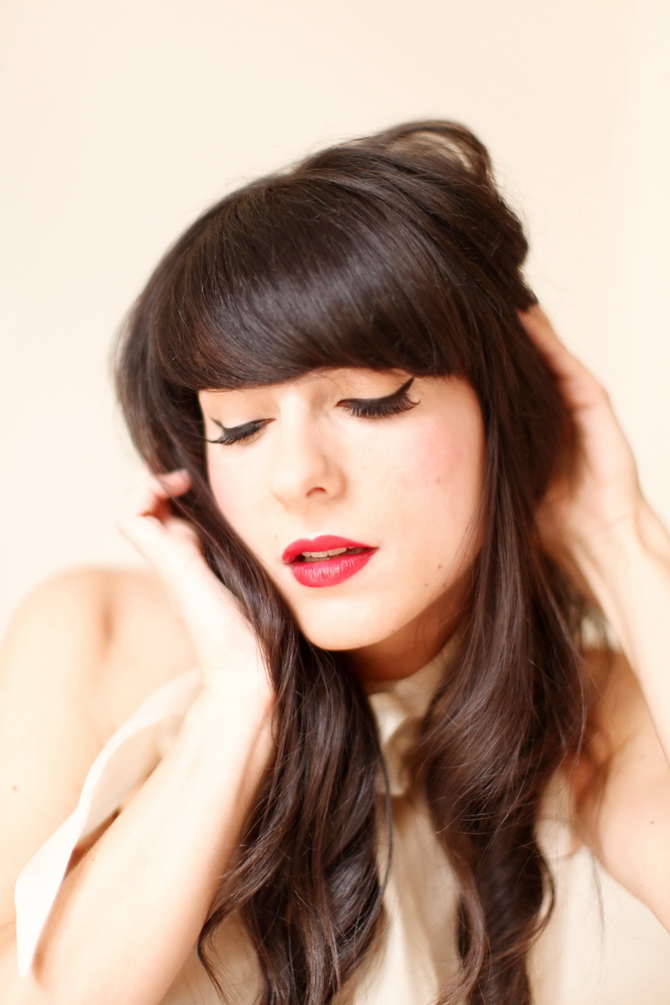 –
–
Tous les produits The Cherry Blossom Girl x Galeries Lafayette sont disponibles au 4 ème étage du grand magasin Galeries Lafayette Boulevard Haussmann, et dans tous les Galeries Lafayette de France.
–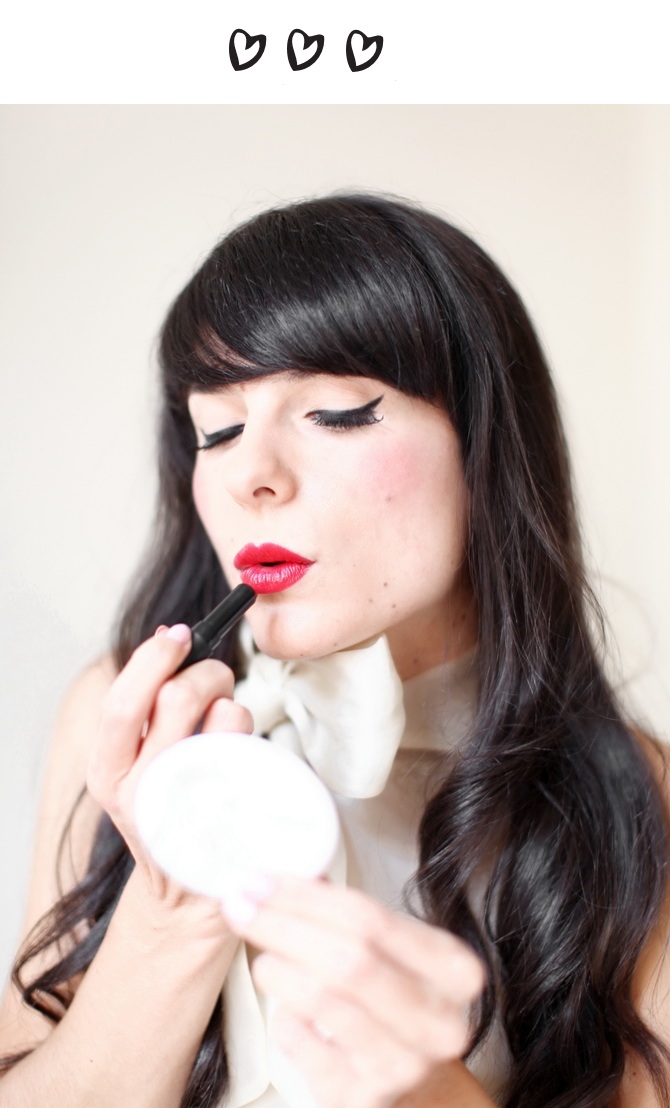 –
–
Related posts :
---