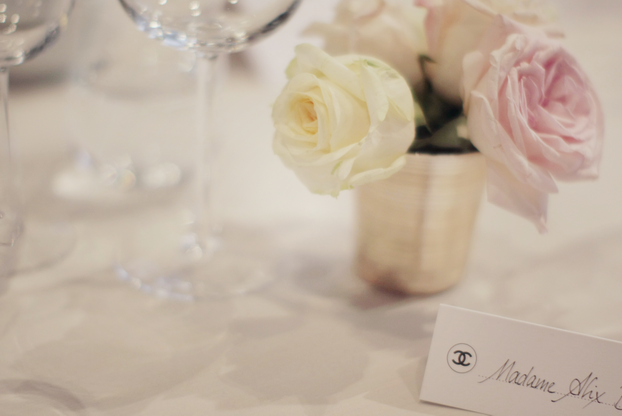 –
Aussi bien gardés que sont les appartements de Coco Chanel au 31 rue Cambon, j'ai eu la grande chance de pouvoir en franchir la porte d'entrée.
Appartement surprenant  où des bibelots variés côtoient art Chinois, meubles d'époques variés, beaucoup de doré et … des statuettes de dromadaire !
A l'occasion de la sortie prochaine de la nouvelle collection Coco Cocoon, quelques sacs étaient dispersés dans l'appartement comme s'ils avaient toujours été là.
Une ambiance cosy et chaleureuse émanait de cet appartement à tel point que je me serai presque sentie chez moi, et installée confortablement sur la canapé ( mais nous sommes d'accord, cela aurait été un vil sacrilège ).
Je vous fais à mon tour visiter les appartement de mademoiselle Chanel, même si je crains de ne pas être aussi bonne guide que l'a été Marie-Louise de Clermont Tonnerre ce jour là !
–
Coco Chanel's apartments at 31 rue Cambon may be very well guarded, but I was granted the amazing privilege of passing through the front door.
This awe-inspiring home is filled with trinkets, Chinese art, various vintage furniture, a lot of gold, and even camel statuettes!
In honour of the launch of the upcoming Coco Cocoon collection, a few bags were strewn about the apartment as if they had always been there.
The atmosphere was so warm and cozy that I really felt as if I was in my own home, and could almost envision myself settling down on the couch (which didn't happen, of course… That would have been sacrilegious!)
It is now my turn to give you a tour of Ms. Chanel's apartments, even though there's no way I could ever do as good a job as Marie-Louise de Clermont Tonnerre did for me!
–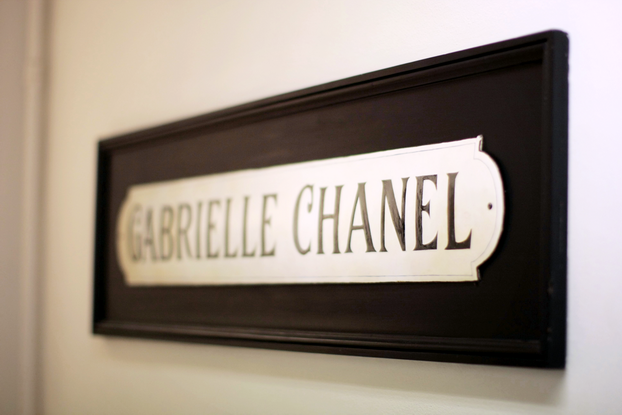 –
Le célèbre escaliers et ses nombreuses facettes. Emplacement idéal (à ce qu'il paraît) pour que mademoiselle Chanel puisse voir toute la pièce sans être vue ( a condition d'être assise sur la bonne marche ).

Du Chanel n° 5 y était toujours vaporisé avant son arrivée, sinon elle était de mauvaise humeur .
The famous staircase with its many facets. Apparently, this was the perfect set-up for Ms. Chanel to view the entire room without being seen (so long as she sat on the right step).
Coco would be in a very bad mood if the room was not sprayed with Chanel number 5 before her arrival!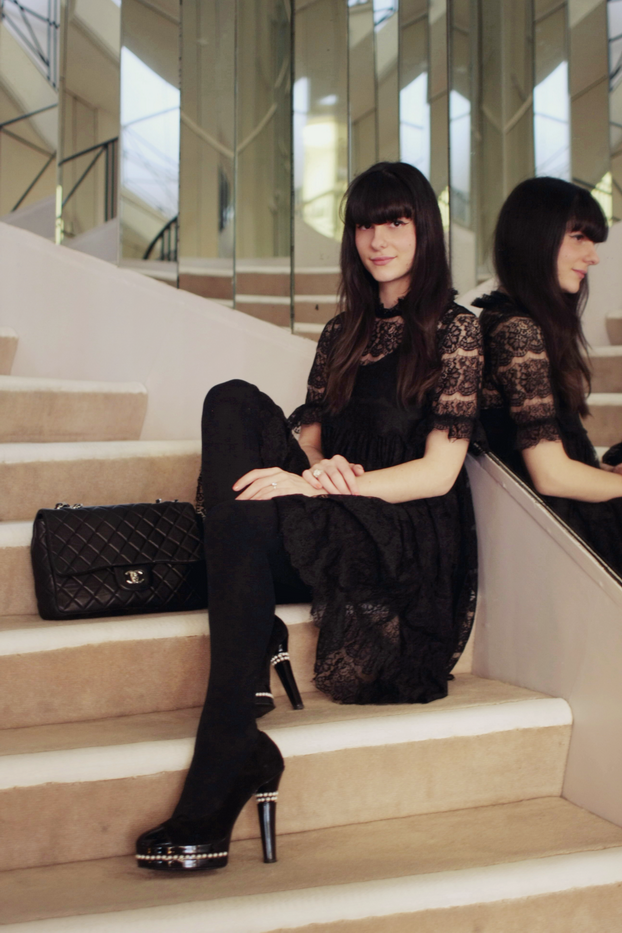 –
Le salon, pièce la plus connue de l'appartement.
The living room: the most famous room in the house.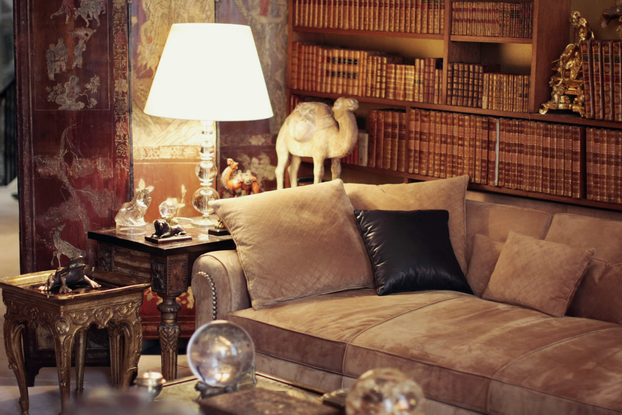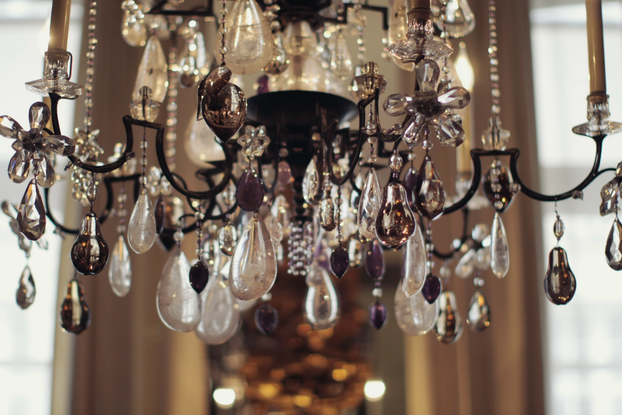 –
Il y avait de nombreuses statuettes d'animaux dans la pièce, mais ce couple de cerfs apportait comme un souffle de vie supplémentaire.
The room is filled with many animal figurines, but these two deers really brought an extra breath of life into the room.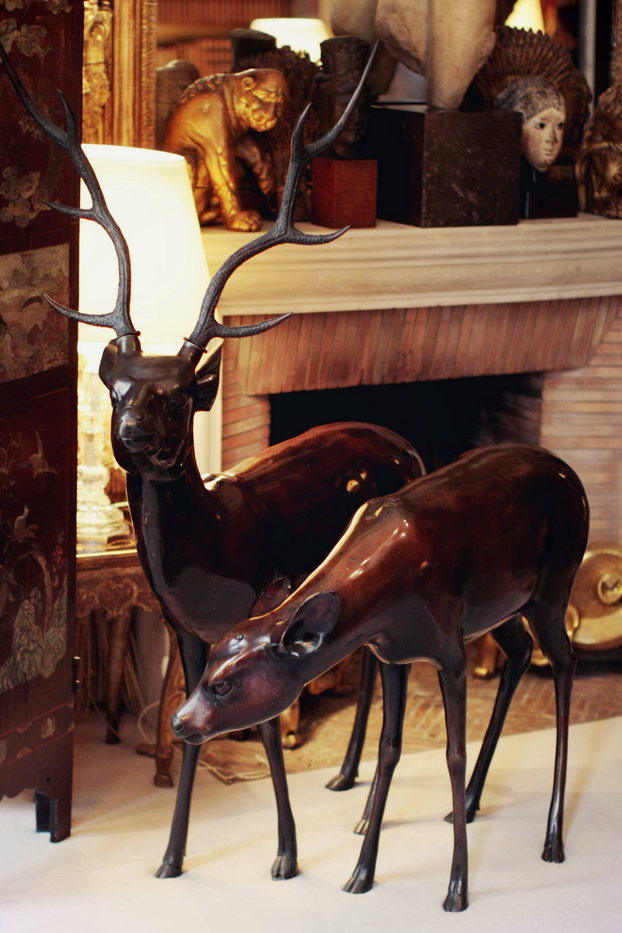 –
Un canapé français côtoie un paravent Chinois. Association des plus réussies.
A Chinese screen behind a French sofa; a winning combination.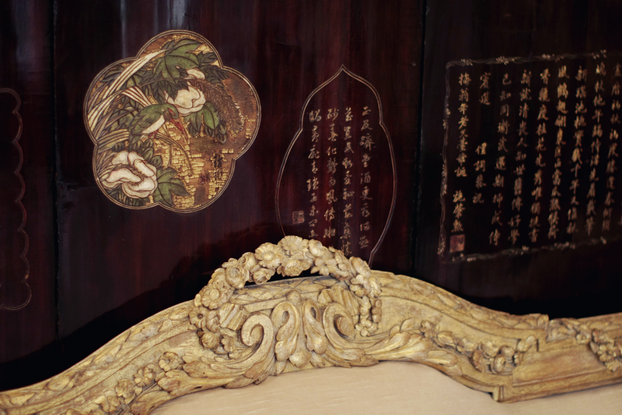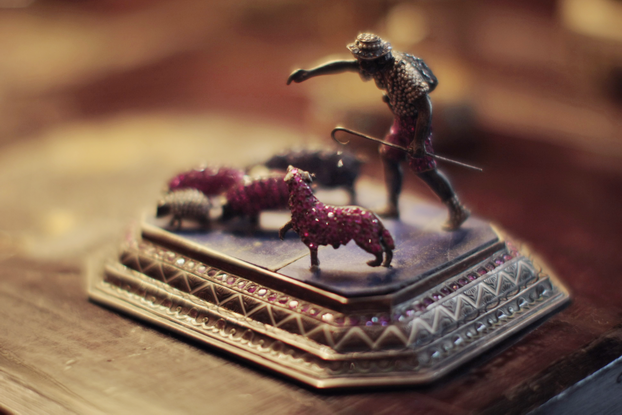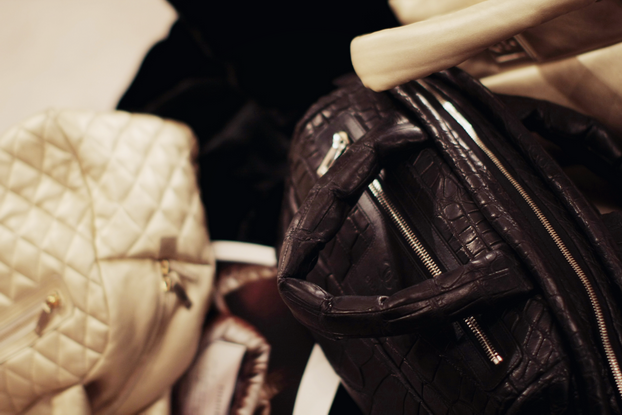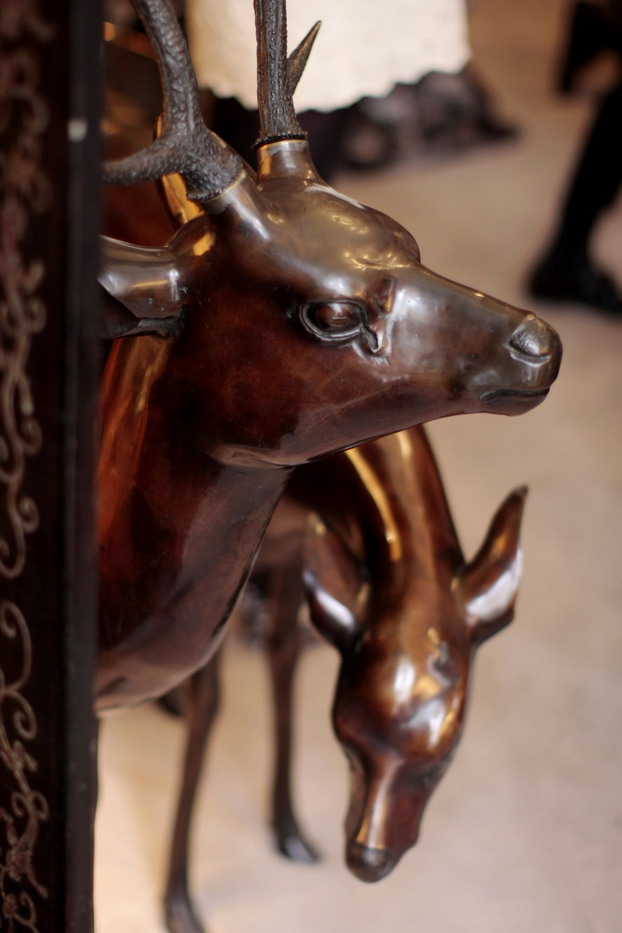 –
Lors de sa visite dans l'appartement, ce bibelot a inspiré jean-Paul Goude pour l'idée de Vanessa Paradis sifflotant dans sa cage. J'adore apprendre ce genre de petites histoires !
When Jean-Paul Goude visited the apartment, this charm gave him the idea for Vanessa Paradis whistling in a birdcage. I love little stories like that!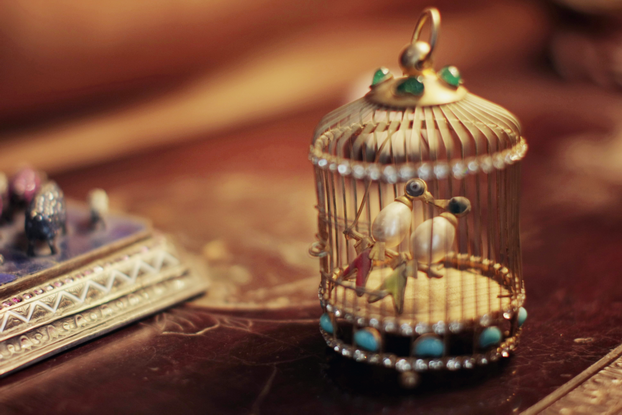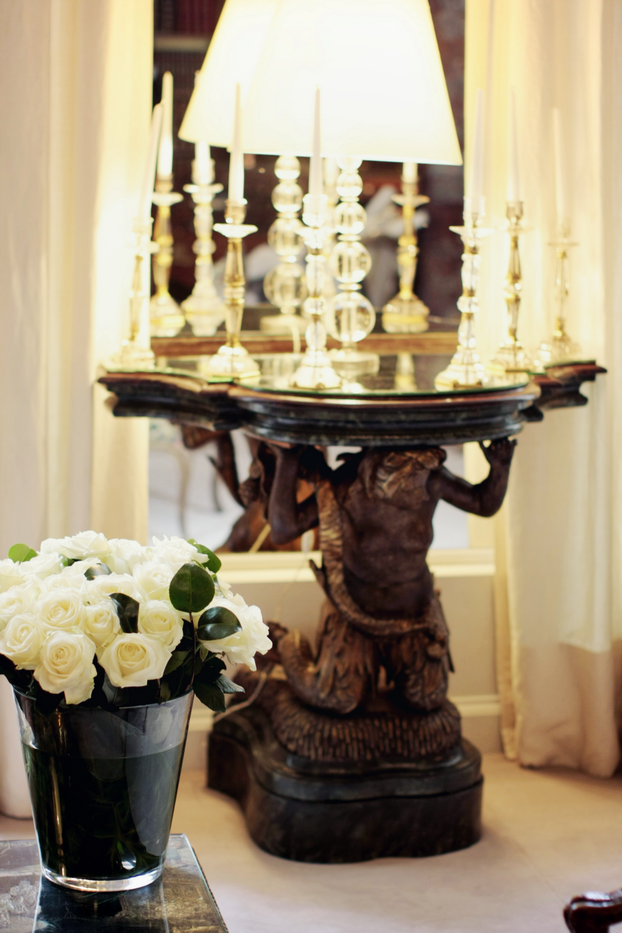 –
Gabrielle Chanel était du signe du lion, et elle les collectionnait allègrement.
Gabrielle Chanel was a Leo, and she collected lions avidly.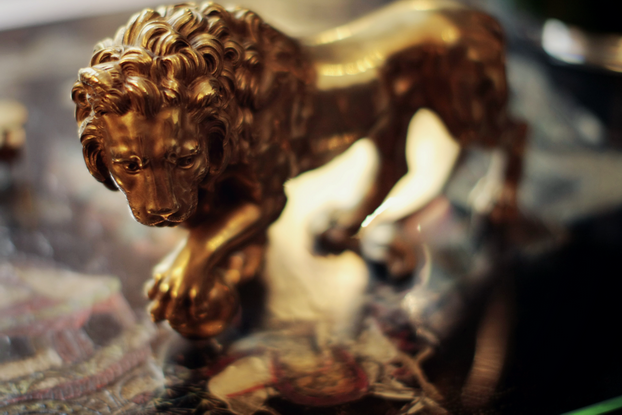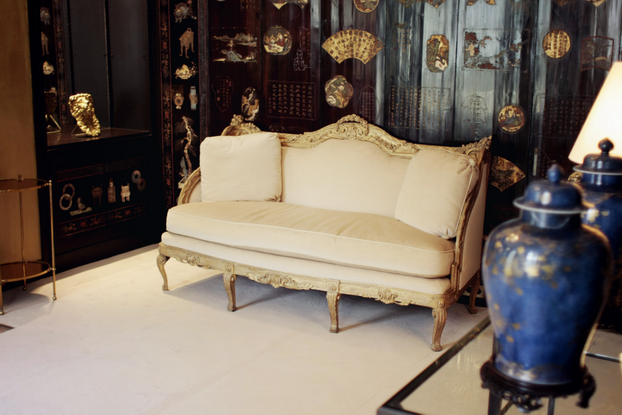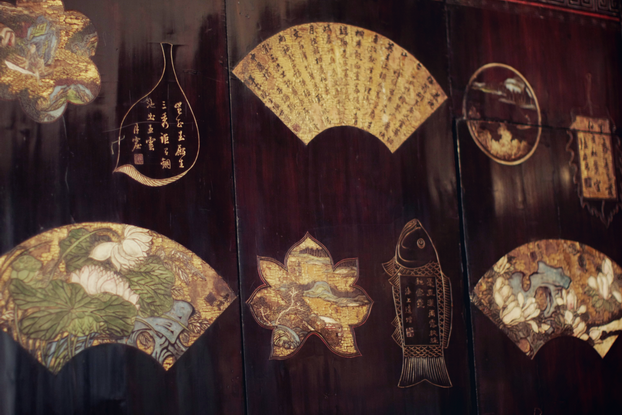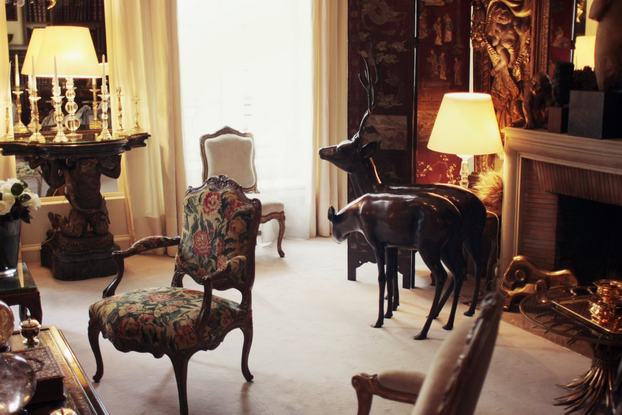 –
Cette petite statuette de singe m'a beaucoup intrigué. Mais que fait-il à cette grenouille au juste ?
I found this little statue especially intriguing. What exactly is the monkey doing to the frog, anyway?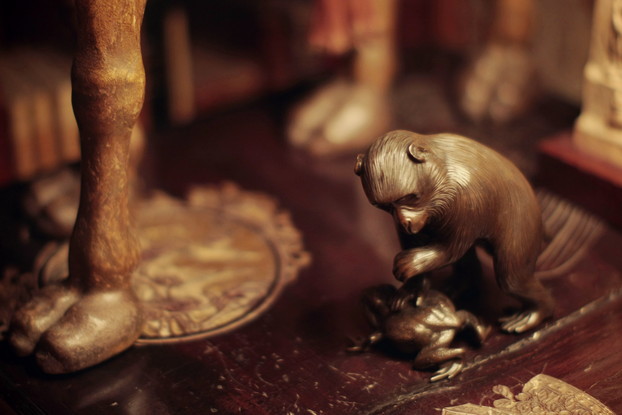 –
Nous sortons de l'appartement pour nous balader dans les couloirs. Sur une étagère, un flacon de parfum d'une taille prodigieuse pourrait bien me servir pour toute la vie !
We exited the apartment to walk through its corridors. This gargantuan bottle of perfume could surely last me a lifetime!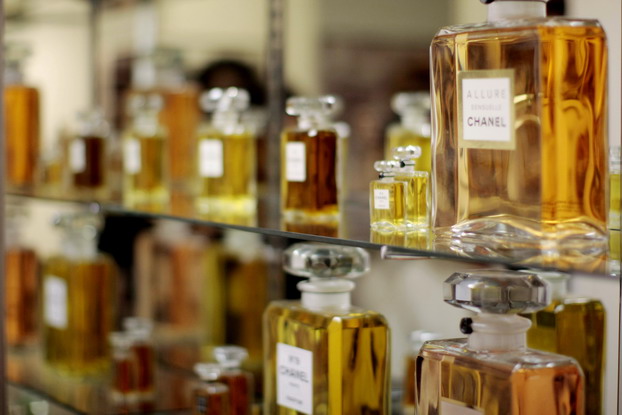 –
Nous entrons dans le bureau de Marie Louise, notre guide, et faisons la connaissance d'une Vanessa Paradis miniature dans sa cage.
The office of our tour guide, Marie-Louise, who showed us a miniature version of Vanessa Paradis whistling in a birdcage.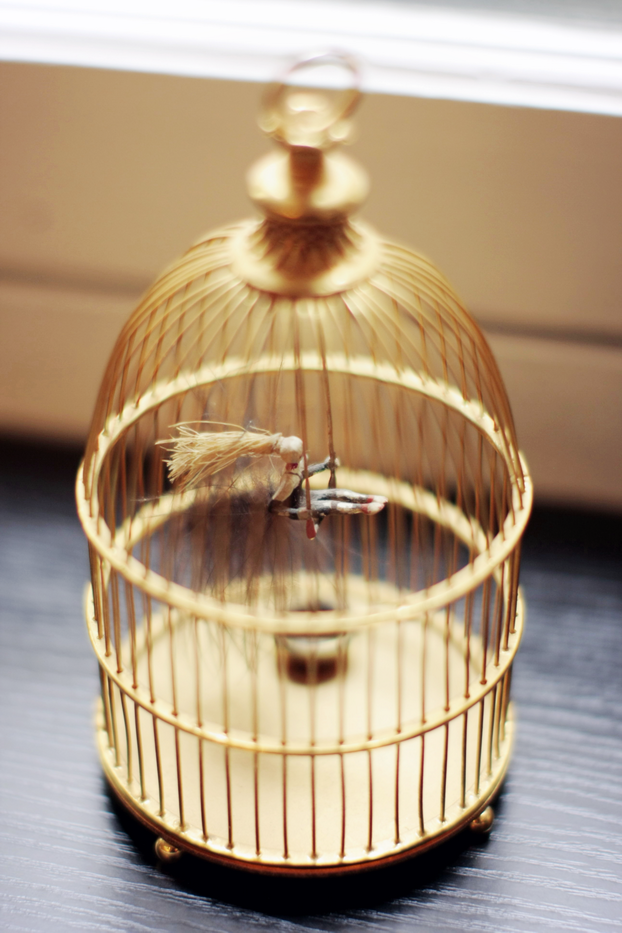 –
Au mur, un dessin de Karl Largerfield.
A Karl Lagerfeld drawing on the wall.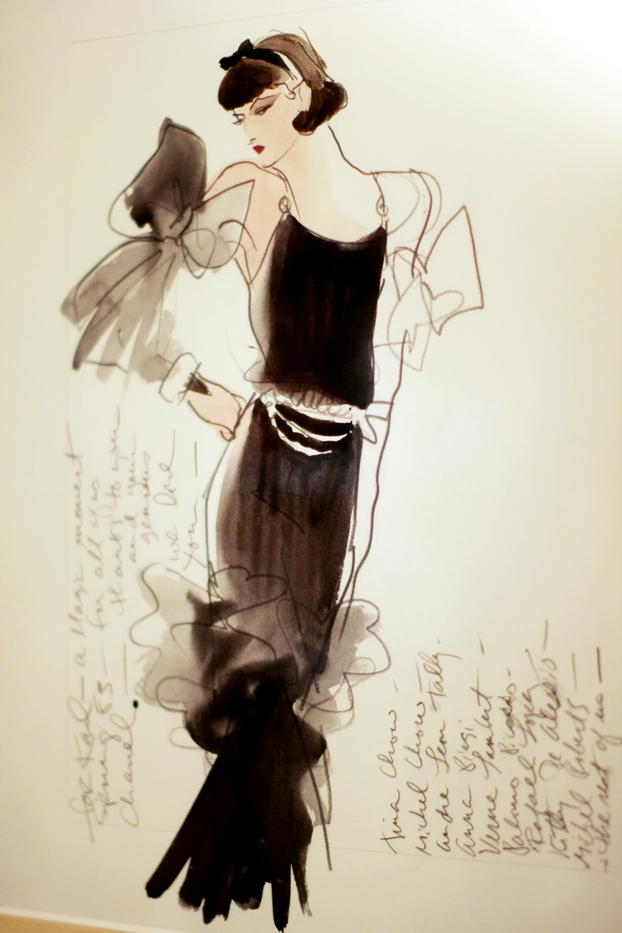 –
Au détours d'un couloir, quelques pièces de la dernière collection Haute Couture me font rêver.
These pieces from the latest Haute Couture collection are heavenly.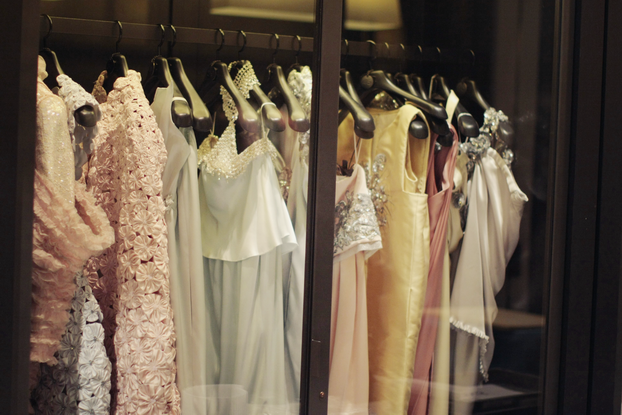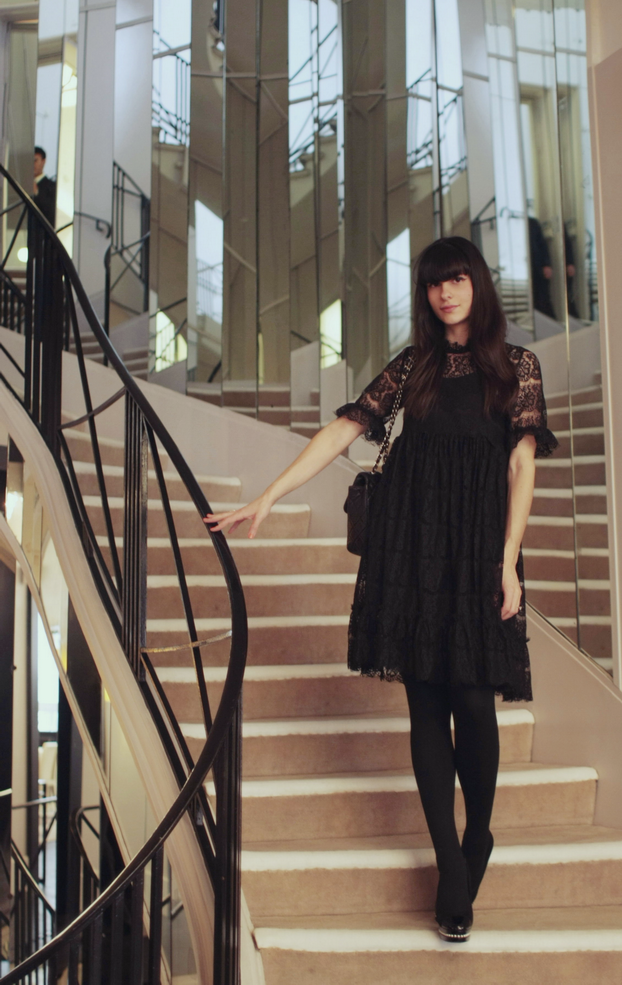 –
Merci à toute l'équipe de Chanel pour cette inoubliable visite !
Thank you, Chanel, for such an unforgettable visit!
–
Related posts :
---