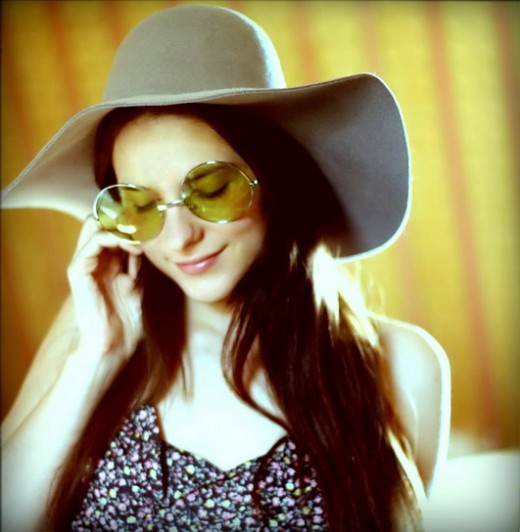 Vintage sunglasses, American apparel floppy hat.
–
Oh, the 70s!
A lot of people consider it one of the worst decades for fashion.
I, on the other hand, love them! I love the 70s for the music, and I love them for the clothes. It is also an era that was graced with quite a vibe!
I decided to try to recreate that vibe by grouping together some of the clothes and objects I own that I associate with those years.
Hey, just because I was born in 1985 doesn't mean I can't take a little trip back in time! Are you ready to be blasted back to the past? I'm turning on the time machine… let's go!

–
Music: America – A horse with no name
–
Ah, les années 70 !
Une période que beaucoup comptent comme l'une des pires au niveau stylistique.
Pourtant, c'est une époque que j'adore, autant pour la mode que pour la musique … et puis les années 70, c'était aussi toute une ambiance !
Une ambiance que j'ai essayé de recréer en regroupant quelques vêtements et objets que je pense coller avec ces années là.
Et oui, Ce n'est pas parce qu'on est née en 1985 que l'on ne peut pas faire un petit tour dans le passé ! Alors, prêt à remonter le temps ? Je met la machine en route, et c'est parti !
–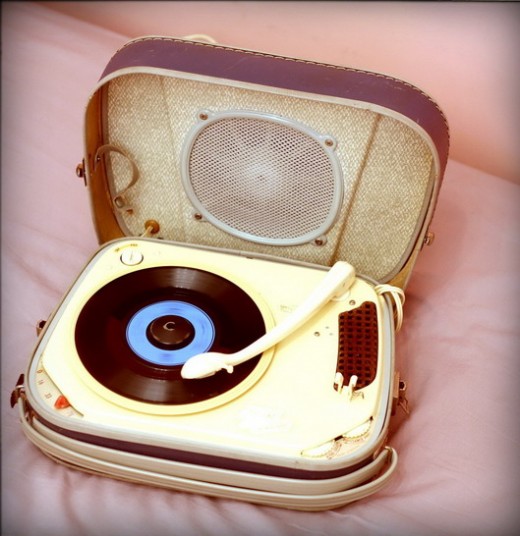 Un tourne disque, indispensable pour s'immerger comme il se doit dans la musique 70's.
( Teppaz )
A record player: essential for immersing oneself into the sounds of the 70s.

–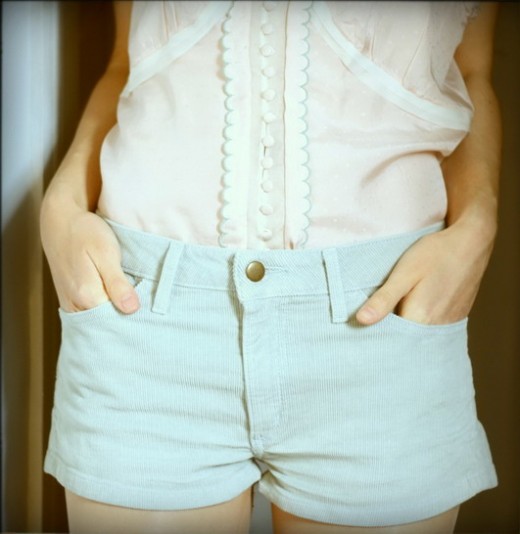 Un mini short, porté avec un blouse.
( American Apparel shorts, Chloé blouse )
Short shorts, worn with a blouse.

–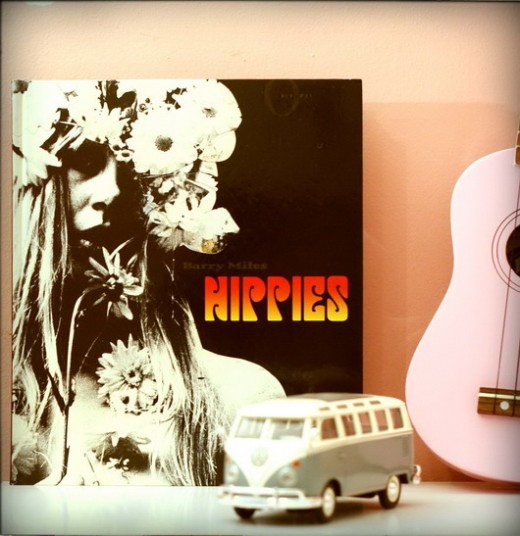 Le hippie book, idéal pour l'inspiration !
( Hippies by Barry Miles )
The hippie book; ideal for inspiration!

–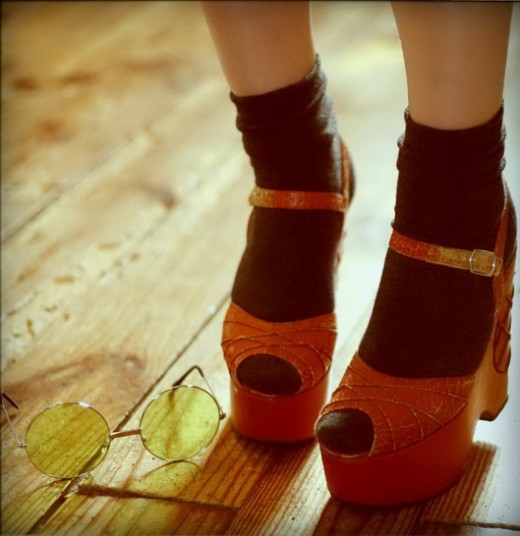 Des compensées.
( Vintage )
Wedges.

–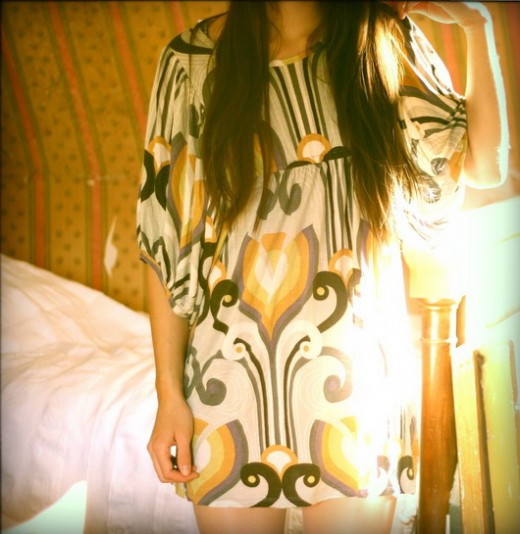 Une robe à l'imprimé psychédélique.
( zara )
A psychedelic print dress.

–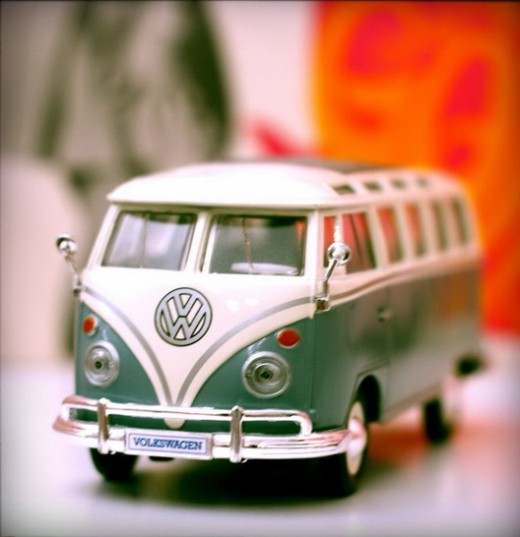 Une miniature du van de mes rêves.
( Ebay )
A miniature version of the van of my dreams.

–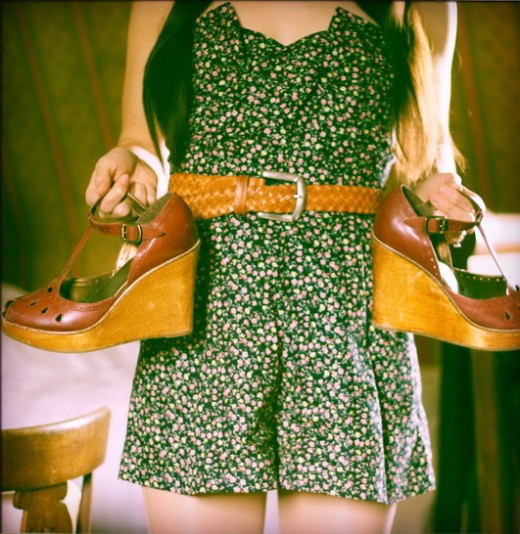 Un combi-short, avec une ceinture tressée et des compensées.
( topshop jumsuit and wedges, vintage belt )
A romper, worn with a woven belt and wedges.

–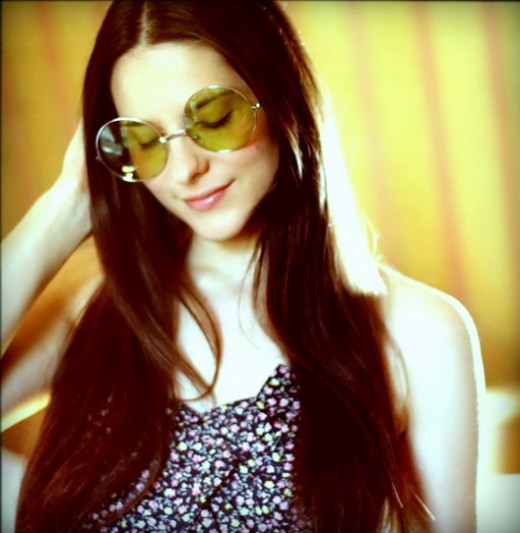 De graaaandes grandes grandes lunettes, avec ou sans capeline.
( Vintage sunglasses )
Huge bug-eyed glasses; can be worn with or without the wide-brimmed hat.

–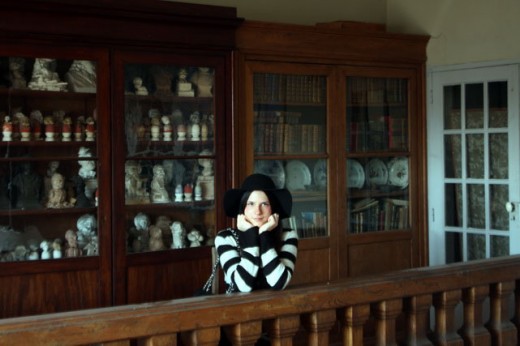 –
If I was feeling Native American the other day, I feel a little more sixties today.
That's the great thing about fashion: you can have fun with it, and be a completely different person from one day to the next!
Wearing a wide-brimmed hat and some swinging era type stripes, I feel like France Gall!
But what will I wear tomorrow? Will I be Wednesday Addams, or dressed all in white?
–
Music: France Gall – Poupée de Cire Poupée de son
–
Indienne l'autre jour, je suis aujourd'hui d'une humeur plus sixties.
C'est l'avantage qu'il y a avec la mode, et ce que j'y apprécie: on peut s'amuser et changer de look tous les jours !
Parée d'une capeline et d'un pull à rayures assez emblématiques de ces années là, me voilà dans le peau d'une poupée de cire, poupée de son !
Mais demain, quel pourra bien être ma tenue? Me remettrais-je dans la peau de Mercredi Addams, ou serais-je tout de blanc vêtue ?
–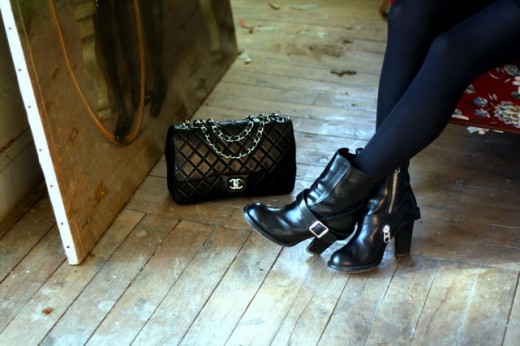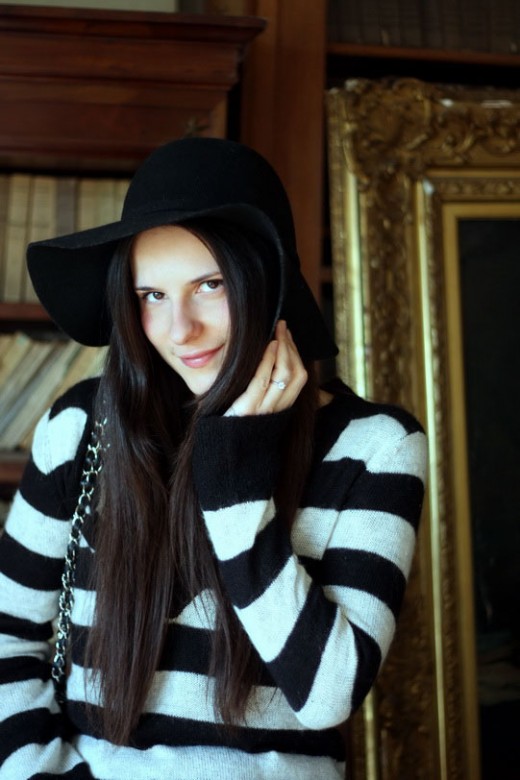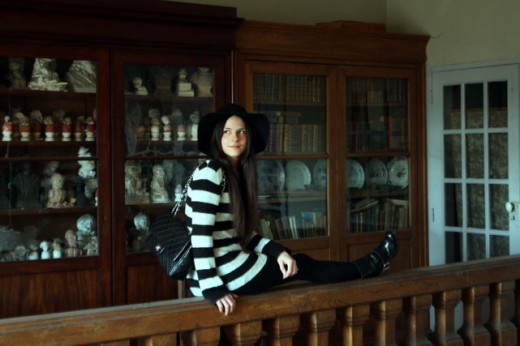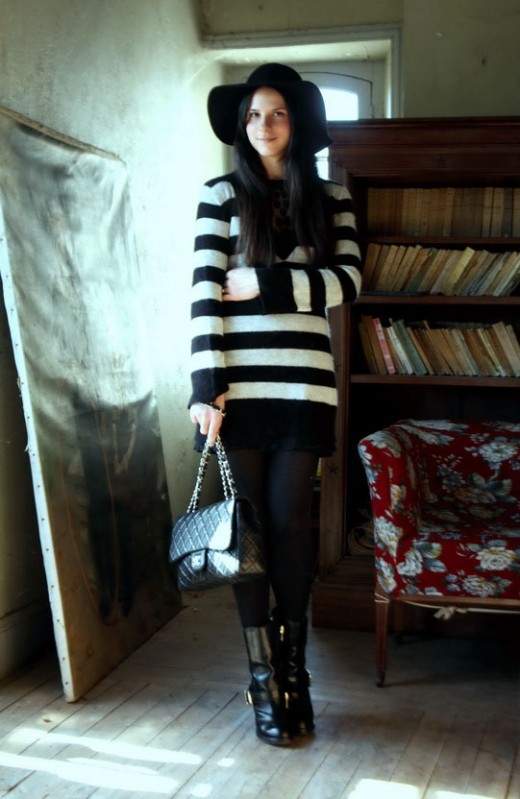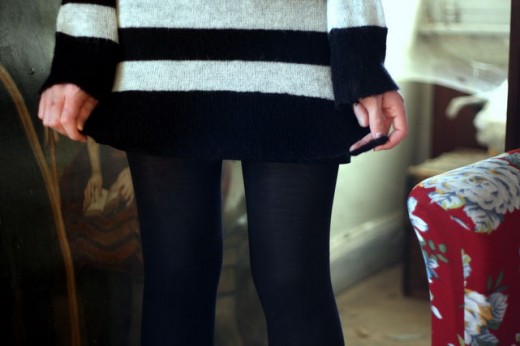 –
Pull Topshop / Topshop long striped jumper
Bottes Chloé / Chloé boots
Capeline kookaï / Kookaï floppy hat
Sac Chanel / Chanel bag
–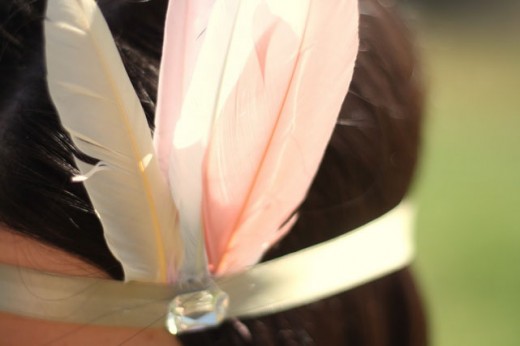 –
It may only be mid-March, but a blue sky and some surprising rays of sunshine have made it possible for me to wear a light dress opposed to a sweater or anything wool.
Yes, my See by Chloé summer sundress finally got to see the fields, and sooner than anticipated at that!
Since I was feeling particularly bohemian and Pocahontas-ey that day, I made sure to couple it with a feathered headband.
I'm beginning to realize that I actually own a good number of self-made accessories. So many in fact, I could almost start a business!
In the meantime, I hope you all had a great weekend. I know that I am eagerly awaiting the next one, in hopes that I can break another springy dress out of the tepee.
–
Music: Father and son – Cat Stevens
–
Un grand ciel bleu et quelques rayons de soleil inattendus en plein moi de mars, et c'est une petite robe légère qui prend le dessus sur pull et autre lainages  !
Ma petite robe d'été See by Chloé aura finalement gambadé dans les plaines plus tôt que prévu !
Et comme ce jours là j'étais d'une humeur bohème Pocahontaesque, Je n'ai pas oublié le petit bandeau à plumes approprié.
Je me rend compte qu'il y a finalement pas mal d'accessoires que je réalise moi même,  à tel point que je pourrais presque commencer un business !
En attendant j'espère que vous avez passé un bon week end. Pour ma part, j'attends le prochain avec impatience, en espérant pouvoir sortir du tipi une autre robe tout aussi printanière !
–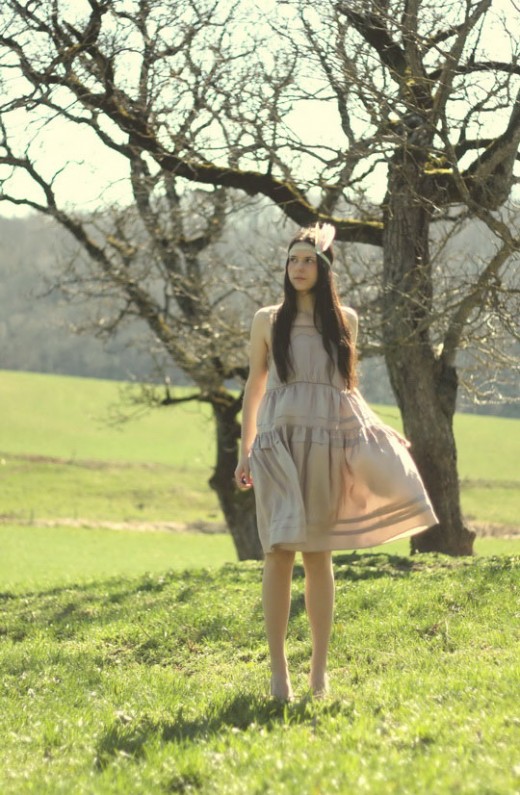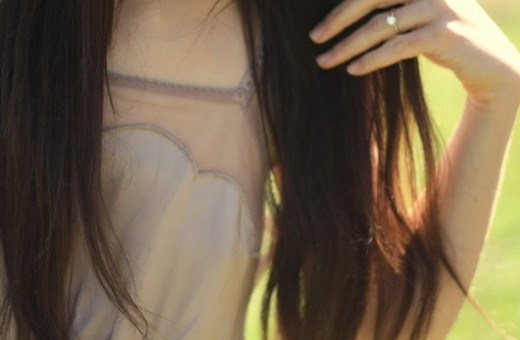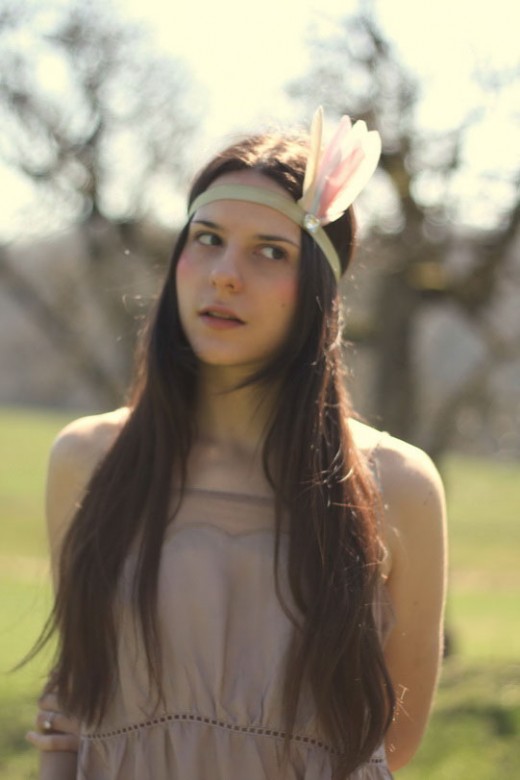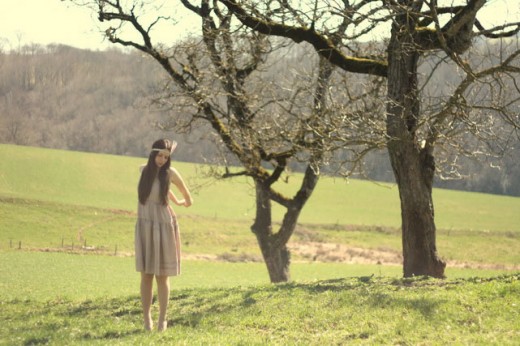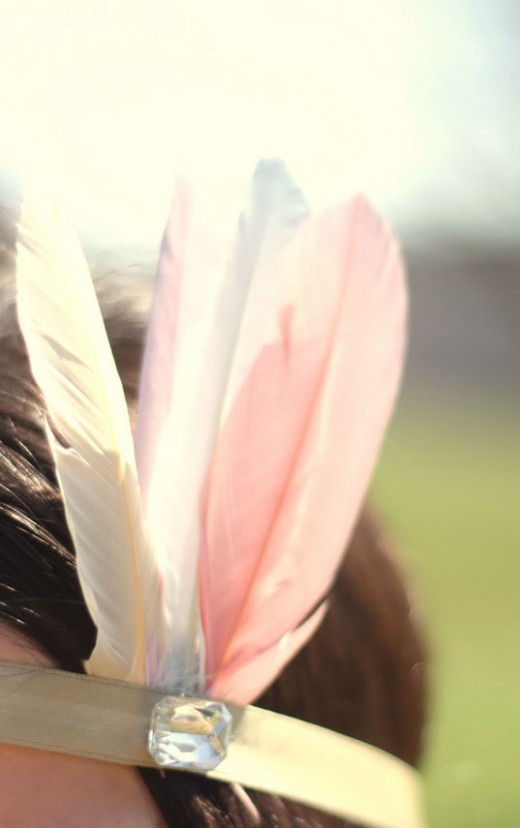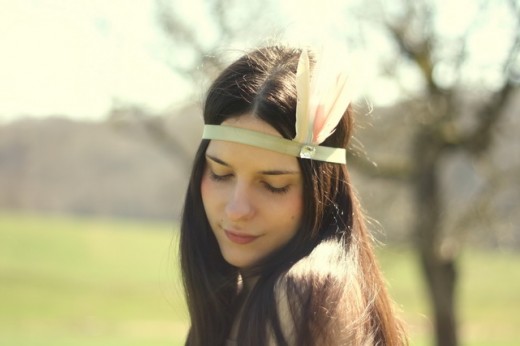 –
Robe see by Chloé / see by Chloé dress
bandeau indien fabriqué moi même / Home made feathered headband
Chaussures miu miu / miu miu shoes
–