–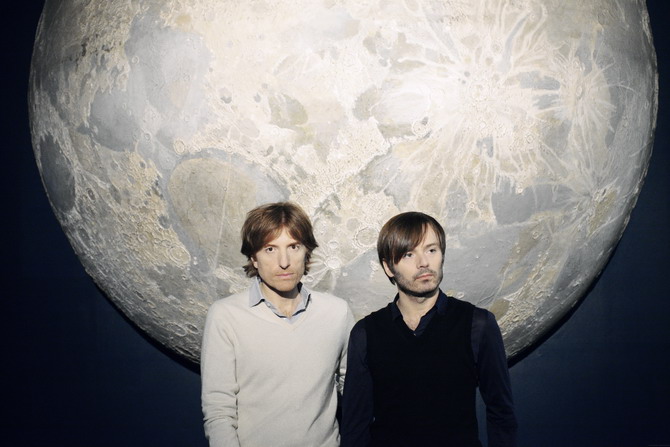 –
Ceux et celles qui me lisent depuis un certain temps savent que le nom de mon blog, The Cherry Blossom Girl, est inspiré d'une chanson du groupe AIR. J'avais choisi cette chanson tout d'abord parce que je me sens proche de leur univers, mais surtout car je me reconnaissais dans la mélodie. Elle me semblait parfaitement illustrer ce que j'aime, comme si c'était ma petite voix intérieure qui se mettait à chanter.
–
La vie réserve des surprises parfois. De très bonnes surprises.
–
J'ai rencontré Jean-Benoît Dunckel et Nicolas Godin il y a quelques mois, à l'occasion de la projection de Painted Love de Cartier. Un court métrage dont Air a composé la bande-son originale. C'est plus précisément un ami en commun qui nous a présenté ( Yan Céh, qui a notamment réalisé l'interview présente dans le making-of que vous pouvez voir ici ).
Une première discussion avec Nicolas m'a apprit qu'il connaissait déjà mon blog. Cela m'a évidemment beaucoup amusé et surprise. Je me suis bien entendue également avec Jean-Benoît, et on a longuement parlé de la chanson Cherry Blossom Girl.
–
Quelques semaines après sortait leur nouvel album: Le Voyage Dans La Lune.
–
Un album qui découle de leur bande-son originale composée sur la version colorisée du très célèbre film de Gorges Méliès, "Le Voyage dans La Lune" datant de 1902.
Comme le courant était bien passé lors de nos précédentes rencontres, nous avons eu l'idée d'organiser un shooting. L'idée du lieu m'est tout de suite venue à l'esprit: Le Palais de la Découverte ! J'y allais quand j'étais petite, et me suis souvenue que se trouvait à l'étage une gigantesque lune. Il n'y avait pas meilleur endroit !
J'admire énormément AIR, et écoutant leur musique depuis plus de 10 ans, ça a donc été très émouvant pour moi de les prendre en photo.
–
Et c'est avec autant d'émotion que je publie aujourd'hui la photo de ce shooting.
–
Je réalise que depuis 2007, il m'est arrivé des choses assez chouettes grâce à mon blog. Rencontrer AIR n'était qu'un rêve … qui est maintenant devenu réalité.
On a parlé musique, de leurs inspirations, mais également de mon film préféré: The Virgin Suicides, dont ils ont signé la BO en 1999.
J'ai ainsi appris qu'ils avaient composé la musique du film de Sofia Coppola dans une petite maison isolée en pleine campagne, non loin de la capitale. Ils avaient l'air d'en avoir gardé un souvenir assez particulier: c'était en hiver et ils recevaient chaque jour de l'équipe du film des séquence de jeunes filles mortes, assez morbides.
Les morceaux composés pour les différentes scènes on d'ailleurs été déplacés sur d'autres séquences par la suite. J'ai adoré avoir une vision "backstage" du film, et serais assez curieuse de voir leur propre version musicale de The Virgin Suicides, avant qu'elle soit changée.
–
Mais pour revenir à l'actualité de AIR, leur album Le Voyage Dans La Lune est disponible depuis Janvier dernier. Mon morceaux préféré est Seven Stars, et correspond assez bien avec le souvenir de ma première rencontre avec Jean-Benoît et Nicolas: j'avais des étoiles pleins les yeux!
–
–
–
–
Those who read me for some time know that the name of my blog, The Cherry Blossom Girl, is inspired by a song by french band AIR. When I started my blog, I chose this song because I feel close to their world, but mainly because I recognized myself in the melody. It seemed to perfectly illustrate what I love and feel..
–
Life is full of surprises sometimes. Very pleasant surprises.
–
I met Jean-Benoit Dunckel and Nicolas Godin a few months ago, at the opening of Painted Love by Cartier. A short film with music composed by AIR. It is more precisely a mutual friend that introduced us (Yan Céh, who made the interview in the making that you can see here).
The first time I talked with Nicolas, he told me that he already knew my blog. I was really surprised honoured when I heard that! I also had a nice and long discussion with Jean-Benoit, talking especially about the song Cherry Blossom Girl.
–
A few weeks later, AIR released their new album: Le Voyage Dans la Lune.
This album comes from the original soundtrack they composed for the new colorized version of the famous Gorges Melies film « A Trip to the Moon » ( 1902 ).
I met a few times with them, and then we had the idea to organize a photoshoot. The idea of ​​the places came immediately to my mind: le Palais de la Découverte! I went there when I was little, and remembered the big moon on the second floor. There was no better place!
I admire AIR a lot, and I've been listening to their music for over ten years now, so it was very emotional for me to take their pictures.
–
And it's with the same emotion that I am publishing a photo from the shoot today.
I realize that since 2007, some really cool things happened thanks to my blog. Meeting AIR was only a dream … which is now a reality.
We talked about music, their inspirations, but also about my favorite movie: The Virgin Suicides, for which they composed the original sountrack in 1999.
I learned that they created the music for Sofia Coppola's movie in an isolated house in the countryside, not far from the capital. They seemed to have rather special memories about this time: it was winter and they received every day from the movie quite morbid sequences of dead girls.
The songs composed for the different scenes were also moved to other sequences thereafter. I loved having a « backstage » vision of the film, and I would be curious to see their own musical version of The Virgin Suicides, before it was changed.
–
But let go back to what's new ! Their new album, A Trip To The Moon ( Le Voyage Dans La Lune ) was released last January. My favorite track is Seven Stars, and perfectly illustrate what I felt when I met Jean-Benoît and Nicolas for the first time: there were stars in my eyes !
–
–
–
AIR official website: aircheology
AIR MySpace Music
–
–
–
Related posts :
---