–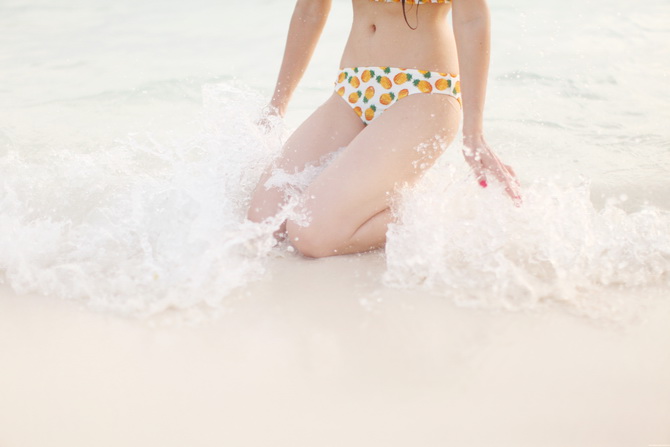 –
–
De la plage tout près de ma villa sur pilotis au Beach House Iruveli, j'ai vu le plus beau coucher de soleil de ma vie.
Il n'a duré que quelques minutes, mais ses couleurs sont passées de teintes pastel à de l'indigo.
J'ai été heureuse d'être là pile au bon moment, juste après un bon bain de mer de fin d'après midi.
Ces couleurs restent gravées dans ma mémoire, et représentent le temps fort de mon séjour au Maldives.
–
–
♫ ♪ The Radio Dept – Heaven's On Fire
–
–
I saw the most beautiful sunset of my life on the beach near my water villa, at the Beach House Iruveli.
It didn't last for long, but the colors were amazing, turning from pastel to indigo.
I felt lucky to be at the right place at the right time, just after a late dip in the sea.
I still can see these colors in the sky when I close my eyes. That moment was definitely the highlight of my stay in the Maldives.
–
–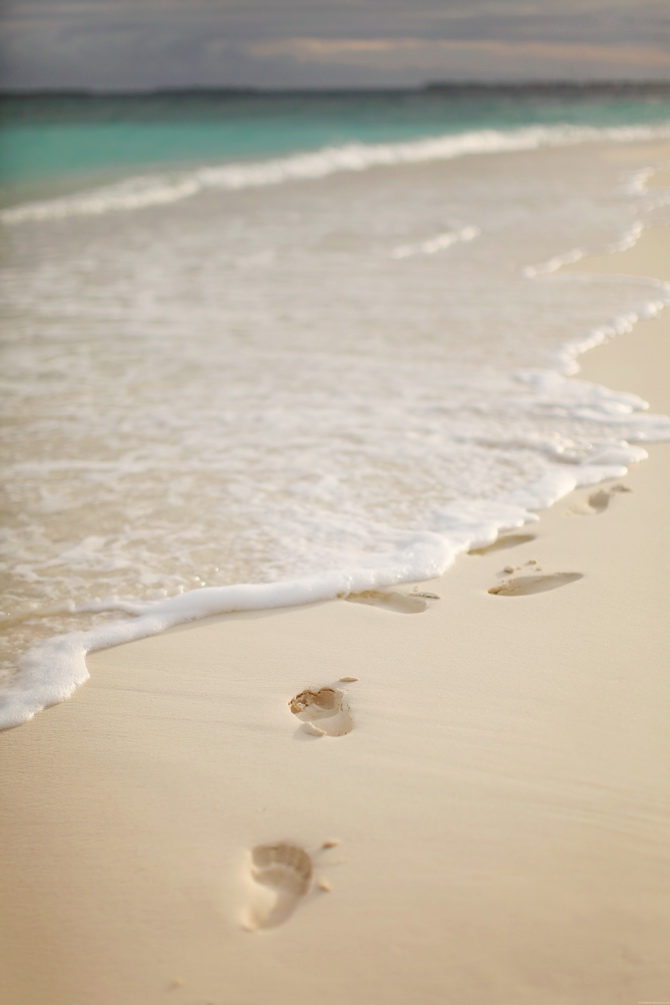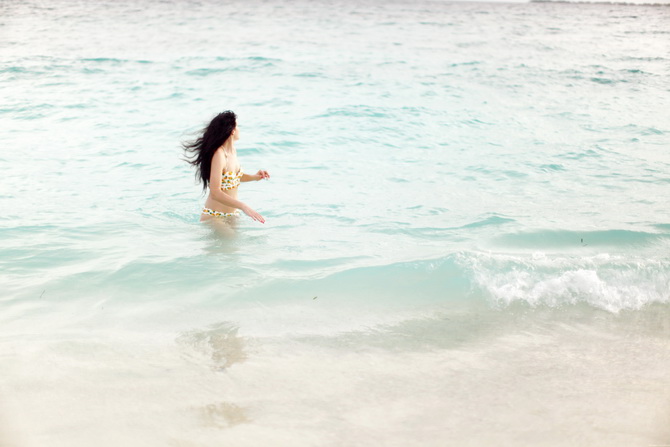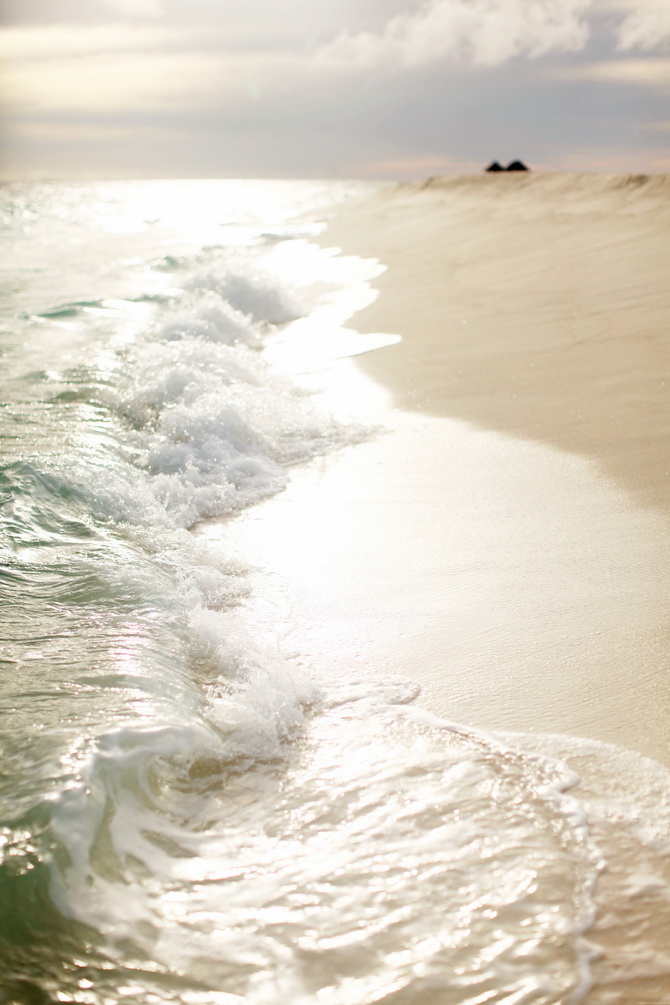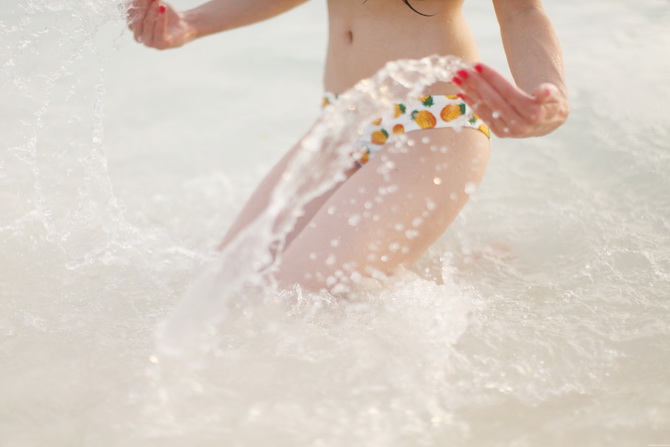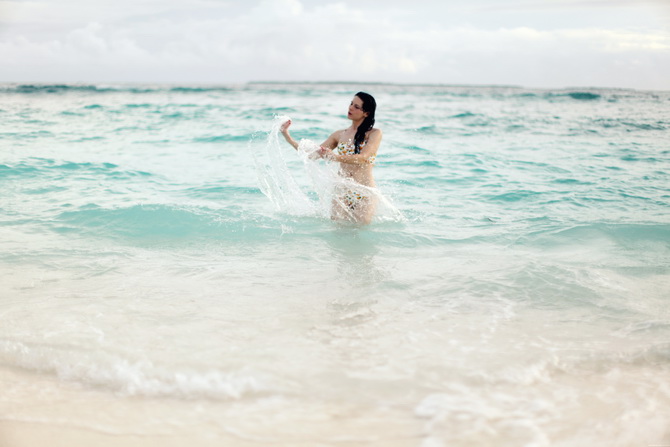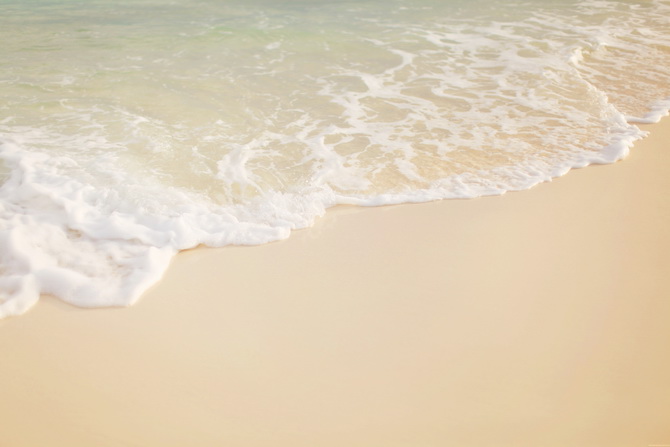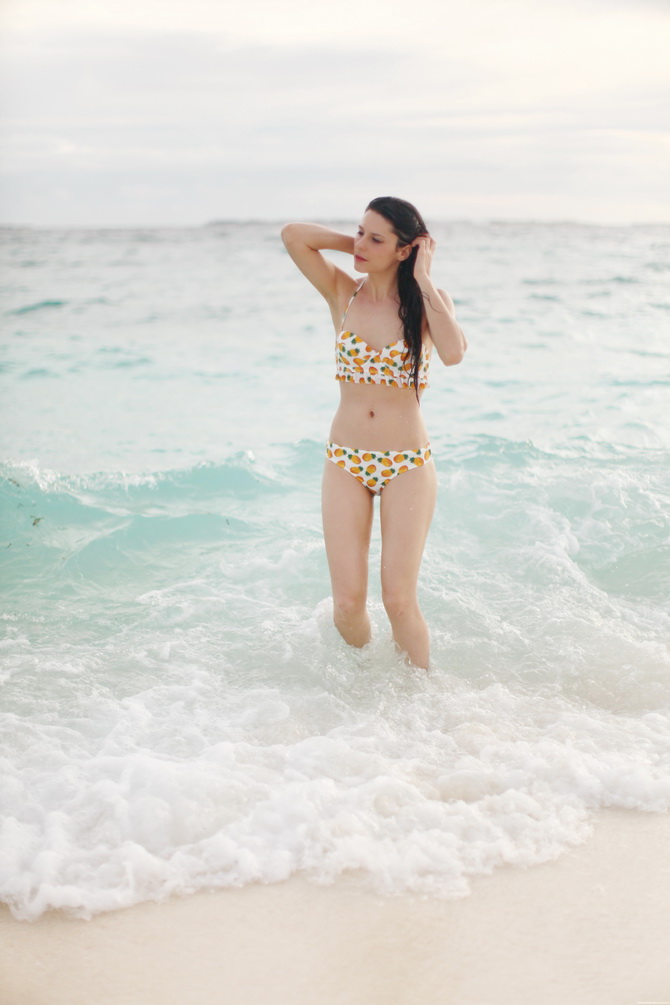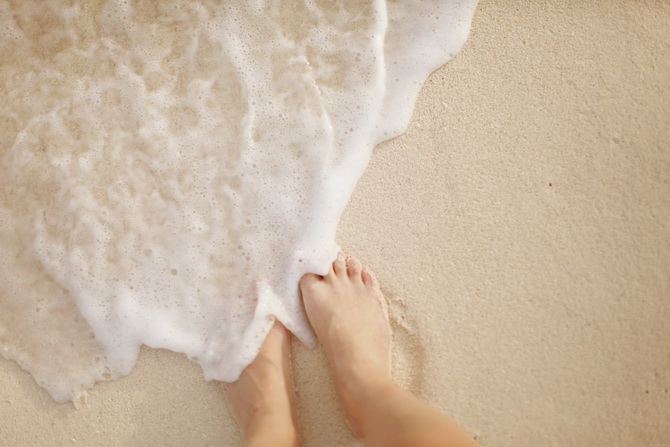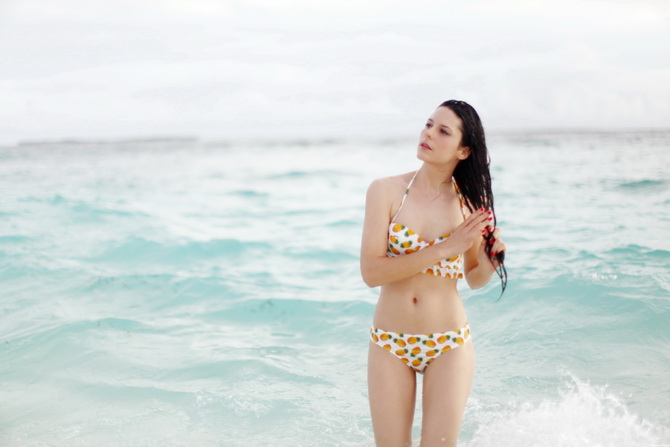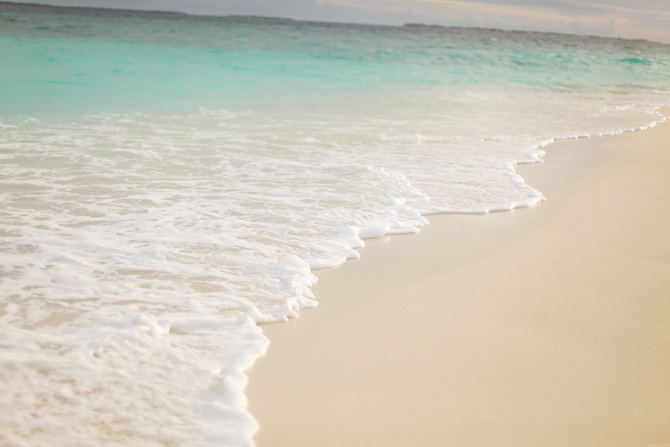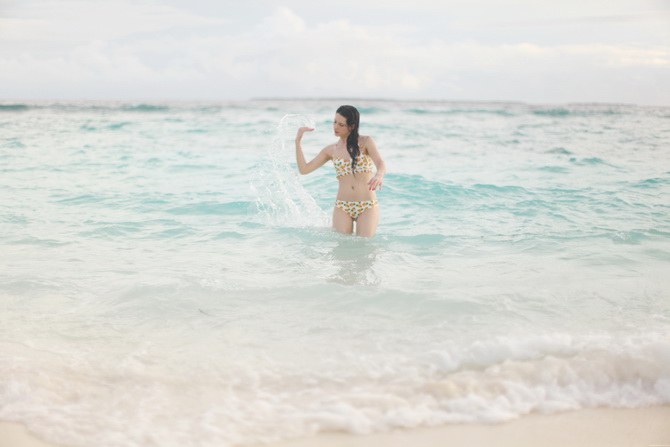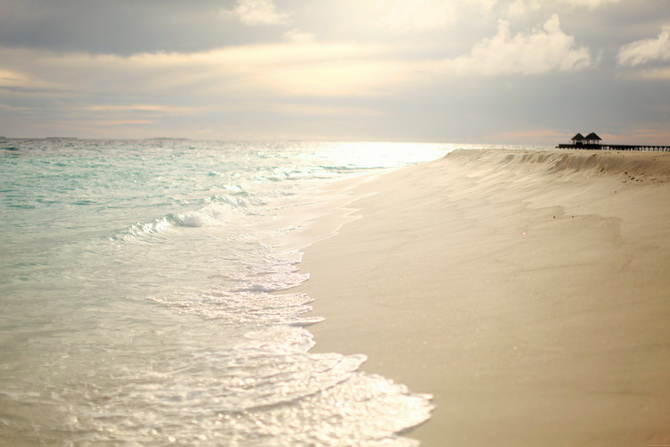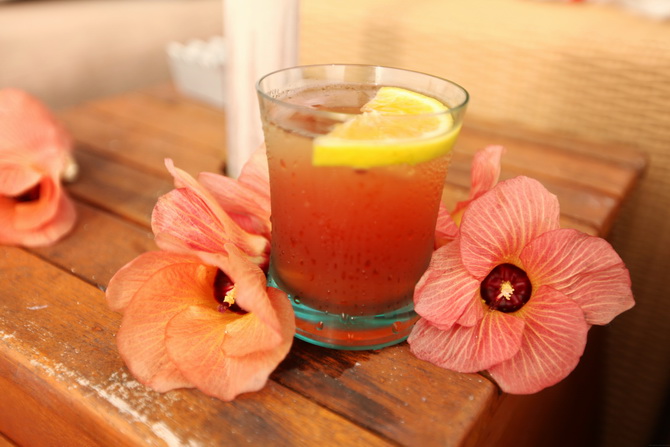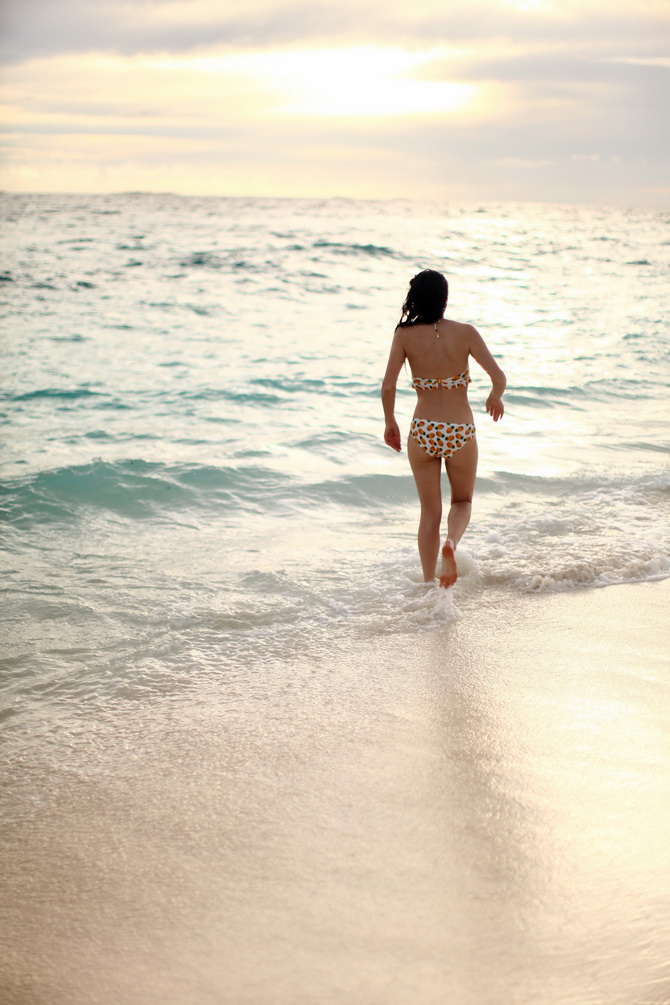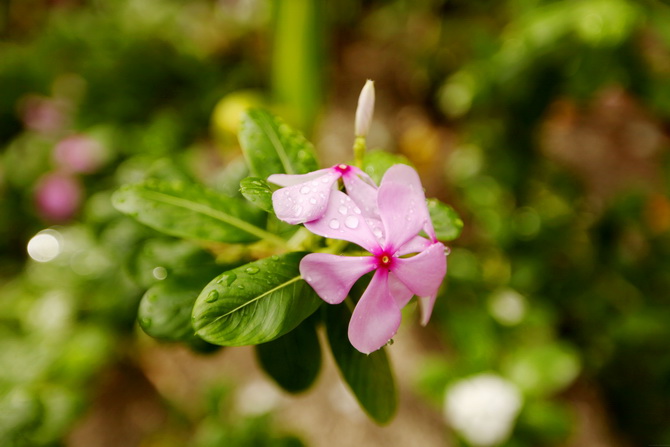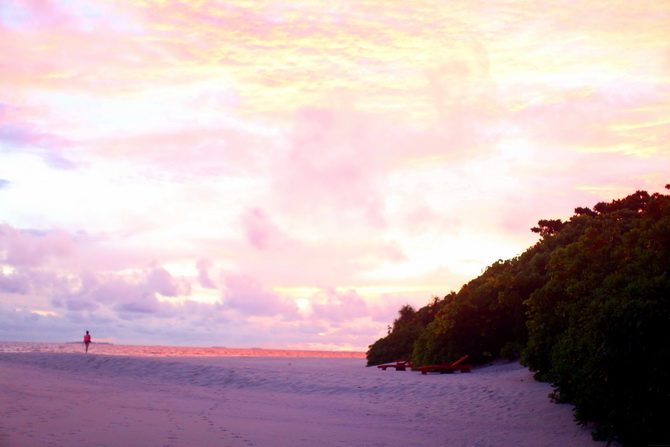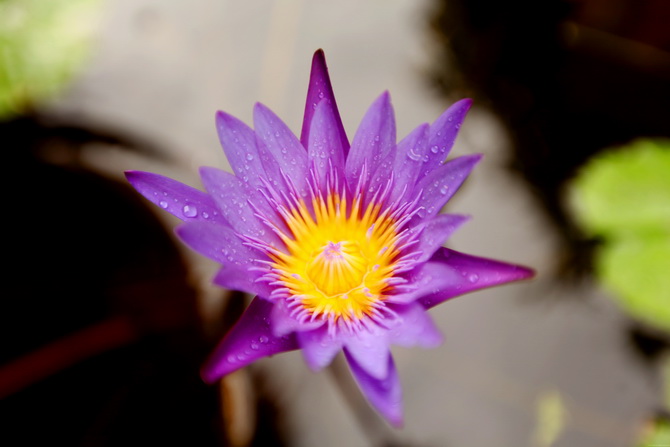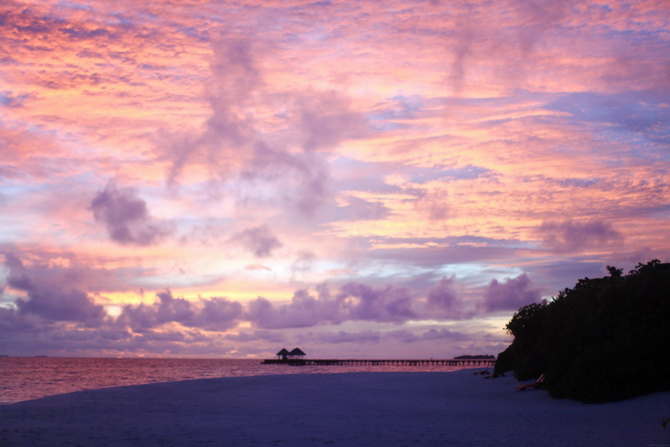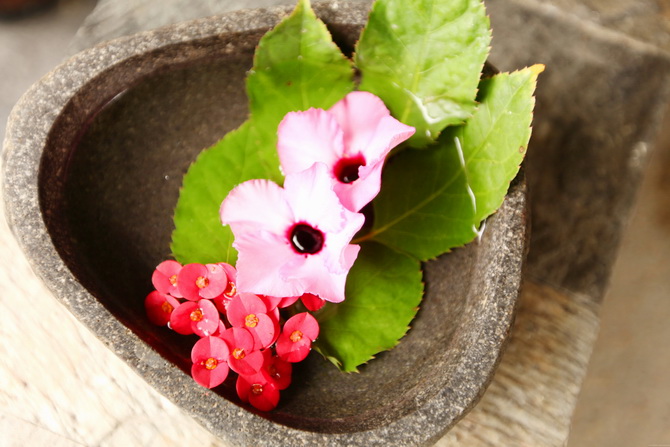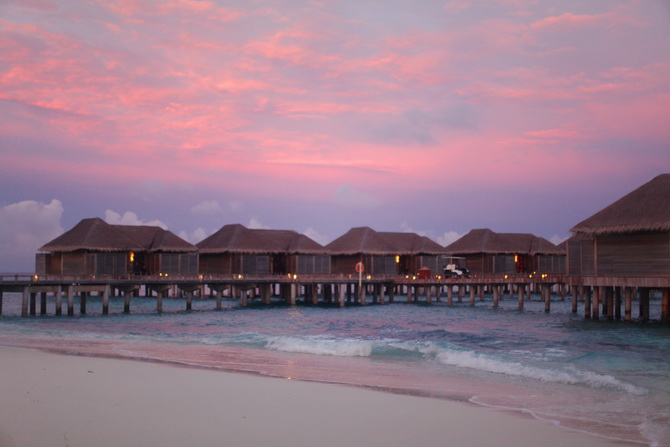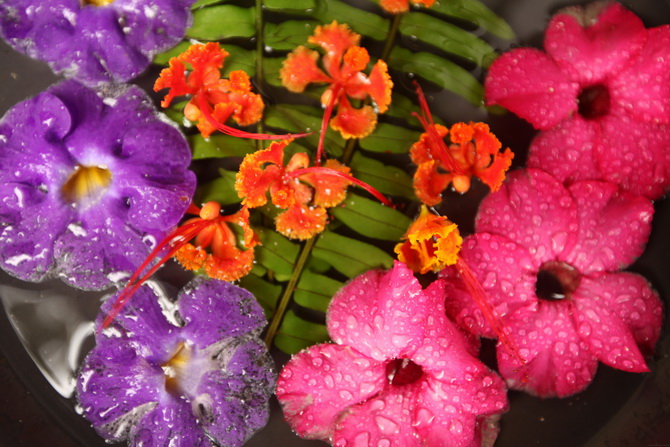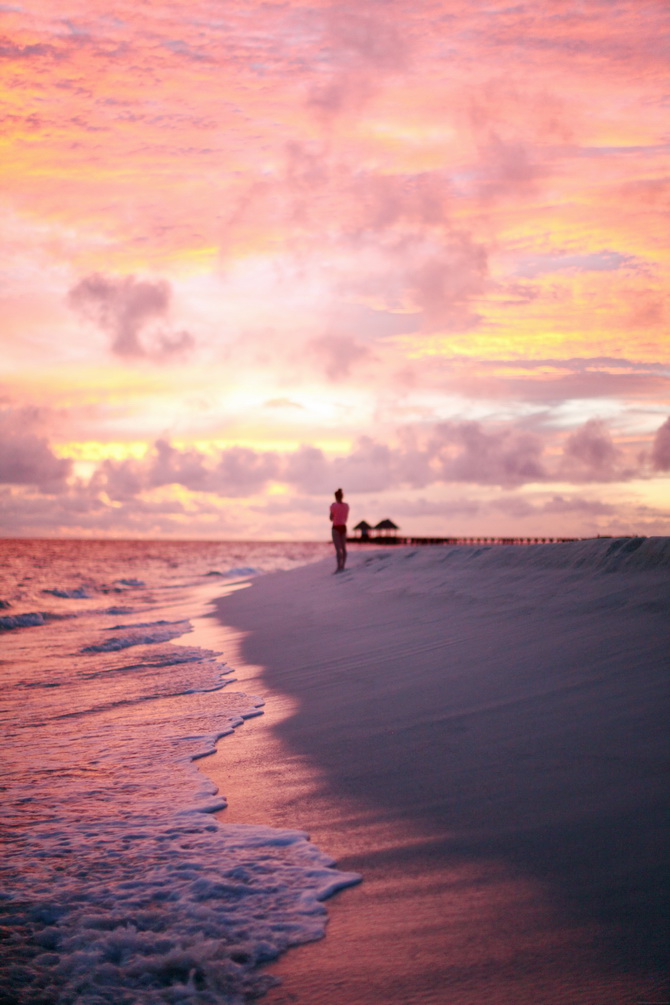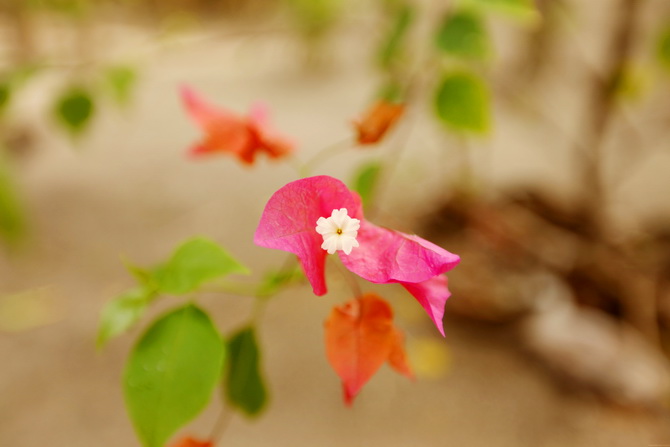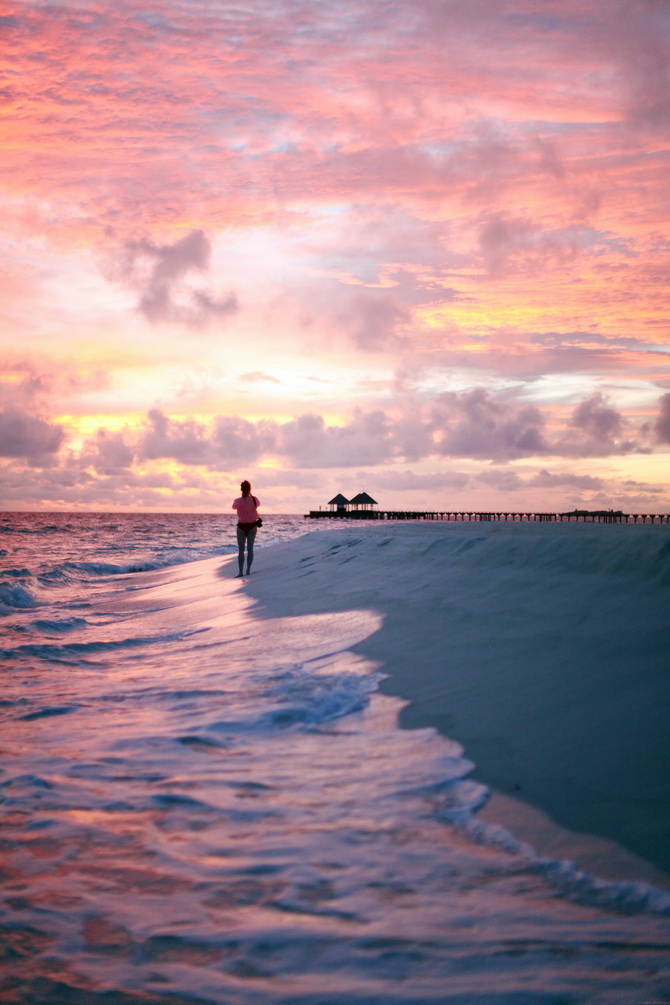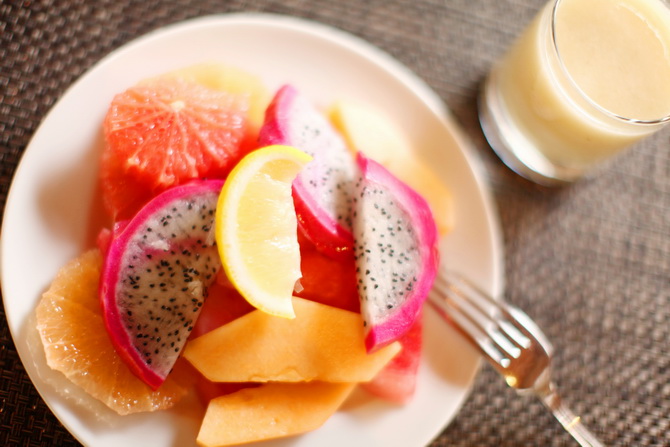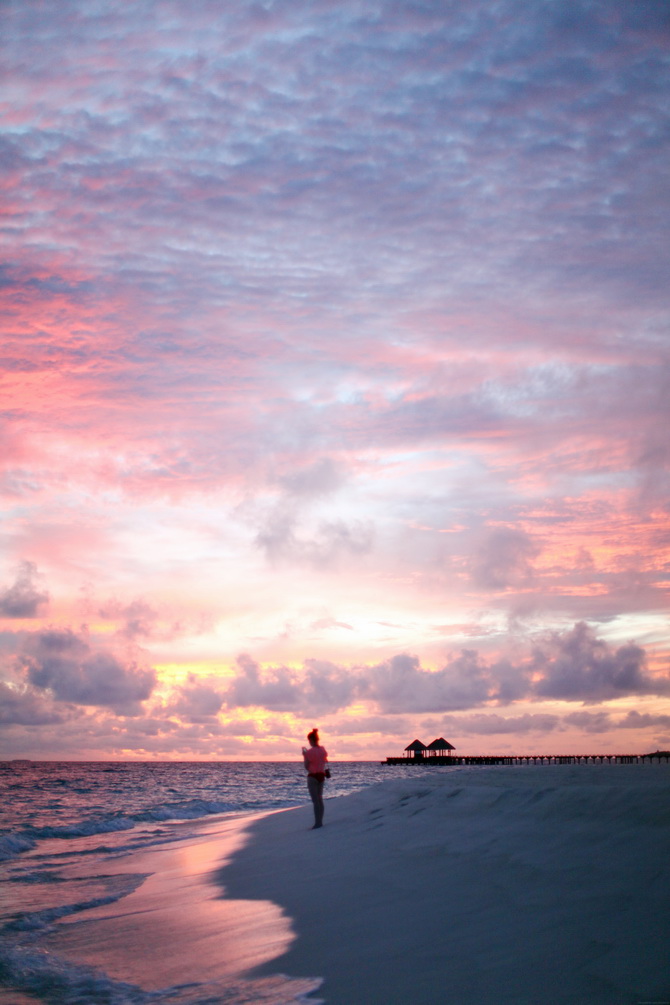 –
–
Maillot / Bathsuit : Topshop
–
Photos prises au Beach House Iruveli Maldives / Photos taken at the Beach House Iruveli Maldives
–
–
–
–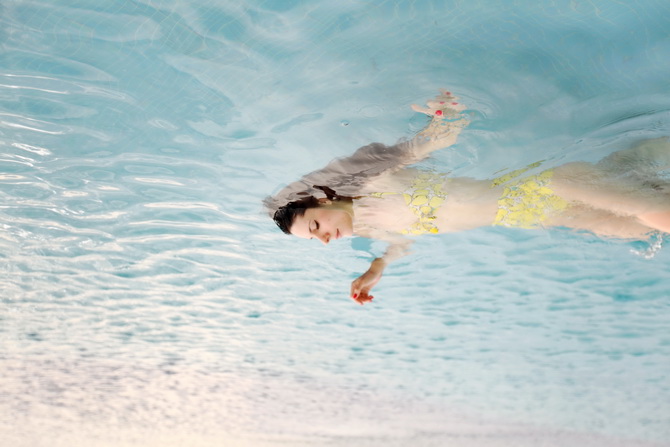 –
–
Bien blanche après un hiver qui a duré des mois et des mois !
Ce séjours aux Maldives était une bonne occasion de me réhabituer aux rayons du soleil, même s'il n'a pas toujours fait un temps radieux !
–
–
♫ ♪ Major Lazer – Jessica ( Feat. Ezra Koenig of Vampire WeekEnd )
–
–
After an endless winter, my skin ended up extremely white.
My stay in the Maldives was a good way to gently get used to the sun again, even though the weather was not so great while I was there !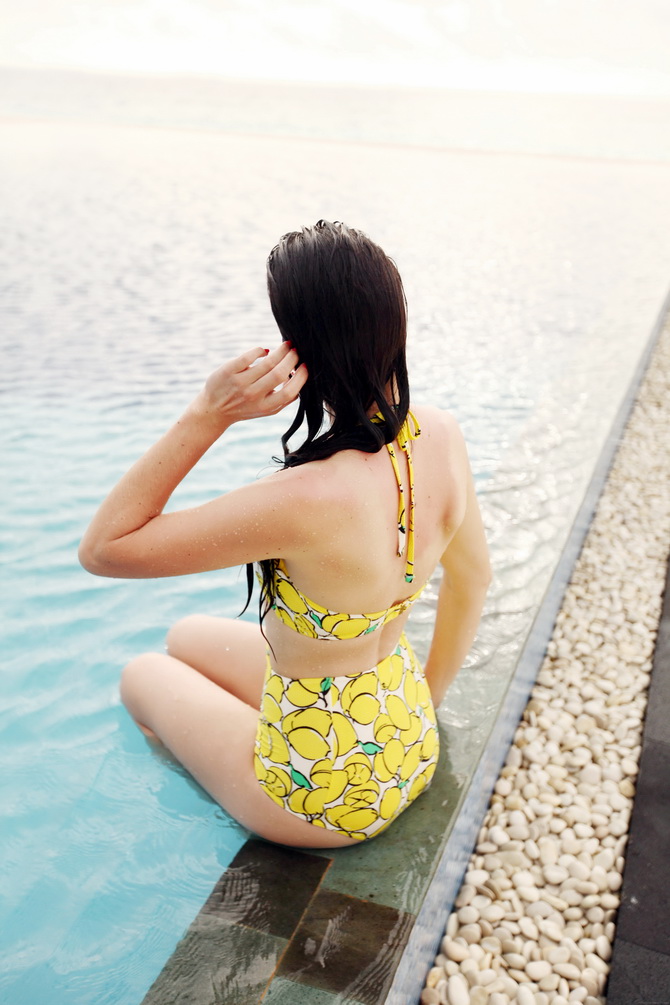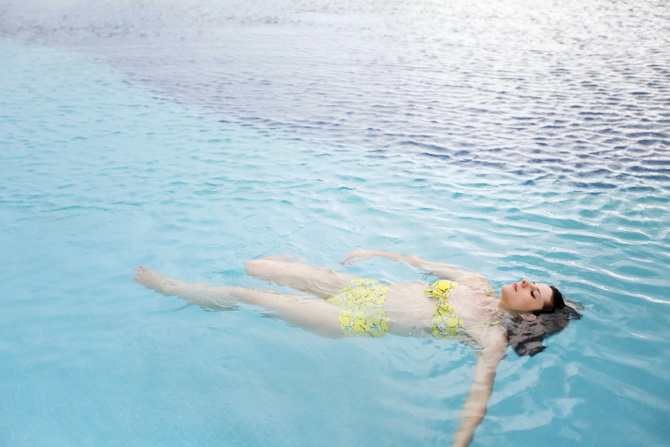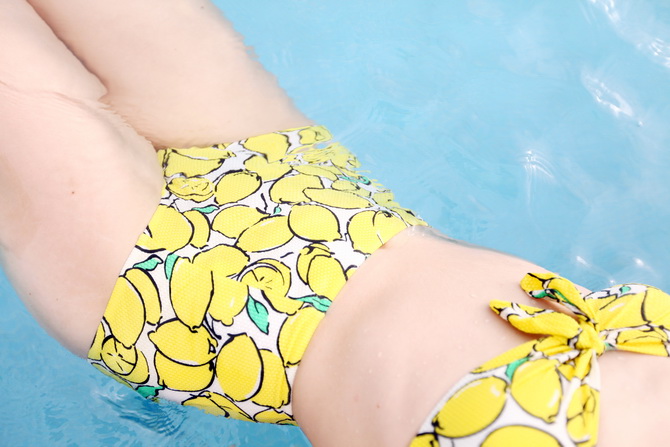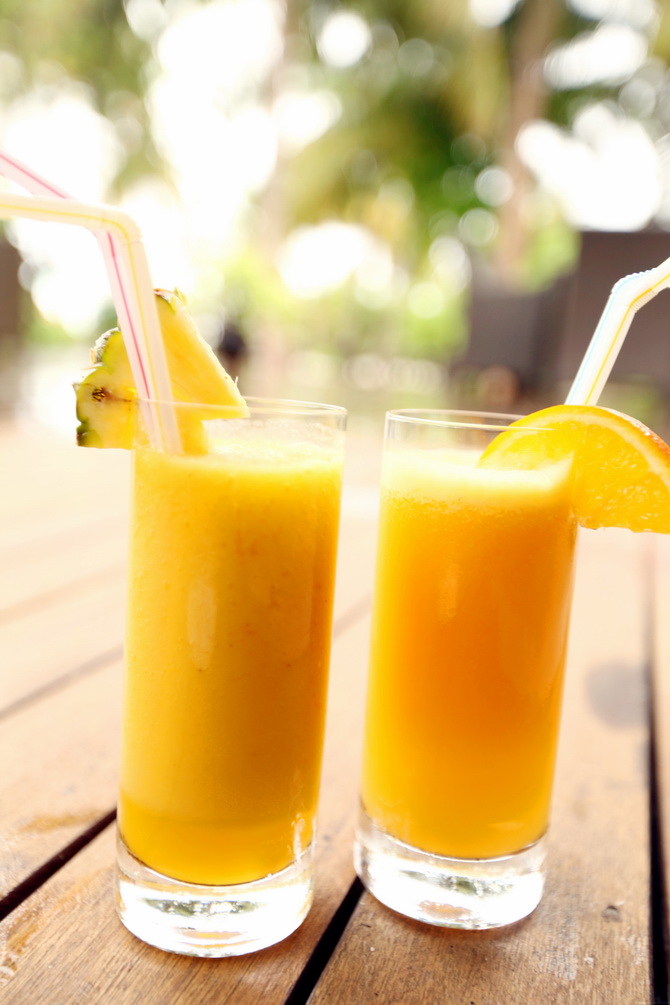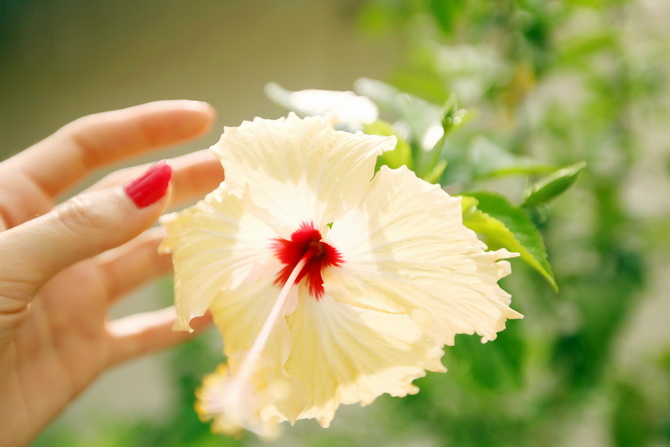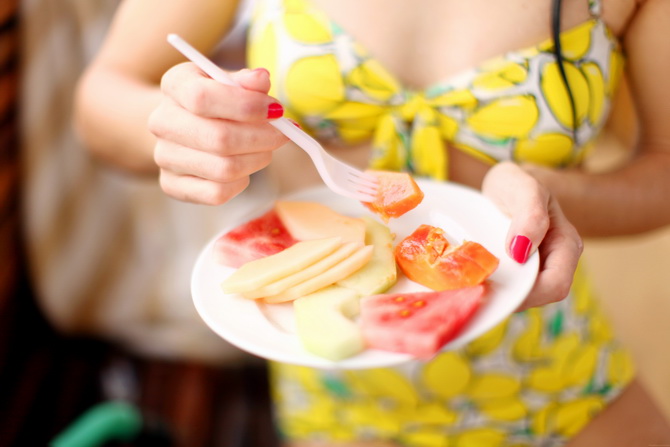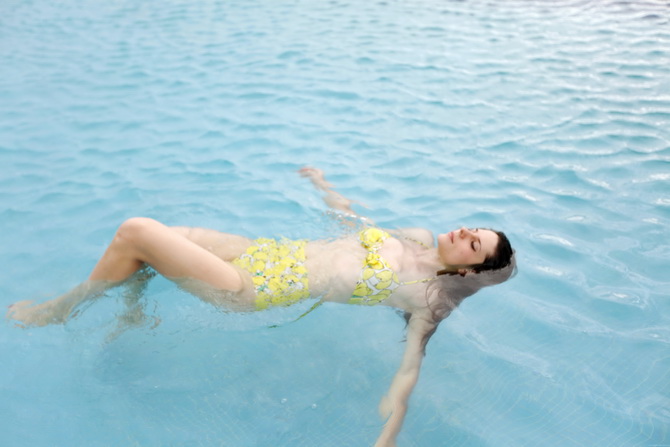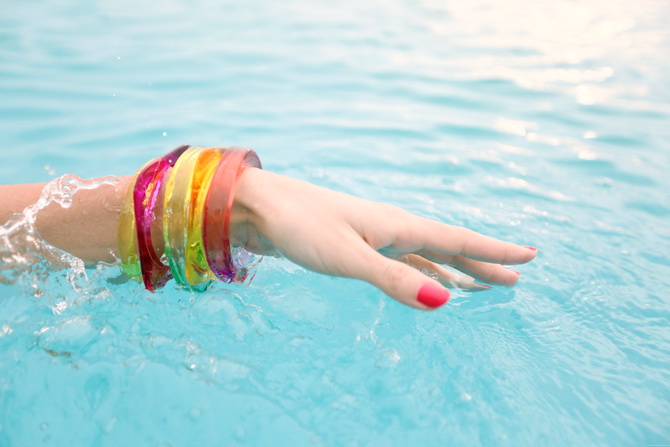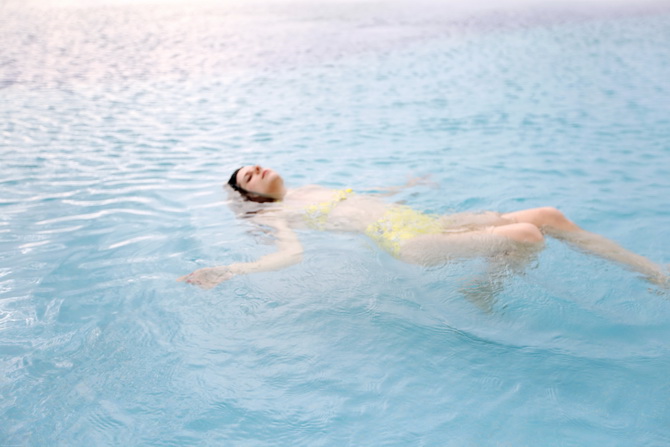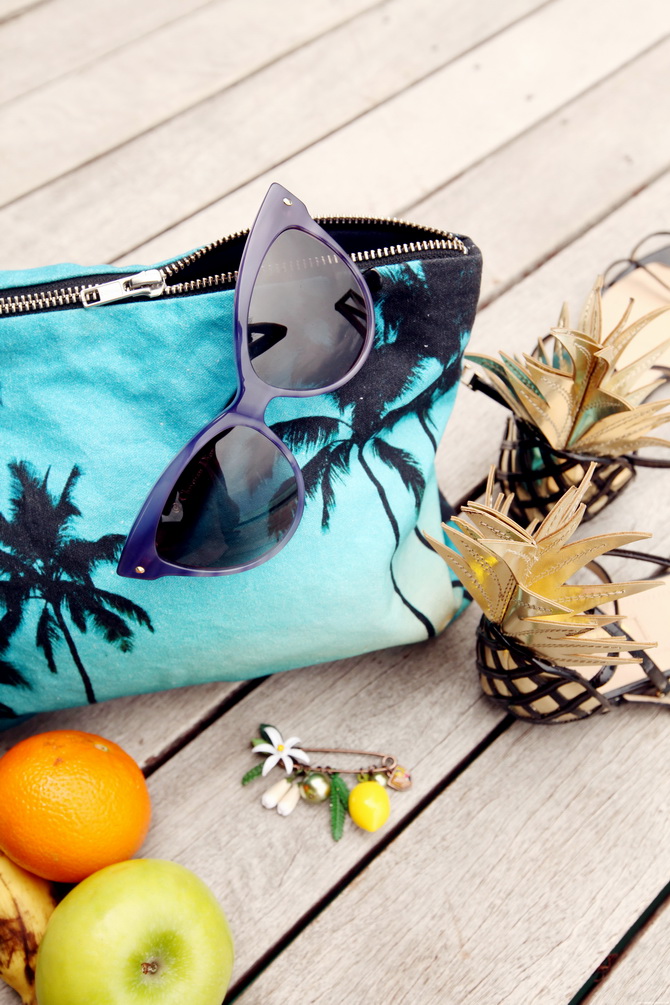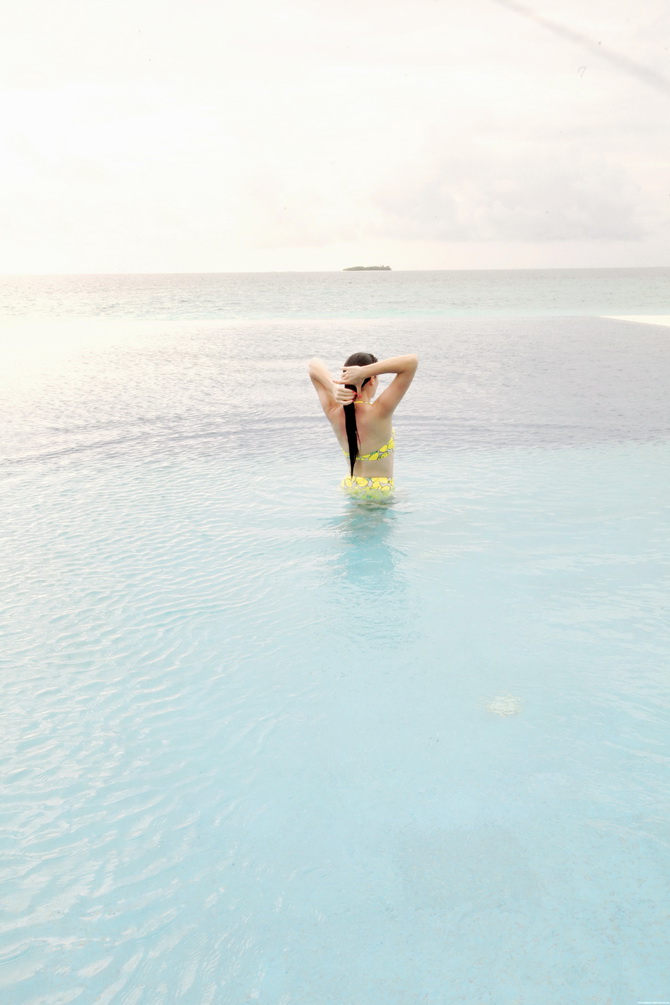 –
–
Maillot de bain / Bathsuit : Topshop
Bracelets : Topshop
Vernis : Dior « 659 Lucky »
Pochette palmiers / Palm tree clutch : Samudra
Lunettes / Sunglasses : Dior
–
Photos prises à l'Infinity Pool du Beach House Iruveli.
Photos taken at Beach House Iruveli's Infinity Pool.
–
–
–
–
–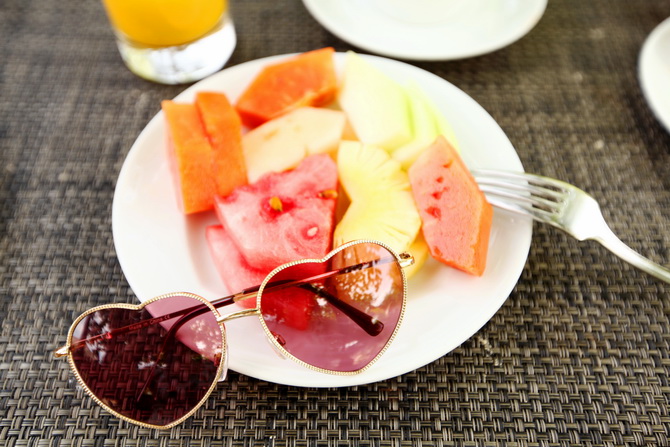 –
–
Pendant mon séjour au Beach House Iruveli aux Maldives, et tous les matins lorsque je prenais le petit chemin sinueux qui mène vers le petit déjeuner, le sol était recouvert de fleurs d'hibiscus fraîchement tombées des arbres.
Il y a un seul et unique chemin de sable qui fait le tour de l'île, et les bordures sont encadrées d'une multitude de plantes et arbres exotiques.
Je m'amusais à récolter les immenses feuilles et les fleurs orphelines trouvées à mes pieds, et bien souvent me retrouvais avec un sac rempli à ras bord en fin de journée. J'aurais pu réaliser un herbier géant !
Les décorations florales dans des bassines d'eau étaient également un plaisir pour les yeux, et m'ont rappelé mon premier voyage à Bali.
Symbole de vacances au Maldives, j'ai séjourné dans une maison sur pilotis. Je pouvais y accéder de l'île par un très peau ponton en bois.
Le détail déco qui m'a le plus plu? Les tortues en peluche en guise de pancartes à accrocher à l'extérieur de sa porte: « I am sleeping », « please clean my nest ». Tellement mignon !
C'était la deuxième fois que je me retrouvais à dormir au dessus d'un lagon bleu, ma première fois ayant été à Bora Bora. On s'habitue étonnamment vite au bruit de la mer.
Un autre petit plaisir du séjour, c'était les fruits et le poisson !
Etant particulièrement friandes de tartare de saumon, sushi, thon ( pêché localement ), fruits frais, sorbet et jus pressés, je me suis fait une véritable cure de produits sains.
Goyave, fruit du dragon, papaye, melon … ananas!
Et ce n'est pas mon sac, mon maillot ni mes sandales qui vous diront le contraire ;)
–
–
–
–
During my stay in the maldives at the Beach House Iruveli, and every morning when I walked down the small winding path leading to breakfast, the ground was covered with flower fallen from the trees.
There is one single sand road around the island, with many different trees and plants on each side.
It was quite amusing to collect all the huge leaves and flowers I could find at my feet, and my bag was completely filled at the end of the day. I could have made a giand herbarium !
Floral decorations dipped in water were also a pleasure for the eyes, and reminded me my first trip to Bali.
As it's one of the biggest holydays symbol of the maldives, I stayed in a water villa. It was accessible from the island by a very beautiful wooden pier.
The decoration detail I liked the most ? The stuffed turtles as door signs that you hang outside your room: « I am sleeping, « Please clean my nest ». So cute !
It was the second time I found myself sleeping over a blue lagoon, 3 years after my first time in Bora Bora. It's really surprising how quickly you get used to the sound of the sea.
Another treat during my stay were the fish and the fruits !
Being particularly found of salmon tartare, sushi, tuna, fresh fruits, sorbet, and freshly squeezed juices, I got myself as much healthy meals as I could.
Guava, dragon fruit, papaya, watermelon … pineapple !
It's definitly not my bag, swimsuit or sandals that will tell you otherwise ;)
–
–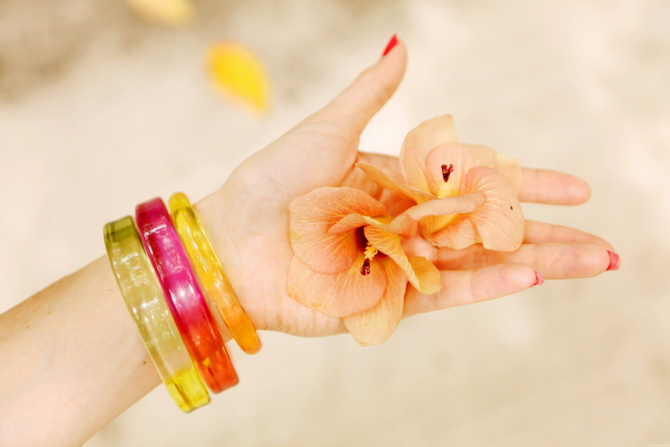 Bracelets : Topshop
–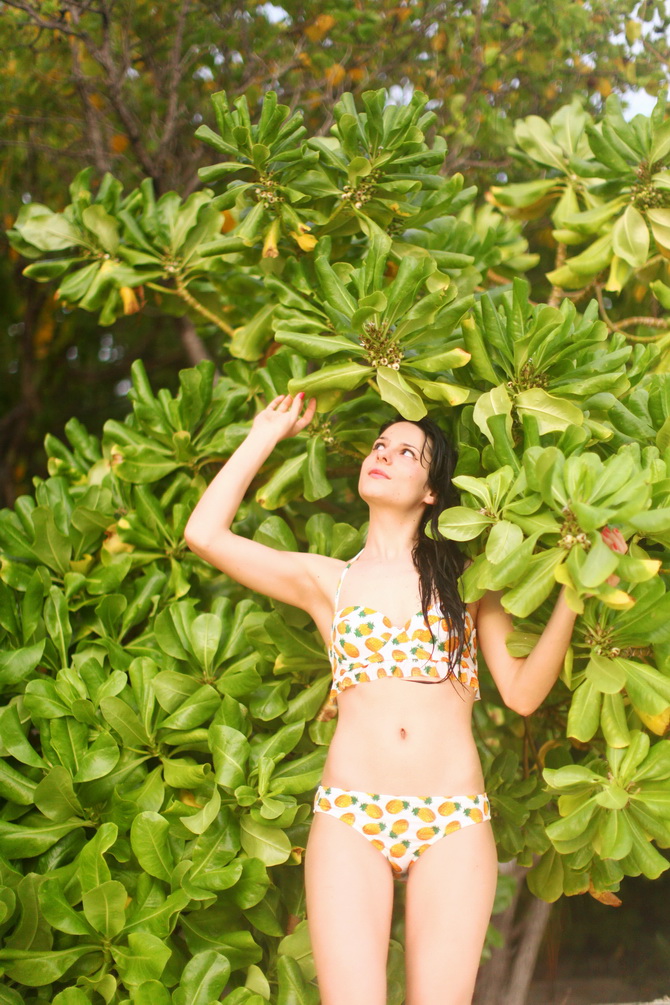 Maillot / Bikini : Topshop
–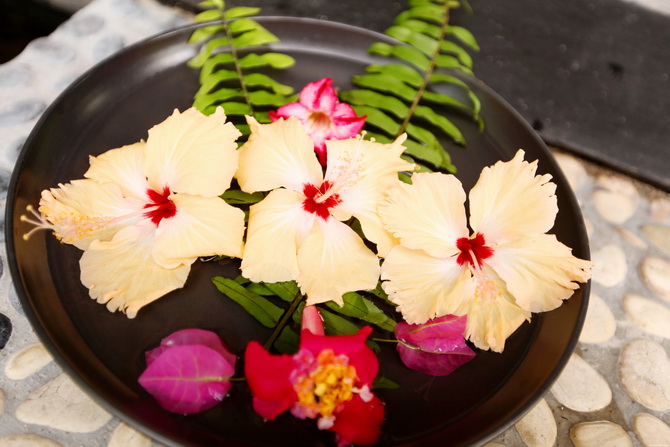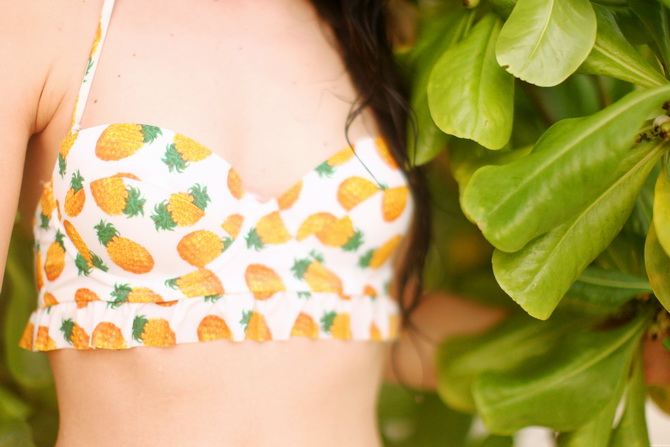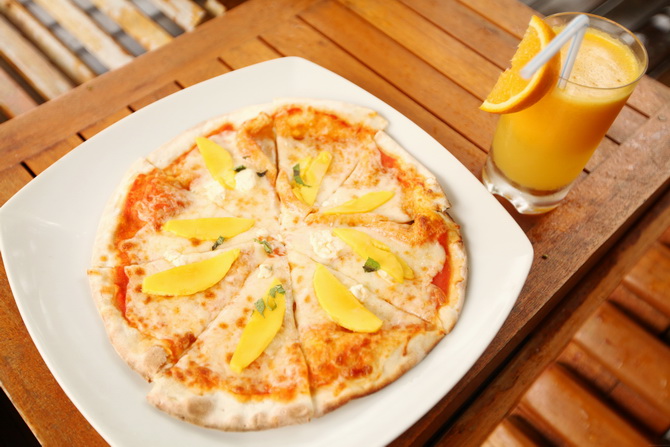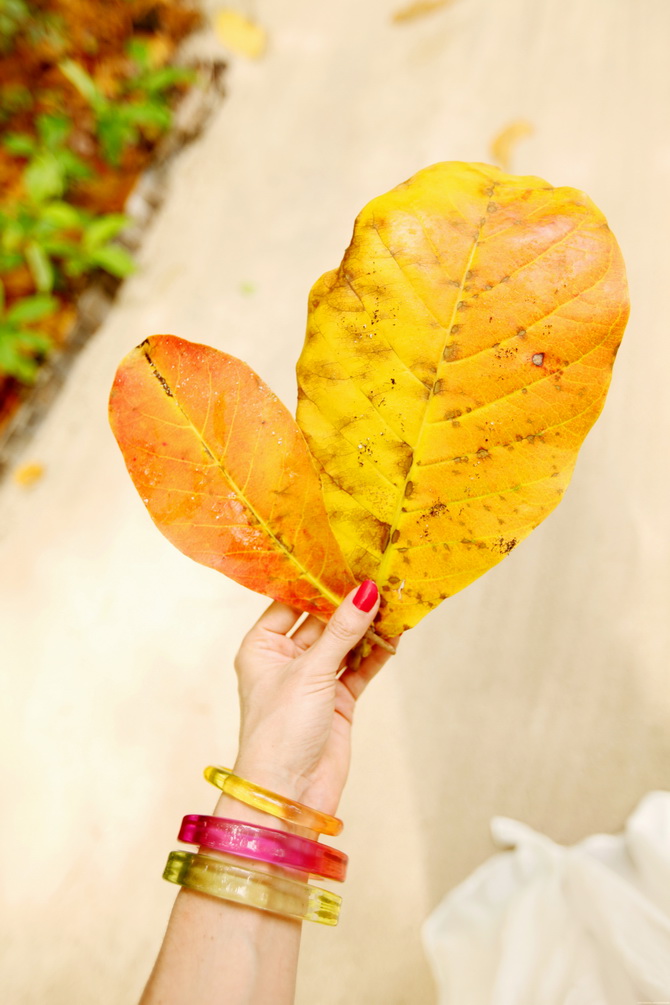 Bracelets: Topshop
–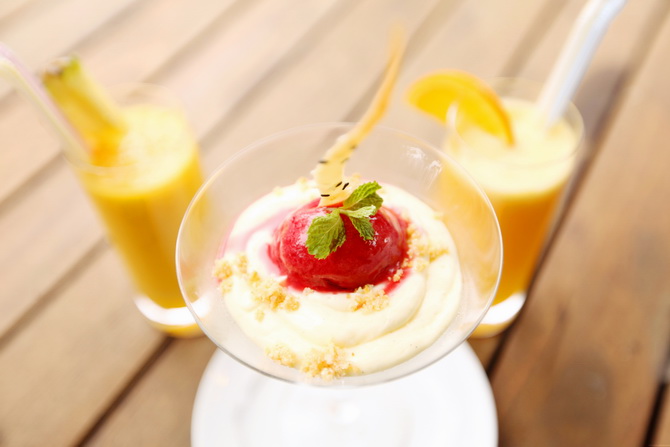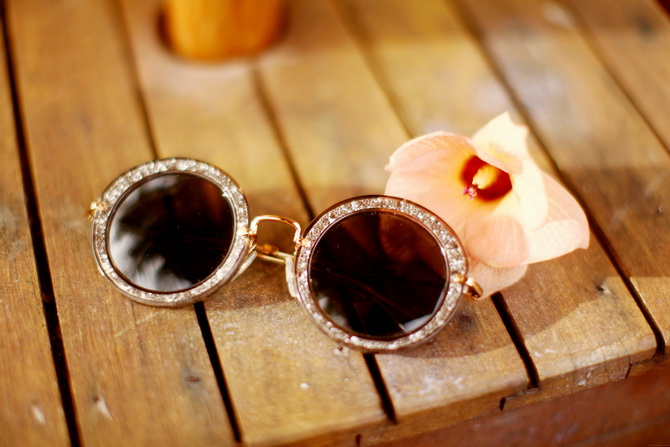 Lunettes / Sunglasses : miu miu
–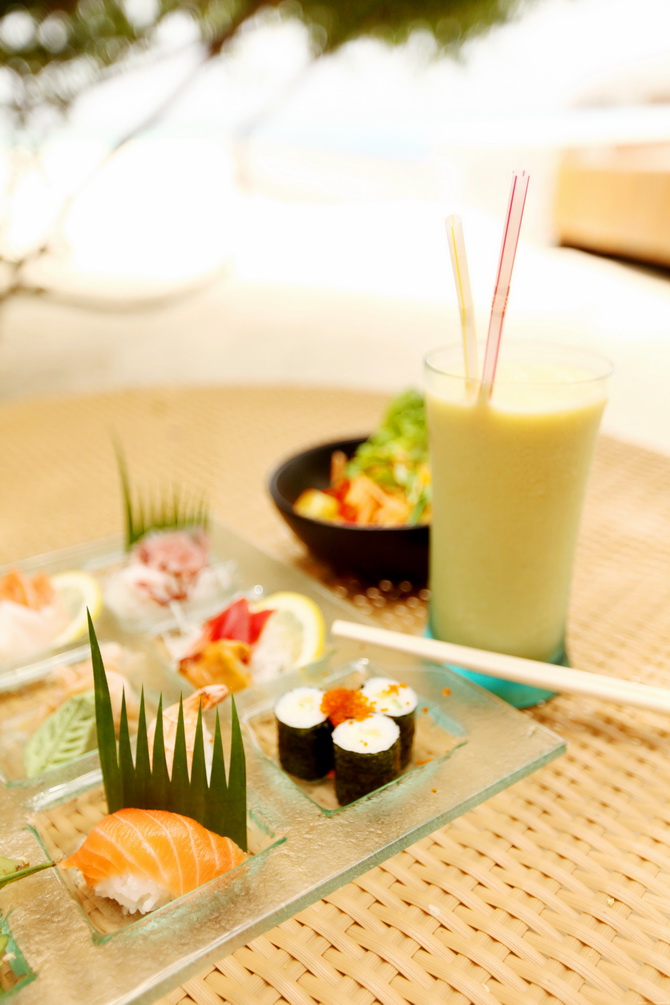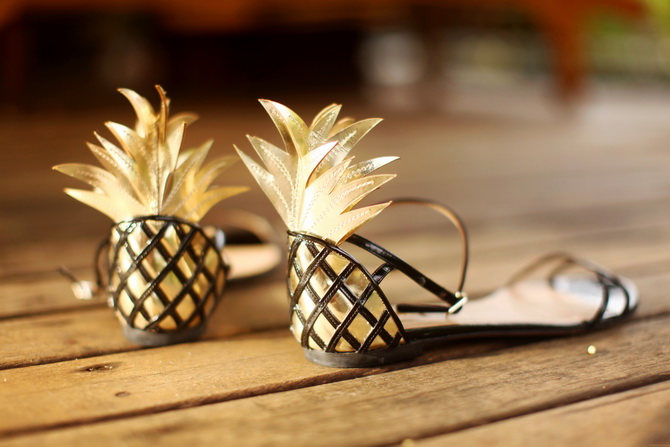 Sandals : Aquazzura
–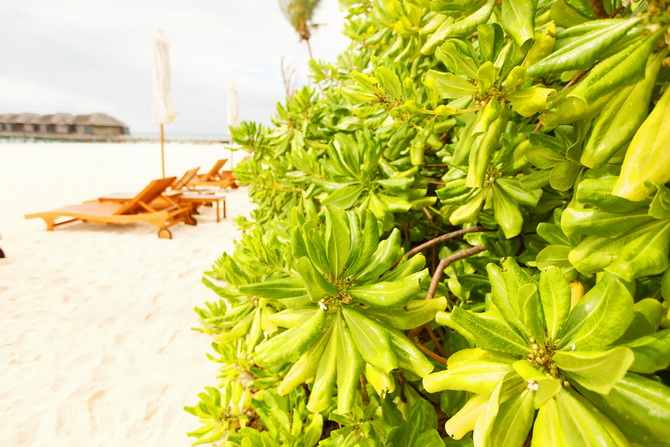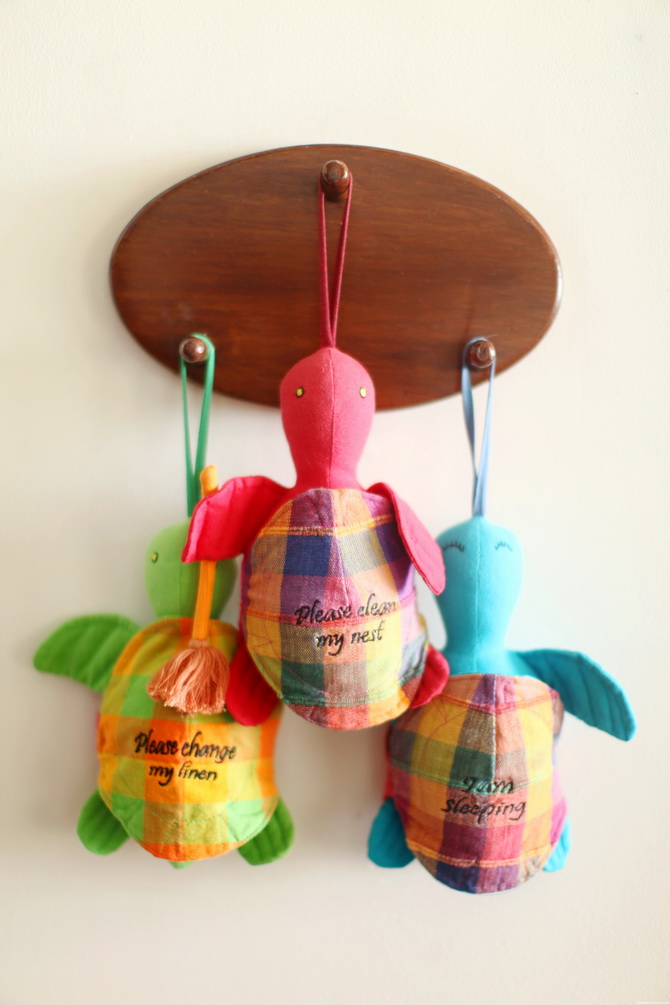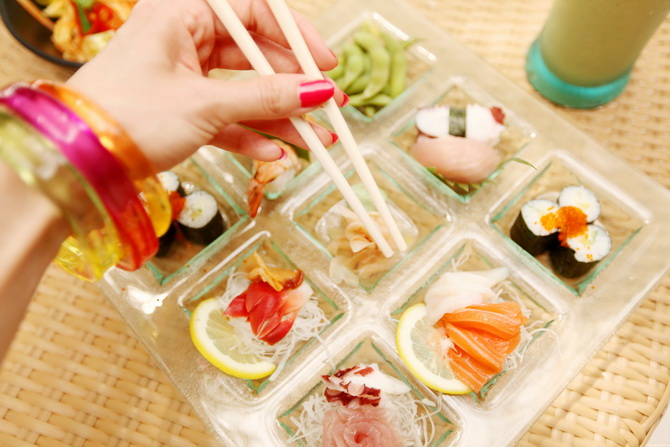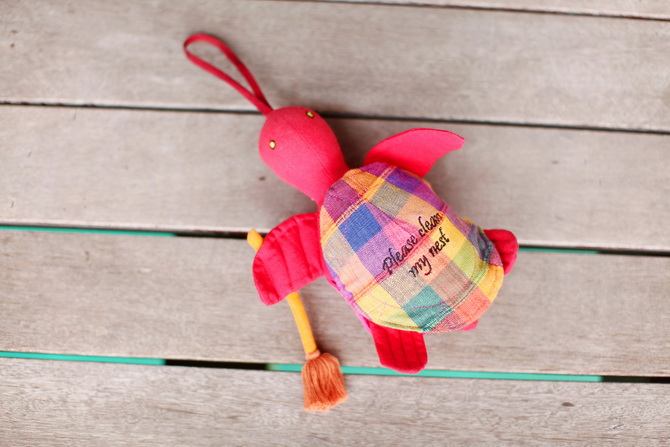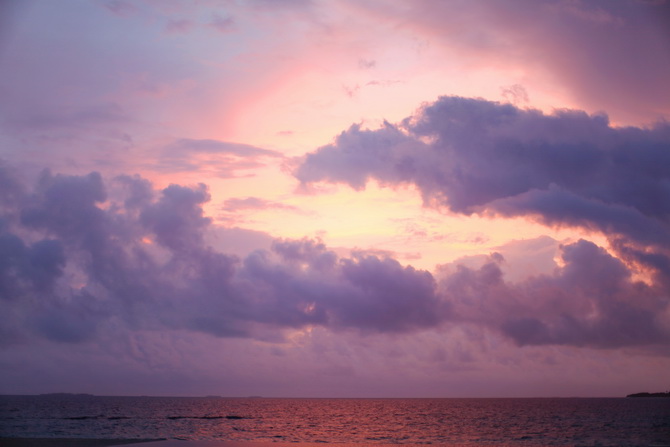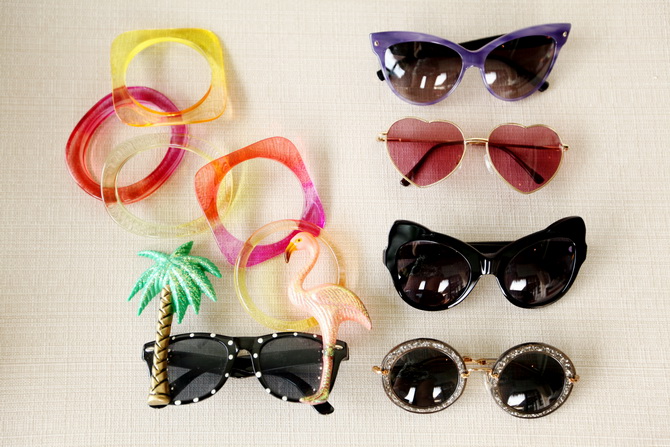 Bracelets: Topshop
Sunglasses on the right, up to down: Dior, Urban Outfitters, Topshop, miu miu
–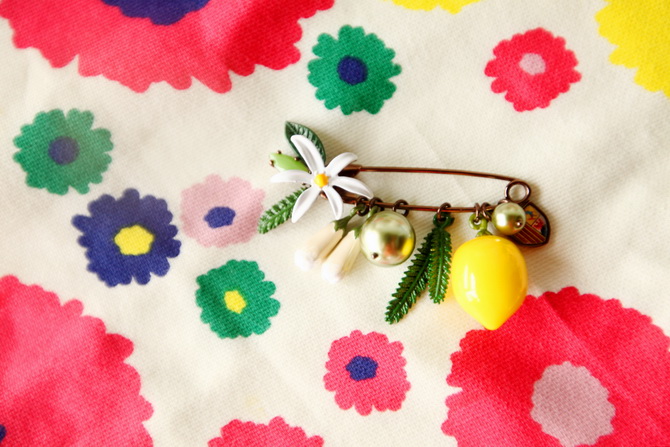 Broche / Brooch : Les Néreides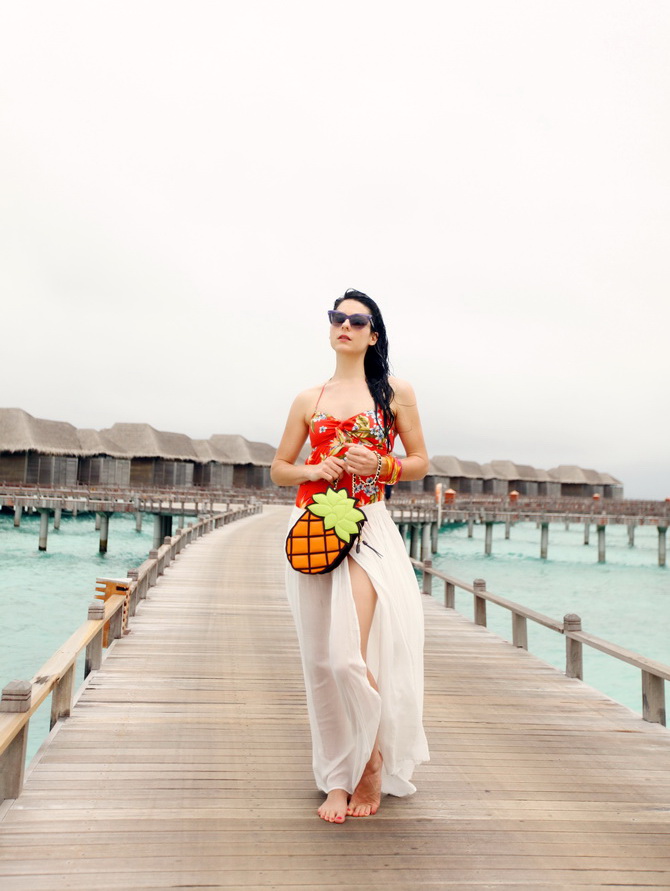 Maillot / Bathsuit : Topshop
Jupe / Skirt : zimmermann
Sac / Bag : Moschino Cheap & Chic
Lunettes / Sunglasses : Dior
–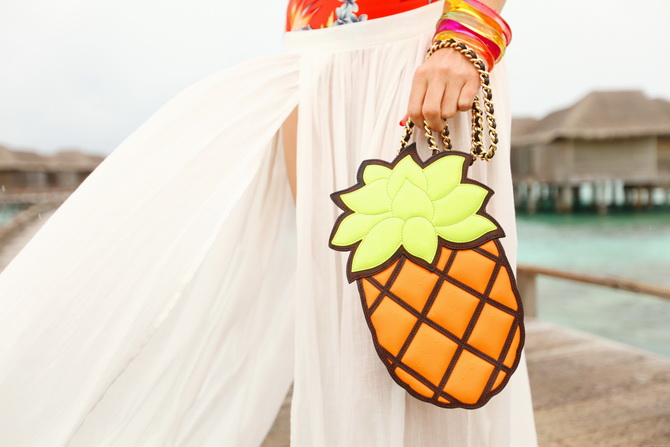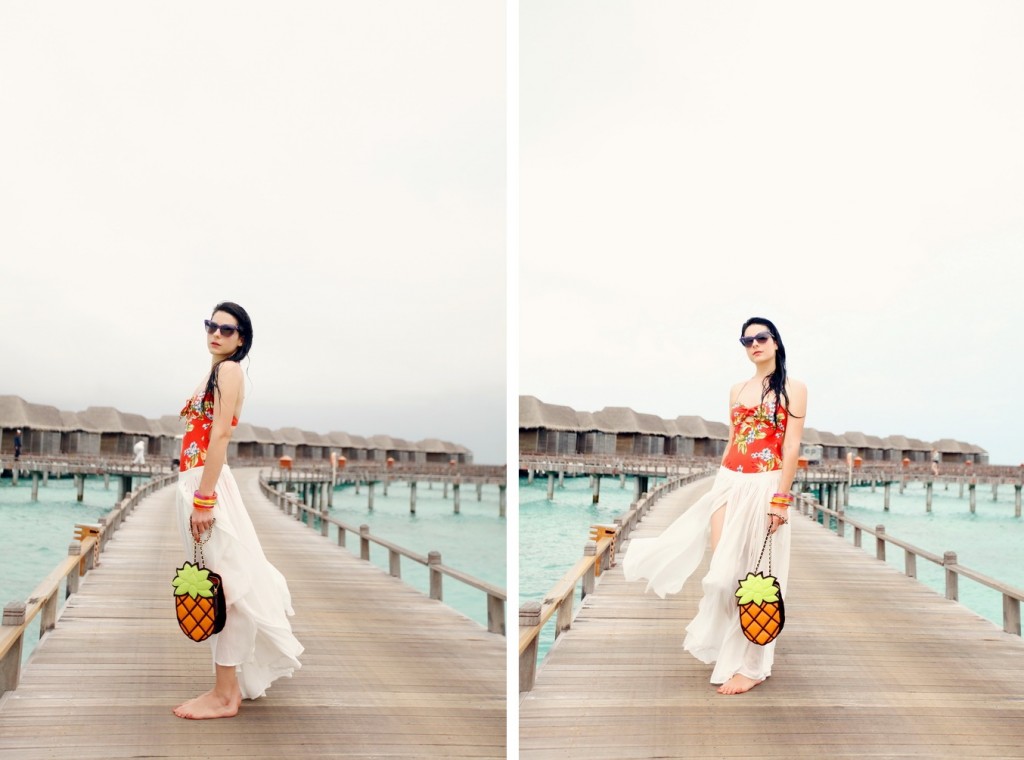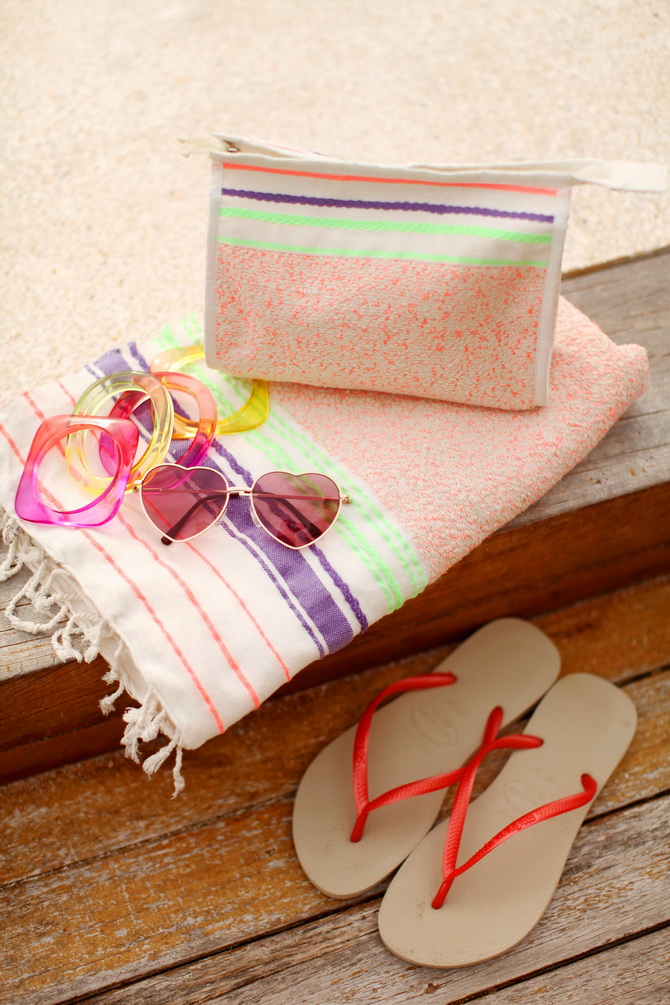 Towel, pouch and flip flops / Drap de bain, pochette et tongs : Oysho
Bracelets : Topshop, Sunglasses / Lunettes : Urban Outfitters
–
–
–