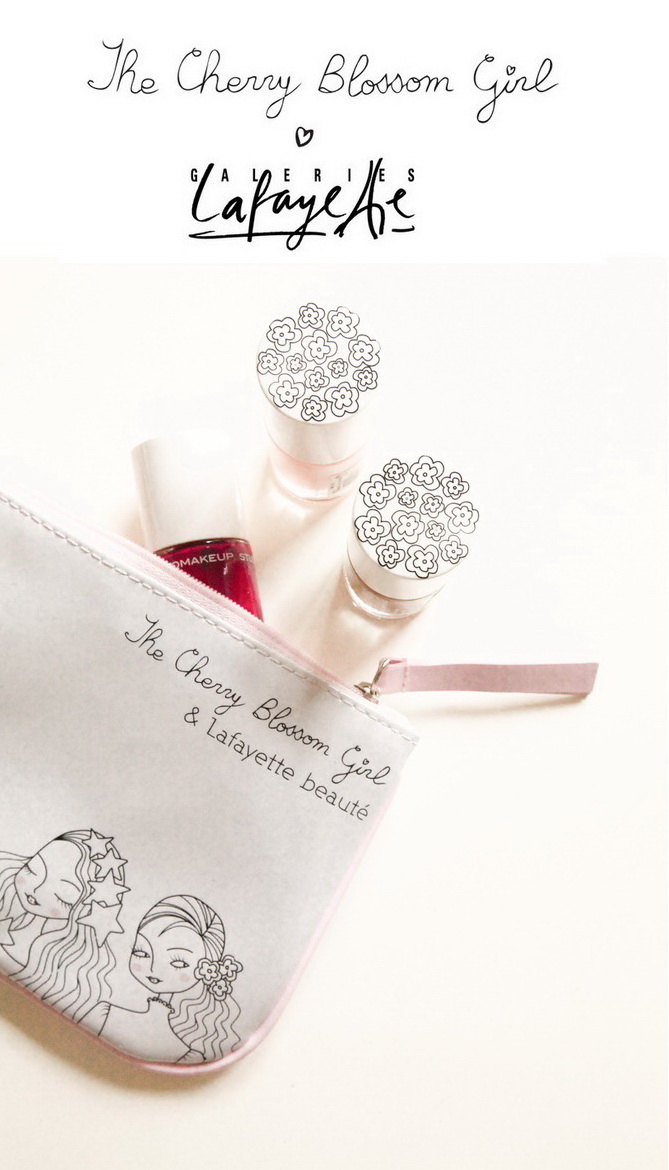 –
Pour la sortie de ma ligne de maquillage en collaboration avec les Galeries Lafayette, j'ai eu l'idée de vous présenter les différents produits de la collection sous forme de tutoriels.
Je commence aujourd'hui avec les vernis, qui sont disponibles en 3 couleurs: « Prima ballerina », « Mocha Taupe » et « Sassy Pink ».
Et pour montrer les multiples possibilités, j'ai réalisé 3 manucures. Elles sont chacune différentes, simples, et comme les vernis sont très fluides et suffisamment couvrants, c'est encore plus facile !
–
–
For the release of my makeup collection with the Galeries Lafayette, I got the idea to make a few tutorials to introduce the products and to show how they can be used.
Today, I'm starting with the nailpolish, which is available in 3 colors: « Prima Ballerina », « Mocha Taupe » and « Sassy Pink ».
To demonstrate multiple options, I made 3 manicures. Each of them are different, simple, and the fact that the nailpolish is really fluid and covering, it makes the task even easier!
–
–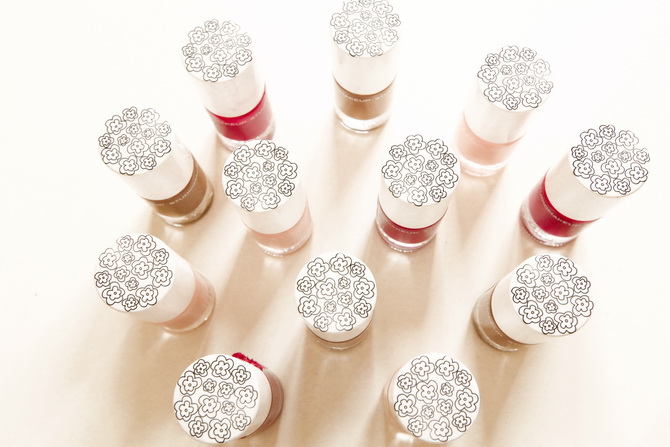 –
–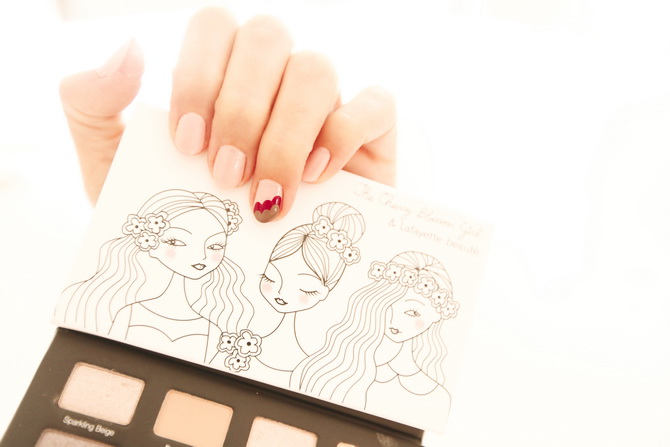 –
1: Posez 2 couches de « Prima Ballerina », puis laissez sécher.
Apply 2 coats of « Prima Ballerina », and let dry.
–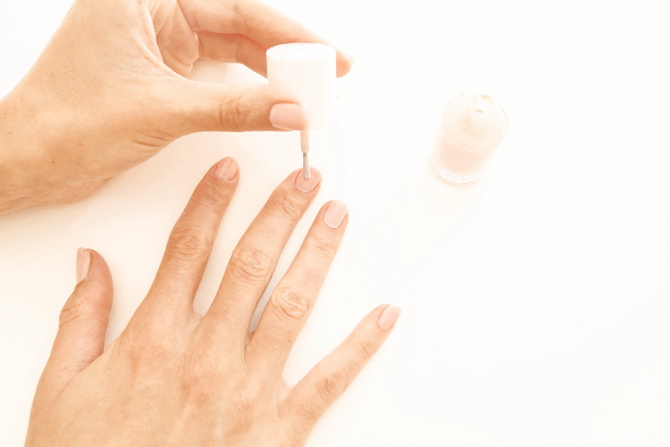 –
2: Avec la couleur « Sassy Pink », posez le pinceau avec suffisamment de vernis dessus, et faites un trait vers l'extérieur de l'ongle. De cette manière on obtient une forme arrondie.
With the « Sassy Pink » color, take a generous amount of nailpolish, and make a line toward the outside of the nail. This way you will get a rounded shape.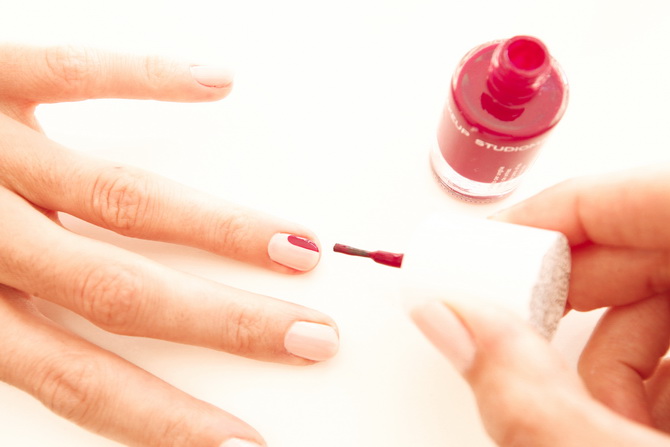 –
3: Réalisez ce même geste 2 autres fois.
Do the same 2 more times.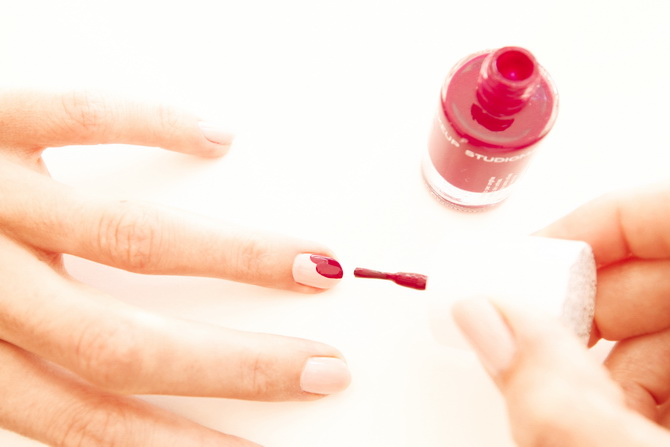 –
4: Puis même chose, en changeant de couleur: « Mocha Taupe ».
Then the same thing again, using another color: « Mocha taupe ».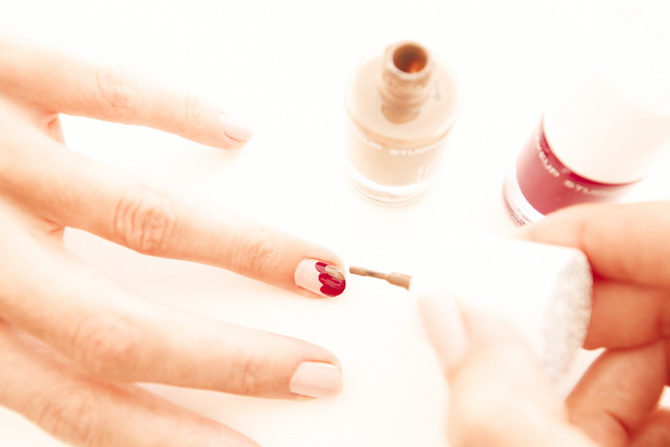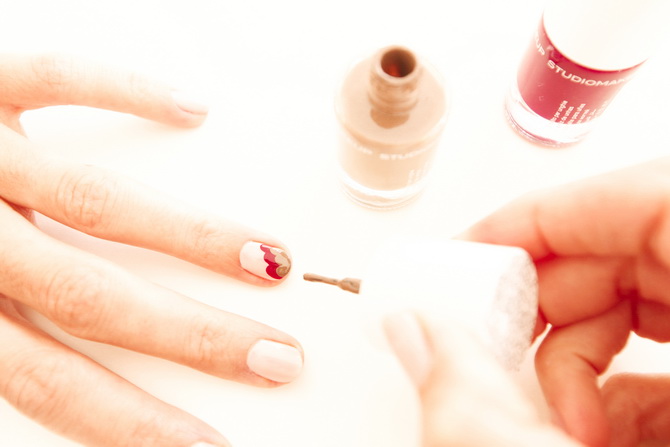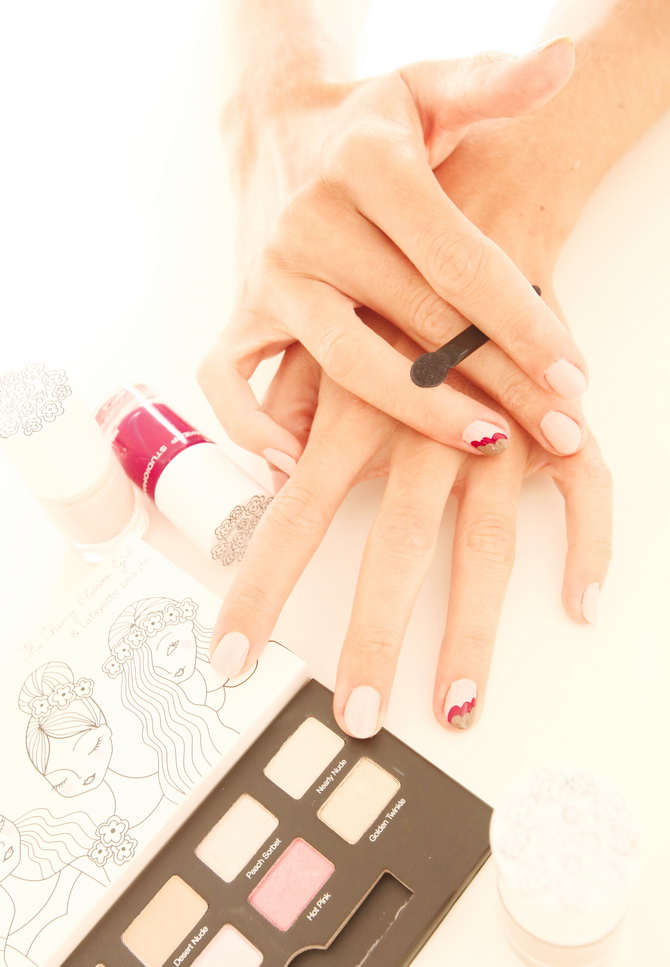 –
–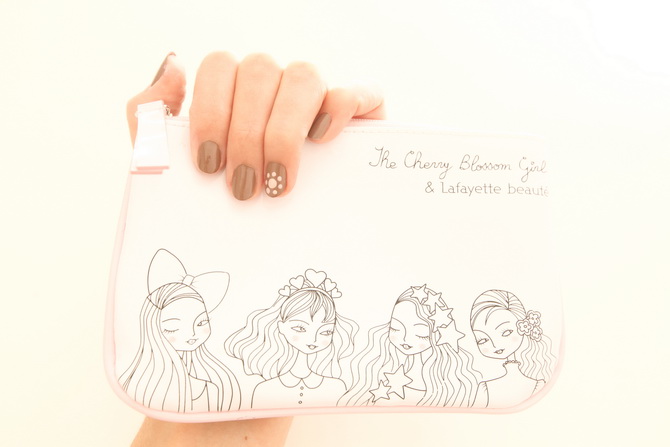 –
Ce dont vous aurez besoin pour cette manucure: une pique à brochette en bois, un cure dent et une feuille d'aluminium.
What you will need for this manicure: a wooden skewer, a toothpick and an aluminum foil.
–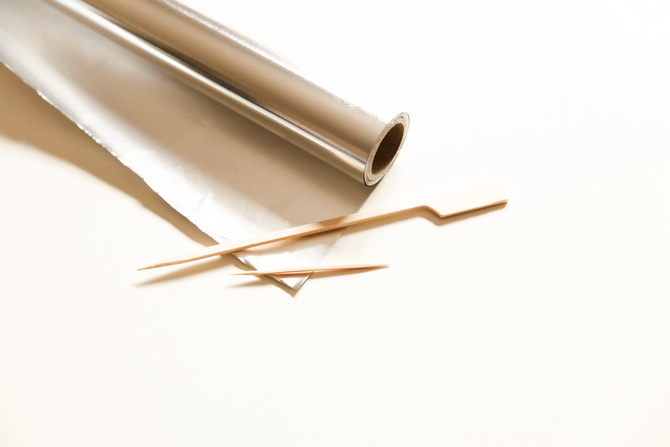 –
1: Posez deux couches de « Mocha Taupe » pour un résultat bien opaque.
Apply 2 coats of « Mocha Taupe », for a good covering result.
–
2: Sur une feuille d'aluminium, déposez quelques gouttes du vernis « Prima Ballerina ».
On an aluminium foil, place a few drops of « Prima Ballerina ».
–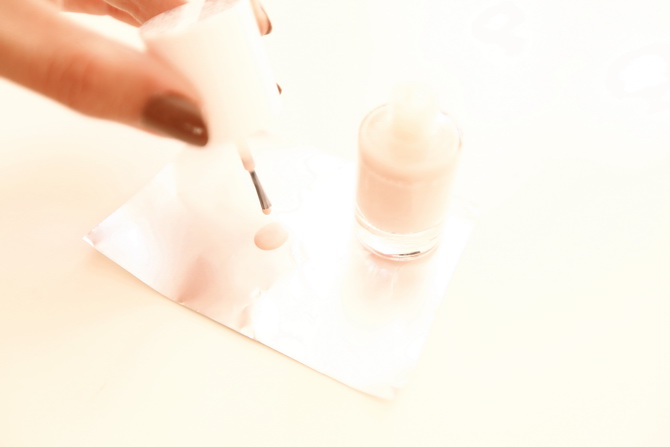 –
3: récoltez du vernis avec le gros pic.
Collect some nailpolish with the big spike.
–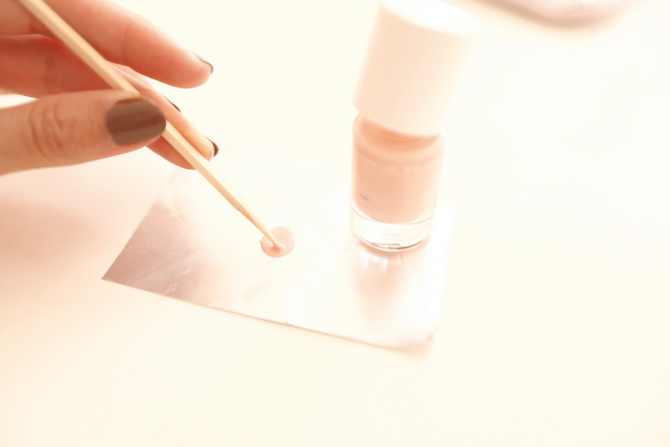 –
4: Posez le au centre de l'ongle afin de former le pois du milieu ( c'est la même technique pour faire la manucure polka dots ).
Place it on the middle of the nail, to create the center of the flower ( this is the same technique to make a polka dots manicure ).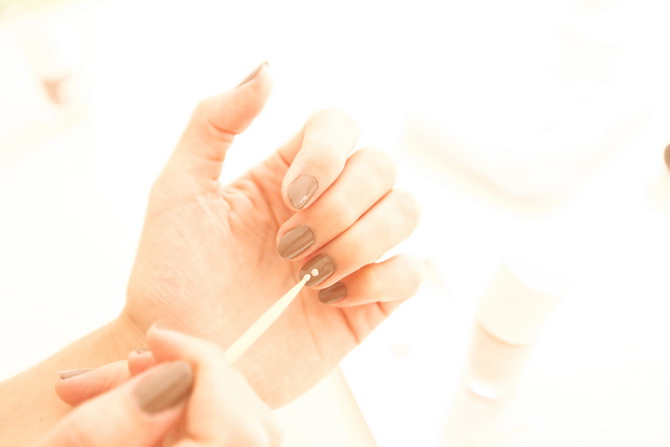 –
5: Puis utilisez un cure dent, pour réaliser de la même manière les plus petits pois de la fleur.
Then use a toothpick to make the same way the flower's smaller dots.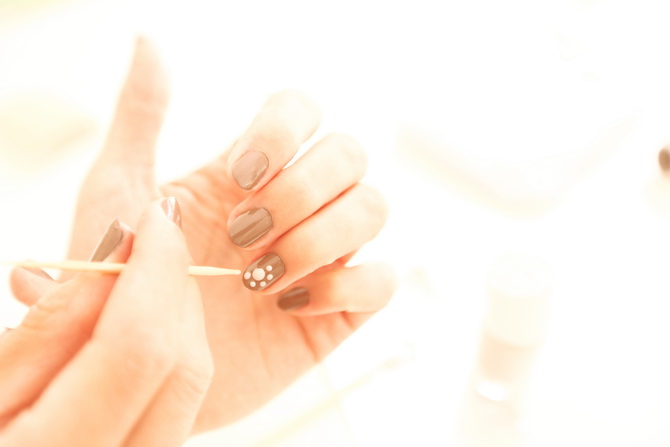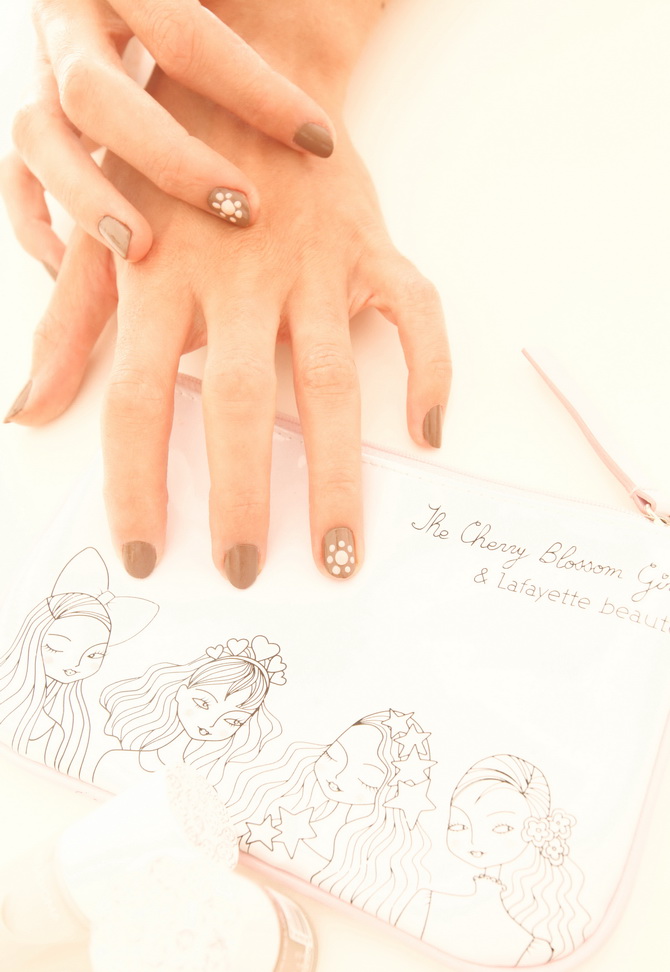 –
–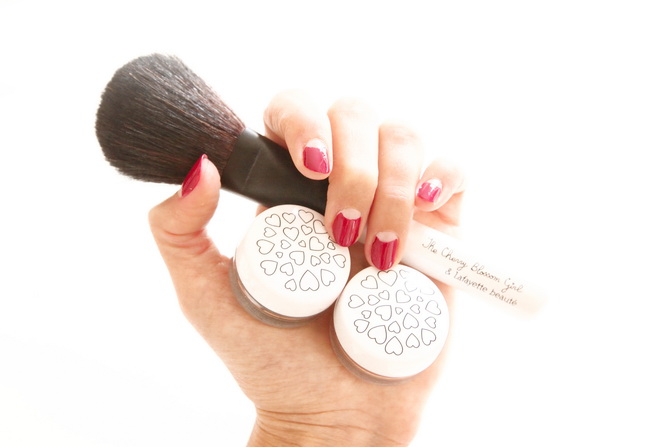 –
Pour cette manucure, vous aurez besoin d'œillets adhésifs. j'ai choisi des œillets en plastique transparent, qui collent mieux que les œillets blancs en papier.
For this manicure, you will need some reinforcement rings. I chose plastic transparent ones, because they stick much better than the white paper ones.
–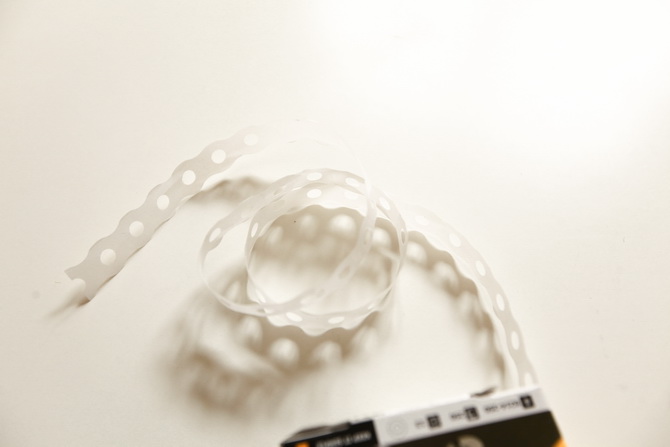 –
1: appliquez une seule couche du vernis « Prima Ballerina ».
Apply just one coat of « Prima Ballerina ».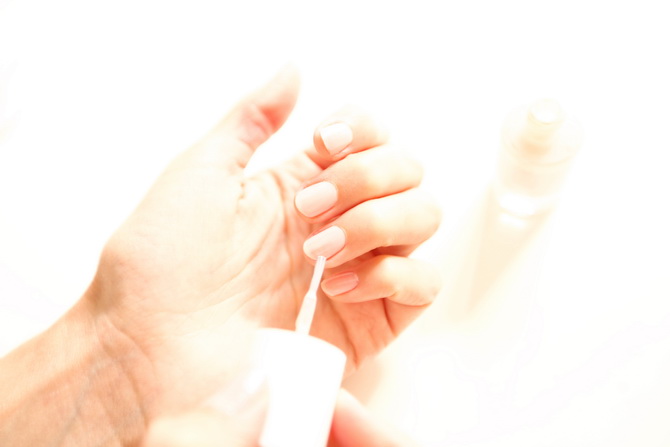 –
2: Découper 5 œillets en deux, pour obtenir 10 demi-œillets. 
Cut 5 reinforcement rings, to get 10 stickers.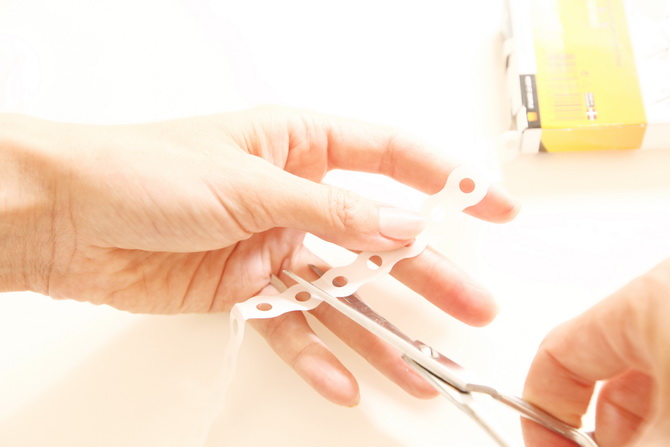 –
3: Une fois que le vernis est bien sec, collez les œillets sur le haut de chaque ongle. Il faut faire attention a bien les faire adhérer sur les bords de l'ongle ( sinon risque de fuite lorsque vous appliquerez le vernis ).
Once the nailpolish is well dry, stick the half-rings on the top of each nail. Make sure to stick them well on each side of the nails ( otherwise there's a risk of leaks when you will apply the nailpolish ).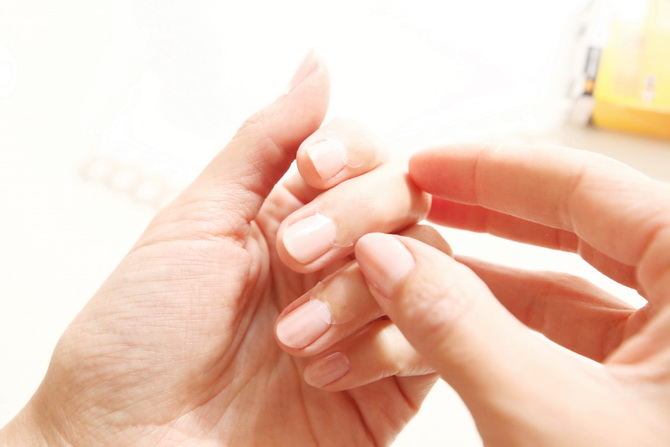 –
4: Posez le vernis » Sassy Pink » ( Une à deux couches selon vos préférences )
Apply one or two coats of « Sassy Pink ».
–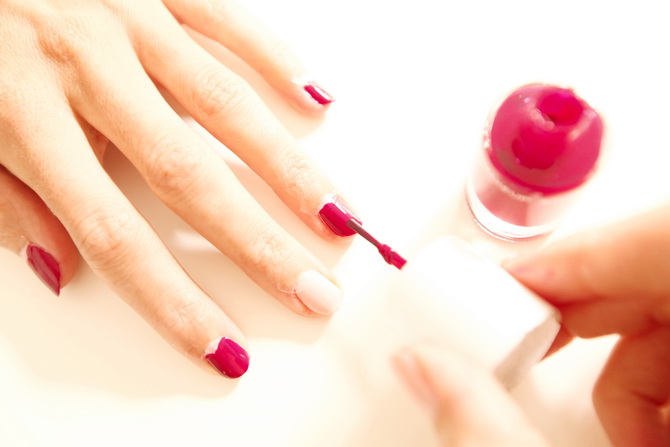 –
5: Une fois bien sec, retirez délicatement les œillets.
Once it's dry, take off the rings very carefully.
 –
–
–
Vernis The Cherry Blossom Girl x Galeries Lafayette, actuellement disponibles au 4ème étage du grand magasin boulevard Haussmann, et dans tous les Galeries Lafayette de France.
–
–
–
–
–
–
Et voilà, ma collection de maquillage en collaboration avec les Galeries Lafayette est sortie!
Elle est disponible dans tous les magasins Galeries Lafayette en France, à partir d'aujourd'hui.
Je suis très heureuse de cette collaboration avec le grand magasin Parisien, qui m'a laissé une incroyable liberté et accordé une grande confiance dans la création de cette collection.
J'avais avant tout envie de créer des produits que j'utiliserai moi-même tous les jours, qui me représentent, mais qui permettent aussi à chacune d'exprimer sa créativité!
Incontournable est donc l'eyeliner, accompagné d'une sélection de rouge à lèvre, blush, gloss, vernis à ongle est palette pour les yeux.
Sans oublier une gamme d'accessoires que j'ai adoré designer et illustrer: deux pochettes, une mini brosse, un miroir et un pinceau.
J'espère que la collection vous plaira, et que vous vous amuserez autant à l'utiliser que je me suis amusé à la créer!
Pour les Parisiennes, la collection est disponible dans le nouvel espace beauté au 4ème étage des Galeries Lafayette Haussmann.
–
Pour celles qui désirent en savoir plus sur la collection, une interview pour le blog des Galeries Lafayette se trouve ici.
Et pour celles qui désirent gagner des produits de la collection, le concours, c'est ici!
–
–
–
And now, here it is: my makeup collection in collaboration with Galeries Lafayette is out!
It is available in all Galeries Lafayette stores in France, from today.
I am very pleased with this special collaboration with the famous Parisian department store, and for the incredible freedom and confidence they placed in me.
I wanted to create products that I would use for myself every day, and that would represent the way I am. But also allow each to express their own creativity!
The eyeliner is an essential of course, along with a selection of lipsticks, blush, lip gloss, nail polishes and an eyeshadows palette.
Not to mention a little collection of accessories that I loved to design and to make illustrations for: two clutches, a mini hair brush, a mirror and a brush.
I hope you will enjoy the collection, and have as much fun using it as I enjoyed creating it!
–
–
–
–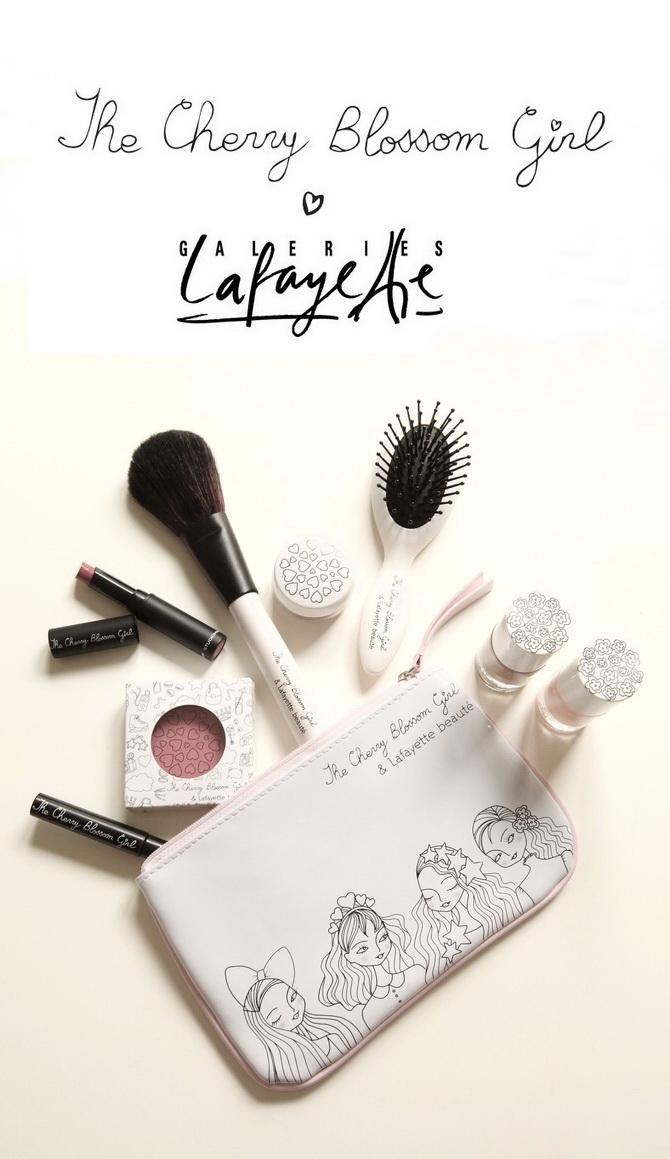 –
–
Je suis heureuse de vous annoncer aujourd'hui une collaboration spéciale avec les Galeries Lafayette !
J'ai réalisé une collection maquillage et accessoires pour Lafayette Beauté, qui sera vendue exclusivement et en édition limité dans les grands magasins Galeries Lafayette.
Rouges à lèvre, gloss, eyeliner, palette d'ombres à paupières, blush… une gamme de produits très Cherry Blossom Girl, dans des petits packagings illustrés par mes soins.
La collection sera disponible à partir de Septembre prochain !
–
–
–
Today I'm happy to announce a special collaboration I made with famous Galeries Lafayette !
I created a makeup and accessories collection with lafayette Beauté, which will be available exclusively as a limited edition in the Galeries Lafayettes department stores.
Lipsticks, lip gloss, eyeliner, eyeshadow palette, blush … a very « Cherry Blossom Girl » line, in pretty little packagings designed by me.
The collection will be available next September !
–
–
–
–