–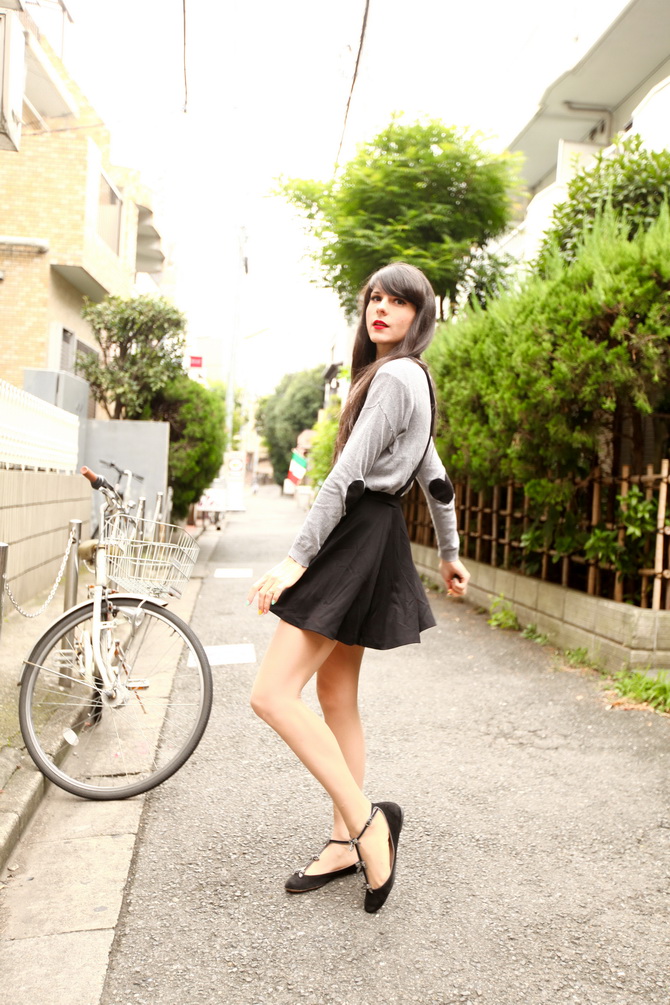 Jupe ASOS ( en rouge dispo ici ), pull ASOS, Chaussures Chloé
ASOS skirt ( available in red here ), ASOS jumper, Chloé shoes
–
–
Shimokitazawa est un quartier de Tokyo connu pour son côté fashion, où sont rassemblées de nombreuses boutiques et clubs. C'est l'un des endroits les plus artistiques de la ville, avec une scène musicale importante.
Je m'y étais déjà rendu les années précédentes, une première fois avec une amie japonaise qui m'a emmené dans les meilleures boutiques vintage ( il y en a dispersé un peu partout, il ne faut pas hésiter à ratisser large ), puis une deuxième fois pour ma première expérience dans un cat café : Cateriam.
J'y suis retournée un jour en semaine, et les rues étaient bien calmes. Les boutiques peinaient même à ouvrir !
J'ai beaucoup aimé le côté rétro et underground de certains magasins. J'avais souvent envie de tout acheter pour redécorer mon appartement à Paris dans un style 60's – 70's très coloré.
Il y a aussi pas mal de boutiques de jouets vintage.
Je pense que j'ai encore beaucoup à découvrir à Shimokitazawa. Si vous vous y rendez et que vous n'avez pas de but précis, baladez vous autour de la gare, et laissez vous porter par vos intuitions !
–
Mes adresses préférées :
–
♥ a.m.a.store : une boutique qui vend du mobilier, des objets de déco, des ustensiles de cuisine tout droit sortis des années 60 et 70, mais à la sauce japonaise. Si j'habitais à Tokyo, ce serait probablement chez eux que je me fournirai !
–
♥ Lotty : Des vêtements, des accessoires et des éléments de déco des années 60. C'est un véritable régal pour les yeux, on se croirait vraiment dans une autre époque… et la vendeuse est adorable !
–
♥ Cateriam Cat Café : Je vous en parlais l'année dernière. J'en ai testé plusieurs depuis, et celui ci reste mon préféré. Le personnel est gentil et accueillant.
–
♥ Darwin Room : Une très jolie boutique qui se remarque dès l'extérieur avec sa belle architecture et sa végétation. On y trouve de chouette livres, de la taxidermie, de jolies choses au rayon papeterie, et on peut même s'y poser pour boire et grignoter quelque chose.
–
–
♫ ♪ アフロデティ ザ・クーガーズ

–
–
Shimokitezawa is a fashionable and artistic district in Tokyo, known for its many stores, clubs, and active music scene.
It's a place I already came before. The first time with a japanese friend who brought me to the best vintage stores, and the second time for my first experience in a cat café : Cateriam.
I came back this year on a thursday morning, and the streets were very quiet. Some of the stores were not even open yet !
I love the retro and underground vibes of some of these shops. Most of the time it was really hard to refrain myself from buying everything. I could have redecorate my entire Paris apartment in a 60's – 70's colorful style.
There were also many vintage toys stores. A little bit dusty but still very nice.
I think I still have a lot to discover in Shimokitazawa. If you go and don't have anything particular in mind, you can just stroll around the train station, and follow your intuitions !
–
My favorite places :
–
♥ a.m.a.store : A store that sells furniture, decoration, and kitchenware straight out of the 60's and the 70's, but everything was made in Japan. If I lived in Tokyo, I would probably buy a lot of things for my home there.
–
♥ Lotty : Clothing, accessories and decoration from the 50's and the 60's.It feels like you arrived here through a time machine. Everything is a feast for the eyes, and the owner is adorable !
–
♥ Cateriam Cat Café : I talked about it last year. I tried other cat cafés since, but this one remains my favorite. The staff is really nice and welcoming.
–
♥ Darwin Room : A very nice store that stands out from the outside with its beautiful architecture and vegetation. There are some nice books, taxidermy, pretty things at the stationery corner, and you can even sit for a drink and something to eat.
–
–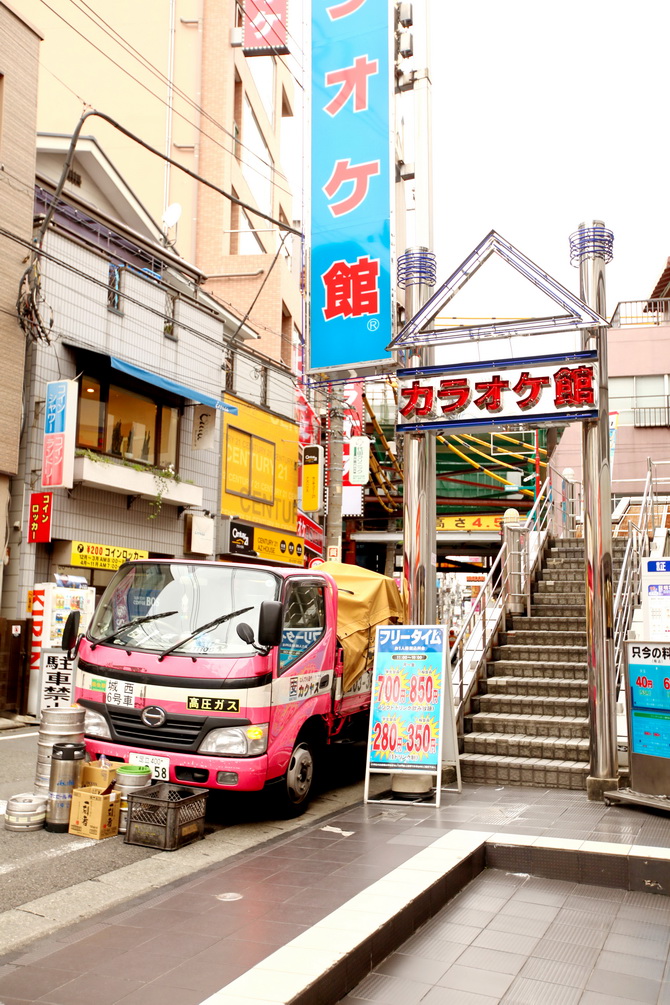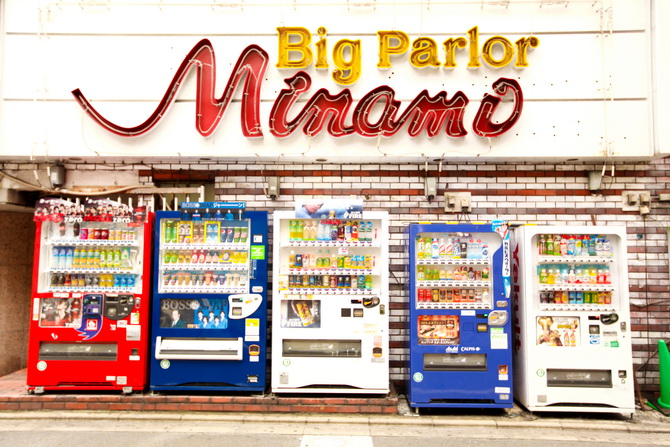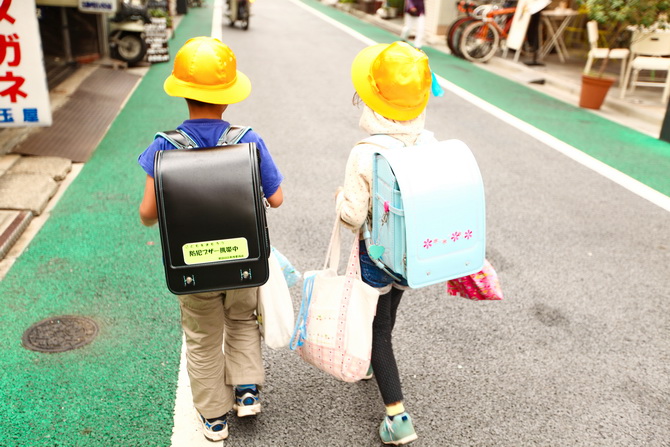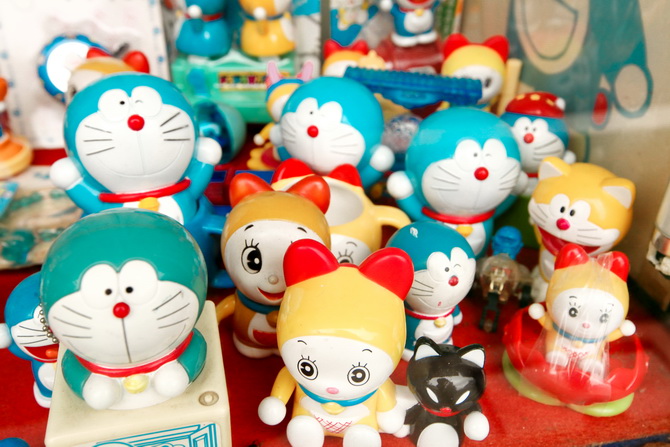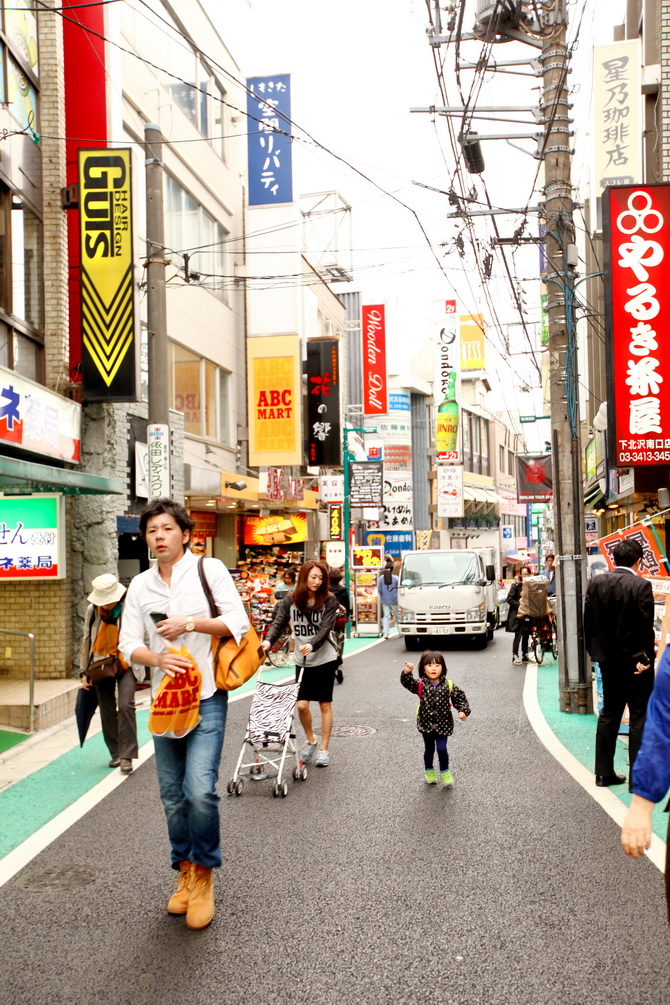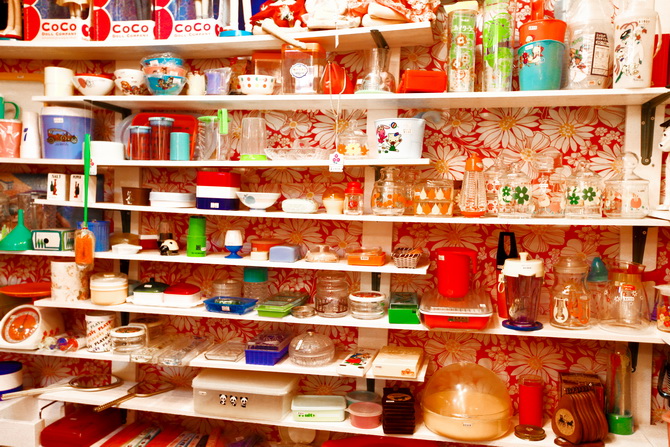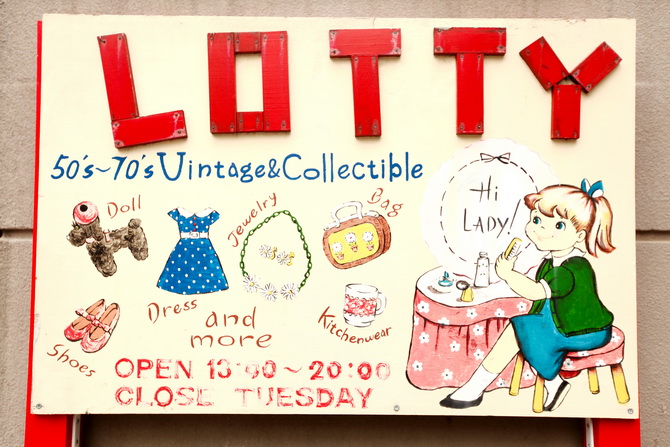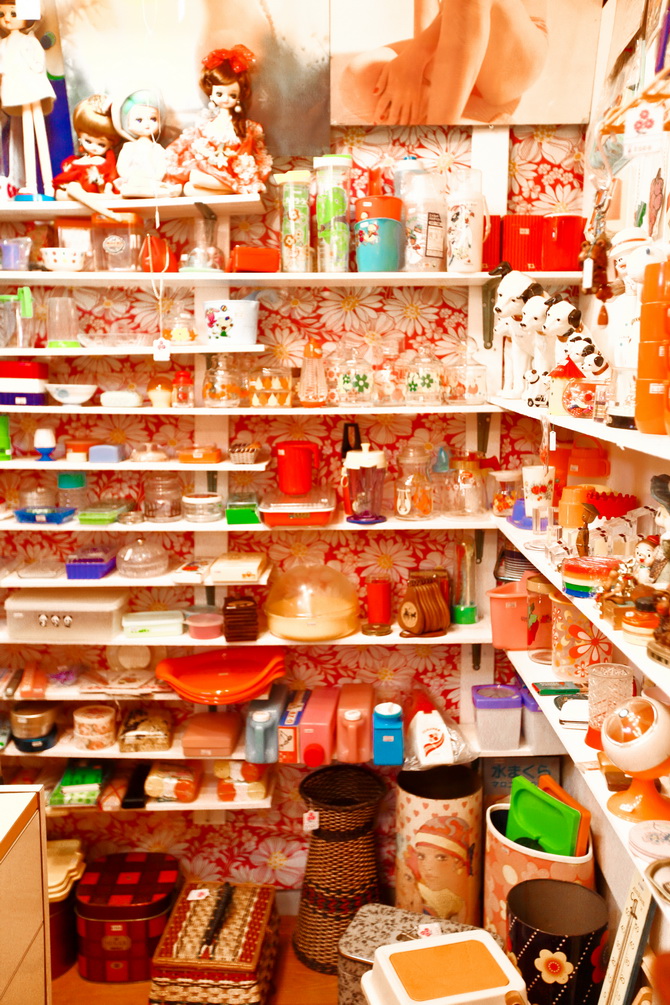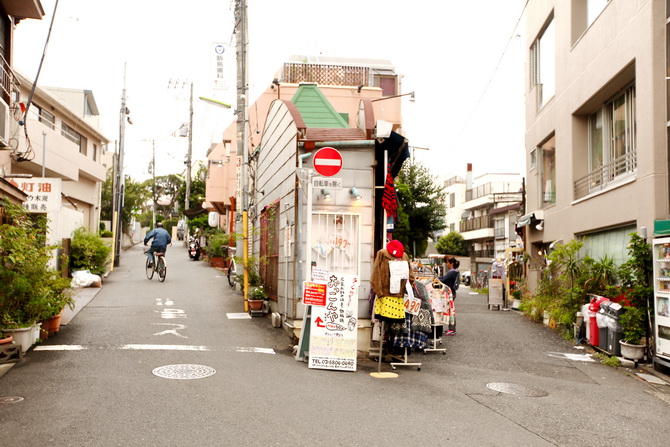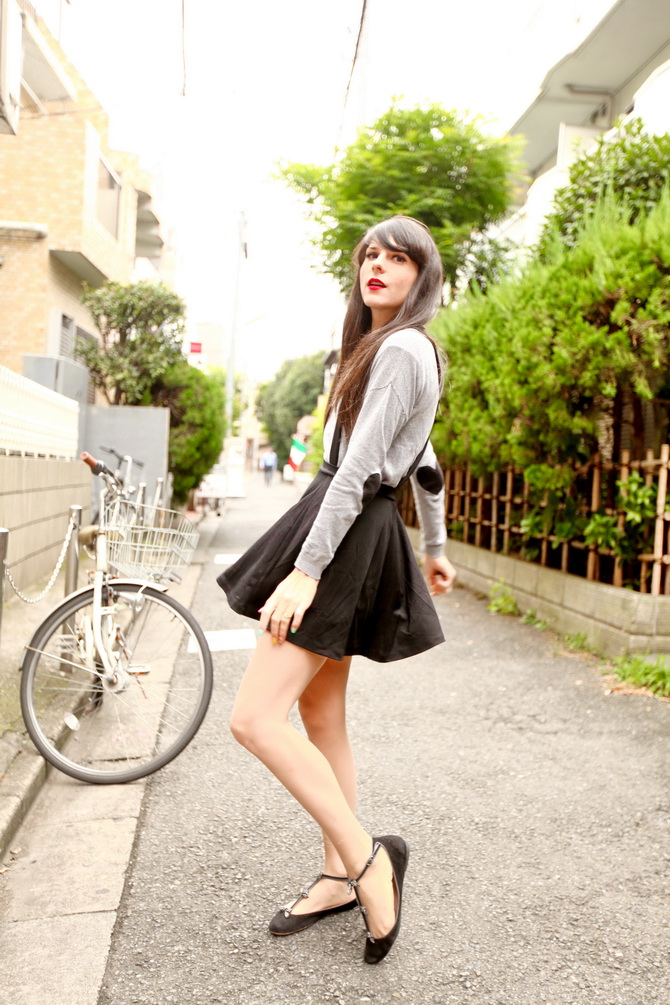 Jupe ASOS ( en rouge dispo ici ), pull ASOS, Chaussures Chloé
ASOS skirt ( availbale in red here ), ASOS jumper, Chloé shoes
–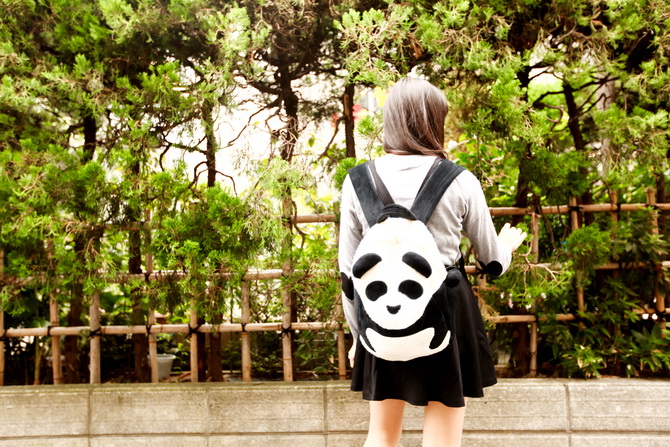 Sac à dos panda ramené du Zoo de Shanghai.
Panda bagpack brought from Shanghai Zoo.
–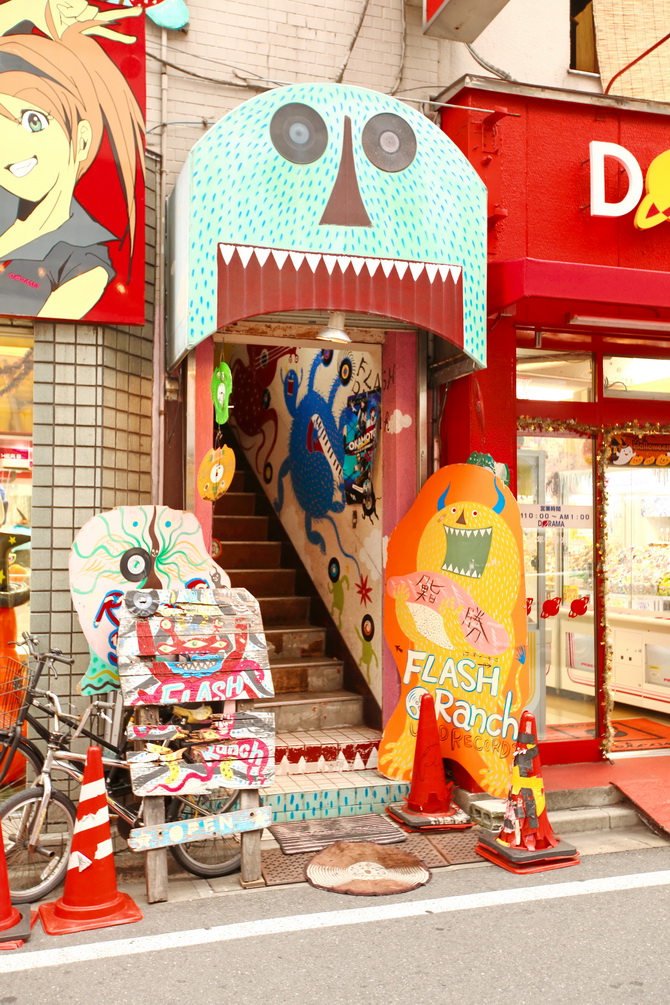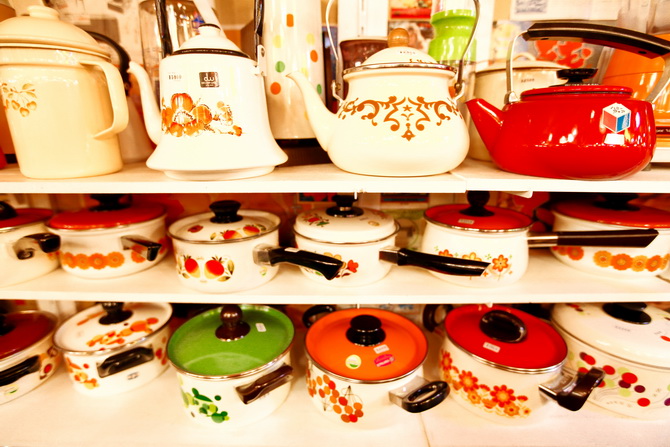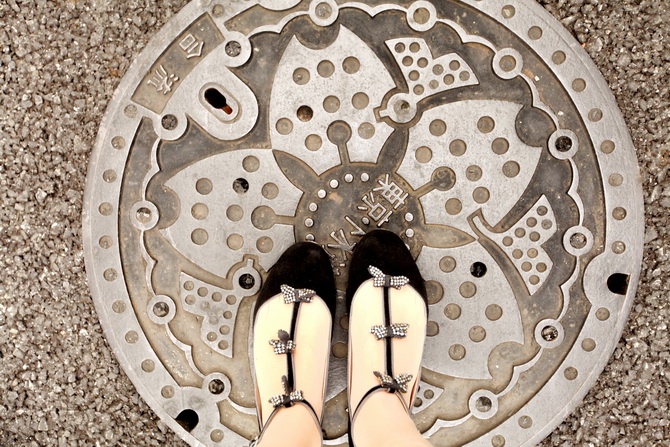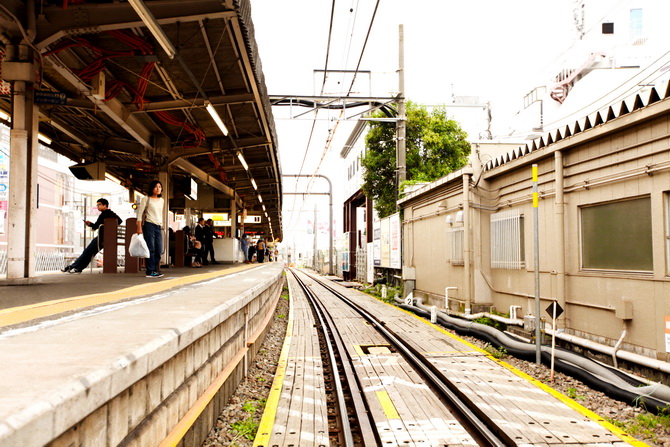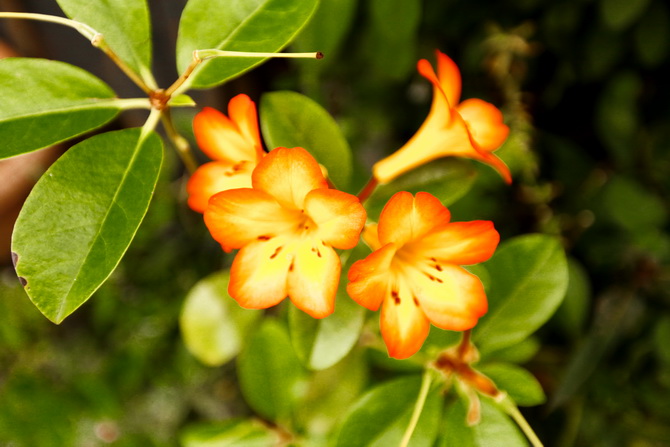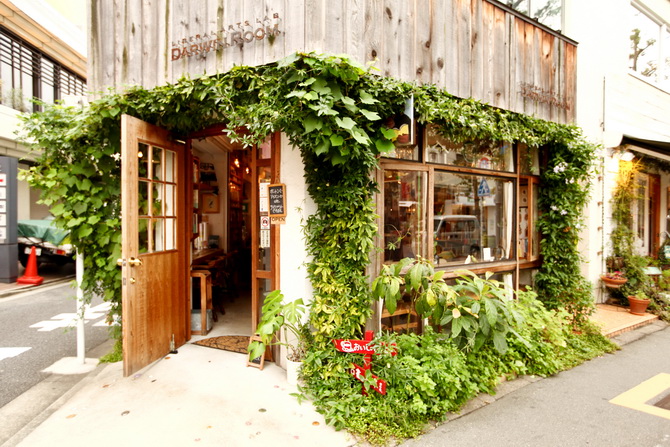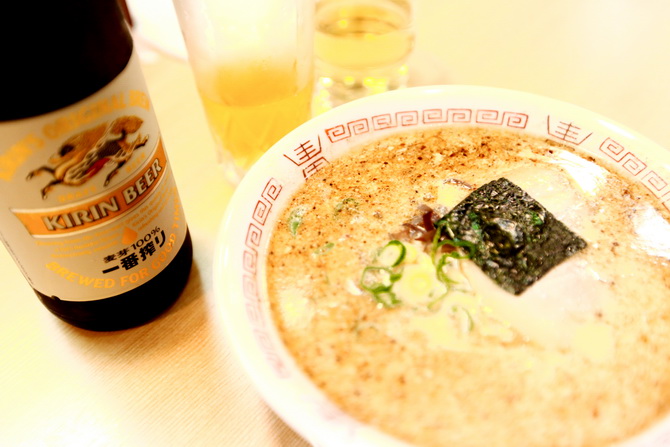 –

–
Related posts :
---