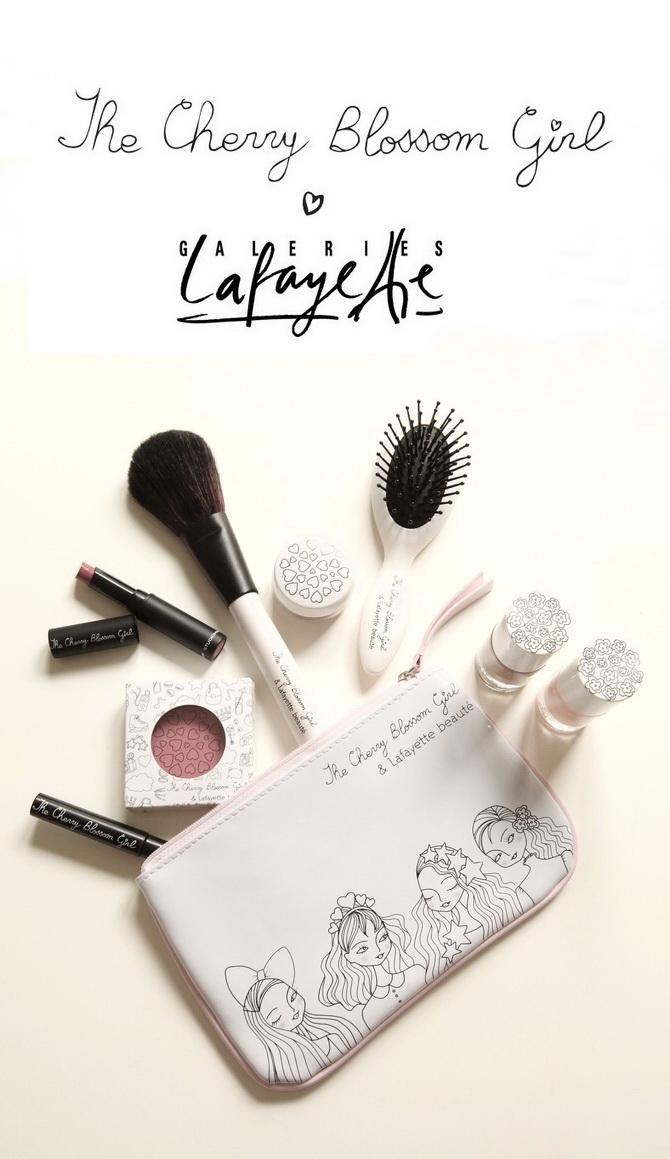 –
–
Je suis heureuse de vous annoncer aujourd'hui une collaboration spéciale avec les Galeries Lafayette !
J'ai réalisé une collection maquillage et accessoires pour Lafayette Beauté, qui sera vendue exclusivement et en édition limité dans les grands magasins Galeries Lafayette.
Rouges à lèvre, gloss, eyeliner, palette d'ombres à paupières, blush… une gamme de produits très Cherry Blossom Girl, dans des petits packagings illustrés par mes soins.
La collection sera disponible à partir de Septembre prochain !
–
–
–
Today I'm happy to announce a special collaboration I made with famous Galeries Lafayette !
I created a makeup and accessories collection with lafayette Beauté, which will be available exclusively as a limited edition in the Galeries Lafayettes department stores.
Lipsticks, lip gloss, eyeliner, eyeshadow palette, blush … a very « Cherry Blossom Girl » line, in pretty little packagings designed by me.
The collection will be available next September !
–
–
–
–
–
Parmi quelques récentes acquisitions ces derniers mois:
–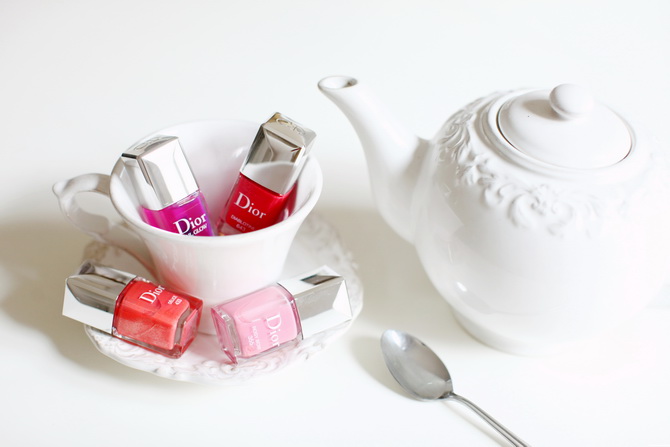 Des vernis Dior ( Diablotine, Délice, Nail Glow et Chérie Bow )
Dior nailpolishes ( Diablotine, Délice, Nail Glow et Chérie Bow )
–

–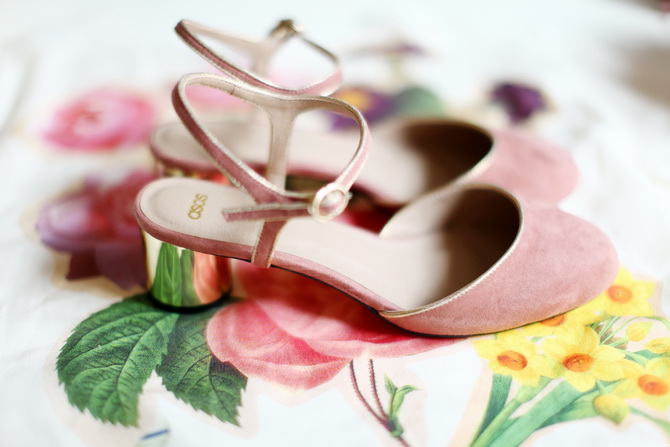 D'adorables chaussures Asos.
Charming shoes from Asos.
–
–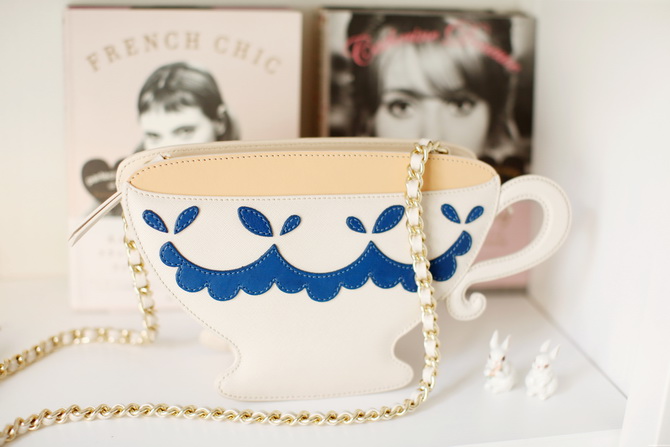 Un sac en forme de tasse Moschino Cheap and Chic.
A tea cup bag from Moschino Cheap and Chic.
–
–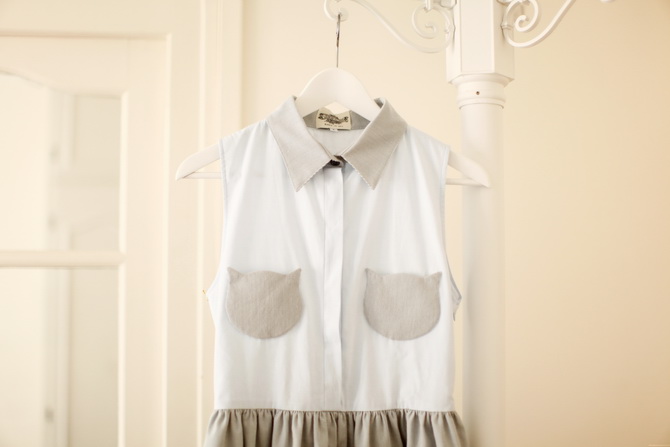 Une robe It's Okay My Dear avec des poches en forme de chats.
A dress with cats pockets by it's Okay My Dear.
–
–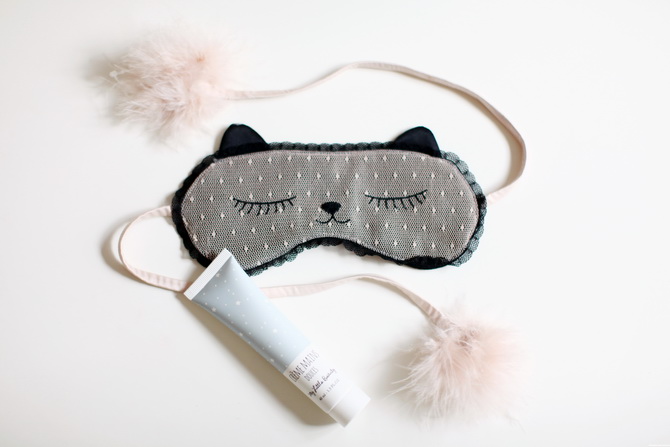 Un masque Oysho … avec un chat, et une crème pour les mains My Little Beauty.
An Oysho sleeping mask … with a cat, and My little Beauty hand cream.
–
–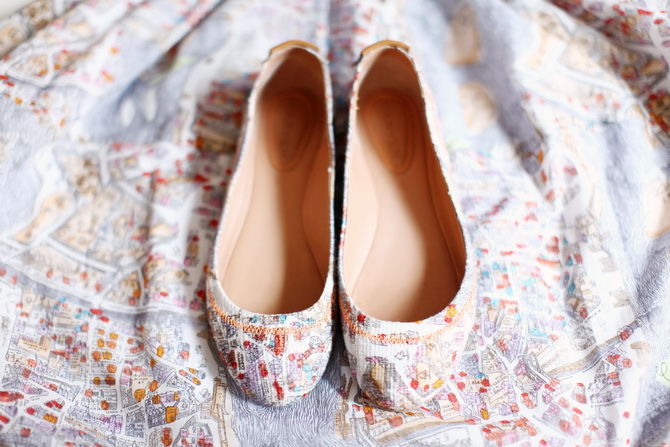 Des ballerines ( Carven ) et une robe ( Carven ), je suis fan de l'imprimé Paris !
Ballerinas ( Carven ) and a dress ( Carven ), I love the Paris print !
–
–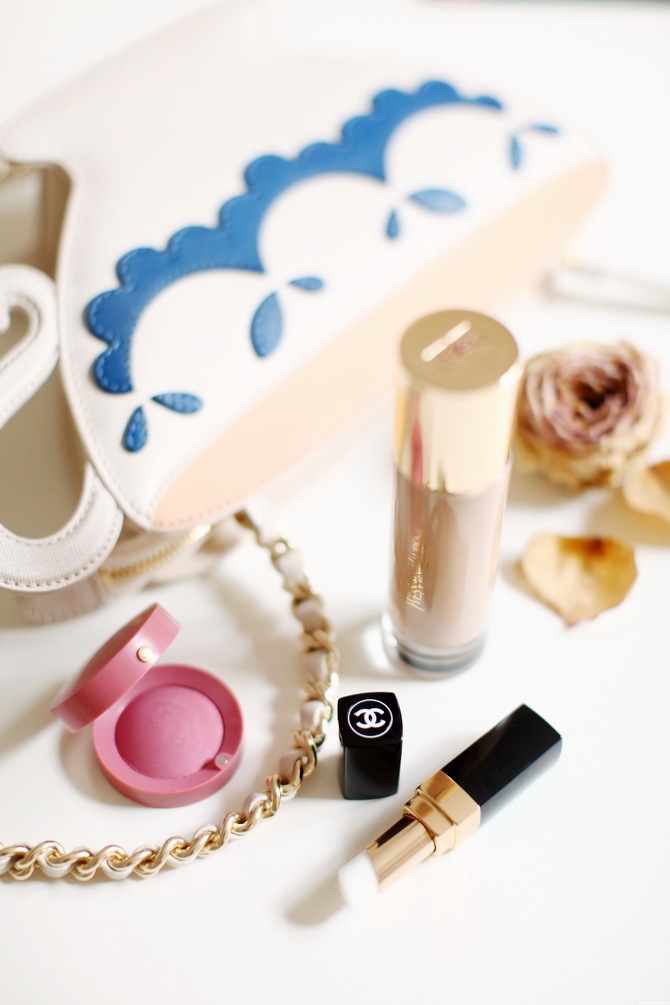 J'essaye quelques nouveaux produits make up: le blush Bourjois qui me rappelle mon premier make up de quand j'étais ado, un baume à lèvre Chanel et le fond de teint Touche Eclat d'Yves Saint Laurent.
I'm trying some new make up products: Blush from Bourjois that reminds me the first make up I used when I was a teenager, Chanel Lip Balm and Yves Saint Laurent « Touche Eclat » foundation.
–
–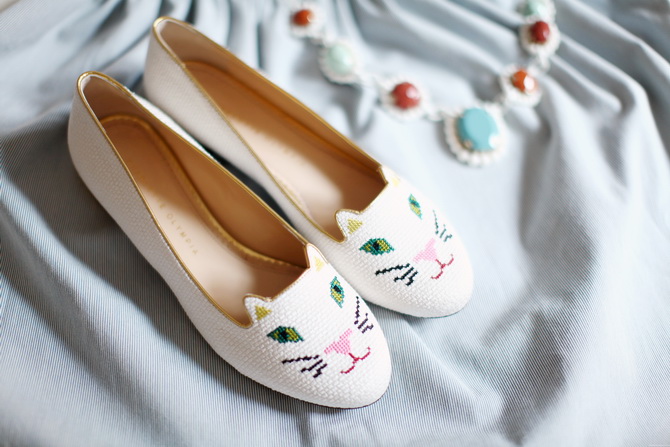 La version été des ballerines chat Charlotte Olympia. Elles me rappellent des coussins brodés.

The summer version of Charlotte Olympia's Kitty flats. They reminds me of embroided cushions.
–
–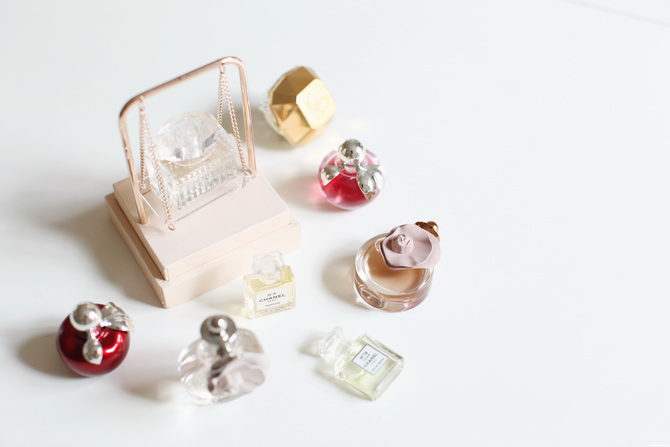 Miniatures de parfums Nina Ricci, Valentino, Chloé et Chanel.
Nina Ricci, Valentino, Chloé et Chanel Perfume miniatures.
–
–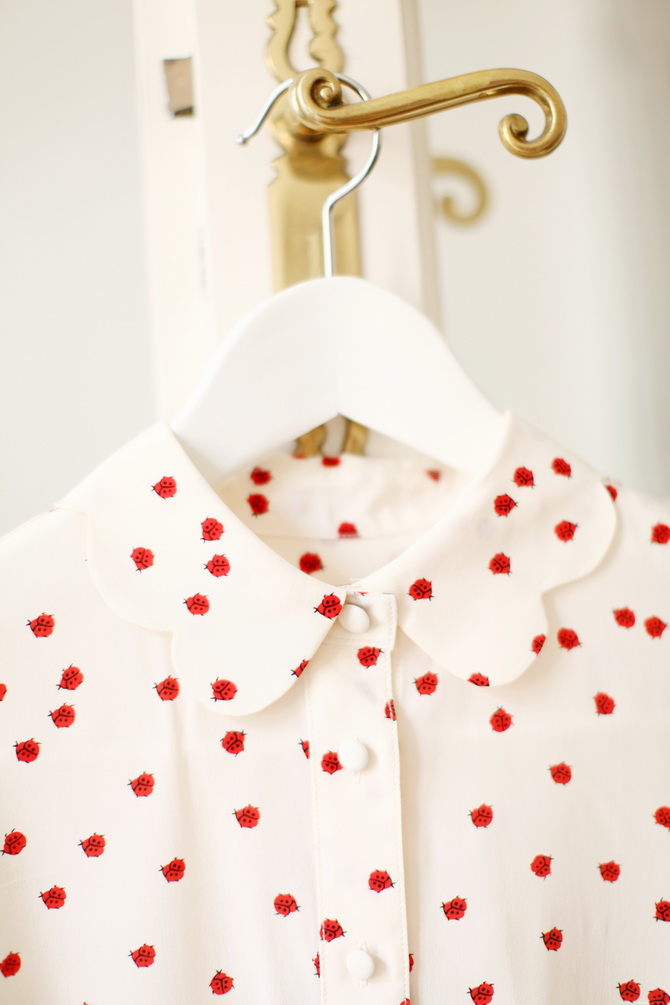 Une chemise col pétale et coccinelles Boutique by Jaeger.
A scalloped collar shirt with ladybugs print by Boutique by Jaeger.
–
–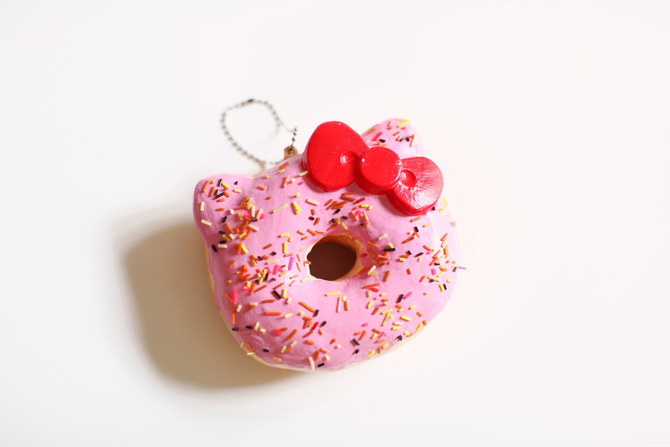 Un porte clé Donut Hello Kitty ( merci Betty ! )
A Hello Kitty donut charm ( thank you Betty ! )
–
–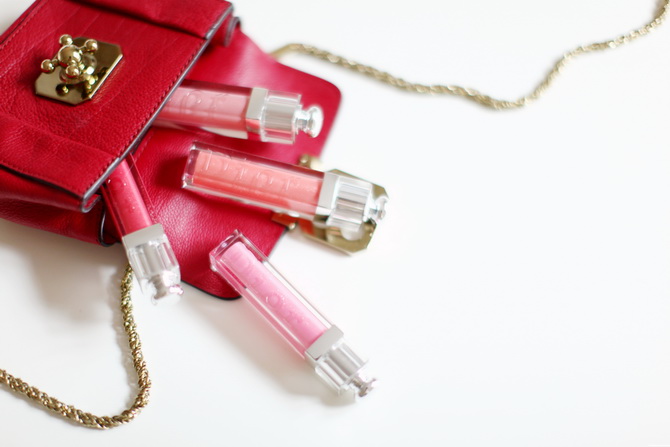 Des Gloss Dior Addict ( Princess, Délice, Diablotine, Spring Ball )

Dior Addict lip gloss ( Princess, Délice, Diablotine, Spring Ball )
–
–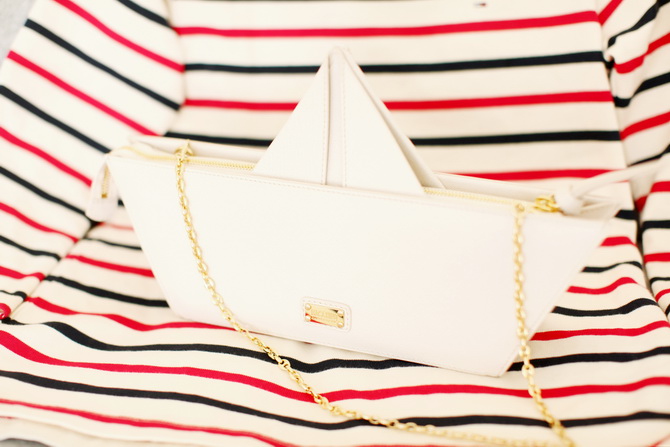 Un autre sac Moschino Cheap and Chic, en forme de bateau en papier !
Another Moschino Cheap and Chic bag, in the shape of a paper boat !
–
–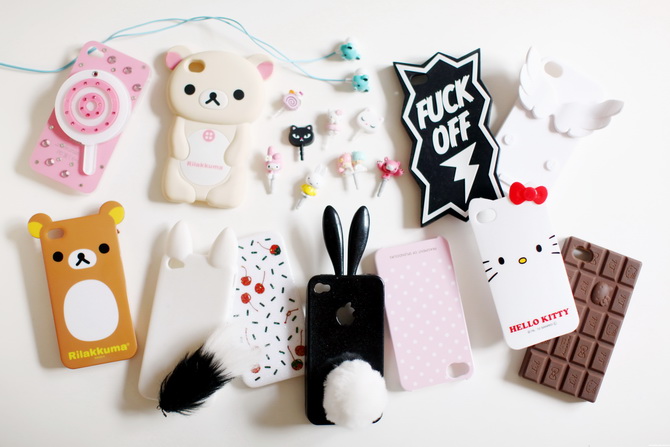 Ma collection d'accessoires pour mon Iphone… et il ne s'agit que d'une petite partie X___X

Accessories for my Iphone. And it's not even the entire collection X___X

–
–
–
–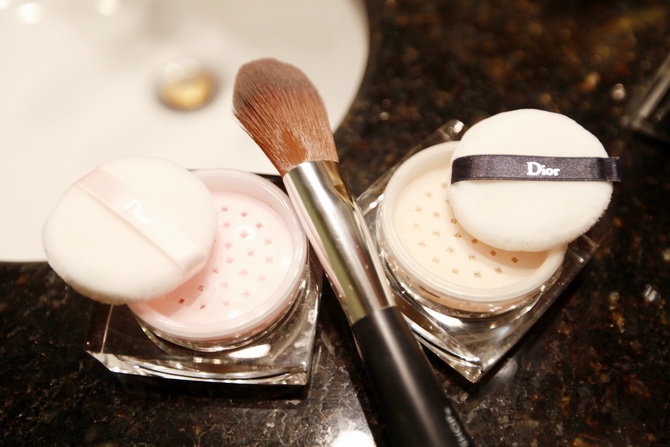 –
–

Cela faisait un bon bon moment que j'avais envie de partager avec vous mes produits de beauté favoris !
Il faut dire que ça m'a pris du temps pour tester différentes choses, et arriver à trouver ce qui me convenait le mieux.
Je ne cherche pas nécessairement ce qui coute le plus cher, mais ce qui marche le mieux pour ma teinte et mon type de peau.
Voici un petit guide des produits donc je ne me sépare jamais dans ma salle de bain, et qui peut être vous plairont aussi!:
–
–
It's been a really long time since I wanted to share with you my favorite beauty products !
I've been trying many different things, and it took some times before I finally found what I was looking for and suited me the best.
I'm not necesseraly attracted by expensive product, but products that work well for my color and skin type ( unfortunately quality often comes with a price ! )
So, here is a personal guide to my favorite beauty products, along with a few tips. Maybe you will like them too !:

–
–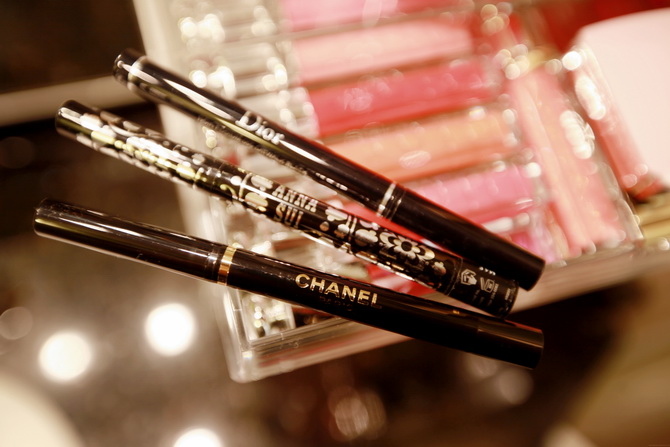 Tout d'abord, l'eyeliner. J'en met pratiquement tous les jours. Et depuis le temps, ça fait parti de ma routine maquillage. J'ai pu tester beaucoup de choses, et je suis de plus en plus à l'aise avec le tracé.
Mon préféré: « Écriture » de Chanel.
J'ai du mal à supporter les eyeliners en deux parties ( flacon d'un côté et pinceau de l'autre), du coup je favorise les pinceaux avec encre intégré, et les stylos.
Je suis extrêmement satisfaite de la tenue d'Écriture de Chanel ( le fini est assez brillant par contre, ce que je déplore ). Il est également très facile à démaquiller.
L'Eyeliner d'Anna Sui est très similaire au Chanel.
DiorShow Art Pen de Dior est également un de mes favoris. Sous forme de stylo, il est très facile à appliquer, le fini est en revanche beaucoup plus mat, ce que j'aime beaucoup.
–
First of all, the eyeliner. I use it almost eveyday. My favorite is « Ecriture » by Chanel. It's easy to use, and easy to take off. The only thing I don't like so much is that it's slightly shiny.
The Anna Sui one is really similar to the Chanel, and I also like the Diorshow Art Pen by Dior, even easier to use, and with a mate finish.
–
–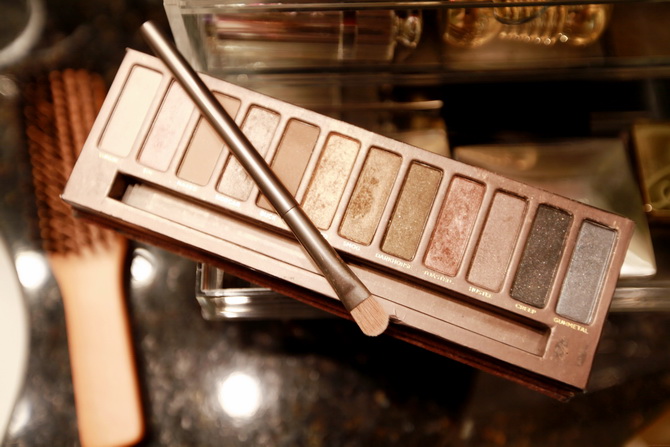 Pour les ombres à paupière, la palette Naked d'Urban Decay.
Elle permet de réaliser des variations presque à l'infini. Les teintes sont toutes très jolies, et c'est extrêmement pratique de toutes les avoir en une seule palette !
Les jours où je ne met pas d'eyeliner et que je veux porter un maquillage un peu plus naturel, je mélange plusieurs teintes sur les paupières, et je termine avec un coup de mascara ( sans oublier d'appliquer la base « Eyeshadow Helper » avant ! )
–

For the eyeshadows, I use the Naked palette by Urban Decay.
There's so many shades, and you can mix them to create different effects. It's also very convenient to have all of them in just one single place !
I use it when I don't want to wear my eyeliner, and go for a more natural look. A little bit of mascara, and I'm done ( and I never forget to put some « Eyeshadow Helper » by Lime Crime makeup first ).
–
–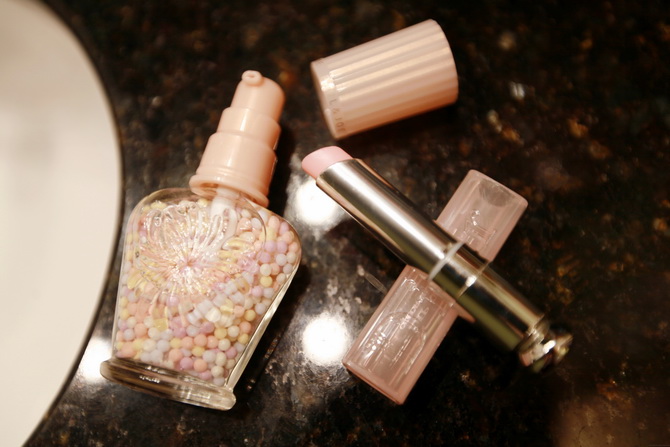 Deux favoris ( qui sont en plus très très jolis ):
A gauche: la base de maquillage Paul & Joe, que j'applique après la crème et avant le fond de teint. Elle permet une meilleure tenue du maquillage pendant la journée, et j'adore le fini très légèrement pailleté !
A droite: le baume à lèvre Dior Addict, que j'utilise à la fois comme soin et comme rouge à lèvre. Il a un effet glossy mais pas du tout collant, et j'adore en porter sur les lèvres lorsque je porte de l'eyeliner. La teinte rosé transparente allège le tout.
–

Two of my favorites ( and very cute ones ! ):
On the left: Paul & Joe Foundation primer. I use it after my cream and before putting on my foundation. I love the glittery effect !
On the right: Dior Addict Lip Balm. I use it both as a lipstick and a balm. It's glossy but not sticky, and I love to have it on my lips when I wear my cat eyes eyeliner. The light pink color makes the whole look a little bit more airy.
–
–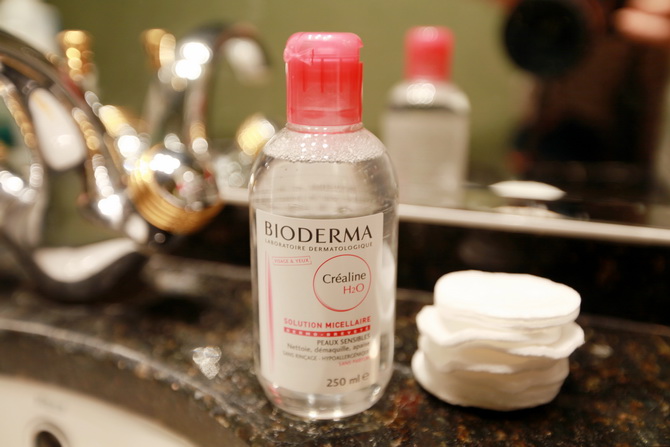 Solution Micellaire Créaline H2O de Bioderma.
Il n'est plus question de me démaquiller sans ce produit! Je l'applique sur tout le visage avec un coton ( l'effet est très agréable et rafraichissant ), puis pour être sûre que mon visage est bien propre, je lave avec le Dermo Nettoyant « Toleriane » de la Roche Posay.
–

Créaline H2O cleansing water by Bioderma. I just can't do without it now. It's the most effective to remove your make up ( very pleasant and refreshing too ! ). To be sure my face is properly cleaned, I wash it with « Toleriane » by La Roche Posay.
–
–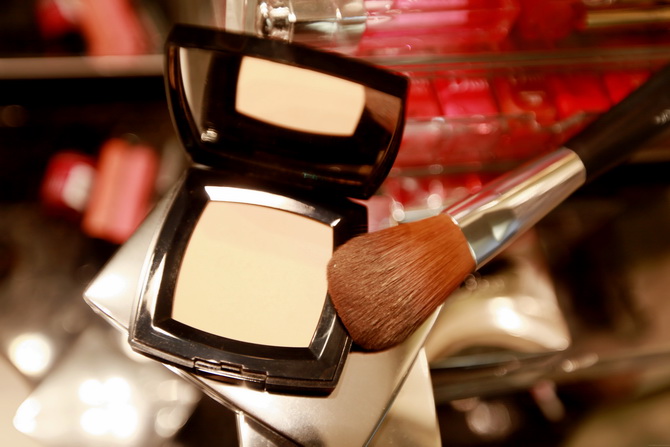 La « Poudre Universelle compacte » de Chanel.
J'ai arrêté pendant un moment de l'utiliser à cause du coût assez important ( j'en utilise pas mal et ça fini par douiller ), mais pas vraiment convaincue par les poudres des autres marques, j'y suis revenue.
J'utilise un pinceau The Body Shop, le meilleur rapport qualité  prix à mon sens !

–

« Universelle compact powder » by Chanel. I stopped using it for a while, because it was getting really expensive for me, but not really convinced my other brands, I switched back to it.
I use a The body Shop brush, good quality for an affordable price.

–
–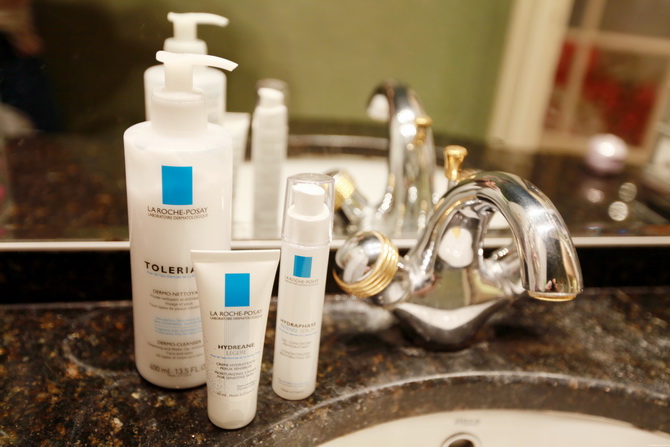 Pour les soins, j'achète les produits La Roche Posay.
En particulier: la crème « Hydréane légère » ( mon produit préféré avec l'eau micellaire Bioderma ).
J'aime aussi le Dermo Nettoyant « Toleriane » et le serum « Hydraphase« . Je suis vraiment contente de pouvoir enfin conseiller quelque chose de crédible en matière de soins pour la peau. Il faut dire que je me suis un peu acharnée pendant plusieurs années avec le Basique 3 Temps de Clinique, en espérant que cela marche sur moi … mais sans grand résultat. En comparaison, je suis tellement contente des produits La Roche Posay que je ne risque pas de changer de sitôt !
–

For skincare, I buy from La Roche Posay.
My fave is the cream « Hydréane Légère » ( favorite product ever with the Bioderma Cleansing Water ). I also use « Toleriane » clanser and « Hydraphase » from that same brand.
I spent a lot of time trying to make the Clinique 3 steps work on me, but nothing really good came out of it.
I'm really happy to be able to advice some good and efficient skincare now. I'll just stick to La Roche Posay from now on!
–
–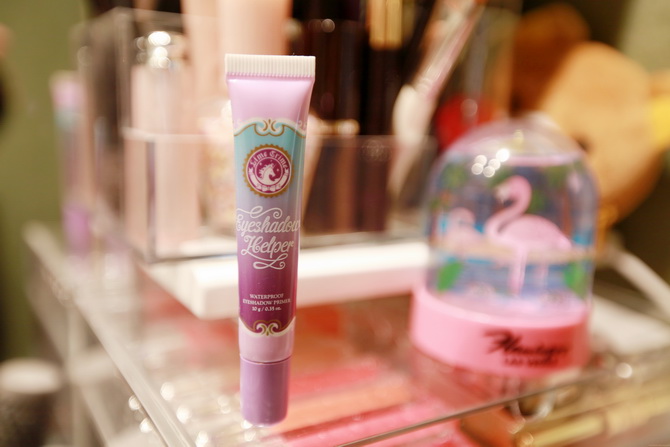 La base d'ombre à paupière « Eyeshadow Helper » de Lime Crime makeup. Je ne me suis rendue compte que très récemment à quel point ce produit est utile et efficace. Je l'applique sur la totalité de la paupière avant mon ombre à paupière ( cela renforce la couleur et la tenue ), et également avant de poser mon eyeliner ( le trait tient plus longtemps et la paupière est plus mate, ce qui rend beaucoup plus joli ! ). Je l'utilise de manière quotidienne à présent, et je vous le conseille vivement ! ( Particulièrement si vous avez la peau claire )
–

The « Eyeshadow Helper » by Lime Crime Makeup.
It's only recently I realized what a great and efficient product a primer could be for my eyes.
I put it all over my eyelids before my eyeshadow ( for a long lasting wear and stronger color ), and also before putting on my eyeliner. The eyelids get a mate finish, which is so much prettier ! I use it almost everyday now, and I really recommend it !
–
–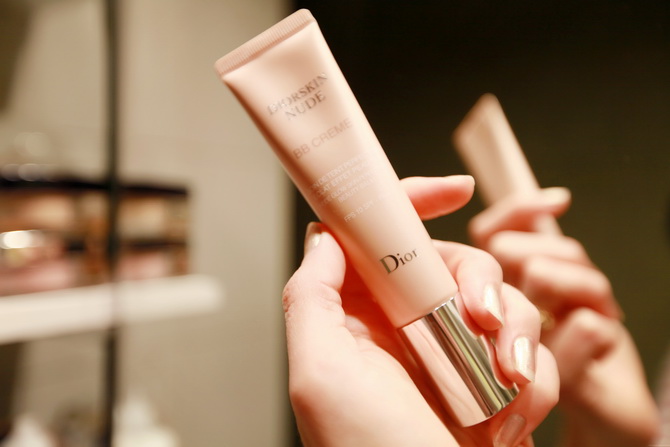 J'étais plutôt perplexe au début lors de la sortie des premières BB crèmes.
J'en ai testé plusieurs, par curiosité, et celle ci est ma préféré. Je l'applique les jours où je n'ai pas envie de me maquiller, mais n'ai pas envie d'avoir l'air négligée pour autant ! Elle est idéale pour avoir un joli teint naturel, sans que personne ne s'aperçoive qu'il y a un secret derrière :-p
–

I tried a few different brands, but this one is my favorite. It's perfect for days when I don't want to wear too much makeup, but still don't want to look too awful! It's very light and gives a really nice natural complexion to the skin, without anyone noticing there is a little secret behind :-p
–
–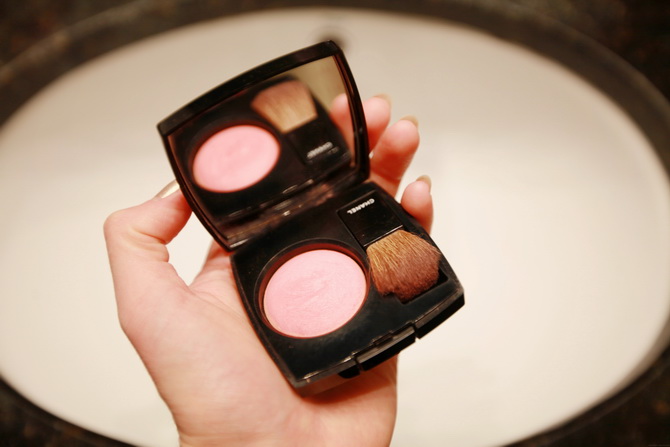 Blush « Joues contraste » de Chanel. C'est un de mes petits plaisirs lorsque je me maquille. J'utilisais un blush MAC avant ( très bien aussi ), mais celui ci sent tellement bon que j'en suis devenue complètement addict ! Je l'applique de manière circulaire en haut des pommettes, pour un effet joues de poupée.
–

Blush « Joues Contraste » by Chanel. It's one of my little pleasures when I do my Makeup. I used to wear one from MAC which was really good too, but this one keeps me totally addicted because it smells so good !
–
–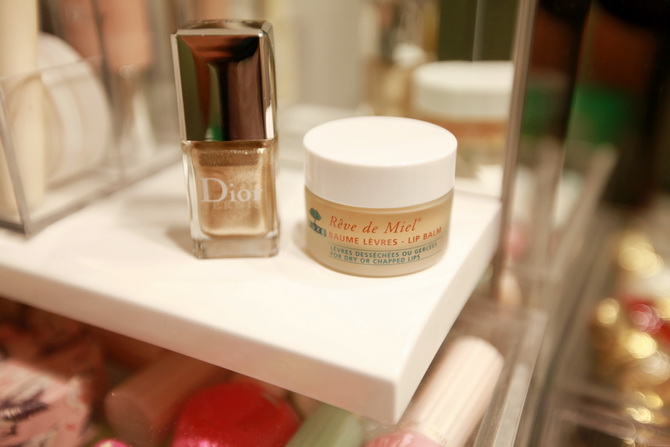 Mon vernis préféré: Dior n°148 ( que j'applique en une couche ou deux couches selon les envies ). Je suis également fan des vernis OPI !
Baume à Lèvres « Rêve de Miel » de Nuxe. Je l'applique exclusivement en soin, souvent le soir ou avant d'aller me coucher.
–

My favorite nailpolish: Dior n°148 ( I put one or two layers depending on what effect I want ). I also like the OPI nailpolishes a lot !
« Rêve de Miel » lip balm by Nuxe. I use it exclusively as a balm, in the evening or before to go to bed.
–
–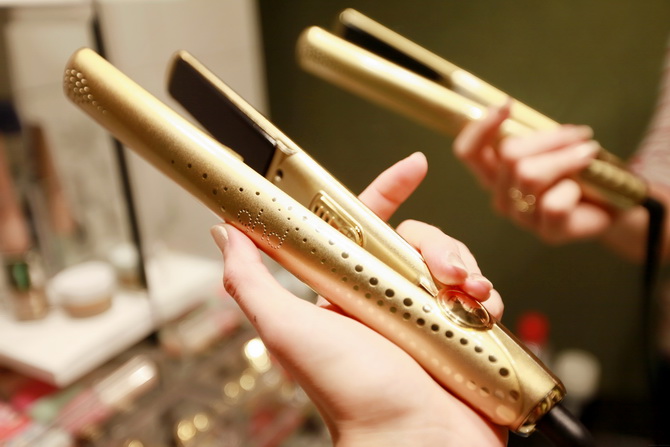 Lisseur ghd. Pas trop grand ni lourd, ce qui est très pratique pour voyager. Et surtout, Il est prêt à utiliser seulement après 3 secondes de chauffe seulement.
–

ghd hair straightener. It's not too big or too heavy, which is really convenient for travelling. And it's already hot and ready to use after 3 second only.
–
–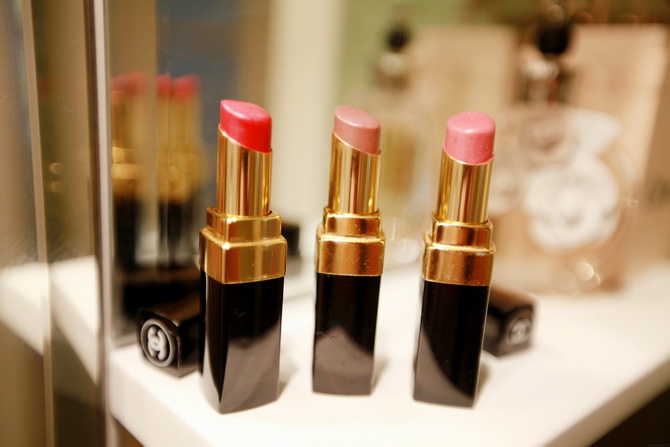 Les rouges à lèvres « Coco Shine » de Chanel.
Pour moi c'est le parfait compromis entre un rouge à lèvre et un gloss. La texture est légère mais couvrante, et l'effet irrisé super joli ! Tout comme mon eyeliner, j'achète ma couleur préférée en double: un tube qui reste dans ma trousse à maquillage dans mon sac à main, un tube qui reste dans ma salle de bain. J'aime aussi le fait qu'ils ne sont pas du tout collants ou lourds sur les lèvres.
–

« Coco Shine » lipsticks by Chanel. My favorites. For me it's the perfect mix between a lipstick and a gloss. The texture is really comfy, covering but light, and the glitters so pretty! Also I like the fact that it's not sticky or heavy to wear at all.
–
–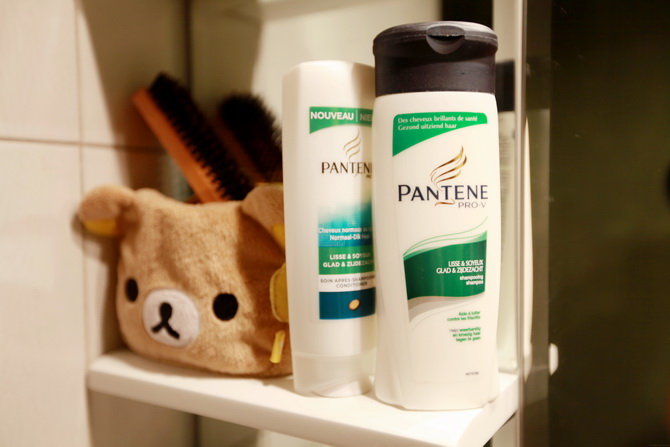 Pour les cheveux, le shampooing et après-shampooing Pantene pro-V.
Je sais que ça étonne beaucoup les gens que j'utilise ça ( surtout quand on voit que j'utilise pas mal de marques ). J'ai passé énormément de temps à essayer différents produits, différentes marques. Même les plus chères n'ont jamais été aussi efficaces sur mes cheveux que ces deux produits.
Je ne vais pas m'en plaindre. C'est bien plus économique pour moi, et je les trouve partout !
Ça fait maintenant 10 ans que je les utilise ( 2 à 3 fois par semaine ), et j'en suis toujours aussi satisfaite.
Pour le brossage, la brosse Muji.
–

For my hair, I use Pantene Pro-V shampoo and conditioner.
People are really surprised when I tell them these are the products I buy ( let's face it, especially when you see I use a lot of brands ).
The thing is that I tried many different brands, and even the most expensive weren't as effective on my hair than these two products.
I'm not going to complain anyway, it's much better for me financially speaking, and I can find them anywhere !
Hairbrush from Muji

–
–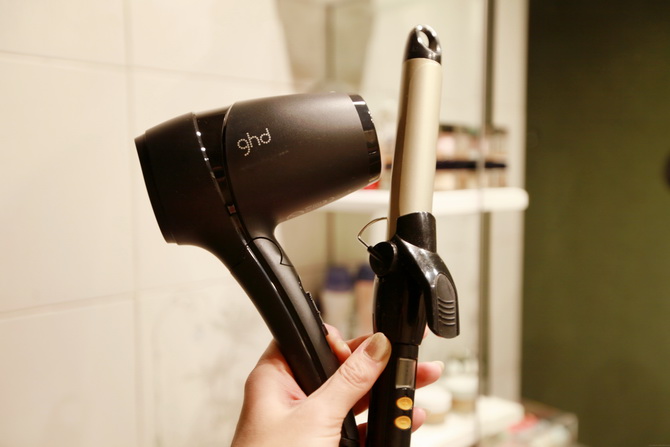 Et pour finir, les ustensiles un peu moins sexy: Le sèche cheveux ghd ( pliable donc pratique ), et le boucleur Babyliss ( réf: Nano technology F47c, que j'utilise pour faire les cheveux ondulés que vous voyez dans la majorité de mes posts ).
–

And finally, the little less sexy items I use for my hair: GHD hair dryer ( you can fold it so it's super practical ), the the Babyliss hair curler ( Nano technology F47c, I use it to create most of my hairstyles with curls you see in my posts )
–
–
Récapitulatif / A little recap
–
–
Soins Visage / Skincare
–

♥ Produits La Roche Posay ( en particulier crème Hydréane Légère )
–
–

Maquillage / Makeup
–

♥ Eyeliner « Ecriture » Chanel
♥ Base de maquillage Paul & Joe
♥ Palette « Naked » Urban Decay
♥ Poudre « Universelle Compacte » Chanel
♥ « Eyeshadow Helper » Lime Crime Makeup
♥ Rouges à lèvres « Coco Shine » Chanel
♥ Blush » Joues Contraste » Chanel
♥ Pinceaux The Body Shop
–
Cheveux / Hair

–
♥ Shampooing et après-shampooing Pantene Pro-V
♥ Lisseur GHD + Séche cheveux GHD + Boucleur Babyliss
♥ Brosse Muji
–
–

Je suis impatiente de connaitre vos produits préférés si vous en avez également !
En particulier si vous connaissez de bons fonds de teint … j'utilise le fond de teint HD de Make Up Forever depuis pas mal d'années, mais j'aimerai essayer autre chose :-p
–
–
I'm really looking forward to hear your own comments about your favorite beauty products. Please share !
I'm more precisely looking for a good foundation at the moment. I've been using the HD foundation from Make Up Forever for a few years now, so I would like to try something else :-p

–
–
–
–